krainaksiazek esther s charge a story for girls 20041225
- znaleziono 8 produktów w 3 sklepach 35,89 zł
Książki
Sklep: KrainaKsiazek.pl 35,99 zł
Muzyka>Rhythm & Blues / Soul
1. After Hours - Ace Harris 2. Hearts Of Stone - The Charms 3. Honky Tonk (Parts 1 & 2) - Bill Doggett 4. Work With Me Annie - Hank Ballard & The Midnigh 5. Let's Do The Stroll - Donnie Elbert 6. Dedicated To The One I Love - The 5 Royales 7. Boogie At Midnight - Roy Brown 8. Need Your Love So Bad - Little Willie John 9. You Ain't Treatin' Me Right - Mac Curtis 10. Let's Make It - James Brown 11. Ring-a-ding-doo - Little Esther 12. Grinding - Doc Bagby 13. Whipped Cream - Big Jay Mcneely 14. Blues Stay Away From Me - The Delmore Brothers 15. Chicken Blues - The York Brothers 16. Johnny Had A Yo Yo - Ruth Wallis 17. Blood Shot Eyes - Wynonie Harris 18. Sad Hours - Jimmy Witherspoon 19. I'm So Tired Of Living All Alone - Lonnie Johns 20. Have Mercy Baby - Clyde Mcphatter & The Domino 21. Stormy Weather - Roland Kirk 22. Rattlesnakin' Daddy - Hawkshaw Hawkins 23. Over The Rainbow - Billy Ward & His Dominoes 24. Cherokee Boogie - Moon Mullican 25. Bump On A Log - Lula Reed 101. Sixty Minute Man - The Dominos 102. Ko Ko Mo - Otis Williams & His Charms 103. There Must Be A Reason - James Brown 104. I Paid My Dues - Little Esther 105. Just A Little Bit Of Lovin' - Donnie Elbert 106. Jungle Drums - Earl Bostic 107. Good Rockin' Tonight - Wynonie Harris 108. Voo Vee Ah Bee - The Platters 109. Seventeen - Boyd Bennett And His Rockets 110. Rock Candy - Big Jay Mcneely 111. Pedal Pushin' Papa - Clyde Mcphatter & The Domi 112. Freight Train Boogie - The Delmore Brothers 113. Annie's Aunt Fannie - Hank Ballard & The Midnig 114. I Done Told You - Jimmy Witherspoon 115. Green Mountain Hop - Reno & Smiley 116. Bar Room Blues - Roy Brown 117. Jealous Heart - Ivory Joe Hunter 118. The Dinghy Song - Ruth Wallis 119. Old Rattler - Grandpa Jones 120. Fever - Little Willie John 121. Messin' Up - The Royales 122. Train - The Stanley Brothers & The Clinch Moun 123. Beside You - The Swallows 124. Tennessee Wig Walk - Bonnie Lou 125. One For My Baby - Bill Jennings 201. Please, Please, Please - James Brown 202. Ling, Ting, Tong - Otis Williams & His Charms 203. Only You - The Platters 204. Switchie Witchie Titchie - Hank Ballard & The M 205. Lonesome Road - Lonnie Johnson 206. Rock Love - Lula Reed 207. Honolulu Rock-a Roll-a - Moon Mullican 208. Bubbins Rock - Earl Bostic 209. Heart To Heart - Little Esther 210. Seven Lonely Days - Bonnie Lou 211. In The Morning - Washboard Bill 212. Limehouse Blues - Reno & Smiley 213. Slow Walk - Bill Doggett 214. How Mountain Girls Can Love - The Stanley Brot 215. Heavy Juice - Tiny Bradshaw 216. What Can I Do - Donnie Elbert 217. Steamboat Bill Boogie - The Delmore Brothers 218. Too Late - Ivory Joe Hunter 219. Filipino Baby - Cowboy Copas 220. I'm Weak But I'm Willing - Eddie Cleanhead Vins 221. Steppin' Out Kind - Grandpa Jones 222. Soft One - Doc Bagby 223. Tremblin' - The York Brothers 224. Walkin' The Chalk Line - Tiny Bradshaw
Sklep: Gigant.pl 30,99 zł
Muzyka>Rock>Rock & Roll
1. Remember Then - The Earls 2. Hey Baby - Bruce Channel 3. Soldier Boy - The Shirelles 4. The Big Bounce - Shirley Caddell & The Aristocra 5. Nut Rocker - B Bumble & The Stingers 6. Breaking Up Is Hard To Do - Neil Sedaka 7. Let's Dance - Chris Montez 8. Love Me Do - The Beatles 9. Surfin Safari - The Beach Boys 10. Dream Baby - Roy Orbison 11. Shout Shout (Knock Yourself Out) - Ernie Maresc 12. Here Comes That Feeling - Brenda Lee 13. Roses Are Red (My Love) - Bobby Vinton 14. He's A Rebel - The Crystals 15. Return To Sender - Elvis Presley 16. Sherry - The Four Seasons 17. I Need Your Loving - Don Gardner & Dee Dee Ford 18. You Belong To Me - The Duprees 19. Ginny Come Lately - Brian Hyland 20. Something's Got A Hold On Me - Etta James 21. Twist And Shout - The Isley Brothers 22. You've Really Got A Hold On Me - The Miracles 23. Let Me In - The Sensations 24. I Can't Stop Loving You - Ray Charles 101. The Wanderer - Dion 102. Good Luck Charm - Elvis Presley 103. Papa -oom -mow -mow - The Rivingtons 104. Goodbye Cruel World - James Darren 105. Sealed With A Kiss - Brian Hyland 106. Lover Please - Clyde Mcphatter 107. Sharing You - Bobby Vee 108. Rhythm Of The Rain - The Cascades 109. Tell Him - The Exciters 110. I'm Gonna Be Warm This Winter - Connie Francis 111. Little Town Flirt - Del Shannon 112. Do You Love Me - The Contours 113. Twistin' The Night Away - Sam Cooke 114. Ps I Love You - The Beatles 115. Chains - The Cookies 116. Big Girls Don't Cry - The Four Seasons 117. Telstar - The Tornados 118. Reminiscing - Buddy Holly 119. Venus In Blue Jeans - Jimmy Clanton 120. Send Me The Pillow You Dream On - Johnny Tillot 121. She's A Trouble Maker - The Majors 122. Don't Hang Up - The Orlons 123. Up On The Roof - The Drifters 124. These Arms Of Mine - Otis Redding 125. Release Me - Esther Phillips
Sklep: Gigant.pl 30,99 zł
Muzyka>Rock
1. Twist And Shout - The Isley Brothers 2. Nut Rocker - Bumble & The Stingers 3. Sherry - The Four Seasons 4. Venus In Blue Jeans - Jimmy Clanton 5. I'm Tossin' And Turnin' Again - Bobby Lewis 6. Our Favorite Melodies - Gary Criss 7. Summertime Guy - Eddie Rambeau 8. Pop -eye - Huey Piano Smith & His Clowns 9. Talkin' No Trash - Chuck Reed 10. The Alley Cat Song - David Thorne 11. Love Came To Me - Dion 12. I Need Your Loving - Don Gardner & Dee Dee Ford 13. My Own True Love - The Duprees 14. If You Were A Rock & Roll Record - Freddy Canno 101. Little Diane - Dion 102. Apple Knocker - B Bumble & The Stingers 103. Come On Little Angel - The Belmonts 104. Nothing But The Blues - Bobby Lewis 105. Oh Delilah - Neil Sedaka 106. It's Love That Really Counts - The Shirelles 107. Spanish Harlem - Santo & Johnny 108. I Keep Forgettin' - Chuck Jackson 109. Big Girls Don't Cry - The Four Seasons 110. Ginny - The Duprees 111. Make It Easy On Yourself - Jerry Butler 112. Yacky Doo - The Fireballs 113. What's Gonna Happen When The Summers Done - Fre 114. My Little Heavenly Angel - Gary Criss 115. Twistin' With Linda - The Isley Brothers 116. Begging You Please - The Jive Five 117. Don't Feel Rained On - Esther Phillips 118. Twistin' Matilda (And The Channel) - Jimmy Soul 119. Bells Of Love - Ral Donner 120. June, July And August - Freddy Cannon 121. Mama Here Comes The Bride - The Shirelles 122. Untie Me - The Tams 123. Can You Waddle - The Spartans
Sklep: Gigant.pl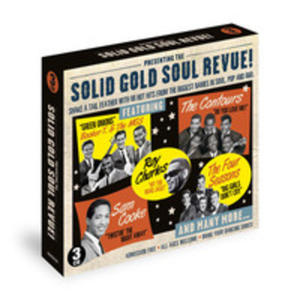 20,82 zł
Muzyka>Rhythm & Blues / Soul
1. Baby (You've Got What It Takes) - Brook Benton A 2. Why Do Fools Fall In Love? - Frankie Lymon & The 3. Duke Of Earl - Gene Chandler 4. The Loco-motion - Little Eva 5. Sea Of Love - Phil Phillips 6. Hit The Road Jack - Ray Charles 7. Little Star - The Elegants 8. You'll Lose A Good Thing - Barbara Lynn 9. Rockin' Robin - Bobby Day 10. Topsy II - Cozy Cole 11. Try Me - James Brown & His Famous Flames 12. Poison Ivy - The Coasters 13. Kansas City - Wilbert Harrison 14. Sincerely - The Moonglows 15. Blue Moon - The Marcels 16. Save The Last Dance For Me - The Drifters 17. Stagger Lee - Lloyd Price 18. Soul Twist - King Curtis 19. Doggin' Around - Jackie Wilson 20. Blueberry Hill - Fats Domino 101. Stand By Me - Ben E. King 102. Green Onions - Booker T. & The Mgs 103. You Send Me - Sam Cooke 104. Cc Rider - Chuck Willis 105. Fannie Mae - Buster Brown 106. This Bitter Earth - Dinah Washington 107. He Will Break Your Heart - Jerry Butler 108. Lonely Teardrops - Jackie Wilson 109. Twistin' The Night Away - Sam Cooke 110. There Goes My Baby - The Drifters 111. So Many Ways - Brook Benton 112. Earth Angel - The Penguins 113. Ya Ya - Lee Dorsey 114. Release Me - Esther Phillips 115. Mashed Potato Time - Dee Dee Sharp 116. A Lover's Question - Clyde Mcphatter 117. Kiddio - Brook Benton 118. My True Story - The Jive Five 119. Get A Job - The Silhouettes 201. Big Girls Don't Cry - The Four Seasons 202. Yakety Yak - The Coasters 203. Please Mr. Postman - The Marvelettes 204. I Can't Stop Loving You - Ray Charles 205. Long Tall Sally - Little Richard 206. Sweet Little Sixteen - Chuck Berry 207. Aint That A Shame - Fat's Domino 208. Bo Diddley - Bo Diddley 209. Raunchy - Ernie Freeman 210. Let's Go, Let's Go, Let's Go - Hank Ballard & Th 211. Do You Love Me? - The Contours 212. Tossin' And Turnin' - Bobby Lewis 213. Mother-in-law - Ernie K-doe 214. The Clouds - The Spacemen 215. Twilight Time - The Platters 216. I Know (You Don't Love Me No More) - Barbara Geo 217. Don't You Know - Della Reese 218. When - Kalin Twins 219. Shop Around - The Miracles DISC ONE Baby - Brook Benton And Dinah Washington Why Do Fools Fall In Love? - Frankie Lymon & The Teenagers Duke Of Earl - Gene Chandler The Loco-Motion - Little Eva Sea Of Love - Phil Phillips Hit The Road Jack - Ray Charles Little Star - The Elegants You'll Lose A Good Thing - Barbara Lynn Rockin' Robin - Bobby Day Topsy II - Cozy Cole Try Me - James Brown & His Famous Flames Poison Ivy - The Coasters Kansas City - Wilbert Harrison Sincerely - The Moonglows Blue Moon - The Marcels Save The Last Dance For Me - The Drifters Stagger Lee - Lloyd Price Soul Twist - King Curtis Doggin' Around - Jackie Wilson Blueberry Hill - Fats Domino   DISC TWO Stand By Me - Ben E. King Green Onions - Booker T. & The MGs You Send Me - Sam Cooke CC Rider - Chuck Willis Fannie Mae - Buster Brown This Bitter Earth - Dinah Washington He Will Break Your Heart - Jerry Butler Lonely Teardrops - Jackie Wilson Twistin' The Night Away - Sam Cooke There Goes My Baby - The Drifters So Many Ways - Brook Benton Earth Angel - The Penguins Ya Ya - Lee Dorsey Release Me - Esther Phillips Mashed Potato Time - Dee Dee Sharp A Lover's Question - Clyde McPhatter Kiddio - Brook Benton Only You - The Platters My True Story - The Jive Five Get A Job - The Silhouettes DISC THREE Big Girls Don't Cry - The Four Seasons Yakety Yak - The Coasters Please Mr. Postman - The Marvelettes I Can't Stop Loving You - Ray Charles Long Tall Sally - Little Richard Sweet Little Sixteen - Chuck Berry Aint That A Shame - Fat's Domino Bo Diddley - Bo Diddley A Rockin' Good Way - Brook Benton& Dinah Washington Raunchy - Ernie Freeman Let's Go, Let's Go, Let's Go Hank Ballard & The Midnighters Do You Love Me? - The Contours Tossin' And Turnin' - Bobby Lewis Mother-In-Law - Ernie K-Doe The Clouds - The Spacemen Twilight Time - The Platters I Know (You Don't Love Me No More) - Barbara George Don't You Know - Della Reese When - Kalin Twins Shop Around - The Miracles
Sklep: Gigant.pl 77,57 zł
Sidecar Dreamspinner Press
Książki / Literatura obcojęzyczna
The year is 1987. The boys wear pink Izod shirts, the girls wear big hair, everyone has a stash box, and AIDS is just an ugly rumor rumbling like a thunderstorm from the cities. A teenage runaway wanders the side of the road, a heartbeat away from despair, and is rescued by a long-haired angel on a Harley. But that's just the beginning of their story. Josiah Daniels wanted peace and quiet and a simple life, and he had it until he rescued Casey from hunger, cold, and exhaustion. Suddenly Joe's life is anything but simple as he and his new charge navigate a world that is changing more rapidly than the people in it. Joe wants to raise Casey to a happy and productive adulthood, and he does. But even as an adult, Casey can't conceive of a happy life without Joe. The trouble is getting Joe to accept that the boy he nurtured is suddenly the man who wants him. Their relationship can either die or change with the world around them. As they make a home, negotiate the new rules of growing up, and swerve around the pitfalls of modern life, Casey learns that adulthood is more than sex, Joe learns that there is no compromise in happy ever after, and they're both forced to realize that the one thing a man shouldn't be is alone.
Sklep: Libristo.pl 36,21 zł
Książki / Literatura obcojęzyczna
Excerpt from Tannwald Why is it that no play founded upon Goethe's "Faust" has had any notable success save such as could be given to it by fine music or scenic effects? The story of Margaret is one of the most tragic ever written; Mephistopheles is a brilliant character; the dialogue is remarkably eloquent, witty and poetical; the piece, though not prepared for the stage by the author, is dramatic in its form, and seems to furnish almost unequalled material for playwrights; and yet, after a hundred have tried it, the successful one is still to be found. Not having examined their compositions, I shall not undertake to criticise them, but so far as I know anything of them, all give prominence to Mephistopheles, the supernatural and the scenic effects, and I have made another attempt, excluding everything but the human characters and natural influences, developing some personages which are mentioned in the original, and adding others. Out of two dozen scenes, three-fourths are entirely my own. I do not publish "Tannwald" without at least partly appreciating its defects. I should have been glad to reduce the number of characters, and to give brilliancy and eloquence to the dialogue if I knew how. The translation of Margaret's song, "The King of Thule," is taken from an anonymous writer. H. Country - Austria. Time - In the Reign of Charles V. Characters - Henry Faust, Professor in Vienna; John Slack, his friend, and Cousin of Baroness Roth; Mr. Albert, Faust's servant; Count Dick ; Major Hohenthal; Captain Lovenstein; Mr. Helfenstein, a barber; Margaret Hartz, a village girl; Mrs. Hartz, her mother; Barbara Marks, Margaret's cousin; Mrs. Marks, Barbara's mother; Mrs. Martha Swerlin, Margaret's cousin; Mrs. Kline; Mrs. Prinz; Miss Behr; Miss Green; Lina, Miss Behr's servant; Valentine, Margaret's brother; Baron Ritterstahl; Major Myer; Commissary Wetzel; Soldiers; Paymaster Fuhr; Lieut. Carmony; Anthony Swerlin, Ritterstahl's servant; Soldiers and Peasants; Baroness Roth, Lady of Tannwald Castle. Act I. Scene I - Room in Tannwald Castle. Baroness Roth, Mr. Slack, Count Dick, Captain Lovenstein, Major Hohenthal, Albert, Helfenstein, and Others. Baroness - Cousin Slack, I fear that your friends accustomed as they are to court life, will find it dull in Tannwald. Slack - These gentlemen are fond of the chase, and there is no better place for game than the mountains back of the Castle. The Baron has already gone with us to the stables and assigned our horses to us. Baroness - What will become of Prof. Faust? Slack - He can follow us in charge of a gamekeeper, until he learns to ride. Then he can amuse himself fishing, and occasionally we will go down to the village and see its attractions. Baroness - It has none. Slack - O, cousin, a lady is not supposed to know all that attracts gentlemen. When I was here last Summer, I spent many hours there. Two dozen village beauties want the attentions of men from the court. Baroness - They are poor people; we never associate with them. Slack - The young men can drink and sing; the girls can dance and flirt. Count Dick - You are the man for us, Mr. Slack. Take us among them. Baroness - If you wish, I will sometimes invite them to the Castle. Count Dick - That would be still better. Please do; we cannot ride after the hounds every day. Slack - They will be delighted to come, and we will have all the fun we want. Baroness - Then, in a couple of weeks, we will have a ball here. In the meantime, I wish you all to enjoy yourselves, and if anything is necessary to your comfor
Sklep: Libristo.pl 68,07 zł
Książki / Literatura obcojęzyczna
In 1988, at the age of twenty, Souha Bechara attempted to assassinate General Lahad, chief of militia in charge of Israeli-occupied Southern Lebanon. Immediately apprehended, interrogated, and tortured for weeks, she was sent to Khiam, a prison and death camp regularly condemned by humanitarian organisations. After an intense Lebanese, European, and even Israeli campaign in her favour, she was finally released in 1998, after ten years of imprisonment. As the world continues to be rocked by violent conflicts in the Middle East, the story of a secular leftist rebel risking her life to rid her country of occupying forces will resonate with those looking to understand why young Palestinian girls blow themselves up in crowded Jerusalem markets. Rather than a dry political tome, this book offers a personal, humanised insight into today's most complex and misunderstood social problem. With a closing chapter that clarifies, in the most personal terms, why the conflict in Israel and Palestine continues unabated, this is a memoir of resistance and oppression that will move and provoke readers across the political spectrum.
Sklep: Libristo.pl
Sklepy zlokalizowane w miastach: Warszawa, Kraków, Łódź, Wrocław, Poznań, Gdańsk, Szczecin, Bydgoszcz, Lublin, Katowice
Szukaj w sklepach lub całym serwisie
2. Szukaj na wszystkich stronach serwisu
t1=0.041, t2=0, t3=0, t4=0, t=0.041