krainaksiazek everyone thinks they know me 20117553
- znaleziono 6 produktów w 3 sklepach 30,23 zł
Książki / Literatura obcojęzyczna
Book 6 of the Kingdom of Silk series. The books explore important themes of love, loss, friendships, home and belonging, in ways that pull at the heartstrings but are never over-sentimental. Honey for the soul. Everyone knows that Saffron Silk has a talent for pretending to be someone else but when the firebirds rage inside her head, and it hurts even to breathe, Saffron barely has the energy to be herself.Saffron's family don't know about the firebirds that come to warn her of terrible headaches. And Saffron doesn't know how to tell them. But her brother Perry Angel has learnt to read hearts and recognise tender moments, and Perry knows that Saffron is frightened.Frightened of what might be wrong with her and afraid that she might have to leave the Kingdom of Silk forever...In Glenda Millard's beautifully written and multi-award-winning Kingdom of Silk series, we meet the uncommon Silk family. Parents Ben and Annie Silk have a brood of five daughters ('the Rainbow Girls'), a son named Griffin, Griffin's best friend Layla who 'might as well be a Silk', Nell - the 'tiny bit magic' fairy grandmother, and Perry Angel - an adopted son who joins the Silk family. REVIEWS: "Every action, every sentiment, every character amongst the pages of this book is a manifesto for family, for joy, for being kind, for never failing to show someone you love them, and for never ever failing to recognise the tiny tender moments that make one's life complete.Those tiny tender moments, they are those that "make the soul tipsy with ordinary happiness". This is why I love this series so much; it reminds us that true happiness is found in the simplest things." -- LIBRARY MICE. "Millard weaves difficult issues in a non-threatening way, but her language is so lyrical and poetic (but without lashings of sentimentality) you cannot helped but be moved." -- SHARON F JONES BLOG. "Like with many other books I review I ended up reading book first, then the previous 4/5 books, then I reread this one. I'm glad I was able to read the others (thanks to the lovely publicist), because my initial thoughts were that Saffron's father was a bit of a lunatic, her family was a bit too wacky, and I didn't entirely understand the various relationships. The first time round I fully related to Saffron's fear of what was wrong with her, just because it is so scary having your body do things which you've no control over & don't understand. The care and support of her friends and family made me cry (I cry when I'm happy, sad, & overwhelmed), especially that of Perry whose personal sacrifice I fully understood when I read the stories where he first appears. This entire series is such a sweet read, covering emotionally complex issues in a way that makes sense. I want a grandmother like Nell! She is heaps of fun, sees the positive in everything, and knows that not everyone can learn the same way, which is why Perry ends up being homeschooled 2 days a week and attending school for the rest. It is never openly said (as far as I can remember) but it's obvious that Perry has some form of Autism or Aspergers, and the way his adopted brother and sisters view him is touching. I loved how Layla brightens everyone's life after their dear sister Tishkin passes away. I admire Saffron's parents for sticking with their way of life and not minding what other people think, for picking meaningful names, for being able to follow their dreams. Liking handicrafts made me like Saffron's dad being a wood carver and a baker - the naming books sounds exquisite! This is a series I'll reread because they are touching, and the illustrations heighten the meaning behind the story. A family focused read with lots of grandmother magic!" -- NAYU'S READING CORNER. "Glenda Millard's Kingdom of Silk books have won many awards in her native Australia, and no wonder: there are very few books, for children or adults, which describe love so clearly or so lyrically. There are seven books in the series, The Tender Moments of Saffron Silk is number six, and it is definitely worth reading them all, and in order, to really get to know the Silks. They are an uncommon lot: the rest of the world might see them as eccentric, even weird, that doesn't bother them at all. Parents Ben and Annie have five daughters ('the Rainbow Girls'), a son named Griffin and an adopted son, Perry Angel, who joins the family midway through the series. Nell is 'the tiny bit magic' grandmother, and Layla, Griffin's best friend, understands them so well she 'might as well be a Silk'. They live on a beautiful plot of land in the Australian countryside, and Millard evokes the sense of place beautifully. Each book describes a different event in their lives, but the emphasis is always on themes of love, friendship and belonging. In The Tender Moments of Saffron Silk, Saffron, the youngest and most dreamy of the Rainbow Girls isn't well. She has terrible headaches, accompanied by blinding lights she thinks of as firebirds. The Silks have already lost one daughter, baby Tishkin, and everyone is scared for Saffron. Little Perry is the one to realise just how frightened Saffron herself is though, and to work out what special help she needs. Everything ends well, and a small Silk miracle takes place at the hospital. Millard has a light touch and avoids sentimentality, this is another beautiful and affecting read." -- LOVEREADING.
Sklep: Libristo.pl 36,60 zł
Inne 1
'She's mad. There has to be something wrong with her. She's insane.' Nobody wants Tulip in their gang. She skives off school, cheeks the teachers, and makes herself unpopular with her classmates by telling the most awful lies. None of this matters to Natalie. Natalie finds Tulip exciting, and at first she doesn't care that other people are so upset and unnerved by Tulip's bizarre games like Stinking Mackerel and Road of Bones. It's funny to watch their reactions, and there's always the delicious fear that the two girls might be caught. But as the games become increasingly sinister and dangerous, Natalie realizes that Tulip is going too far. Much too far. Natalie could try to change things. But deep inside she knows that, once crossed, Tulip won't rest until she's won the most dangerous game of all. In this compelling story Anne Fine explores the dark side of a friendship bordering on obsession, and sensitively depicts one girl's gradual decline into hostility and violence. The Tulip Touch is a powerful novel, gripping and mesmerizing. It is truly a story that touches the heart - I couldn't put it down, I had to know what happened next to Tulip and Natalie! A real read, recommended for all young readers from the age of about nine. Jade You shouldn
Sklep: Albertus.pl 64,57 zł
Książki / Literatura obcojęzyczna
Faith Lane is the girl who has everything. At least, that's what everyone thinks when they see her rocking a killer dress while laughing with her best friend, Tiffany. But Faith's life is far from flawless. Her peers torment her relentlessly, and her parents expect her to be the epitome of perfection. Criticized and pressured at school and home, Faith retreats into silent acceptance and finds an escape in her passion of dancing. Then she meets Alex - popular, forever with a pass, and concealing a mysterious secret of his own. And through his encouragement, Faith starts believing in her gift for dance and gains courage to stand up for herself. But will she be able to keep her footing when the events of one night consume her with the need to jump off the rocky cliffs near her coastal home? And what has pushed her to the edge of reason? About the Author: K.P Gazelle has been connected with young adults in some way for as long as she can remember. She's obsessed with books, coffee, and big dreams. Excerpt: "CRAP!" I YELPED in pain, rubbing my bruised toes. Attempt number 100: fail. I took a deep breath and pushed myself up again. Closing my eyes, I leapt, tossing my arms and head back and pointing one leg straight in front. I tried arching the other leg behind me to complete the firebird leap. Instead, I came tumbling down onto my bedroom floor and bruised my toes again. Crappity crap crap! I wiped the sweat off my forehead with the back of my hand and rolled my eyes at the dance instructor in the video that I kept replaying on my laptop. She made it seem so easy when it clearly was not. "I hate you, firebird leap!" I yelled at my screen before slamming it shut and pushing it further back on my desk. I flopped backward onto my bed beside the desk, burned out from practicing. "Faith, Tiffany's here!" Mama announced from downstairs. Tiffany had been my best friend since sixth grade. We'd met in gym class during a game of badminton. Being the world's most uncoordinated person, Tiffany sent her racket flying over the net along with the birdie. The impact of the handle hitting my head was blinding, making me dizzy and causing me to fall to the floor within seconds. She had rushed over, apologizing profusely -- being the kind of person who wouldn't even hurt an ant -- and instead of turning into sworn enemies we became best friends. "Give me ten minutes!" I yelled back, before jumping into the shower and changing into a powder blue sundress. Grabbing my handbag, I jogged downstairs, so ready to finally get out of the house. "Hey, you ready?" Tiffany asked while tying her blonde hair back with a hair tie. She was half Chinese, but you would never have been able to guess that unless you'd looked closely at the monolid of her small, wide-set brown eyes. "You don't even know," I answered under my breath as I made my way to the kitchen, drawn by the smell of cinnamon. Mama was at the island flipping over some French toast. She was already dressed in a beige day dress and nude wedges. She was the poster girl for a 1950's housewife, always cooking or cleaning, but with her dark shoulder length locks and makeup perfectly done. I forked a piece into my mouth, savoring the maple syrup for a moment before kissing her cheek goodbye. "I want a call every thirty minutes, young lady," she reminded me for the millionth time since morning. "Kind of hard when I don't have a cell phone." "Mrs. Lane, Faith needs a cell. She has to be the only sophomore at Liberty High who doesn't have one," Tiffany advocated on my behalf. She'd had a cell phone since eighth grade -- which was totally annoying, yet convenient. "Nice try, girls. Now, off you go, out of my kitchen."
Sklep: Libristo.pl 40,99 zł
Muzyka>Country
1. From Another Time 2. Dilggi Diggi Li 3. Wheels 4. Dim Lights, Thick Smoke 5. Faded Love 6. Devil In Disguise 7. Building Fires 8. Bon Soir Blues 9. White Line Fever 10. Sin City 11. She Thinks I Still Care 12. Why Baby Why? 13. Close Up The Honky Tonks 101. Hollywood Nights 102. She Belongs To Everyone But Me 103. Somewhere Tonight 104. Baby, How'd We Ever Get This Way? 105. Too Much Honky Tonkin' 106. Midnight Magic Woman 107. M 108. She's A Freind Of A Friend 109. Louisiana 110. Cheating Kind Of Love 111. Why Must The Ending Always Be So Sad 112. That's When You Know It's Over 113. You 114. I Swear I Don't Miss Her Anymore 115. She's A Hell Of A Deal 116. Another Shade Of Grey 117. Damned If I'll Be Lonely Tonight 118. If Something Should Come Between Us 119. When You're Giving Yourself To A Stranger 120. Run To The Night 121. Coast To Coast 122. Closer To You 123. True Love Never Runs Dry 124. Tell Me If Ain't So
Sklep: Gigant.pl 40,35 zł
Książki / Literatura obcojęzyczna
Jeremy Clarkson is once more "Driven to Distraction". Brace yourself. Clarkson's back. And he'd like to tell you what he thinks about some of the most awe-inspiring, earth-shatteringly fast and jaw-droppingly cool cars in the world (oh, and a few irredeemable disasters...). Or he would if he could just get one or two things off his chest first. Matters such as: the prospect of having Terry Wogan as president; why you'll never see a woman driving a Lexus; the unforeseen consequences of inadequate birth control; why everyone should spend a weekend with a digger. "Driven to Distraction" is Jeremy Clarkson at full throttle. So buckle up, sit tight and enjoy the ride. You're in for a hell of a lot of laughs. Praise for Jeremy Clarkson: "Brilliant ...laugh-out-loud". ("Daily Telegraph"). "Outrageously funny ...will have you in stitches". ("Time Out"). Number-one bestseller Jeremy Clarkson writes on cars, current affairs and anything else that annoys him in his sharp and funny collections. "Born To Be Riled", "Clarkson On Cars", "Don't Stop Me Now", "Driven To Distraction", "Round the Bend", "Motorworld" and "I Know You Got Soul" are also available as Penguin paperbacks; the Penguin App "iClarkson: The Book of Cars" can be downloaded on the App Store. Jeremy Clarkson because his writing career on the "Rotherham Advertiser". Since then he has written for the "Sun" and the "Sunday Times". Today he is the tallest person working in British television, and is the presenter of the hugely popular "Top Gear".
Sklep: Libristo.pl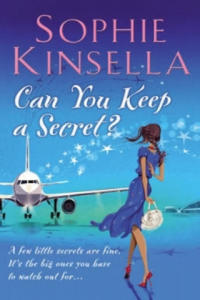 39,88 zł
Książki / Literatura obcojęzyczna
Emma is sitting on a turbulent plane. She's always been a v. nervous flyer. She really thinks that this could be her last moment. So, naturally enough, she starts telling the man sitting next to her - quite a dishy American, but she's too frightened to notice -all her innermost secrets. How she scans the backs of intellectual books and pretends she's read them. How she does her hair up like Princess Leia in her bedroom. How she's not sure if she has a G-spot, and whether her boyfriend could find it anyway. How she feels like a fraud at work - everyone uses the word 'operational' all the time but she hasn't a clue what it means. How the coffee at work is horrible. How she once threw a troublesome client file in the bin. If ever there was a bare soul, it's hers. She survives the flight, of course, and the next morning the famous founding boss of the whole mega corporation she works for is coming for a look at the UK branch. As he walks around, Emma looks up and realises...It's the man from the plane. What will he do with her secrets? He knows them all - but she doesn't know a single one of his. Or...does she?
Sklep: Libristo.pl
Sklepy zlokalizowane w miastach: Warszawa, Kraków, Łódź, Wrocław, Poznań, Gdańsk, Szczecin, Bydgoszcz, Lublin, Katowice
Szukaj w sklepach lub całym serwisie
2. Szukaj na wszystkich stronach serwisu
t1=0.05, t2=0, t3=0, t4=0.024, t=0.05