krainaksiazek expert sql server in memory oltp 20115984
- znaleziono 6 produktów w 1 sklepie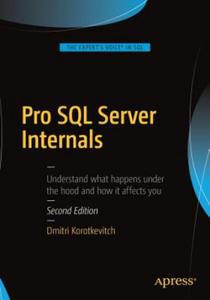 288,03 zł
Książki / Literatura obcojęzyczna
Improve your ability to develop, manage, and troubleshoot SQL Server solutions by learning how different components work "under the hood," and how they communicate with each other. The detailed knowledge helps in implementing and maintaining high-throughput databases critical to your business and its customers. You'll learn how to identify the root cause of each problem and understand how different design and implementation decisions affect performance of your systems. New in this second edition is coverage of SQL Server 2016 Internals, including In-Memory OLTP, columnstore enhancements, Operational Analytics support, Query Store, JSON, temporal tables, stretch databases, security features, and other improvements in the new SQL Server version. The knowledge also can be applied to Microsoft Azure SQL Databases that share the same code with SQL Server 2016. Pro SQL Server Internals is a book for developers and database administrators, and it covers multiple SQL Server versions starting with SQL Server 2005 and going all the way up to the recently released SQL Server 2016. The book provides a solid road map for understanding the depth and power of the SQL Server database server and teaches how to get the most from the platform and keep your databases running at the level needed to support your business. The book: - Provides detailed knowledge of new SQL Server 2016 features and enhancements - Includes revamped coverage of columnstore indexes and In-Memory OLTP - Covers indexing and transaction strategies - Shows how various database objects and technologies are implemented internally, and when they should or should not be used - Demonstrates how SQL Server executes queries and works with data and transaction log What You Will Learn Design and develop database solutions with SQL Server. Troubleshoot design, concurrency, and performance issues. Choose the right database objects and technologies for the job. Reduce costs and improve availability and manageability. Design disaster recovery and high-availability strategies. Improve performance of OLTP and data warehouse systems through in-memory OLTP and Columnstore indexes. Who This Book Is For Pro SQL Server Internals is a book for developers and database administrators who want to design, develop, and maintain systems in a way that gets the most from SQL Server. This book is an excellent choice for people who prefer to understand and fix the root cause of a problem rather than applying a 'band aid' to it.
Sklep: Libristo.pl 236,74 zł
Książki / Literatura obcojęzyczna
Learn to take advantage of the opportunities offered by SQL Server 2014 Microsoft's SQL Server 2014 update means big changes for database administrators, and you need to get up to speed quickly because your methods, workflow, and favorite techniques will be different from here on out. The update's enhanced support of large-scale enterprise databases and significant price advantage mean that SQL Server 2014 will become even more widely adopted across the industry. The update includes new backup and recovery tools, new AlwaysOn features, and enhanced cloud capabilities. In-memory OLTP, Buffer Pool Extensions for SSDs, and a new Cardinality Estimator can improve functionality and smooth out the workflow, but only if you understand their full capabilities. Professional Microsoft SQL Server 2014 is your comprehensive guide to working with the new environment. Authors Adam Jorgensen, Bradley Ball, Ross LoForte, Steven Wort, and Brian Knight are the dream team of the SQL Server community, and they put their expertise to work guiding you through the changes. Improve oversight with better management and monitoring Protect your work with enhanced security features Upgrade performance tuning, scaling, replication, and clustering Learn new options for backup and recovery Professional Microsoft SQL Server 2014 includes a companion website with sample code and efficient automation utilities, plus a host of tips, tricks, and workarounds that will make your job as a DBA or database architect much easier. Stop getting frustrated with administrative issues and start taking control. Professional Microsoft SQL Server 2014 is your roadmap to mastering the update and creating solutions that work.
Sklep: Libristo.pl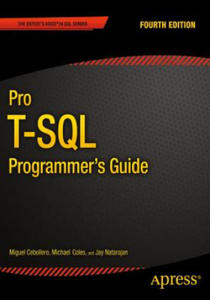 235,61 zł
Książki / Literatura obcojęzyczna
Pro T
Sklep: Libristo.pl 376,02 zł
Książki / Literatura obcojęzyczna
The books in O'Reilly's Oracle series are authoritative -- they tell the whole story about complex topics, ranging from performance tuning to the use of packages in PL/SQL to new technologies like Power Objects. And they're independent; they're alternatives for readers who need to know how products and features really work. They're packed with real-world advice and techniques from practitioners in the field, and they come with disks containing code you can use immediately in your own applications. O'Reilly is the alternative for Oracle people who need to solve problems -- and solve them now. Performance tuning is crucial in any modern relational database management system. Too many organizations respond to Oracle performance problems by throwing money at these problems -- by buying larger and more expensive computers or by hiring expert consultants. But there's a lot you can do on your own to increase dramatically the performance of your existing system. Whatever version of Oracle you're running -- from Version 6 to Oracle8, proper tuning can save your organization a huge amount of money in additional equipment, extra memory, and hardware upgrades. The first edition of Oracle Performance Tuning became a classic for programmers, managers, database administrators, system administrators, and anyone who cares about improving the performance of an Oracle system. This second edition contains 400 pages of updated material updating on Oracle features, incorporating advice about disk striping and mirroring, RAID, client-server, distributed databases, MPPS, SMPs, and other architectures. It also includes chapters on parallel server, parallel query, backup and recovery, the Oracle Performance Pack, and more.
Sklep: Libristo.pl 268,95 zł
Książki / Literatura obcojęzyczna
DB2(R) 9 builds on the world's number one enterprise database to simplify the delivery of information as a service, accelerate development, and dramatically improve operational efficiency, security, and resiliency. Now, this new edition offers complete, start-to-finish coverage of DB2 9 administration and development for Linux(R), UNIX(R), and Windows(R) platforms, as well as authoritative preparation for the latest IBM DB2 certification exam. Written for both DBAs and developers, this definitive reference and self-study guide covers all aspects of deploying and managing DB2 9, including DB2 database design and development; day-to-day administration and backup; deployment of networked, Internet-centered, and SOA-based applications; migration; and much more. You'll also find an unparalleled collection of expert tips for optimizing performance, availability, and value. Coverage includes: * Important security and resiliency enhancements, including advanced access control; fine-grained, label-based security; and the new security administrator role * Breakthrough pureXML(TM) features that make it easier to succeed with service-oriented architecture * Operational improvements that enhance DBA efficiency--including self-tuning memory allocation, automated storage management, and storage optimization * Table-partitioning features that improve scalability and manageability * Powerful improvements for more agile and rapid development, including the new Eclipse-based Developer Workbench and simple SQL or XQuery access to all data Whatever your role in working with DB2 or preparing for certification, DB2 9 for Linux, UNIX, and Windows, Sixth Edition is the one book you can't afford to be without. Download Complete DB2 V9 Trial Version Visit ibm.com/db2/9/download.html to download a complete trial version of DB2, which enables you to try out dozens of the most powerful features of DB2 for yourself: everything from pureXML support to automated administration and optimization. * Straight from IBM, the ultimate guide to running DB2 9 and preparing for the latest IBM DB2 certification exam! * Covers powerful DB2 9 enhancements ranging from automated management to improved compression * Covers the full spectrum of DBA responsibilities, including server management, data placement, XML concepts, activity analysis, high availability, and security * Presents expert tips and best practices from the DB2 customer support organization
Sklep: Libristo.pl 727,04 zł
Książki / Literatura obcojęzyczna
CompTIA A+ 220-801 and 220-802 Authorized Cert Guide and Simulator Library is the perfect learning product to help you prepare for CompTIA's performance-based questions from Pearson IT Certification, a leader in IT Certification learning and a CompTIA Authorized Platinum Partner. CompTIA's performance-based questions require exam candidates to perform a task or solve a problem within a simulated IT environment to demonstrate specific knowledge or skills. This value-priced package contains: * Book: a comprehensive, fully revised book for complete lessons and reference: "CompTIA A+ 220-801 and 220-802 Authorized Cert Guide, " ISBN: 9780789748508 * Practice Test: State of the art practice test software featuring two complete exams and customizable practice questions and special offer to save 70% off Premium Edition eBook and Practice Test * Simulator and Labs: State-of-the-art, interactive simulation software, covering every A+ exam topic, presents you with 261 challenging labs * Video Training: More than 13 hours of expert-led video training, walking through the skills and concepts necessary for passing the A+ exam Limited Time Offer Buy "CompTIA A+ 220-801 and 220-802 Authorized Cert Guide and Simulator Library" and receive a 10% off discount code for the CompTIA A+ 220-801 and 220-802 exams. To receive your 10% off discount code: * Register your product at pearsonITcertification.com/register * Follow the instructions * Go to your Account page and click on "Access Bonus Content" This network simulator and authorized study guide helps you master all the topics on the A+ exam, including * Device Manager * Backup and restore * Networking protocols and ports * IPv4 and IPv6 * Security and firewalls * TPM and BitLocker Drive Encryption * Password and lockout policies * Printer configuration and permissions * Mobile device configuration/security * BIOS and CMOS configuration * Motherboards, power supplies, memory About the CompTIA A+ 220-801 and 220-802 Simulator CompTIA A+ 220-801 and 220-802 Simulator helps you reinforce A+ exam topics and develop and enhance the hands-on skills you will need to succeed on the exams and on the job. This state-of-the-art, interactive simulation software presents you with 261 challenging labs that help you learn by doing, which is the most effective method of learning. The labs cover every A+ topic including installation, user accounts, and creating automatic backups. Security labs cover password policy, user permissions, file and folder encryption, and the Windows Firewall. In troubleshooting labs, you learn how to start and stop services, use the Event Viewer logs to troubleshoot and track an attack, create a restore point, create a system image and a system repair disk, and schedule backups. Networking labs cover classes of private IP addresses and subnet masks, assigning DHCP addresses, and setting up an ad hoc wireless network. Then go beyond the operating system to get experience configuring your CMOS settings, upgrading hardware, and learning to identify and install a variety of devices. In addition to the wealth of hands-on exercises, this software comes complete with more than thirteen hours of video training by expert instructor Beth Smith. About the CompTIA A+ 220-801 and 220-802 Authorized Cert Guide In CompTIA A+ 220-801 and 220-802 Authorized Cert Guide, best-selling authors Mark Soper, David Prowse, and Scott Mueller share their preparation hints and test-taking tips, helping you identify areas of weakness and improve both your conceptual knowledge and hands-on skills. The book presents you with an organized test preparation routine through the use of proven series elements and techniques. Key Topics icons call attention to the information that's most crucial to know for the exam. Chapter-ending Exam Preparation Tasks help you drill on key concepts you must know thoroughly. Review questions help you assess your knowledge and Key Terms defined in a complete glossary explain all the field's essential terminology. The companion DVD contains the powerful Pearson IT Certification Practice Test engine, complete with hundreds of exam-realistic questions and two complete practice exams. The assessment engine offers you a wealth of customization options and reporting features, laying out a complete assessment of your knowledge to help you focus your study where it is needed most. Includes Exclusive Offer for 70% Off Premium Edition eBook and Practice Test. Pearson IT Certification Practice Test Minimum System Requirements: Windows XP (SP3), Windows Vista (SP2), Windows 7, or Windows 8 Professional; Microsoft .NET Framework 4.0 Client; Microsoft SQL Server Compact 4.0; Pentium-class 1 GHz processor (or equivalent); 512 MB RAM; 650 MB disc space plus 50 MB for each downloaded practice exam. CompTIA A+ 220-801 and 220-802 Simulator Minimum System Requirements Windows System Requirements: Microsoft Windows XP (SP2/SP3), Windows Vista (32-bit/64-bit) with SP1, Windows 7 (32-bit/64-bit), Windows 8 (Desktop UI only); Intel(R) Pentium(R) III 1 GHz or faster processor; 512 MB RAM (1 GB recommended); 1.5 GB hard disk space; 32-bit true color monitor (1024x768 resolution); Adobe Acrobat Reader version 8.0 or higher; Connection to the Internet during installation for access code validation. Mac system requirements: Mac OS X 10.6, 10.7, 10.8, and 10.9; Intel Core(TM) Duo 1.83 GHz or faster processor; 512 MB RAM (1 GB recommended); 1.5 GB hard disk space; 32-bit true color monitor (1024x768 resolution); Adobe Acrobat Reader version 8.0 or higher; Connection to the Internet during installation for access code validation.
Sklep: Libristo.pl
Sklepy zlokalizowane w miastach: Warszawa, Kraków, Łódź, Wrocław, Poznań, Gdańsk, Szczecin, Bydgoszcz, Lublin, Katowice
Szukaj w sklepach lub całym serwisie
2. Szukaj na wszystkich stronach serwisu
t1=0.032, t2=0, t3=0, t4=0, t=0.032