krainaksiazek expert sql server in memory oltp 20115984
- znaleziono 7 produktów w 3 sklepach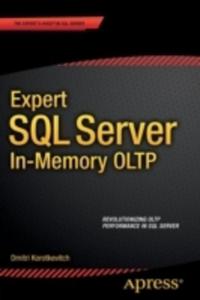 209,99 zł
Książki Obcojęzyczne>Angielskie>Computing & information technology>Databases>Database software>SQL Server / MS SQL
0x007bab3900000000
Sklep: Gigant.pl 129,58 zł
Książki
Sklep: KrainaKsiazek.pl 149,99 zł
Książki Obcojęzyczne>Nieprzypisane
0x007759f000000000
Sklep: Gigant.pl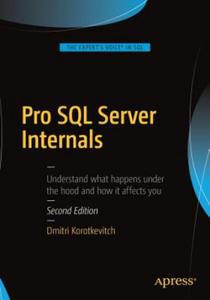 214,14 zł
Książki / Literatura obcojęzyczna
Improve your ability to develop, manage, and troubleshoot SQL Server solutions by learning how different components work "under the hood," and how they communicate with each other. The detailed knowledge helps in implementing and maintaining high-throughput databases critical to your business and its customers. You'll learn how to identify the root cause of each problem and understand how different design and implementation decisions affect performance of your systems. New in this second edition is coverage of SQL Server 2016 Internals, including In-Memory OLTP, columnstore enhancements, Operational Analytics support, Query Store, JSON, temporal tables, stretch databases, security features, and other improvements in the new SQL Server version. The knowledge also can be applied to Microsoft Azure SQL Databases that share the same code with SQL Server 2016. Pro SQL Server Internals is a book for developers and database administrators, and it covers multiple SQL Server versions starting with SQL Server 2005 and going all the way up to the recently released SQL Server 2016. The book provides a solid road map for understanding the depth and power of the SQL Server database server and teaches how to get the most from the platform and keep your databases running at the level needed to support your business. The book: - Provides detailed knowledge of new SQL Server 2016 features and enhancements - Includes revamped coverage of columnstore indexes and In-Memory OLTP - Covers indexing and transaction strategies - Shows how various database objects and technologies are implemented internally, and when they should or should not be used - Demonstrates how SQL Server executes queries and works with data and transaction log What You Will Learn Design and develop database solutions with SQL Server. Troubleshoot design, concurrency, and performance issues. Choose the right database objects and technologies for the job. Reduce costs and improve availability and manageability. Design disaster recovery and high-availability strategies. Improve performance of OLTP and data warehouse systems through in-memory OLTP and Columnstore indexes. Who This Book Is For Pro SQL Server Internals is a book for developers and database administrators who want to design, develop, and maintain systems in a way that gets the most from SQL Server. This book is an excellent choice for people who prefer to understand and fix the root cause of a problem rather than applying a 'band aid' to it.
Sklep: Libristo.pl 283,22 zł
Książki / Literatura obcojęzyczna
Design using new features like in-memory online transaction processing, temporal data storage, row-level security, durability enhancements, and other design-related features that are new or changed in SQL Server 2016. Learn effective and scalable database design techniques in a SQL Server 2016 and higher. Pro SQL Server Relational Database Design and Implementation covers everything from design logic that business users will understand, all the way to the physical implementation of design in a SQL Server database. Grounded in best practices and a solid understanding of the underlying theory, Louis Davidson shows how to "get it right" in SQL Server database design and lay a solid groundwork for the future use of valuable business data. Pro SQL Server Relational Database Design and Implementation goes beyond the disk-based design techniques of the past. The book now covers design around solid-state storage as well as data that is constantly held in memory and never written to disk at all except as a backup. Attention is also given toward hybrid cloud and on-premise database configurations, as well the move toward preconfigured appliances. Pro SQL Server Relational Database Design and Implementation guides in the understanding of these massive changes and in their application toward sound database design.Gives a solid foundation in best practices and relational theory Covers the latest implementation features in SQL Server 2016 Helps you master in-memory OLTP and use it effectively Takes you from conceptual design to an effective, physical implementation What You Will LearnDevelop conceptual models of client data using interviews and client documentationRecognize and apply common database design patternsNormalize data models to enhance scalability and the long term use of valuable dataTranslate conceptual models into high-performing SQL Server databasesSecure and protect data integrity as part of meeting regulatory requirementsCreate effective indexing to speed query performanceWho This Book Is For Pro SQL Server Relational Database Design and Implementation is for programmers and database administrators of all types who want to use SQL Server to store data. The book is especially useful to those wanting to learn the very latest design features in SQL Server 2016, features that include an improved approach to in-memory OLTP, durability enhancements, temporal data support, and more. Chapters on fundamental concepts, the language of database modeling, SQL implementation, and of course, the normalization process, lay a solid groundwork for readers who are just entering the field of database design. More advanced chapters serve the seasoned veteran by tackling the very latest in physical implementation features that SQL Server has to offer. The book has been carefully revised to cover all the design-related features that are new in SQL Server 2016.
Sklep: Libristo.pl 251,24 zł
Książki / Literatura obcojęzyczna
Learn to take advantage of the opportunities offered by SQL Server 2014 Microsoft's SQL Server 2014 update means big changes for database administrators, and you need to get up to speed quickly because your methods, workflow, and favorite techniques will be different from here on out. The update's enhanced support of large-scale enterprise databases and significant price advantage mean that SQL Server 2014 will become even more widely adopted across the industry. The update includes new backup and recovery tools, new AlwaysOn features, and enhanced cloud capabilities. In-memory OLTP, Buffer Pool Extensions for SSDs, and a new Cardinality Estimator can improve functionality and smooth out the workflow, but only if you understand their full capabilities. Professional Microsoft SQL Server 2014 is your comprehensive guide to working with the new environment. Authors Adam Jorgensen, Bradley Ball, Ross LoForte, Steven Wort, and Brian Knight are the dream team of the SQL Server community, and they put their expertise to work guiding you through the changes. Improve oversight with better management and monitoring Protect your work with enhanced security features Upgrade performance tuning, scaling, replication, and clustering Learn new options for backup and recovery Professional Microsoft SQL Server 2014 includes a companion website with sample code and efficient automation utilities, plus a host of tips, tricks, and workarounds that will make your job as a DBA or database architect much easier. Stop getting frustrated with administrative issues and start taking control. Professional Microsoft SQL Server 2014 is your roadmap to mastering the update and creating solutions that work.
Sklep: Libristo.pl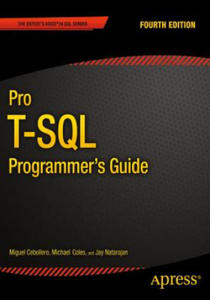 231,62 zł
Książki / Literatura obcojęzyczna
Pro T
Sklep: Libristo.pl
Sklepy zlokalizowane w miastach: Warszawa, Kraków, Łódź, Wrocław, Poznań, Gdańsk, Szczecin, Bydgoszcz, Lublin, Katowice
Szukaj w sklepach lub całym serwisie
2. Szukaj na wszystkich stronach serwisu
t1=0.03, t2=0, t3=0, t4=0, t=0.03