krainaksiazek faith works and why sometimes it doesn t 20088320
- znaleziono 8 produktów w 2 sklepach 45,80 zł
Nauki humanistyczne
Alain de Botton, best-selling author of How Proust can Change Your Life, has set six of the finest minds in the history of philosophy to work on the problems of everyday life. Here then are Socrates, Epicurus, Seneca, Montaigne, Schopenhauer and Nietzsche on some of the things that bother us all; lack of money, the pain of love, inadequacy, anxiety, the fear of failure and the pressure to conform.
Sklep: Albertus.pl 32,40 zł
Powieści i opowiadania
Blood. That
Sklep: Albertus.pl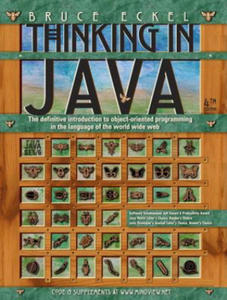 288,77 zł
Książki / Literatura obcojęzyczna
"Thinking in Java should be read cover to cover by every Java programmer, then kept close at hand for frequent reference. The exercises are challenging, and the chapter on Collections is superb! Not only did this book help me to pass the Sun Certified Java Programmer exam; it's also the first book I turn to whenever I have a Java question." -Jim Pleger, Loudoun County (Virginia) Government"Much better than any other Java book I've seen. Make that 'by an order of magnitude'...Very complete, with excellent right-to-the-point examples and intelligent, not dumbed-down, explanations...In contrast to many other Java books I found it to be unusually mature, consistent, intellectually honest, well-written, and precise. IMHO, an ideal book for studying Java." -Anatoly Vorobey, Technion University, Haifa, Israel"Absolutely one of the best programming tutorials I've seen for any language." -Joakim Ziegler, FIX sysop"Thank you again for your awesome book. I was really floundering (being a non-C programmer), but your book has brought me up to speed as fast as I could read it. It's really cool to be able to understand the underlying principles and concepts from the start, rather than having to try to build that conceptual model through trial and error. Hopefully I will be able to attend your seminar in the not-too-distant future." -Randall R. Hawley, automation technician, Eli Lilly & Co."This is one of the best books I've read about a programming language...The best book ever written on Java." -Ravindra Pai, Oracle Corporation, SUNOS product line"Bruce, your book is wonderful! Your explanations are clear and direct. Through your fantastic book I have gained a tremendous amount of Java knowledge. The exercises are also fantastic and do an excellent job reinforcing the ideas explained throughout the chapters. I look forward to reading more books written by you. Thank you for the tremendous service that you are providing by writing such great books. My code will be much better after reading Thinking in Java. I thank you and I'm sure any programmers who will have to maintain my code are also grateful to you." -Yvonne Watkins, Java artisan, Discover Technologies, Inc." Other books cover the what of Java (describing the syntax and the libraries) or the how of Java (practical programming examples). Thinking in Java is the only book I know that explains the why of Java: Why it was designed the way it was, why it works the way it does, why it sometimes doesn't work, why it's better than C++, why it's not. Although it also does a good job of teaching the what and how of the language, Thinking in Java is definitely the thinking person's choice in a Java book." -Robert S. StephensonAwards for Thinking in Java2003 Software Development Magazine Jolt Award for Best Book 2003 Java Developer's Journal Reader's Choice Award for Best Book 2001 JavaWorld Editor's Choice Award for Best Book 2000 JavaWorld Reader's Choice Award for Best Book 1999 Software Development Magazine Productivity Award 1998 Java Developer's Journal Editor's Choice Award for Best Book Thinking in Java has earned raves from programmers worldwide for its extraordinary clarity, careful organization, and small, direct programming examples. From the fundamentals of Java syntax to its most advanced features, Thinking in Java is designed to teach, one simple step at a time. * The classic object-oriented introduction for beginners and experts alike, fully updated for Java SE5/6 with many new examples and chapters! * Test framework shows program output. * Design patterns are shown with multiple examples throughout: Adapter, Bridge, Chain of Responsibility, Command, Decorator, Facade, Factory Method, Flyweight, Iterator, Data Transfer Object, Null Object, Proxy, Singleton, State, Strategy, Template Method, and Visitor. * Introduction to XML for data transfer; SWT, Flash for user interfaces. * Completely rewritten concurrency chapter gives you a solid grasp of threading fundamentals. *500+ working Java programs in 700+ compiling files, rewritten for this edition and Java SE5/6. * Companion web site includes all source code, annotated solution guide, weblog, and multimedia seminars. * Thorough coverage of fundamentals; demonstrates advanced topics. * Explains sound object-oriented principles. *Hands-On Java Seminar CD available online, with full multimedia seminar by Bruce Eckel. * Live seminars, consulting, and reviews available. See www.MindView.net Download seven free sample chapters from Thinking in Java, Fourth Edition. Visit http://mindview.net/Books/TIJ4.
Sklep: Libristo.pl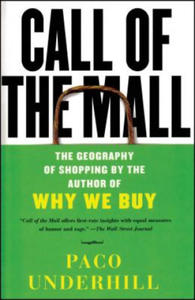 83,65 zł
Książki / Literatura obcojęzyczna
A bright, ironic, funny, and shrewd portrait of the mall--America's gift to personal consumption--is an example of commercial and social culture. This book examines how the mall is used, what it means, why it works when it does, and why it sometimes doesn't.
Sklep: Libristo.pl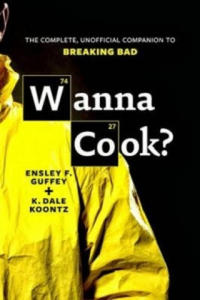 57,82 zł
Książki / Literatura obcojęzyczna
"I am not in danger ...I am the danger." With those words, Breaking Bad's Walter White solidified himself as TV's greatest antihero. Wanna Cook? explores the most critically lauded series on television with analyses of the individual episodes and ongoing storylines. From details like stark settings, intricate camerawork, and jarring music to the larger themes, including the roles of violence, place, self-change, legal ethics, and fan reactions, this companion book is perfect for those diehards who have watched the Emmy Award - winning series multiple times as well as for new viewers. Wanna Cook? elucidates without spoiling, and illuminates without nit-picking. A must have for any fan's collection. Excerpt. (c) Reprinted by permission. All rights reserved. From Wanna Cook's Episode Guide 1.01 Pilot/Breaking Bad Original air date: January 20, 2008 Written and directed by: Vince Gilligan "I prefer to see [chemistry] as the study of change ...that's all of life, right? It's the constant, it's the cycle. It's solution - dissolution, just over and over and over. It is growth, then decay, then - transformation! It is fascinating, really." - Walter White We meet Walter White, Jesse Pinkman, and Walt's family. Walt is poleaxed by some tragic news. With nothing to lose, Walt decides to try to make one big score, and damn the consequences. For that, however, he needs the help of Jesse Pinkman, a former student of Walt's turned loser meth cook and drug dealer. From the moment you see those khakis float down out of a perfectly blue desert sky, you know that you're watching a show like nothing else on television. The hard beauty and stillness of the American Southwest is shattered by a wildly careening RV driven by a pasty white guy with a developing paunch wearing only a gas mask and tighty-whities. What the hell? Like all pilots, this one is primarily exposition, but unlike most, the exposition is beautifully handled as the simple background of Walter's life. The use of a long flashback as the body of the episode works well, in no small part due to Bryan Cranston's brilliant performance in the opening, which gives us a Walter White so obviously, desperately out of his element that we immediately wonder how this guy wound up pantsless in the desert and apparently determined to commit suicide-by-cop. After the opening credits, the audience is taken on an intimate tour of Walt's life. Again, Cranston sells it perfectly. The viewer is presented with a middle-aged man facing the back half of his life from the perspective of an early brilliance and promise that has somehow imploded into a barely-making-ends-meet existence as a high school chemistry teacher. He has to work a lousy second job to support his pregnant wife and disabled teenage son and still can't afford to buy a hot water heater. Executive producer and series creator Vince Gilligan, along with the cast and crew (Gilligan & Co.), take the audience through this day in the life of Walt, and it's just one little humiliation after another. The only time Walt's eyes sparkle in the first half of the episode is when he is giving his introductory lecture to his chemistry class. Here Walt transcends his lower-middle-class life in an almost poetic outpouring of passion for this incredible science. Of course, even that brief joy is crushed by the arrogant insolence of the archetypal high school jackass who stays just far enough inside the line that Walt can't do a damn thing about him. So this is Walt and his life, as sad sack as you can get, with no real prospects of improvement, a brother-in-law who thinks he's a wuss, and a wife who doesn't even pay attention during birthday sex. Until everything changes. The sociologist and criminologist Lonnie Athens would likely classify Walt's cancer diagnosis as the beginning of a "dramatic self change," brought on by something so traumatic that a person's self - the very thoughts, ideas, and ways of understanding and interacting with the world - is shattered, or "fragmented," and in order to survive, the person must begin to replace that old self, those old ideas, with an entirely new worldview. (Athens and his theories are discussed much more fully in the previous essay, but since we warned you not to read that if you don't want to risk spoilage, the basic - and spoiler-free - parts are mentioned here.) Breaking Bad gives us this fragmentation beautifully. Note how from the viewer's perspective Walt is upside down as he is moved into the MRI machine, a motif smoothly repeated in the next scene with Walt's reflection in the top of the doctor's desk. Most discombobulating of all, however, is the consultation with the doctor. At first totally voiceless behind the tinnitus-like ambient soundtrack and faceless except for his chin and lips, the doctor and the news he is imparting are made unreal, out of place, and alien. As for Walt, in an exquisite touch of emotional realism, all he can focus on is the mustard stain on the doctor's lab coat. How many of us, confronted with such tragic news, have likewise found our attention focused, randomly, illogically, on some similar mundanity of life? It is from this shattered self that Walt begins to operate and things that would have been completely out of the question for pre-cancer Walt are now actual possibilities - things like finding a big score before he dies by making and selling pure crystal meth. Remember that Walt is a truly brilliant chemist, and knows full well what crystal meth is and what it does to people who use it. He may not know exactly what he's getting into, but he knows what he is doing. Enter Jesse Pinkman (Aaron Paul, best known previously for his role on Big Love), a skinny white-boy gangster wannabe, who under the name "Cap'n Cook" makes a living cooking and selling meth. He's also an ex-student of Walt's, and after being recognized by his former teacher during a drug bust, Walt has all the leverage he needs to coerce Jesse into helping him. Why does he need him? Because, as Walt says, "you know the business, and I know the chemistry." Symbolizing just how far beyond his old life Walt is moving, he and Jesse park their battered RV/meth lab in the desert outside of Albuquerque, far from the city and any signs of human life. All that is there is a rough dirt road and a "cow house" in the distance. The desert is a place without memory, a place outside of things, where secrets can be kept, and meth can be cooked. This is where Walt lives now. It is in this desert space that Walt becomes a killer, albeit in self defense. Ironically, the one thing that Walt views as holding the keys to the secret of life - chemistry - becomes the means to end lives. Walt, a father, teacher, and an integral part of an extended family - in other words, an agent of life and growth - has now become a meth cook, using chemical weapons to kill his enemies. Walter White has become an agent of death. The transformation is just beginning, but already Skyler (Anna Gunn, previously known for her roles on The Practice and Deadwood) is having some trouble recognizing her husband: "Walt? Is that you?" LAB NOTES Highlight: Jesse to Walt: "Man, some straight like you - giant stick up his ass all of a sudden at age what? Sixty? He's just going to break bad?" Did You Notice: This episode has the first (but not the last!) appearance of Walt's excuse that he's doing everything for his family. There's an award on the wall in Walt's house commemorating his contributions to work that was awarded the Nobel Prize back in 1985. The man's not a slouch when it comes to chemistry, so what's happened since then? At Walt's surprise birthday party, Walt is very awkward when he handles Hank's gun. Speaking of Hank (Dean Norris, whose other roles were in the TV series Medium, and the movies Total Recall, and Little Miss Sunshine), he waits until the school bus has left the neighborhood before ordering his team into the meth lab, showing what a good and careful cop he is. Maybe it's just us, but J.P. Wynne High School (where Walt teaches chemistry) seems to have the most well-equipped high school chemistry lab in the country. As Walt receives his diagnosis, the doctor's voice and all other sounds are drowned out by a kind of numbing ringing, signifying a kind of psychic overload that prevents Walt from being fully engaged with the external world. This effect will be used again several times throughout the series. Walt literally launders his money to dry it out, foreshadowing what's to come. Shooting Up: Thanks to John Toll, who served as cinematographer for the first season of Breaking Bad, the show has one of the most distinctive opening shots ever. Just watch those empty khaki pants flutter across a clear sky. Breaking Bad loves certain camera angles and this section is where we'll point out some of the shots that make the show stand out. Look at that taped non-confession Walt makes for his family when he thinks the cops are coming for him. We're used to watching recordings of characters - shows are filmed (or taped), but here, we're watching him recording himself on tape. Who's the real Walt? Title: Many pilot episodes share the name with the title of the show and Breaking Bad's pilot is no exception. Vince Gilligan, who grew up in Farmville, Virginia, has stated that "breaking bad" is a Southernism for going off the straight and narrow. When you bend a stick until it breaks, the stick usually breaks cleanly. But sometimes, sticks (and men) break bad. You can wind up in the hospital with a splinter in your eye, or you can wind up in Walter White's world. Either way, it's no kind of good. Interesting Facts: Show creator Vince Gilligan's early educational experience was at J. P. Wynne Campus School in Farmville, Virginia. He recycled the name for the high school in Breaking Bad. SPECIAL INGREDIENTS What Is Crystal Meth, Anyway? While there is some evidence that methamphetamine can be found naturally in several species of acacia plants, commercial meth making involves chemistry, not agriculture. The history of the drug dates back to 1893 when Japanese chemist Nagai Nagayoshi first synthesized the substance from ephedrine. The name "methamphetamine...
Sklep: Libristo.pl 103,63 zł
Książki / Literatura obcojęzyczna
The Puzzling Questions course is for those whose frame of reference simply doesn't include anything about the Bible or the Christian faith. It provides a space where our friends can take time to explore some of life's deeper questions, discover the issues that really concern them, develop their own spiritual vocabulary and connect with others who are on a spiritual journey too. The course covers basic but vital questions: o Who am I? o What is God like? o What happens after I die? o How can I be happy? o Why is there suffering in the world? o What is the spiritual world and how does it impact my life? This Leader's Guide contains detailed advice on how to run the course. It is intended to be used in conjunction with the Puzzling Questions Workbook and the professionally presented Puzzling Questions DVD. The CD attached to the Leader's Guide contains the text for six talks which can be used in addition to the DVD. For course participants who want to dig a little deeper, please see the accompanying book How Can I Be Happy? Also available: Puzzling Questions DVD (978-1-85424-953-1) Puzzling Questions Workbook (singles 978-1-85424-951-7, pack of five 978-1-85424-952-4) How Can I Be Happy? by Paul Griffiths and Martin Robinson (978-1-85424-932-6) The Revd Paul Griffiths is a freelance evangelist. He is the author of four books and is involved in the running of various evangelism training and evangelistic courses across the UK. The Revd Dr Martin Robinson leads Together in Mission, a training agency, and is author of many books. Together they have also written The 8 Secrets of Happiness (Lion). Dr Julie Kite is a GP and works with her local church.
Sklep: Libristo.pl 123,06 zł
Książki / Literatura obcojęzyczna
Do cell phones cause brain cancer? Does BPA threaten our health? How safe are certain dietary supplements, especially those containing exotic herbs or small amounts of toxic substances? What role does the HPV virus play in the development of cervical cancer, and is the HPV vaccine safe? In four detailed case studies, Geoffrey C. Kabat shows how science works... and sometimes doesn't, and what distinguishes these two very different outcomes. We depend on science and medicine as never before, yet there is widespread misinformation and confusion, amplified by the media, regarding what influences our health. Kabat's goal in Getting Risk Right is to enable the general reader to distinguish between claims that are supported by solid science and those that are the result of poorly-designed or misinterpreted studies. By exploring different examples, he shows us why certain risks are worth worrying about, while others are not. Attempts to explain anti-science attitudes often focus on irrational fears and beliefs and on the powerful role of business interests.
Sklep: Libristo.pl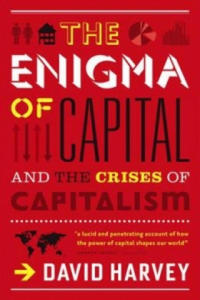 37,32 zł
Książki / Literatura obcojęzyczna
For three centuries the capitalist system has shaped western society, informed its rulers, and conditioned the lives of its people. Has the time come to move beyond it? Using his unrivalled knowledge of the subject, Harvey lays bare the follies of the international financial system, looking at the nature of capitalism, how it works and why sometimes it doesn't. He examines the vast flows of money that surge round the world in daily volumes well in excess of the sum of all its economies. He looks at the cycles of boom and bust in the world's housing and stock markets and shows that periodic episodes of meltdown are not only inevitable in the capitalist system but essential to its survival. The Enigma of Capital is a timely call-to-arms for the end of the capitalism, and makes a compelling case for a new social order that would allow us to live within a system that could be responsible, just and humane
Sklep: Libristo.pl
Sklepy zlokalizowane w miastach: Warszawa, Kraków, Łódź, Wrocław, Poznań, Gdańsk, Szczecin, Bydgoszcz, Lublin, Katowice
Szukaj w sklepach lub całym serwisie
2. Szukaj na wszystkich stronach serwisu
t1=0.089, t2=0, t3=0, t4=0.016, t=0.089