krainaksiazek family favourites an italian family cook book 20089857
- znaleziono 10 produkty w 3 sklepach 88,75 zł
Książki / Literatura obcojęzyczna
TV chef Lorraine Pascale's fabulous new prime-time BBC Two TV tie-in "How to be a Better Cook" Bestselling TV chef, Loraine is famous for her simple, delicious recipes to suit every occasion, and with this book she offers us even more: kitchen shortcuts to help you put gorgeous food on the table every time. Whether you're rustling up a cosy romantic supper or a big family feast, Lorraine will share her secrets (from good knife technique to quick tricks for stand-out presentation). And Lorraine's warmth and gentle encouragement comes across in every page and tip. She brings her sense of fun to the recipes and encourages everyone from beginner to expert alike to try new flavours and new methods and just get stuck in. Lorraine's latest book ties in to her fourth BBC series, in which she helps people live up to a wide range of cookery challenges. Lorraine draws on cuisines from Italian to West Indian, caters for occasions from Hen parties to Bonfire Night, and even refreshes old favourites from Roast dinner to Summer Pudding. Impress guests with chic snacks like chrorizo and lemongrass puff pastry scrolls; add spice to midweek meals with quick stir fried chicken with toasted cashew nuts, ginger, basil and hoisin sauce; and pander to your friends' and family's sweet tooth with delectable Jamaican rum truffles and spiced apple tarte tatins. With so many smart yet simple dishes to make, this is the cookery book your shelf deserves. Beautifully presented and packed full of photos and useful tips, the TV Kitchen Goddess brings another must have guide to creating effort-free and delicious food; the ultimate companion for stylish cooks of all abilities.
Sklep: Libristo.pl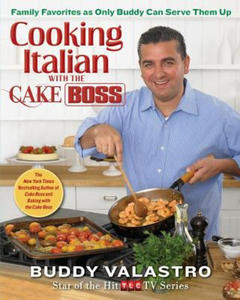 101,05 zł
Książki / Literatura obcojęzyczna
Buddy Valastro and his family business, Carlo's Bake Shop, have become a worldwide phenomenon, thanks to his popular television shows, Cake Boss, Kitchen Boss, and Next Great Baker. And Buddy knows far more than "just desserts." As a great cook, he uses his own personal touches and flair to make these favourites and classic dishes even more delicious, and also shares tips passed down through generations. From 100 easy-to-follow recipes that use ingredients that are easily obtainable and affordable, here is the all-important Sunday Gravy (tomato sauce), a foundation for many a pasta meal, as well as Steak a la Buddy, Auntie Anna's Manicotti, Buddy's Swiss Chard, and mouth-watering desserts like Lemon Granita, Apple Snackin' Cake, Cocoa-Hazelnut Cream with Berries, and Rockin' Rice Pudding. Buddy's recipes allow anyone to become the boss of their own kitchen and even novice cooks will be able to whip up a tasty and nutritious Italian dinner. Fully illustrated in colour and with nostalgic family photos from the extended Valastro clan, Kitchen Boss shows how to make the meals that will make your famiglia happy.
Sklep: Libristo.pl 25,47 zł
KSIĄŻKI > obcojęzyczne > poradniki i hobby > kuchnia
Jamie shares the secret to delicious healthy family meals in Jamie's Dinners Jamie's Dinners sees Jamie Oliver going back to basics in the kitchen to revolutionise family meals. In 'Family Tree' he takes recipes several different ways, giving you confidence whilst at the same time hoping to get you hooked on learning more. He also reveals the world's most-loved food from a global website survey he conducted: the Top Ten dishes that families love to eat together. From exciting dishes inspired by Jamie's travels including Southern Indian Rice and Seafood Soup to family favourites like flaky Chicken and sweet Leek Pie and Banana and Blueberry French Toast, there's something in Jamie's Dinners for everyone (even the most fussy eaters)! With over 100 brand new recipes, this book is all about making cooking inspiring and accessible. 'The Jamie Effect is being felt not just in schools but in households all over Britain. We must rejoice in the national treasure he is' Vanessa Feltz, Daily Express 'Jamie should be given the Victoria Cross' The Times 'There is only one Jamie Oliver. Great to watch. Great to cook' Delia Smith Produkt poekspozycyjny lub końcówka magazynowa. Może posiadać nieznaczne uszkodzenia (np. metki cenowe, przybrudzenia, zarysowania, zagięcia).
Sklep: Składnica Księgarska 81,79 zł
Literatura obcojęzyczna
Nigella Lawson is a champion of the home cook and her new book celebrates the food she loves to cook for friends and family. The recipes are warming, comforting, and inspirational, from new riffs on classic dishes - including Chicken Fricassee and Sticky Toffee Pudding - to adventures in a host of new dishes and ingredients, from Aubergine Fatteh to White Miso Hummus. AT MY TABLE includes dishes to inspire all cooks and eaters, from Hake with Bacon, Peas and Cider to Indian-Spiced Chicken and Potato Traybake and Chilli Mint Lamb Cutlets; plus a host of colourful vegetable dishes, like Eastern Mediterranean Chopped Salad and Carrots and Fennel with Harissa. No Nigella cookbook would be complete without sweet treats, and AT MY TABLE is no exception, with Emergency Brownies, White Chocolate Cheesecake and a Victoria Sponge with Cardamom, Marmalade and Creme Fraiche set to become family favourites. As Nigella writes, `happiness is best shared' and the food in this book will be served and savoured at your own kitchen table just as it is at hers.
Sklep: Literacka.pl 148,95 zł
Książki / Literatura obcojęzyczna
Featuring over 300 recipes, this is the ultimate best-of collection from Donna Hay - a showcase of classic dishes with her signature modern twist. Containing updated family favourites as well as new flavours, the new classics has everything you've ever wanted to cook. The essential book for every kitchen, it's exactly the food that we want to cook and eat now. A gorgeously rich and deluxe hardback with stunning finishes and embellishments, presented in Donna's trademark elegant, simple style, the new classics is the perfect gift, coffee table book or kitchen bench reference book.
Sklep: Libristo.pl 51,35 zł
Książki / Literatura obcojęzyczna
Antonio Carluccio's Simple Cooking is a coming together of all the 'secrets' that Antonio has learned over his many years of cooking. Packed with easy, reliable and delicious dishes, it is the perfect cookbook for the novice and enthusiast alike. All the mouthwatering recipes featured are very easy to cook, perfect for those with little experience or who are short of time. Throughout, Antonio has also included clever suggestions for how to 'upgrade' the basic recipe by adding a 'luxury' ingredient or an extra component - an anchovy or two, perhaps, some chilli and capers, or an accompanying sauce. There are also ingenious recipes for using up leftovers, with Antonio always remaining budget-conscious. And, of course, all the dishes are completely delicious, for they are Antonio's favourites, employing the basic tenets of the finest Italian cooking: top-quality ingredients prepared simply and served without fuss. The recipes are illustrated with fabulous photography by Alistair Hendy,including several step-by-step sequences. Antonio Carluccio's Simple Cooking is a distillation of a lifetime of passion, full of Antonio's firm belief that cooking, whether for oneself or for family and friends, is one of the most loving of human skills.
Sklep: Libristo.pl 124,51 zł
Książki / Literatura obcojęzyczna
With over 100 recipes for speedy suppers, light lunches and leftovers, Indian fusion to weekend feasts, this book gives you the techniques and skills to bring flavour, taste and texture to your Indian home cooking. Kaushy learned to cook as a child on her grandmother's farm in northern India and came to live in the UK in the 1960s. For the past 22 years, she and her husband have run a small deli and restaurant in Bradford which serves authentic Gujarati cuisine. Prashad has become a destination for food-lovers and fans of vegetarian food. Kaushy's skills both as a professional chef and as a home cook, and her wide knowledge and enthusiasm will inspire you to get into the kitchen and get out your spice jars. Recipes include classic bhajis, bakata, puris and dhals, as well as Indian twists on modern British favourites such as sticky chilli chips and spicy veggie burgers - food for all the family to share and enjoy.
Sklep: Libristo.pl 76,12 zł
Książki / Literatura obcojęzyczna
Buonissimo! is Gino's second collection of recipes. Divided into 5 chapters, this book will cover recipes for the family - whatever your family. 'Romantico' offers recipes for two - sexy food, sensual ingredients. 'Salute' is food for sharing - dinner parties as well as party food, appetisers and barbecues. In 'Facile facile' are Gino's versions of takeaway favourites - an Italian hamburger, healthy fish 'n' chips (Gino recently won BBC2's Take on the Takeaway challenge) food that children, and adults, will enjoy. 'Per tutti i giorni' are nutritious weekday meals, while 'Per Me' are recipes specially designed for 1 person, including one-pot meals and comfort food.
Sklep: Libristo.pl 26,25 zł
Książki / Literatura obcojęzyczna
Good Housekeeping recipes tick all the boxes - They look great They taste delicious They're easy to make Now learn how to be a clever cook with this amazing new cookery series. Each Good Housekeeping cheap eats recipe - triple-tested for perfect results - is guaranteed to stand the test of your occasion, be it a budget family meal or a special occasion with friends. Packed with good old favourites, and lots of tasty new ideas, this gorgeous book is all you need to whip up a feast in the kitchen. With save money, save time, save effort tip, up-to-date nutritional breakdown including protein and fibre, and savvy advice throughout, it couldn't be easier to whip up a storm on a budget. Enjoy! Other titles in the Good Housekeeping series include Bake Me a Cake, Easy Peasy, Al Fresco Eats, Let's Do Brunch, Gluten-free & Easy, Low Fat Low Cal, Salad Days, Posh Nosh, Party Food, Flash in the Pan, Roast It!, Great Veg and Slow Stoppers
Sklep: Libristo.pl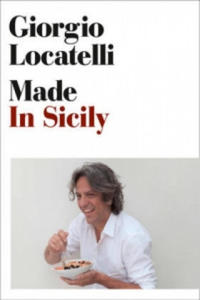 148,95 zł
Książki / Literatura obcojęzyczna
In the follow-up to his acclaimed Made in Italy, Britain's favourite Italian chef embarks on a gastronomic tour of Sicily, a beautiful, sun-drenched isle with a rich and unique culture. When Giorgio Locatelli was about ten years old, and had scarcely holidayed outside his native northern Italy, he was captivated by tales of beautiful seas, idyllic beaches and a different way of life, recounted by the few intrepid local friends who had been to Sicily. Some twenty years later he finally visited the island for the first time and, seeing it through the eyes of a chef, he recalls, 'I was completely blown away. It was so green and gorgeous, the whole island was a garden of wheat and vegetable fields, orange and lemon groves, olive groves and vineyards...' Now he is producing his own olive oil on the island and the Locatelli family spend a part of every summer there. 'Sicily has had a big influence on the way I cook,' says Giorgio. 'I have always loved simplicity, but there, you have true simplicity. You have no preconceptions, you have a knife and some salt and pepper and then you go out and see what is in the market. It is such a natural way of cooking that makes you feel so free.' This follow-up book to Made in Italy explores the ingredients and history and introduces you to some of the cooks, fishermen and growers that make Sicily what it is, with regional recipes ranging from insalata di rinforzo, a famous island salad made with cauliflower, to four kinds of caponata, pasta with anchovies and breadcrumbs, Sicilian couscous, and the celebrated dessert, cassata. 'When people talk about Sicilian cooking,' says Giorgio, 'they always speak about the influences from the Greeks, the Arabs, the Spanish...but I really believe the biggest influence is the land and the sea. They determine the produce, which has stayed the same, throughout all the cultural changes. What grows together, goes together, as my grandmother used to say, and it is the simple combinations of beautiful ingredients that makes Sicilian food special.'
Sklep: Libristo.pl
Sklepy zlokalizowane w miastach: Warszawa, Kraków, Łódź, Wrocław, Poznań, Gdańsk, Szczecin, Bydgoszcz, Lublin, Katowice
Szukaj w sklepach lub całym serwisie
2. Szukaj na wszystkich stronach serwisu
t1=0.082, t2=0, t3=0, t4=0.023, t=0.082