krainaksiazek fertility and family planning in the united states 20106846
- znaleziono 6 produktów w 2 sklepach 36,57 zł
Książki / Literatura obcojęzyczna
Ulcerative colitis is a disease that causes inflammation and sores in the top layers of the lining of the large intestine. The inflammation usually occurs in the rectum and lower part of the colon, but it may affect the entire colon. The inflammation makes the colon empty frequently, causing diarrhea. Ulcerative colitis occurs most often in people ages 15 to 40, although children and older people sometimes develop the disease. Ulcerative colitis affects men and women equally and appears to run in some families. There are 90,000 sufferers in the UK and 400,000 in the United States. This book covers; Causes; Diagnosis; Treatments; Surgery; Living with an ileostomy or a pouch; Living with ulcerative colitis, including emotional issues and effects on the family; Diet; Ulcerative Colitis in young people; Fertility and pregnancy; Probiotics; Future developments; Sources of help
Sklep: Libristo.pl 115,92 zł
Książki / Literatura obcojęzyczna
The fifth edition of this bestselling book provides a comprehensive introduction to bilingualism and bilingual education. In a compact and clear style, its 19 chapters cover all the crucial issues in bilingualism at individual, group and national levels. These include: * defining who is bilingual and multilingual * testing language abilities and language use * languages in communities and minority groups * endangered languages * language planning, language revival * the development of bilingualism in infancy and childhood * bilingualism in the family * age and language learning * adult language learning * bilinguals' thinking skills * bilingualism and the brain * theories of bilingualism * types of bilingual education * heritage language education * evaluations of bilingual education * minority language literacy * biliteracy and multiliteracies * effective teaching and learning methods in bilingual classrooms * the effectiveness of bilingual education in the United States * the history of bilingual education in the United States * language minority underachievement * bilingual special education * the assessment of language minority children * Deaf bilinguals * the spread of English as a global language * learning English as a second or third language * language identity and multiple identities * the politics surrounding language minorities and bilingual education * assimilation and pluralism * bilingualism and employment * bilingualism and the internet
Sklep: Libristo.pl 36,41 zł
Książki / Literatura obcojęzyczna
Agent Number 67, nicknamed Pygmy for his diminutive size, arrives in the United States from his totalitarian homeland. An 'exchange student' he is welcomed with open arms by his Midwestern host family. Simpsons-spinoffs, they introduce him into the rituals of postmodern American life, which he views with utter contempt. Along with his fellow operatives, he is planning something big, something truly, truly awful, to bring this big dumb country's fat inhabitants to their knees.
Sklep: Libristo.pl 147,60 zł
Biznes
This book is about strategic thinking in Hispanic marketing. The size and economic importance of the Hispanic market in the US are attracting enormous attention. The buying power of the US Hispanic market is now larger than the GDP of the entire country of Mexico, and it is the second largest Hispanic market in the world. Businesses and institutions have launched major initiatives to reach this important segment. Yet, the number of qualified individuals who understand the market is small; and many of those already catering to the market still struggle to learn about its intricacies. This book is a cultural approach to Hispanic marketing. Each of the chapters describes and explains the cultural principles of Latino marketing. Recent case studies help marketers relate to the material pragmatically. The book integrates concepts and practical examples and provides critical guidance to discern between alternative courses of action. This book is not about repeating well-known statistics, but about the Hispanic market as a cultural target. It takes a profound look at the values, beliefs, and emotions of US Hispanics, which impact consumer behaviour. Each of the chapters has been the subject of public presentations and lectures to marketing professionals. It is their positive reactions as well as the authors
Sklep: Albertus.pl 582,08 zł
Książki / Literatura obcojęzyczna
The approximately two million gay and lesbian elders in the United States are an underserved and understudied population. At a time when gay men and lesbians enjoy an unprecedented degree of social acceptance and legal protection, many elders face the daily challenges of aging isolated from family, detached from the larger gay and lesbian community, and ignored by mainstream aging initiatives. Drawing on materials from law, history, and social theory, this book integrates practical proposals for reform with larger issues of sexuality and identity. Beginning with a summary of existing demographic data and offering a historical overview of pre-Stonewall views of homosexuality in order to provide an introduction to the current generation of gay and lesbian elders, author Nancy J. Knauer goes on to address the invisibility of this community. She examines the multiple double binds central to their identity formation, including ageism among gays and lesbians and homophobia among seniors. Further, the book focuses on specific legal concerns such as estate planning, housing, discrimination, and financial insecurity, and how they impact this community uniquely. Integrating theory with practical questions of policy, and advancing a new understanding of the construction of sexuality and identity, this book advocates meaningful new reforms designed to ensure equity and dignity in aging regardless of sexual orientation.
Sklep: Libristo.pl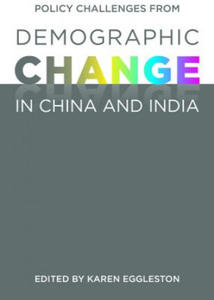 130,03 zł
Książki / Literatura obcojęzyczna
Drawing on social science expertise from China, India, and the United States, the contributors to this study examine the social and economic challenges for policy across a range of domains, from family planning and old-age support to human capital investment, poverty alleviation, and broader issues of governance.
Sklep: Libristo.pl
Sklepy zlokalizowane w miastach: Warszawa, Kraków, Łódź, Wrocław, Poznań, Gdańsk, Szczecin, Bydgoszcz, Lublin, Katowice
Szukaj w sklepach lub całym serwisie
2. Szukaj na wszystkich stronach serwisu
t1=0.029, t2=0, t3=0, t4=0.014, t=0.029