krainaksiazek first sticker book building sites 20128580
- znaleziono 13 produktów w 3 sklepach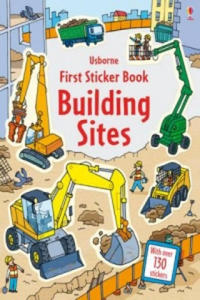 26,15 zł
Książki / Literatura obcojęzyczna
Little children often find building sites fascinating, as a fleet of big machines including tall cranes, squat dumper trucks and revolving cement mixers perform intricate manouevres as they construct new houses and offices. This simple sticker book allows children to create their own busyscenes by positioning hundreds of stickers.
Sklep: Libristo.pl 26,99 zł
Książki Obcojęzyczne>Angielskie>Children
0x00ce62f800000000
Sklep: Gigant.pl 26,99 zł
Książki Obcojęzyczne>Angielskie>Children
This Fantastic First Sticker Activity Book For Children Aged 3+ Is Packed With Building Site Sticker Scenes And Simple Activities. Help The Builders Prepare Their Site, Add Attachments To The Big Machines, And Much More. With Over 100 Stickers To Complete The Scenes, This First Sticker Activity Book Is Ideal For Keeping Young Ones Entertained.
Sklep: Gigant.pl 31,38 zł
Książki / Literatura obcojęzyczna
This book offers fun range of activities to create and complete, including loads of sticker pages and colouring scenes. Young boys can finish the pages by themselves or enjoy some quality time perfecting them with their parents. From adding amazing animals and aliens to fun scenes, to building robots and solar systems, First Sticker Activity For Boys is surely the best way to beat boredom and encourage young lads to get creative.
Sklep: Libristo.pl 318,57 zł
Książki / Literatura obcojęzyczna
Praise for the second edition of The Design of Sites "In my worldwide IBM marketing role, I have the benefit of working with some of the finest international interactive agencies and internal Web teams. As I read The Design of Sites, [I see] the insight from years of professional advice has been put to paper. Nowhere have I seen such a practical, effective, and easy-to-use book to solve and avoid Internet design issues. I keep a copy of the book handy to remind me of the things I forgot and to gain fresh perspectives. It never fails to deliver." -John Cilio, marketing manager, IBM System x & z Storage Synergy "The Design of Sites artfully brings forward the original intent of Christopher Alexander's pattern language into the user experience design arena. It is a valuable and comprehensive reference." -George Hackman, Jr., senior director of User Experience for User Interface Guidelines, Patterns and Standards, Oracle Corporation "The Design of Sites is one of the best tools I have in my usability toolbox. [These] Web UI design patterns make it easy for me to show my clients how to get the most usability bang for their buck." -Claudia Alden Case, usability consultant and interaction designer, Alden Case Enterprises, Inc. "If only biology class had been like this. Lucid text, bulletproof content, and a comprehensive taxonomy that's just as much a source of inspiration as it is a production tool. This is a really, really good book. If you build Web sites, read it." -Marc Campbell, author of Web Design Garage Praise for the first edition of The Design of Sites "Stop reinventing the wheel every time you design a Web site! The Design of Sites helps you rethink your Web sites in terms of genres and patterns. Once you have identified the patterns and applied the best practices for those patterns as outlined in this book, you will reduce your design effort by 50 percent ...at least!" -Pawan R. Vora, vice president, Information Architecture, Seurat Company "The content [in The Design of Sites] could make a novice into a seasoned professional over a weekend. Many companies pay a fortune for the information contained in the book's primary chapters." -John Cilio, marketing manager, IBM System x & z Storage Synergy "This book has many handy checklists for what you should and should not do in creating a conventional Web site. Just following the authors' suggestions would put your site in the top few percent for readability and usability." -Jef Raskin, creator of the Macintosh computer and author of The Humane Interface "Now that The Design of Sites has made its appearance, we won't have to put up with those poorly designed Web pages. These authors have captured patterns from successful Web designers, including their own experience in consulting and teaching, and have made this information accessible to all of us. The book is readable yet full of worthwhile information--a valuable addition to any Web designer's bookshelf." -Linda Rising, independent consultant and author of The Patterns Handbook, The Pattern Almanac 2000, and Design Patterns in Communications Software "[The Design of Sites] bridges the gap from theory to practice and makes it possible for people in the Web-design space to use user-centered design principles in their work-without having to undertake extensive training." -Maya Venkatraman, human interface engineer, Sun Microsystems "The coverage [in The Design of Sites] is excellent--issues go beyond the traditional 'design the best page' focus and do a good job of showing the context. I haven't seen any other book with the kind of breadth this has." -Terry Winograd, professor of computer science, Stanford University, and editor of Bringing Design to Software "With this book as a reference, you can benefit from what companies like Yahoo! have learned and apply it to your site, even if you don't have a design and research team similarly sized and staffed." From the foreword by Irene Au, director of User Experience, Google; former vice president of User Experience and Design, Yahoo! The Design of Sites, Second Edition, is the definitive reference for the principles, patterns, methodologies, and best practices underlying exceptional Web design. If you are involved in the creation of dynamic Web sites, this book will give you all the necessary tools and techniques to create effortless end-user Web experiences, improve customer satisfaction, and achieve a balanced approach to Web design. After a comprehensive tutorial covering the foundations of good Web site design, you will move on to discover the thirteen major Web design pattern groups. These patterns solve recurring design problems and help design teams avoid reinventing the wheel. Patterns range from creating a solid navigation framework and the all-important home page, to instilling trust and building credibility with your customers and improving site performance through better design. The book features * Coverage of AJAX, the Mobile Web, and online communities * Seventeen new design patterns to add to the original ninety, including the new blog site type * More than twenty significantly updated patterns *450 four-color screen shots and diagrams, including more than 150 new images * Key site elements, including site maps, style sheets, dynamic elements, and customer profiles * Clear, visual organization with color-coded sections for easy reference * A balanced approach to Web design that takes both customer and business needs into account
Sklep: Libristo.pl 179,63 zł
Książki / Literatura obcojęzyczna
This book is for anyone who wants to learn how to build rich and interactive web sites that run on the Microsoft platform. With the knowledge you gain from this book, you create a great foundation to build any type of web site, ranging from simple hobby-related web sites to sites you may be creating for commercial purposes. Anyone new to web programming should be able to follow along because no prior background in web development is assumed although it helps if you do have a basic understanding of HTML and the web in general. The book starts at the very beginning of web development by showing you how to obtain and install Visual Web Developer. The chapters that follow gradually introduce you to new technologies, building on top of the knowledge gained in the previous chapters. Do you have a strong preference for Visual Basic over C# or the other way around? Or do you think both languages are equally cool? Or maybe you haven't made up your mind yet and want to learn both languages? Either way, you'll like this book because all code examples are presented in both languages! Even if you have some experience with prior versions of ASP.NET, you may gain a lot from this book. Although many concepts from previous versions are brought forward into ASP.NET 4, you'll discover there's a lot of new stuff to be found in this book, including an introduction to the ADO.NET Entity Framework, the inclusion of jQuery, ASP.NET AJAX, the many changes to the ASP.NET 4 Framework, and much more. This book teaches you how to create a feature-rich, data-driven, and interactive web site called Planet Wrox. Although this is quite a mouthful, you'll find that with Visual Web Developer 2010, developing such a web site isn't as hard as it seems. You'll see the entire process of building a web site, from installing Visual Web Developer 2010 in Chapter 1 all the way up to putting your web application on a live server in Chapter 19. The book is divided into 19 chapters, each dealing with a specific subject.* Chapter 1, "Getting Started with ASP.NET 4" shows you how to obtain and install Visual Web Developer 2010. You'll get instructions for downloading and installing the free edition of Visual Web Developer 2010, called the Express edition. You are also introduced to HTML, the language behind every web page. The chapter closes with an overview of the customization options that Visual Web Developer gives you.* Chapter 2, "Building an ASP.NET Web Site" shows you how to create a new web site and how to add new elements like pages to it. Besides learning how to create a well-structured site, you also see how to use the numerous tools in Visual Web Developer to create HTML and ASP.NET pages.* Chapter 3, "Designing Your Web Pages." Visual Web Developer comes with a host of tools that allow you to create well-designed and attractive web pages. In this chapter, you see how to make good use of these tools. Additionally, you learn about CSS, the language that is used to format web pages.* Chapter 4, "Working with ASP.NET Server Controls." ASP.NET Server Controls are one of the most important concepts in ASP.NET. They allow you to create complex and feature-rich web sites with very little code. This chapter introduces you to the large number of server controls that are available, explains what they are used for, and shows you how to use them.* Chapter 5, "Programming Your ASP.NET Web Pages." Although the built-in CSS tools and the ASP.N ET Server Controls can get you a long way in creating web pages, you are likely to use a programming language to enhance your pages. This chapter serves as an introduction to programming with a strong focus on programming web pages. Best of all: all the examples you see in this chapter (and the rest of the book) are in both Visual Basic and C#, so you can choose the language you like best.* Chapter 6, "Creating Consistent Looking Web Sites." ASP.NET helps you create consistent-looking pages through the use of master pages, which allow you to define the global look and feel of a page. Skins and themes help you to centralize the looks of controls and other visual elements in your site. You also see how to create a base page that helps to centralize programming code that you need on all pages in your site.* Chapter 7, "Navigation." To help your visitors find their way around your site, ASP.NET comes with a number of navigation controls. These controls are used to build the navigation structure of your site. They can be connected to your site's central site map that defines the pages in your web site. You also learn how to programmatically send users from one page to another.* Chapter 8, "User Controls." User controls are reusable page fragments that can be used in multiple web pages. As such, they are great for repeating content such as menus, banners, and so on. In this chapter, you learn how to create and use user controls and enhance them with some programmatic intelligence.* Chapter 9, "Validating User Input." A large part of interactivity in your site is defined by the input of your users. This chapter shows you how to accept, validate, and process user input using ASP.NET Server Controls. Additionally, you see how to send e-mail from your ASP.NET web application and how to read from text files.* Chapter 10, "ASP.NET AJAX." Microsoft ASP.NET AJAX allows you to create good-looking, flicker-free web pages that close the gap between traditional desktop applications and web applications. In this chapter you learn how to use the built-in Ajax features to enhance the presence of your web pages, resulting in a smoother interaction with the web site.* Chapter 11, "jQuery." jQuery is a popular, open source and cross-browser JavaScript library designed to make it easier to interact with web pages in the client's browser. In this chapter you learn the basics of jQuery and see how to add rich visual effects and animations to your web pages.* Chapter 12, "Introducing Databases." Understanding how to use a database is critical to building web sites, as most modern web sites require the use of a database. You'll learn the basics of SQL, the query language that allows you to access and alter data in a database. In addition, you are introduced to the database tools found in Visual Web Developer that help you create and manage your SQL Server databases.* Chapter 13, "Displaying and Updating Data." Building on the knowledge you gained in the previous chapter, this chapter shows you how to use the ASP.NET data-bound and data source controls to create a rich interface that enables your users to interact with the data in the database that these controls target.* Chapter 14, "LINQ and the ADO.NET Entity Framework." LINQ is Microsoft's solution for accessing objects, databases, XML, and more. The ADO.NET Entity Framework (EF) is Microsoft's new technology for database access. This chapter shows you what LINQ is all about, how to use the visual EF designer built into Visual Studio, and how to write LINQ to EF queries to get data in and out of your SQL Server database.* Chapter 15, "Working with Data-Advanced Topics." While earlier chapters focused mostly on the technical foundations of working with data, this chapter looks at the same topic from a front-end perspective. You see how to change the visual appearance of your data through the use of control styles. You also see how to interact with the data-bound controls and how to speed up your application by keeping a local copy of frequently accessed data.* Chapter 16, "Security in Your ASP.NET 4 Web Site." Although presented quite late in the book, security is a first-class, important topic. This chapter shows you how to make use of the built-in ASP.NET features related to security. You learn about a number of application services that facilitate security. You also learn how to let users sign up for an account on your web site, how to distinguish between anonymous and logged-on users, and how to manage the users in your system.* Chapter 17, "Personalizing Web Sites." Building on the security features introduced in Chapter 16, this chapter shows you how to create personalized web pages with content targeted at individual users. You see how to configure and use ASP.NET Profile that enables you to store personalized data for known and anonymous visitors.* Chapter 18, "Exception Handling, Debugging, and Tracing." In order to understand, improve, and fix the code you write for your ASP.NET web pages you need good debugging tools. Visual Web Developer ships with great debugging support that enables you to diagnose the state of your application at run time, helping you find and fix problems before your users do.* Chapter 19, "Deploying Your Web Site." By the end of the book, you should have a web site that is ready to be shown to the world. But how exactly do you do that? What are the things you need to know and understand to put your web site out in the wild? This chapter gives the answers and provides you with a good look at configuring different production systems in order to run your final web site. Note: CD-ROM/DVD and other supplementary materials are not included as part of eBook file.
Sklep: Libristo.pl 32,40 zł
Powieści i opowiadania
Blood. That
Sklep: Albertus.pl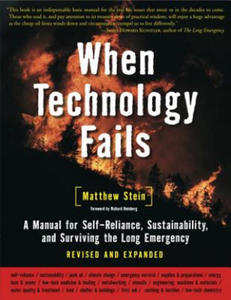 137,79 zł
Książki / Literatura obcojęzyczna
If ever there was one book to have when the lights go out, "When Technology Fails" is it. In this revised edition--the first edition was written pre-9/11 when global warming was still considered a fringe idea--author Mat Stein offers readers skills to make them more self-sufficient, sustainable, and prepared for any climatic disaster, as well as simple green building techniques.No single book can teach all there is to know, so Stein has included a resource guide at the end of each chapter to direct readers toward other resources, including books, web sites, and suppliers of the materials discussed. The book covers a wide range of topics--everything from green building, renewable energy, and emergency preparations to basic self-healing and self-reliance techniques to survive crises. This new edition also includes a chapter on joining and building sustainable communities, ending the book on a positive proactive note.
Sklep: Libristo.pl 214,78 zł
Książki / Literatura obcojęzyczna
The professional programmer's Deitel
Sklep: Libristo.pl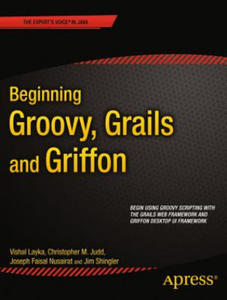 247,47 zł
Książki / Literatura obcojęzyczna
Web frameworks are playing a major role in the creation of today's most compelling web applications, because they automate many of the tedious tasks, allowing developers to instead focus on providing users with creative and powerful features. Java developers have been particularly fortunate in this area, having been able to take advantage of Grails, an open source framework that supercharges productivity when building Java driven web sites. Grails is based on Groovy, which is a very popular and growing dynamic scripting language for Java developers and was inspired by Python, Ruby, and Smalltalk.§§Beginning Groovy, Grails and Griffon is the first introductory book on the Groovy language and its primary web framework, Grails. Griffon is also covered. While Grails is the Web framework for building Groovy Web applications, Griffon is the deskop framework for building desktop Groovy applications. Could Groovy be the new Java? It's light, fast and free (open source).§§This book gets you started with Groovy, Grails and Griffon, and culminates in the example and possible application of some real world projects. You follow along with the development of each project, implementing and running each application while learning new features along the way.§
Sklep: Libristo.pl 85,65 zł
Książki / Literatura obcojęzyczna
Gael Garcia Bernal has become the most well-known face of Latin American cinema. He has starred in many of the Latin American movies that have been very successful in the UK and the US, including Y Tu Mama Tambien, Amores Perros and The Motorcycle Diaries. His more recent films include Babel and The Science of Sleep. He is passionately political; well known for his activities in promoting awareness of big issues such as poverty in Latin America and Fair Trade and for his protests at the 2005 G8 summit. He has been labelled the new Johnny Depp and James Dean, and has topped countless "Year's Sexiest Man" lists. This book will be the first biography of the star and will also tell the story of the rise of Latin America's pioneer filmmakers - driven to produce movies that bring the problems of areas like the Favelas to the World's screens. GGB has a connection with the UK: taking a break from filmmaking a few years ago, he worked on building sites and in bars in London whilst attending drama school. This book will appeal to fans of film books like Peter Biskind's Easy Riders, Raging Bulls and Down and Dirty Pictures.
Sklep: Libristo.pl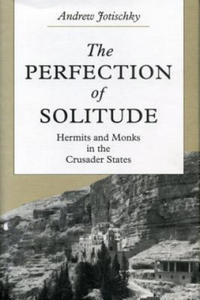 181,10 zł
Książki / Literatura obcojęzyczna
Crusaders were not the only Europeans drawn to the Holy Land during the twelfth century. Many lay people and followers of religious orders made pilgrimages to the East to visit the holy sites, and many felt compelled to stay there, settling as monks or hermits in established monasteries or founding hermitages of their own. So widespread was the exodus that Bernard of Clairvaux spoke out against Cistercian monks who were "deserting the flock." The Perfection of Solitude is the first comprehensive study of the Latin monastic presence in the Holy Land at this time. Andrew Jotischky looks at the reasons why Latin monks were drawn to the Holy Land (building upon the work of historical geographer J. K. Wright) and what happened after they arrived there. Since very little is known about the history of western monastic settlement in the Holy Land, this book navigates mostly uncharted territory. Jotischky makes use of the recently discovered, but little exploited, writings of Gerard of Nazareth, whose collection of brief lives of twelfth-century Frankish hermits sheds new light on the nature of the Latin Church in the Crusader States. Jotischky's most important conclusions are that solitary and communal monastic practices overlapped each other in the East and that this was due in part to the influence of Eastern practice which was less structured than its counterpart in Europe.
Sklep: Libristo.pl 667,70 zł
Travertine Springer Netherlands
Książki / Literatura obcojęzyczna
This is the first book entirely devoted to travertine, a material in use for over 4000 years. The single-author work is a valuable reference source for travertine, covering all aspects of travertine origins, formation, composition, flora and fauna, occurrence and utilisation, as well as covering allied continental carbonates such as lake marls, calcretes and beachrocks. Travertine, some forms of which are often known as tufa , is of particular significance as a source of environmental information (fossils and isotope geochemistry), often permitting the reconstruction of past environments. Reviews of dating techniques, classification and geomorphology are included and the author attempts to provide an unbiased but critical appraisal of current models of travertine formation. §Currently, travertine is in great demand as a building and ornamental stone. It has also been exploited in unconventional ways, such as petrifying springs and by way of unusual and little known artistic techniques. Scaling of pipes and boilers is often the result of processes allied to travertine formation. The phenomenon is described parallel to methods of scale elimination and compared with natural processes where travertine formation is inhibited. Travertine sites are of special scientific interest, with their rich and often unique floras and faunas displaying their unique biodiversity, and their unusual and often fragile biota. Conservation issues are discussed, together with the description of travertine fossils and occurrences throughout the geological record.§The content will be of interest to carbonate sedimentologists, hydrobiologists, palaeoclimatologists, physical geographers, water treatment engineers, astrobiologists, architects, and sculptors.
Sklep: Libristo.pl
Sklepy zlokalizowane w miastach: Warszawa, Kraków, Łódź, Wrocław, Poznań, Gdańsk, Szczecin, Bydgoszcz, Lublin, Katowice
Szukaj w sklepach lub całym serwisie
2. Szukaj na wszystkich stronach serwisu
t1=0.094, t2=0, t3=0, t4=0.022, t=0.094