krainaksiazek flowers and gardens notes on plant beauty 20119743
- znaleziono 10 produkty w 3 sklepach 83,00 zł
Polski dla obcokrajowców / Dla odbiorcy angielskojęzycznego
This book captures the unique history of the plant life once essential to the Polish people. It leads the reader on a guided tour through monastery, castle, and cottage gardens, providing details on the history and healing powers of over one hundred herbs and flowers. Beautiful line drawings and woodcuts illustrate the garden patterns and various plants important to Polish tradition.
Sklep: Księgarnia.Poltax.waw.pl 65,70 zł
Nauki humanistyczne
Polish Herbs, Flowers and Folk Medicine captures the unique history of the plant life once essential to the Polish people. It leads the reader on a guided tour through monastery, castle, and cottage gardens, providing details on the history and healing powers of over one hundred herbs and flowers. Beautiful line drawings and woodcuts illustrate the garden patterns and various plants important to Polish tradition. Home remedies for everything from weight loss to arthritis, relaxants to rejuvenators, and heartache to heartburn are noted in the over 50 herbal recipes listed throughout the book. Ms. Knab provides balms for ailments such as stress, insomnia, slow metabolism, perspiring feet, limp hair, and oily skin. Also suggested are tasty soups, liqueurs, and vinegars appealing to more than just the healers among us. Recipes include: Homemade Benedictine, Elderberry Syrup, Herb Butter, and Sirloin with Tarragon.
Sklep: Albertus.pl 48,23 zł
Montrose Duke University Press
Książki / Literatura obcojęzyczna
Something is blooming every day of the year in the renowned gardens at Montrose, Nancy Goodwin's nineteenth-century estate in historic Hillsborough, North Carolina. Since moving to Montrose with her husband in 1977, Goodwin has transformed more than twenty acres into an extraordinary complex of interlocking gardens that come in and out of focus as the seasons overlap and change. Beautifully written and illustrated, Montrose: Life in a Garden is Goodwin's affectionate biography of her gardens, recounting how and why each section was developed over the years, including the Dianthus Walk, Nandina Land, Hellebore Slope, Mother-in-Law Walk, Snowdrop Woods, and Jo's Bed. It is also a meticulous month-by-month chronicle of a specific year in these gardens--a year that saw a punishing drought that threatened Goodwin's no-irrigation policy, a damaging December ice storm, and the beginnings of a plan to preserve Montrose in the future. Working on her knees for long days throughout the year, Nancy Goodwin always has a vision of how her gardens will appear in twelve months or in twelve years. She will spend weeks, for instance, planting hundreds of snow drops along a woodsy path in order to enjoy a fleeting week of exquisite beauty in coming years. She never puts anything into the ground without imagining what form, colour, and texture it will add to a bed. With tireless patience and unflagging optimism, Goodwin will wait years to see a single plant bloom. Following Goodwin's activities throughout the year, readers will learn the fundamentals of maintaining a four-season garden in Zone 7 in the South. Award-winning garden illustrator Ippy Patterson has provided more than 160 lavish illustrations of the gardens at Montrose and these meticulously detailed drawings appear throughout the book. Nancy Goodwin has written for Fine Gardening, American Gardener, Horticulture, Veranda, Country Home Country Gardens, and other magazines. She is a co-author of A Year in Our Gardens: Letters by Nancy Goodwin and Allen Lacy and co-editor of A Rock Garden in the South, by Elizabeth Lawrence, also published by Duke University Press. From 1984 to 1993, she operated Montrose Nursery, which specialized in unusual perennials, including hellebores and cyclamen. Ippy Patterson has illustrated garden columns for the New York Times, the Hartford Courant, McCall's Magazine, and Country Living Gardener Magazine. She has illustrated numerous books, including An Elizabethan Bestiary: Retold, 100 Flowers and How They Got Their Names, and No Bones, for which she won the National Academy of Sciences Illustration Award in 1990.
Sklep: Libristo.pl 54,10 zł
Powieści i opowiadania
Orlando Figes
Sklep: Albertus.pl 359,04 zł
Książki / Literatura obcojęzyczna
The greatest living artist in the medium of glass, Dale Chihuly has had a lifelong interest in the colours and forms that appear in nature, in particular those of plant and marine life: 'I want my work to look like it just happened, as if it was made by nature'. Toward this end, his work has become increasingly open, using forms that show a strong relationship to the architecture of natural shapes. When Chihuly's work is placed in the context of the natural world, the outcome is both wondrous and strange. "Chihuly Garden Installations" explores the results of his nearly decade-long investigation into designing site-specific installations for some of the world's preeminent gardens and conservatories. This handsomely illustrated book follows his investigation from its beginning at Garfield Park Conservatory in Chicago to his recent installation at the Cheekwood Botanical Garden in Nashville, Tennessee. Tracing the connection between Chihuly's art and botanical life, "Chihuly Garden Installations" shows how the exchange between art and nature can shift from the harmonious and tranquil to stunning juxtapositions of scale and colour. Lush illustrations showcase the ever-fascinating arrangement of Chihuly's unique glass sculptures among the natural beauty of the plants, flowers and landscapes of these magnificent gardens.
Sklep: Libristo.pl 136,76 zł
Książki / Literatura obcojęzyczna
For most homeowners, shrubs are an essential part of the yard or garden because they provide shade, flowers, and foliage from spring through fall. Unfortunately, the choices available at many garden centers tend to be predictable and often unsuited to the local climate and growing conditions. It doesn't have to be that way. The superior plants available today can transform ho-hum gardens into scenes of beauty and serenity. For decades, the Gossler family has tested, propagated, and sold the very best hardy shrubs from around the world. This book is a distillation of their expertise - a guide to more than 350 of the most beautiful, versatile, and growable shrubs. Plant profiles describe the plant's main characteristics, give height and spread, and list the growing conditions needed to thrive.
Sklep: Libristo.pl 45,80 zł
Nauki humanistyczne
Alain de Botton, best-selling author of How Proust can Change Your Life, has set six of the finest minds in the history of philosophy to work on the problems of everyday life. Here then are Socrates, Epicurus, Seneca, Montaigne, Schopenhauer and Nietzsche on some of the things that bother us all; lack of money, the pain of love, inadequacy, anxiety, the fear of failure and the pressure to conform.
Sklep: Albertus.pl 132,79 zł
Set for a King Royal Pavilion Libraries & Museums
Książki / Literatura obcojęzyczna
The Royal Pavilion and its extraordinary interiors and collections have been the subject of much study. As a building of international importance it is unique in Britain in being run by a local authority. This is the first attempt to record the development of its setting. The Regency garden's evolution and the theories behind its creation are explained here, with reference to period publications. Drawings of the plants used in the restored gardens show the cycle of flowers throughout the seasons, an innovation at the time.The plant combinations offer inspiration to visitors and gardeners today.
Sklep: Libristo.pl 93,45 zł
Książki / Literatura obcojęzyczna
Native to every continent except Antarctica, palms are most closely identified with tropical regions and one species in particular, Cocos nucifera, the coconut palm, is the universally recognized symbol of all things tropical. Yet, many palms can withstand freezing and thus can be grown in mild temperate climates where the average low temperature does not drop below 5-F ( 15-C). In addition, palms thrive in a wide range of habitats from swamps to deserts, rain forests to plains and grasslands. Some prefer full sun, others deep shade. Some are stemless shrubs, others are solitary or clustering trees, and still others are vinelike, but all are evergreen. Given such diversity and versatility, it is surprising that palms are underutilized in landscapes and gardens, even in tropical climes. Several reasons account for this, including misconceptions about the plants' growing requirements and unfamiliarity with their ornamental qualities. This pocket guide remedies both problems. It unlocks the keys to successfully growing 200 of the most common and easily obtainable palm species and hybrids, and it highlights botanical characteristics that are of interest to gardeners and landscapers. Each description includes details of trunk, crownshaft, leaf, flower, and fruit to assist in plant identification and selection. The extensive cultivation notes include details of mature tree size, cold hardiness, and light, soil, and water requirements. Suggestions for using the plants indoors and out will help even novice gardeners know where to start, and succinct information on seed germination will assist anyone who wants to grow their own palms from seed. Illustrated with more than 300 color photographs, this guide is a valuable complement to "An Encyclopedia of Cultivated Palms" and an ideal reference for taking to the nursery or garden center.
Sklep: Libristo.pl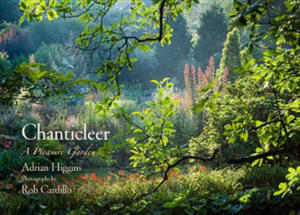 137,71 zł
Chanticleer University of Pennsylvania Press
Książki / Literatura obcojęzyczna
Chanticleer, a forty-eight-acre garden on Philadelphia's historic Main Line, is many things simultaneously: a lush display of verdant intensity and variety, an irreverent and informal setting for inventive plant combinations, a homage to the native trees and horticultural heritage of the mid-Atlantic, a testament to one man's devotion to his family's estate and legacy, and a good spot for a stroll and picnic amid the blooms. In Chanticleer: A Pleasure Garden, Adrian Higgins and photographer Rob Cardillo chronicle the garden's many charms over the course of two growing cycles. Built on the grounds of the Rosengarten estate in Wayne, Pennsylvania, Chanticleer retains a domestic scale, resulting in an intimate, welcoming atmosphere. The structure of the estate has been thoughtfully incorporated into the garden's overall design, such that small gardens created in the footprint of the old tennis court and on the foundation of one of the family homes share space with more traditional landscapes woven around streams and an orchard. Through conversations and rambles with Chanticleer's team of gardeners and artisans, Higgins follows the garden's development and reinvention as it changes from season to season, rejoicing in the hundred thousand daffodils blooming on the Orchard Lawn in spring and marveling at the Serpentine's late summer crop of cotton, planted as a reminder of Pennsylvania's agrarian past. Cardillo's photographs reveal further nuances in Chanticleer's landscape: a rare and venerable black walnut tree near the entrance, pairs of gaily painted chairs along the paths, a backlit arbor draped in mounds of fragrant wisteria. Chanticleer fuses a strenuous devotion to the beauty and health of its plantings with a constant dedication to the mutability and natural energy of a living space. And within the garden, Higgins notes, there is a thread of perfection entwined with whimsy and continuous renewal.
Sklep: Libristo.pl
Sklepy zlokalizowane w miastach: Warszawa, Kraków, Łódź, Wrocław, Poznań, Gdańsk, Szczecin, Bydgoszcz, Lublin, Katowice
Szukaj w sklepach lub całym serwisie
2. Szukaj na wszystkich stronach serwisu
t1=0.068, t2=0, t3=0, t4=0.018, t=0.068