krainaksiazek forbidden fruit an unlikely love story 20091719
- znaleziono 12 produktów w 3 sklepach 36,06 zł
Książki / Literatura obcojęzyczna
In her highly anticipated new novel, Judy Blume, the New York Times No.1 best-selling author of Summer Sisters and of young adult classics such as Are You There God? It's Me, Margaret, creates a richly textured and moving story of three generations of families, friends and strangers, whose lives are profoundly changed by unexpected events.§§In 1987, Miri Ammerman returns to her hometown of Elizabeth, New Jersey, to attend a commemoration of the worst year of her life. Thirty-five years earlier, when Miri was fifteen, and in love for the first time, a succession of airplanes fell from the sky, leaving a community reeling. Against this backdrop of actual events that Blume experienced in the early 1950s, when airline travel was new and exciting and everyone dreamed of going somewhere, she paints a vivid portrait of a particular time and place-Nat King Cole singing "Unforgettable," Elizabeth Taylor haircuts, young (and not-so-young) love, explosive friendships, A-bomb hysteria, rumors of Communist threat. And a young journalist who makes his name reporting tragedy. Through it all, one generation reminds another that life goes on.§§In the Unlikely Event is vintage Judy Blume, with all the hallmarks of Judy Blume's unparalleled storytelling, and full of memorable characters who cope with loss, remember the good times and, finally, wonder at the joy that keeps them going.§§Early reviewers have already weighed in: "Like many family stories, this one is not without its life-changing secrets and surprises. There is no surprise that the book is smoothly written, and its story compelling. The setting-the early 1950s-is especially well realized through period references and incidents." - Booklist (starred review) and "In Blume's latest adult novel . . . young and old alike must learn to come to terms with technological disaster and social change. Her novel is characteristically accessible, frequently charming and always deeply human." - Publishers Weekly§§From the Hardcover edition.
Sklep: Libristo.pl
47,38 zł
Książki / Literatura obcojęzyczna
When Sophia Al-Maria's mother sends her away from rainy Washington State to stay with her husband's desert-dwelling Bedouin family in Qatar, she intends it to be a sort of teenage cultural boot camp. What her mother doesn't know is that there are some things about growing up that are universal. In Qatar, Sophia is faced with a new world she'd only imagined as a child. She sets out to find her freedom, even in the most unlikely of places. Both family saga and coming-of-age story, The Girl Who Fell to Earth takes readers from the green valleys of the Pacific Northwest to the dunes of the Arabian Gulf and on to the sprawling chaos of Cairo. Struggling to adapt to her nomadic lifestyle, Sophia is haunted by the feeling that she is perpetually in exile: hovering somewhere between two families, two cultures, and two worlds. She must make a place for herself-a complex journey that includes finding young love in the Arabian Gulf, rebellion in Cairo, and, finally, self-discovery in the mountains of Sinai.
Sklep: Libristo.pl 11,15 zł
Książki & Multimedia > Książki
Opis - Pierwsze na świecie świadectwo ofiary zbrodni honorowej. Miała siedemnaście lat i zakochała się: zhańbiła rodzinę. Więc rodzina wydała na nią wyrok śmierci... Pokochała go pierwszą miłością. Myślała, że się z nią ożeni. Ale ukochany zniknął, a ona odkryła, że jest w ciąży. A w jej świecie to najcięższa zbrodnia... W zapomnianej przez Boga wiosce w Cisjordanii kobiety są warte mniej niż zwierzęta domowe. Tu mężczyzna jest panem życia i śmierci żony, córki, siostry. Brat może bezkarnie zabić siostrę, matka - córkę, kolejną bezużyteczną dziewczynkę, jaka się urodzi. Tu kobiecie odbiera się godność, a nawet życie zgodnie z odwiecznym obyczajem i uświęconą tradycją. A śmierć jest karą dla dziewczyny, która zhańbi rodzinę. Tak jak Souad. Wyrok wydaje jej ojciec. Szwagier dokonuje egzekucji. Oblewa Souad benzyną i podpala... SOUAD przeżyła - cudem, ale rodzina usiłowała zabić ją nawet w szpitalu. Na zawsze jednak pozostanie straszliwie okaleczona - na ciele i duszy. I wciąż musi się ukrywać; dopóki żyje, jej rodzinę okrywa hańba. Spalona żywcem, opublikowana pod pseudonimem szokująca opowieść o piekle, jakim było jej dzieciństwo i młodość, stała się międzynarodowym bestsellerem. Wydana w 37 w krajach książka przerywa tabu milczenia wobec istniejącej nadal w krajach muzułmańskich barbarzyńskiej tradycji. Nieludzkiego obyczaju, prawa mężczyzn, na mocy którego co najmniej pięć tysięcy kobiet pada co roku ofiarą zbrodni honorowej. Nazwa - Spalona Żywcem Wyd. Kieszonkowe Autor - Souad Oprawa - Miękka Wydawca - Amber Kod ISBN - 9788324159406 Kod EAN - 9788324159406 Wydanie - 1 Rok wydania - 2016 Tłumacz - 31182,maria rostworowska; Format - 110 x 175 x 14 Ilość stron - 224 Podatek VAT - 5% Premiera - 2016-06-23
Sklep: InBook.pl 9,50 zł
Książki & Multimedia > Książki
Opis - Doskonałe do malarstwa olejnego i akrylowego, wykonane z bawełny o gramaturze 330g powleczonej gruntem uniwersalnym, lekkie ramy wykonane z drewna paulowni, zszywki umieszczone z tyłu ramy, komplet klinów rozporowych. Nazwa - Podobrazie malarskie 24x30 ASTRA Kod EAN - 5900263270019 Wydawca - ASTRA POLSKA Podatek VAT - 23%
Sklep: InBook.pl 69,70 zł
Książki / Literatura obcojęzyczna
She was a nun of noble birth. He, a heretic, a reformer an outlaw of the Holy Roman Empire. In the 16th century, nun Katharina von Bora s fate fell no further than the Abbey. Until she read the writings of Martin Luther. His sweeping Catholic church reformation condemning a cloistered life and promoting the goodness of marriage awakened her desire for everything she d been forbidden. Including Martin Luther himself. Despite the fact that the attraction and tension between them is undeniable, Luther holds fast to his convictions and remains isolated, refusing to risk anyone s life but his own. And Katharina longs for love, but is strong-willed. She clings proudly to her class distinction, pining for nobility over the heart of a reformer. They couldn t be more different. But as the world comes tumbling down around them, and with Luther s threatened life a constant strain, these unlikely allies forge an unexpected bond of understanding, support and love. Together, they will alter the religious landscape forever."
Sklep: Libristo.pl 54,10 zł
Powieści i opowiadania
Orlando Figes
Sklep: Albertus.pl 79,08 zł
Jump Girl Leigh Hutton Books
Książki / Literatura obcojęzyczna
SHOW JUMPING IS AN EXTREME SPORT WITH A DRESS CODE, ONE THIS GIRL DOESN'T FOLLOW . . . Imagine being dumped by your mother as a newborn and shifted between foster homes your entire childhood. Imagine being taken in and offered hope for your future by a kind, loving show jumping socialite. Imagine falling in love with some of the most gorgeous horses in the world, and making a life in the thrilling and glamorous sport of international show jumping. Now imagine it all being taken away. Ebony Scott Harris is painfully close to making her dreams a reality when the only mother she has ever known mysteriously dies. She's forced from their home to live with the gold-digging aunt, who takes her in only to ride the prized show jumpers she claims are now hers. Teetering on the edge of a hopeless depression, Ebony is saved by the discovery of a forgotten horse nearly starved to death, and an unlikely partnership with a handsome stranger, whom she must learn to trust if she is to uncover the truth about her mother's death and reclaim her home. But with the evil aunt selling her best and beloved horse, a maniacal ex-coach out for revenge and more savage competitors than she can count, Ebony has a lot more at stake than proving the truth, saving her horses and jumping for gold at the World Equestrian Games . . . The highly anticipated second book in The Go Girls Chronicles - stories of gutsy girls in action sports, by Leigh Hutton! *A PORTION OF EVERY #JumpGirl book sold goes to the Make-A-Wish Foundation, to help grant the wishes of children with life-threatening medical conditions* Praise for JUMP GIRL and Leigh Hutton "I am excited for the Jump Girl book because it will be something that riders can actually relate too. It's nice that there is a book that reveals the excitement of the sport while showing there can still be problems and a lot of times things won't go as planned!" #RealLifeJumpGirl, SHELBY EDWARDS "[Jump Girl] gives us a look into the fierce yet glamorous world that is Show Jumping, as well as; Love & Romance, Action & Adventure, Murder & Mystery, Redemption & Self Discovery, all woven together beautifully in this fast paced coming of age novel. I have been lucky enough to read Jump Girl before its release and let me say it is brilliant. Awesome job Leigh. It made me yearn to have a Monster or Gallant of my own. I immediately fell for Ebony. Her life felt so real and I was drawn into it heart first. I could not put the book down. I practically read it in one sitting... Five of five stars for Jump Girl." SARAH FAIRBAIRN, author and Goodreads reviewer 'Intriguing, fun, challenging, 'real', action packed. A fascinating, fast paced adventure that had me hooked . . . Hutton is an author to keep an eye on. Can't wait to see what she writes next.' CAROLYN MARTINEZ, author and editor 'I haven't had much experience with show jumping or horse riding, but by the time I finished the book I felt like I was there in front row seats to every show and experience Ebony had. What I enjoyed the most was the hope this book gives people. That no matter what happens in life if you persist and give what you love everything you can achieve so much. Ebony shows strength, determination, love, friendship, control . . . You must read. You will not be disappointed and by the end of the book you will feel like part of the story.' JACINTA LUDLOW, reviewer 'Leigh has a talent for making the reader be captured in their imagination. I was able to imagine scenes, accents, and how people looked. It was different and refreshing.' ANGEL READS, book blogger [review of REV GIRL] 'Wow. Talk about a proper, real-world protagonist. This chick has got to be in my top 5 of all time. This book is amazing.' MARYAM KALIF, book blogger [review of REV GIRL] Book one, REV GIRL, OUT NOW in eBook and paperback!
Sklep: Libristo.pl 96,70 zł
Książki / Literatura obcojęzyczna
My story involves two unlikely people, who fell in love, under most unusual circumstances. They both came from somewhat different childhood backgrounds.Both shared some of the same pain, knowing that they were different; caused by some painful wounds, both physical and psychological.Wounds which had been inflicted on them by others and yet, they somehow found in each other, compassion and an understanding, which developed into a life long love affair.One shunned society, choosing to live in the shadows while the other, sought approval from that same society, with it's fickle and judgmental, "better than thou," self-righteous attitude.Society looked upon them both, as being different, not seeing their inner beauty. Love will always find a way! By the author of The Lads and the O'Kelleher trilogy; Seanachie, To Shed a Tear, and The Wind is Rising.
Sklep: Libristo.pl 39,94 zł
Książki / Literatura obcojęzyczna
When Souad was seventeen she fell in love. In her village, as in so many others, sex before marriage was considered a grave dishonour to one's family and was punishable by death. This was her crime. Her brother-in-law was given the task of arranging her punishment. One morning while Souad was washing the family's clothes, he crept up on her, poured petrol over her and set her alight. In the eyes of their community he was a hero. An execution for a 'crime of honour' was a respectable duty unlikely to bring about condemnation from others. It certainly would not have provoked calls for his prosecution. More than five thousand cases of such honour killings are reported around the world each year and many more take place that we hear nothing about Miraculously, Souad survived rescued by the women of her village, who put out the flames and took her to a local hospital. Horrifically burned, and abandoned by her family and community, it was only the intervention of a European aid worker that enabled Souad to receive the care and sanctuary she so desperately needed and to start her life again. She has now decided to tell her story and uncover the barbarity of honour killings, a practice which continues to this day Burned Alive is a shocking testimony, a true story of almost unbelievable cruelty. It speaks of amazing courage and fortitude and of one woman's determination to survive. It is also a call to break the taboo of silence that surrounds this most brutal of practices and which ignores the plight of so many other women who are also victims of traditional violence
Sklep: Libristo.pl 39,94 zł
Książki / Literatura obcojęzyczna
A highly entertaining, wonderfully colourful story, now revealed to be written by one of our favourite historical novelists. In mid seventeenth-century England, the nation was in upheaval. In the Dorset countryside, one sunlit afternoon, a young girl -- illicitly bathing in a stream -- first fell in love with a passing stranger. Her parents called her Dorcas, but he called her Campion and that's what she longed to be, then and forever. She had one gift left for her by her unknown father -- a pendant made of gold, banded by tiny glowing stones and at its base was a seal engraved with an axe and the words: St Matthew. So when she flees before the unbearable, worthy suitor who is forced upon her after her forbidden meeting, she takes this and the delicate lace gloves with her, and hopes to find her father, and her lover. There are four of these intricately wrought seals -- each owned by a stranger, each holding a secret within. And when all four seals are united, then the holder will have access to great wealth and power. That is Campion's inheritance. But to claim this and find again her summer love, she must follow the course her father's legacy charts for her. It is a road full of both peril and enchantment. A Crowning Mercy was first published in 1983 under the name Susannah Kells. It has been out of print for 10 years. HarperCollins are delighted to be able to re-publish it.
Sklep: Libristo.pl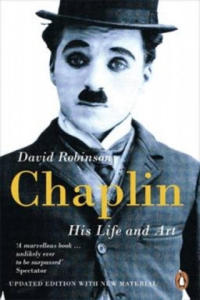 99,94 zł
Książki / Literatura obcojęzyczna
David Robinson's definitive and monumental biography of Charlie Chaplin, the greatest icon in the history of cinema, who lived one of the most dramatic rags to riches stories ever told. Chaplin's life was marked by extraordinary contrasts: the child of London slums who became a multimillionaire; the on-screen clown who was a driven perfectionist behind the camera; the adulated star who publicly fell from grace after personal and political scandal. This engrossing and definitive work, written with full access to Chaplin's archives, tells the whole story of a brilliant, complex man. David Robinson is a celebrated film critic and historian who wrote for The Times and the Financial Times for several decades. His many books include World Cinema, Hollywood in the Twenties and Buster Keaton. "A marvellous book ...unlikely ever to be surpassed". (Spectator). "I cannot imagine how anyone could write a better book on the great complex subject ...movingly entertaining, awesomely thorough and profoundly respectful". (Sunday Telegraph). "One of the great cinema books; a labour of love and a splendid achievement". (Variety). "One of those addictive biographies in which you start by looking in the index for items that interest you ...and as dawn breaks you're reading the book from cover to cover". (Financial Times).
Sklep: Libristo.pl 99,94 zł
Książki / Literatura obcojęzyczna
Penguin presents the unabridged, downloadable audiobook edition of Jojo Moyes' The One Plus One, read by Elizabeth Bower, Ben Elliot, Nicola Stanton and Steven France. The One Plus One is the beautiful, poignant and utterly compelling new novel by the internationally bestselling author Jojo Moyes. One single mum With two jobs and two children, Jess Thomas does her best day after day. But it's hard on your own. And sometimes you take risks you shouldn't. Because you have to...One chaotic family Jess' gifted, quirky daughter Tanzie is brilliant with numbers, but without a helping hand she'll never get the chance to shine. And Nicky, Jess' teenage stepson, can't fight the bullies alone. Sometimes Jess feels like they're sinking...One handsome stranger Into their lives comes Ed Nicholls, a man whose life is in chaos, and who is running from a deeply uncertain future. But he has time on his hands. He knows what it's like to be lonely. And he wants to help...One unexpected love story. The One Plus One is a captivating and unconventional romance from Jojo Moyes about two lost souls meeting in the most unlikely circumstances. Praise for Jojo Moyes: "Majestic, utterly compelling, tremendous. A heart-stopping read." (Independent on Sunday). "Truly beautiful. Made us laugh, smile and sob like a baby - you simply have to read it." (Closer). "A triumph. Packs such an emotional punch, you'll need a box of tissues." (Elle). Jojo Moyes is a novelist and a journalist. She worked at the Independent for ten years before leaving to write full time. Her previous novels have all been critically acclaimed and include The Ship of Brides, Foreign Fruit, The Last Letter From Your Lover, winner of Spring 2012's most popular Richard and Judy Book Club title Me Before You and most recently The Girl you Left Behind. She lives in Essex with her husband and their three children.
Sklep: Libristo.pl
Sklepy zlokalizowane w miastach: Warszawa, Kraków, Łódź, Wrocław, Poznań, Gdańsk, Szczecin, Bydgoszcz, Lublin, Katowice
Szukaj w sklepach lub całym serwisie
2. Szukaj na wszystkich stronach serwisu
t1=0.059, t2=0, t3=0, t4=0.019, t=0.06