krainaksiazek framework for hr management in software projects 20045690
- znaleziono 9 produktów w 4 sklepach 239,99 zł
Książki Obcojęzyczne>Angielskie>Economics, finance, business & management>Business & management>Management & management techniques
0x0054271000000000
Sklep: Gigant.pl 459,70 zł
Biznes
"Framework for Marketing Management" provides authoritative marketing theory in a concise format to provide flexibility where outside cases, simulations, and projects are brought in. "The Marketing Plan Handbook, 2e", guides students through the development of a realistic, customized marketing plan. It's the only guide that includes Palo Alto's award winning Marketing PlanPro 6.0 software, which includes various sample marketing plans and helps students develop their own.
Sklep: Albertus.pl 155,50 zł
Informatyka
"Software Engineering with Microsoft Visual Studio Team System" is written for any software team that is considering running a software project using Visual Studio Team System (VSTS), or evaluating modern software development practices for its use. It is about the value-up paradigm of software development, which forms the basis of VSTS: its guiding ideas, why they are presented in certain ways, and how they fit into the process of managing the software lifecycle. This book is the next best thing to having an onsite coach who can lead the team through a consistent set of processes. Sam Guckenheimer has been the chief customer advocate for VSTS, responsible for its end-to-end external design. He has written this book as a framework for thinking about software projects in a way that can be directly tooled by VSTS. It presents essential theory and practical examples to describe a realistic process for IT projects. Readers will learn what they need to know to get started with VSTS, including: the role of the value-up paradigm (versus work-down) in the software development lifecycle, and the meanings and importance of "flow"; the use of MSF for Agile Software Development and MSF for CMMI Process Improvement; work items for planning and managing backlog in VSTS; multidimensional, daily metrics to maintain project flow and enable estimation; creating requirements using personas and scenarios; and project management with iterations, trustworthy transparency, and friction-free metrics. Readers also learn about: architectural design using a value-up view, service-oriented architecture, constraints, and qualities of service; development with unit tests, code coverage, profiling, and build automation; testing for customer value with scenarios, qualities of service, configurations, data, exploration, and metrics; effective bug reporting and bug assessment; and troubleshooting a project - recognizing and correcting common pitfalls and antipatterns. This is a book that any team using or considering VSTS should read. "This is first and foremost a book about software engineering. In discussing flash points such as planning, documentation, governance, auditability, and organization, Sam presents the case for both agile and more formal practices, as well as describing the optimal conditions for each. Even though the material is presented in the context of VSTS, the guidance is universal." - Dr. Bill Curtis, chief process officer, Borland Software Corporation. "Sam Guckenheimer ushers in the era of trustworthy transparency that will revolutionize the way we manage software development projects." - David J. Anderson, author of "Agile Management for Software Engineering". "This book is an eye opener: a door to a new era of software engineering." - Francis T. Delgado, senior program manager, Avanade.
Sklep: Albertus.pl 100,69 zł
Książki / Literatura obcojęzyczna
Equip yourself with SOFTWARE PROJECT SURVIVAL GUIDE. It's for everyone with a stake in the outcome of a development project--and especially for those without formal software project management training. That includes top managers, executives, clients, investors, end-user representatives, project managers, and technical leads. Here you'll find guidance from the acclaimed author of the classics CODE COMPLETE and RAPID DEVELOPMENT. Steve McConnell draws on solid research and a career's worth of hard-won experience to map the surest path to your goal--what he calls "one specific approach to software development that works pretty well most of the time for most projects." Nineteen chapters in four sections cover the concepts and strategies you need for mastering the development process, including planning, design, management, quality assurance, testing, and archiving. For newcomers and seasoned project managers alike, SOFTWARE PROJECT SURVIVAL GUIDE draws on a vast store of techniques to create an elegantly simplified and reliable framework for project management success. So don't worry about wandering among complex sets of project management techniques that require years to sort out and master. SOFTWARE PROJECT SURVIVAL GUIDE goes straight to the heart of the matter to help your projects succeed. And that makes it a required addition to every professional's bookshelf.
Sklep: Libristo.pl 51,27 zł
Książki & Multimedia > Książki
Opis - Książka, posiadająca istotne walory praktyczne, jest pierwszą pozycją polskiej autorki w tak kompleksowy sposób analizującą nie tylko istotę funkcjonowania kredytowych instrumentów pochodnych, ale również modele ich wyceny, doskonalenie których autorka słusznie uznaje za kluczowe dla rozwoju tego rynku. Niewątpliwą zaletą opracowania jest mnogość przykładów, przeprowadzających Czytelnika przez kolejne etapy szacowania wartości omawianych struktur i tworzących idealną bazę dla zrozumienia konstrukcji tych złożonych produktów. Prof. zw. dr hab. Janusz Soboń Publikacja stanowi cenne kompendium wiedzy zarówno dla praktyków rynku finansowego, jak i studentów oraz słuchaczy studiów podyplomowych i doktoranckich, jak również dla pracowników nauki zainteresowanych wdrażaniem metod kwantyfikacji ryzyka kredytowego w praktykę. Prof. nadzw. SGH dr hab. Paweł Niedziółka Nazwa - Pochodne instrumenty kredytowe Autor - Izabela Pruchnicka-Grabias Oprawa - Miękka Wydawca - CeDeWu Kod ISBN - 9788375563733 Kod EAN - 9788375563733 Wydanie - 1 Rok wydania - 2011 Język - polski Format - 16.5x23.0cm Ilość stron - 280 Podatek VAT - 5%
Sklep: InBook.pl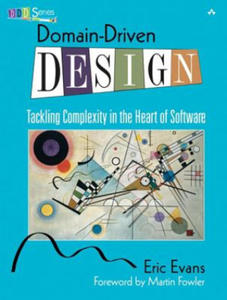 365,97 zł
Książki / Literatura obcojęzyczna
"Eric Evans has written a fantastic book on how you can make the design of your software match your mental model of the problem domain you are addressing. "His book is very compatible with XP. It is not about drawing pictures of a domain; it is about how you think of it, the language you use to talk about it, and how you organize your software to reflect your improving understanding of it. Eric thinks that learning about your problem domain is as likely to happen at the end of your project as at the beginning, and so refactoring is a big part of his technique. "The book is a fun read. Eric has lots of interesting stories, and he has a way with words. I see this book as essential reading for software developers-it is a future classic." -Ralph Johnson, author of Design Patterns "If you don't think you are getting value from your investment in object-oriented programming, this book will tell you what you've forgotten to do. "Eric Evans convincingly argues for the importance of domain modeling as the central focus of development and provides a solid framework and set of techniques for accomplishing it. This is timeless wisdom, and will hold up long after the methodologies du jour have gone out of fashion." -Dave Collins, author of Designing Object-Oriented User Interfaces "Eric weaves real-world experience modeling-and building-business applications into a practical, useful book. Written from the perspective of a trusted practitioner, Eric's descriptions of ubiquitous language, the benefits of sharing models with users, object life-cycle management, logical and physical application structuring, and the process and results of deep refactoring are major contributions to our field." -Luke Hohmann, author of Beyond Software Architecture "This book belongs on the shelf of every thoughtful software developer." -Kent Beck "What Eric has managed to capture is a part of the design process that experienced object designers have always used, but that we have been singularly unsuccessful as a group in conveying to the rest of the industry. We've given away bits and pieces of this knowledge...but we've never organized and systematized the principles of building domain logic. This book is important." -Kyle Brown, author of Enterprise Java(TM) Programming with IBM(R) WebSphere(R) The software development community widely acknowledges that domain modeling is central to software design. Through domain models, software developers are able to express rich functionality and translate it into a software implementation that truly serves the needs of its users. But despite its obvious importance, there are few practical resources that explain how to incorporate effective domain modeling into the software development process. Domain-Driven Design fills that need. This is not a book about specific technologies. It offers readers a systematic approach to domain-driven design, presenting an extensive set of design best practices, experience-based techniques, and fundamental principles that facilitate the development of software projects facing complex domains. Intertwining design and development practice, this book incorporates numerous examples based on actual projects to illustrate the application of domain-driven design to real-world software development. Readers learn how to use a domain model to make a complex development effort more focused and dynamic. A core of best practices and standard patterns provides a common language for the development team. A shift in emphasis-refactoring not just the code but the model underlying the code-in combination with the frequent iterations of Agile development leads to deeper insight into domains and enhanced communication between domain expert and programmer. Domain-Driven Design then builds on this foundation, and addresses modeling and design for complex systems and larger organizations.Specific topics covered include: * Getting all team members to speak the same language * Connecting model and implementation more deeply * Sharpening key distinctions in a model * Managing the lifecycle of a domain object * Writing domain code that is safe to combine in elaborate ways * Making complex code obvious and predictable * Formulating a domain vision statement * Distilling the core of a complex domain * Digging out implicit concepts needed in the model * Applying analysis patterns * Relating design patterns to the model * Maintaining model integrity in a large system * Dealing with coexisting models on the same project * Organizing systems with large-scale structures * Recognizing and responding to modeling breakthroughs With this book in hand, object-oriented developers, system analysts, and designers will have the guidance they need to organize and focus their work, create rich and useful domain models, and leverage those models into quality, long-lasting software implementations.
Sklep: Libristo.pl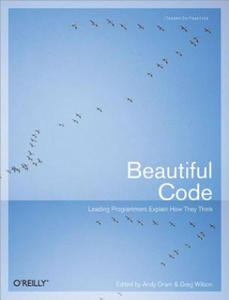 179,63 zł
Książki / Literatura obcojęzyczna
How do the experts solve difficult problems in software development? In this unique and insightful book, leading computer scientists offer case studies that reveal how they found unusual, carefully designed solutions to high-profile projects. You will be able to look over the shoulder of major coding and design experts to see problems through their eyes. This is not simply another design patterns book, or another software engineering treatise on the right and wrong way to do things. The authors think aloud as they work through their project's architecture, the tradeoffs made in its construction, and when it was important to break rules. "Beautiful Code" is an opportunity for master coders to tell their story. All author royalties will be donated to Amnesty International. The book includes the following contributions: "Beautiful Brevity: Rob Pike's Regular Expression Matcher" by Brian Kernighan, Department of Computer Science, Princeton University; "Subversion's Delta Editor: Interface as Ontology" by Karl Fogel, editor of "QuestionCopyright.org", Co-founder of Cyclic Software, the first company offering commercial CVS support; "The Most Beautiful Code I Never Wrote" by Jon Bentley, Avaya Labs Research; "Finding Things" by Tim Bray, Director of Web Technologies at Sun Microsystems, co-inventor of XML 1. 0; "Correct, Beautiful, Fast (In That Order): Lessons From Designing XML Validators" by Elliotte Rusty Harold, Computer Science Department at Polytechnic University, author of "Java I/O, Java Network Programming", and "XML in a Nutshell" (O'Reilly); and, "The Framework for Integrated Test: Beauty through Fragility" by Michael Feathers, consultant at Object Mentor, author of "Working Effectively with Legacy Code" (Prentice Hall). It also includes: "Beautiful Tests" by Alberto Savoia, Chief Technology Officer, Agitar Software Inc; "On-the-Fly Code Generation for Image Processing" by Charles Petzold, author "Programming Windows and Code: The Hidden Language of Computer Hardware and Software" (both Microsoft Press); "Top Down Operator Precedence" by Douglas Crockford, architect at Yahoo! Inc, Founder and CTO of State Software, where he discovered JSON; "Accelerating Population Count" by Henry Warren, currently works on the Blue Gene petaflop computer project Worked for IBM for 41 years; "Secure Communication: The Technology of Freedom" by Ashish Gulhati, Chief Developer of Neomailbox, an Internet privacy service Developer of Cryptonite, an OpenPGP-compatible secure webmail system; and, "Growing Beautiful Code in BioPerl" by Lincoln Stein, investigator at Cold Spring Harbor Laboratory - develops databases and user interfaces for the Human Genome Project using the Apache server and its module API. It also includes: "The Design of the Gene Sorter" by Jim Kent, Genome Bioinformatics Group, University of California Santa Cruz; "How Elegant Code Evolves With Hardware: The Case Of Gaussian Elimination" by Jack Dongarra, University Distinguished Professor of Computer Science in the Computer Science Department at the University of Tennessee, also distinguished Research Staff member in the Computer Science and Mathematics Division at Oak Ridge National Laboratory (ORNL) and Piotr Luszczek, Research Professor at the University of Tennessee; "Beautiful Numerics" by Adam Kolawa, co-founder and CEO of Parasoft; and, "The Linux Kernel Driver Model" by Greg Kroah-Hartman, SuSE Labs/Novell, Linux kernel maintainer for driver subsystems, author of "Linux Kernel in a Nutshell", co-author of "Linux Device Drivers, 3rd Edition" (O'Reilly). It also includes: "Another Level of Indirection" by Diomidis Spinellis, Associate Professor at the Department of Management Science and Technology at the Athens University of Economics and Business, Greece; "An Examination of Python's Dictionary Implementation" by Andrew Kuchling, longtime member of the Python development community, and a director of the Python Software Foundation; "Multi-Dimensional Iterators in NumPy" by Travis Oliphant, Assistant Professor in the Electrical and Computer Engineering Department at Brigham Young University; and, "A Highly Reliable Enterprise System for NASAs Mars Rover Mission" by Ronald Mak, co-founder and CTO of Willard & Lowe Systems, Inc, formerly a senior scientist at the Research Institute for Advanced Computer Science on contract to NASA Ames. It also includes: "ERP5: Designing for Maximum Adaptability" by Rogerio de Carvalho, researcher at the Federal Center for Technological Education of Campos (CEFET Campos), Brazil and Rafael Monnerat, IT Analyst at CEFET Campos, and an offshore consultant for Nexedi SARL; "A Spoonful of Sewage" by Bryan Cantrill, Distinguished Engineer at Sun Microsystems, where he has spent most of his career working on the Solaris kernel; "Distributed Programming with MapReduce" by Jeff Dean and Sanjay Ghemawat, Google Fellows in Google's Systems Infrastructure Group; "Beautiful Concurrency" by Simon Peyton Jones, Microsoft Research, key contributor to the design of the functional language Haskell, and lead designer of the Glasgow Haskell Compiler (GHC); and, "Syntactic Abstraction: The syntax-case expander" by Kent Dybvig, Developer of Chez Scheme and author of the Scheme Programming Language. It also includes: "Object-Oriented Patterns and a Framework for Networked Software" by William Otte, a Ph.D. student in the Department of Electrical Engineering and Computer Science (EECS) at Vanderbilt University and Doug Schmidt, Full Professor in the Electrical Engineering and Computer Science (EECS) Department, Associate Chair of the Computer Science and Engineering program, and a Senior Research Scientist at the Institute for Software Integrated Systems (ISIS) at Vanderbilt University; "Integrating Business Partners the RESTful Way" by Andrew Patzer, Director of the Bioinformatics Program at the Medical College of Wisconsin; and, "Beautiful Debugging" by Andreas Zeller, computer science professor at Saarland University, author of "Why Programs Fail: A Guide to Systematic Debugging" (Morgan Kaufman). It also includes: "Code That's Like an Essay" by Yukihiro Matsumoto, inventor of the Ruby language; "Designing Interfaces Under Extreme Constraints: the Stephen Hawking editor" by Arun Mehta, professor and chairman of the Computer Engineering department of JMIT, Radaur, Haryana, India; "Emacspeak: The Complete Audio Desktop" by TV Raman, Research Scientist at Google where he focuses on web applications; "Code in Motion" by Christopher Seiwald, founder and CTO of Perforce Software and Laura Wingerd, vice president of product technology at Perforce Software, author of "Practical Perforce" (O'Reilly); and, "Writing Programs for 'The Book'" by Brian Hayes who writes the Computing Science column in American Scientist magazine, author of "Infrastructure: A Field Guide to the Industrial Landscape"(W.W. Norton).
Sklep: Libristo.pl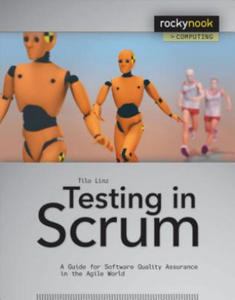 131,42 zł
Książki / Literatura obcojęzyczna
These days, more and more software development projects are being carried out using agile methods like Scrum. Agile software development promises higher software quality, a shorter time to market, and improved focus on customer needs. However, the transition to working within an agile methodology is not easy. Familiar processes and procedures change drastically. Software testing and software quality assurance have a crucial role in ensuring that a software development team, department, or company successfully implements long-term agile development methods and benefits from this framework. This book discusses agile methodology from the perspective of software testing and software quality assurance management. Software development managers, project managers, and quality assurance managers will obtain tips and tricks on how to organize testing and assure quality so that agile projects maintain their impact. Professional certified testers and software quality assurance experts will learn how to work successfully within agile software teams and how best to integrate their expertise.
Sklep: Libristo.pl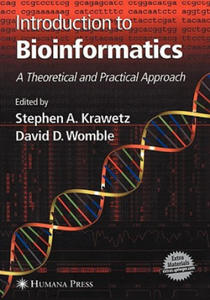 815,63 zł
Książki / Literatura obcojęzyczna
The genomic revolution that has spawned microarrays and high throughput technologies has produced vast amounts of complex biological data that require integration and multidimensional analysis. In Introduction to Bioinformatics: A Theoretical and Practical Approach, leading researchers and experts introduce the key biological, mathematical, statistical, and computer concepts and tools necessary for physical and life scientists to understand and analyze these data. For physical and computer scientists, the book provides a sound biological framework for understanding the questions a life scientist would ask in the context of currently available computational tools. Here, the basic cellular structure and the biological decoding of the genome, the long-range regulation of the genome, the in silico detection of the elements that impact long-range control, and the molecular genetic basis of disease as a consequence of replication are explained. Reviews of clinical human genetics, the various clinical databases, and pertinent issues in population genetics complete this tutorial. §For life scientists, a complete discussion of the UNIX operating system, which is commonly used to support advanced computational tools, offers biologists graphical-user-interface comfort in a command-line environment, plus an understanding of the installation and management of UNIX-based software tools.§It is in the applications sections that the book provides a common meeting ground for life and physical scientists. Here they will find examples of the management and analysis of DNA sequencing projects, the modeling of DNA as a statistical series of patterns, various methods of pattern discovery, protein visualization, and the use of multiple sequence alignment to infer both functional and structural biological relationships. Cross-disciplinary and highly instructive, Introduction to Bioinformatics: A Theoretical and Practical Approach offers life, mathematical, computer, and statistical scientists an integrated foundation for using today's many new computational advances to elucidate the nuances of both genetic code and integrated biological systems.
Sklep: Libristo.pl
Sklepy zlokalizowane w miastach: Warszawa, Kraków, Łódź, Wrocław, Poznań, Gdańsk, Szczecin, Bydgoszcz, Lublin, Katowice
Szukaj w sklepach lub całym serwisie
2. Szukaj na wszystkich stronach serwisu
t1=0.047, t2=0, t3=0, t4=0.023, t=0.047