krainaksiazek freeing love how to love god yourself and others 20130972
- znaleziono 8 produktów w 2 sklepach 114,80 zł
Książki / Literatura obcojęzyczna
Here's the paradox: your body becomes steadily more troublesome just at that point when the world, which you are soon to leave, becomes sweeter, more poignant, more beautiful, more desirable. The ponds of Hampstead Heath are small oases; fragments of wild nature nestled in the heart of north-west London. For the best part of his life Al Alvarez - poet, critic, novelist, rock-climber and poker player - has swum in them almost daily. An athlete in his youth, Alvarez, now in his eighties, chronicles what it is to grow old with humour and fierce honesty - from his relentlessly nagging ankle which makes daily life a struggle, to infuriating bureaucratic battles with the council to keep his disabled person's Blue Badge, the devastating effects of a stroke, and the salvation he finds in the three Ss - Swimming, Sex and Sleep. As Alvarez swims in the ponds he considers how it feels when you begin to miss that person you used to be - to miss yourself. Swimming is his own private form of protest against the onslaught of time; proof to others, and himself, that he's not yet beaten. By turns funny, poetic and indignant, Pondlife is a meditation on love, the importance of life's small pleasures and, above all, a lesson in not going gently in to that good night.
Sklep: Libristo.pl 66,03 zł
Książki / Literatura obcojęzyczna
Forgetting Something? It takes work and devotion to keep a marriage working. This we know. And we know it takes love, support, and understanding to maintain a lasting marriage. Still, one of the biggest relationship mistakes couples make is remembering that a marriage is not a relationship of two, but of three. God is walking with you in marriage. It is He who is there through the good times and bad. And He who will guide you toward the strong marriage you want. This 52-week devotional series will help you to make use of the wisdom and love only He can provide. These devotionals will strengthen your marriage. They will help you to build deeper connection to God while finding true fulfillment within yourself and your relationship. Put Your Faith in God and Reignite Your Marriage The secret to maintaining a lasting, happy marriage is through God. He can give you everything you need to fix any problems, mend broken hearts, and discover all the comfort and joy that marriage has to offer. This book will help you connect with Him each and every day. You will better understand His word and how to use it to build the loving, devoted relationship He wants you to have. Read these devotions with your spouse or by yourself. Some of them are serious and challenging, while others are light, written as reminders for you to relax and be happy. If you're ready to turn to Him and accept all that He is waiting to offer you and your marriage... get this book today.
Sklep: Libristo.pl 34,01 zł
Książki / Literatura obcojęzyczna
[English below] En su clásico libro Gracia y Perdón, John y Carol tratan estos dos temas y nos demuestran cuan entrelazados realmente están. En un mundo que exige la justicia y promueve una idea falsa de la gracia, sólo podemos entender la belleza de la gracia de Dios cuando entendemos su amor hacia nosotros. Una vez comprendemos la magnitud de Su amor y la realidad de la gracia que nos ha demostrado, entonces el perdón se convierte en un componente esencial, no negociable, de la vida cristiana. Deja que John y Carol te enseńen cómo dar el regalo del perdón a los demás, así como a ti mismo. Deja que te muestren cómo vivir en la gracia y cómo evitar los peligros de tratar de ejecutar la justicia por ti mismo contra aquellos que te hacen dańo. Vas a ser inspirado por increíbles testimonios de lo que sucede cuando dejas la justicia en manos de Dios y comienzas a vivir en la gracia. ˇVerás la libertad y la sanidad que traerá a tu vida y la vida de los que te rodean! -- In their classic bestseller, Grace & Forgiveness, John and Carol Arnott open up these two topics, and show us how intertwined they really are. In a world that demands justice, while promoting a perverse idea of false grace, we can only truly understand the beauty of God's grace when we understand his love towards us. Once we grasp the magnitude of his love and the reality of the grace we have been shown, then forgiveness becomes an essential, non-negotiable component of the Christian life. Let John and Carol teach you how to give the gift of forgiveness to others as well as to yourself. Let them show you how to live in grace, and avoid the dangers of trying to execute justice yourself against those who hurt you. Be inspired by incredible testimonies of what happens in the lives of those who have left justice in the hands of God and begun to live in grace. Watch freedom - and healing - come into your life and the lives of those around you!
Sklep: Libristo.pl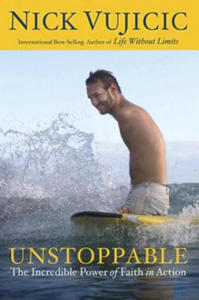 88,09 zł
Książki / Literatura obcojęzyczna
Being unstoppable is about believing and achieving.§It's about having faith in yourself, your talents, your purpose,§and most of all, in God's great love and His divine plan for your life.§§Millions around the world recognize the smiling face and inspirational messages of Nick Vujicic. Born without arms or legs, Nick has not allowed his physical challenges to keep him from enjoying great adventures, a fulfilling and meaningful career, and loving relationships. Nick has overcome trials and hardships by focusing on the promises that he was created for a unique and specific purpose, that his life has value and is a gift to others, and that even though he may endure hardships, God is always present and in control. Nick credits his success to the power that is unleashed when we put our faith into action.§§But how does that happen? In Unstoppable Nick offers guidance and inspiration for dealing with: §§Personal crises§Self-destructive thoughts, emotions, and addictions§Relationship issues§Bullying, persecution, cruelty, and intolerance§Career and job challenges§Imbalance in body, mind, heart, and spirit §Health and disability concerns§Feeling out of control§In sharing compelling stories of his own experiences and those of many others, Nick explains how anyone can create a "ridiculously good life" and become unstoppable.§§What's standing in your way? Are you ready to become unstoppable ?
Sklep: Libristo.pl 97,54 zł
Książki / Literatura obcojęzyczna
Too many of us feel trapped in stagnant romantic, family or workplace relationships. Weighed down by toxic thoughts and emotions, we might be quick to judge and slow to pardon, and self-righteous about our feelings as we dwell on memories of what we or others did (or failed to do). In this new book and CD, Iyanla Vanzant challenges us to liberate ourselves from the wounds of the past and to embrace the new power of forgiveness. With Iyanla's 21-Day Forgiveness Plan, you'll explore relationship dynamics with your parents, children, friends, partners, co-workers, bosses, yourself and even God. With journalling work and Emotional Freedom Techniques (also known as 'tapping'), you'll learn to live with more love; gain new clarity on your life, lessons and blessings; and discover a new level of personal freedom, peace and wellbeing. Forgiveness doesn't mean agreeing with, condoning, or even liking what has happened. Forgiveness means letting go and knowing that - regardless of how challenging, frightening or difficult an experience may seem - everything is just as it needs to be in order for you to grow and learn. When you focus on how things 'should' be, you deny the presence and power of love. Accept the events of the past, while being willing to change your perspective on them. As Iyanla says, 'Only forgiveness can liberate minds and hearts once held captive by anger, bitterness, resentment and fear. Forgiveness is a true path to freedom that can renew faith, build trust and nourish the soul.'
Sklep: Libristo.pl 61,38 zł
Książki / Literatura obcojęzyczna
Too many of us feel trapped in stagnant romantic, family or workplace relationships. Weighed down by toxic thoughts and emotions, we might be quick to judge and slow to pardon, and self-righteous about our feelings as we dwell on memories of what we or others did (or failed to do). In this new book and CD, Iyanla Vanzant challenges us to liberate ourselves from the wounds of the past and to embrace the new power of forgiveness. With Iyanla's 21-Day Forgiveness Plan, you'll explore relationship dynamics with your parents, children, friends, partners, co-workers, bosses, yourself and even God. With journalling work and Emotional Freedom Techniques (also known as 'tapping'), you'll learn to live with more love; gain new clarity on your life, lessons and blessings; and discover a new level of personal freedom, peace and wellbeing. Forgiveness doesn't mean agreeing with, condoning, or even liking what has happened. Forgiveness means letting go and knowing that - regardless of how challenging, frightening or difficult an experience may seem - everything is just as it needs to be in order for you to grow and learn. When you focus on how things 'should' be, you deny the presence and power of love. Accept the events of the past, while being willing to change your perspective on them. As Iyanla says, 'Only forgiveness can liberate minds and hearts once held captive by anger, bitterness, resentment and fear. Forgiveness is a true path to freedom that can renew faith, build trust and nourish the soul.'
Sklep: Libristo.pl 76,14 zł
Książki / Literatura obcojęzyczna
HAVE YOU EVER WONDERED WHY YOU DO WHAT YOU DO? Or maybe your biggest thought is why other people act the way they do. Why can't your sister sit still long enough to read a book? Or why do you see your neighbor combing the yard for any blade of grass out of place? Does one committee member cause every meeting to run long because she expresses an opinion on every point? God created unique personalities within us that influence our actions and reactions and your personality influences everything you do. Linda Gilden and Tama Westman, two certified personality trainers, offer a one-of-a-kind book, Why You Do What You Do, packed with insight and enlightenment concerning the personalities. The easy-to-use format offers a glimpse into how each personality may react, testimonies from those of each personality, and suggestions as to how you can understand those around you. Why You Do What You Do offers something for everyone: practical points that bring order to the analytical, purposeful person; sparkling stories that satisfy the fun-loving, playful person; directives that challenge the powerful person's need for control; quiet reflections for the low-key, peaceful person to ponder. Are you purposeful? Powerful? Playful? Peaceful? Open the pages of Why You Do What You Do and find out! "If you want to lessen the conflict in your relationships, then dig into Why You Do What You Do. With relatable stories and practical wisdom, Linda and Tama give you the tools to understand others and yourself with love and compassion." ~ KATHI LIPP, Author, Speaker "Linda Gilden and Tama Westman have joined forces to bring us a guide that reveals why we behave the way we do. This book has the answers." ~  GLORIA PENWELL, Author Advocate, Coach
Sklep: Libristo.pl 43,99 zł
Muzyka>Electronica
1. Jarell, Blake - Concentrate 2009 Intro 2. Da Others - Viva La Vida! (Unplugged Mix) 3. Gabriel, Josh - Entanglement 4. Musetta - Standing By My Side (Gutterstylz Mix) 5. Mat Zo - The Price Of Oil 6. Bizard With Gate, The - Iselilja (Michael Cassette 7. Second Left - Comatose 8. Ronde, Ruben De - Grnads Boulevards 9. Preve, Francis - Less Cowbell 10. Adiva / Fee, Vicky - How Does It Feel (Myon & Shan 11. Simon / Shaker - Panorama 12. Simon / Shaker As The Sundayprayers - La Noche Del 13. Beltek - Rumble Clouds 14. Way Out West - Only Love (Jerome Isma-ae Remix) 15. Mr. Pit - The Cube 16. Flare, Lens - Back In Resort (Dns Project Original 17. Tydi / Gallagher, Audrey - You Walk Away 18. Dakota - Chinook (Uplifting Mix) 19. Fabio Xb / Play, Ronnie / Cage, Gabriel - Inside O 20. Buuren, Armin Van / Govaert, Jacqueline - Never Sa 21. Gaia - Tuvan (Gareth Emery Remix) 22. Elevation - Biscayne 23. Shah, Roger / Jones, Chris - To The Sky (Club Mix) 24. Rex Mundi / Susana - Nothing At All (Elevation Rem 25. W&w - System Overload 26. Dakota - Koolhaus (Skytech Stadium Mix) 27. Gnx - Copius Cain (Genix Re-rub) 28. Lange / Moor, Andy - Stadium Four 29. O'callaghan, John / Howells, Sarah - Find Yourself 30. Sunlounger / Kyler England - Change Your Mind (Myo 31. Mat Zo - The Fractal Universe 32. W&w - Mainstage 33. Tritonal / Soto, Christina - Crash Into Reason (Dj 101. Arnej - Dust In The Wind (Intro Mix) 102. Nilsen, Orjan - Moving Mojave 103. Hagen, Ron / Pascal M - Riddles In The Sand (Omnia 104. Da Fresh - Yesterday 105. Ohmna / Nurlaila - Key Of Life (Marlo Remix) 106. Moor, Andy / Wallbridge, Ashley / Nealon, Meigh - 107. Schulz, Markus - Do You Dream 108. Signum / Kelsey, Anita - Come Around Again (Signum 109. Shah, Rodger / Tenishia / Lorilee - I'm Not God (T 110. Brandt, Sebastian - Serenade 111. Fabio Xb / Mazza, Andrea - Light To Lies (Gareth E 112. Dash Berlin / Cerf / Mitiska / Jaren - Man On The 113. Sherry, Mark / Allan, James / Trainer, Stuart - St 114. O'callaghan, John / Lo-fi Sugar - Never Fade Away 115. Cazacu, Claudia - Lekker 116. 3rd Moon - Monsun 117. Push - Interference (Sean Tyas Remix) 118. Bissen / Crossover, The - Washout 119. Webster, Paul - Istanbul 120. Tsukerman, Michael - Tel Aviv 121. Phuture Sound / Angie - Come To Me (Asot 2009 Reco 122. Bronzwaer, Thomas - Look Ahead 123. Black Pearl - Java (Dust & Heatcliff Remix) 124. M6 - Opus Sectrum 125. Vengeance - Explain (Denga Vs Manus Mix) 126. Cazacu, Claudia / Gallagher, Audrey - Freefallin 127. Vengeance - Unexpectation (Denga Vs Manus Mix) 128. Nickson, Robertr - Circles (Andy Blueman Remix) 129. Goulart, Klauss - Blade Runner (Dreas Bangin Mix) 130. Dreastic - Phoebe 131. Goulart, Klauss - Deep Universe (M6 Remix) 132. W&w - The Plan 133. Buuren, Armin Van - Intricacy (Thomas Bronzwaer Re 134. Shah, Roger / Savannah - Body Lotion (Jorn Van Dey
Sklep: Gigant.pl
Sklepy zlokalizowane w miastach: Warszawa, Kraków, Łódź, Wrocław, Poznań, Gdańsk, Szczecin, Bydgoszcz, Lublin, Katowice
Szukaj w sklepach lub całym serwisie
2. Szukaj na wszystkich stronach serwisu
t1=0.041, t2=0, t3=0, t4=0, t=0.041