krainaksiazek freeing love how to love god yourself and others 20130972
- znaleziono 7 produktów w 2 sklepach 102,64 zł
Książki / Literatura obcojęzyczna
Here's the paradox: your body becomes steadily more troublesome just at that point when the world, which you are soon to leave, becomes sweeter, more poignant, more beautiful, more desirable. The ponds of Hampstead Heath are small oases; fragments of wild nature nestled in the heart of north-west London. For the best part of his life Al Alvarez - poet, critic, novelist, rock-climber and poker player - has swum in them almost daily. An athlete in his youth, Alvarez, now in his eighties, chronicles what it is to grow old with humour and fierce honesty - from his relentlessly nagging ankle which makes daily life a struggle, to infuriating bureaucratic battles with the council to keep his disabled person's Blue Badge, the devastating effects of a stroke, and the salvation he finds in the three Ss - Swimming, Sex and Sleep. As Alvarez swims in the ponds he considers how it feels when you begin to miss that person you used to be - to miss yourself. Swimming is his own private form of protest against the onslaught of time; proof to others, and himself, that he's not yet beaten. By turns funny, poetic and indignant, Pondlife is a meditation on love, the importance of life's small pleasures and, above all, a lesson in not going gently in to that good night.
Sklep: Libristo.pl 191,12 zł
Książki / Literatura obcojęzyczna
Description: Written in the high art style of prophetic witness, The Scroll of Anatiya reveals a new kind of biblical heroine who is fiercely passionate and sensual. In this first-person, honest, and vulnerable account of an orphaned, passion-driven disciple of Jeremiah--perhaps a prophetess in her own right--Anatiya reveals herself to be a rare window into an incredible world and a beautiful mind. Out of a century of war, wrath, starvation, and exile, Anatiya's epic love poem unleashes a timeless theology of love. In this unique work, the contemporary imagination of Rabbi Zoë Klein meshes seamlessly with the world of Jeremiah in an unforgettable story of passion, poetry, and love. Endorsements: ""Painstakingly researched, melding seamlessly with the biblical/historical record, this fictional work is also powerfully envisioned, written, and realized by a woman writer. Rabbi Zoë Klein has put on the skin and soul of a female prophet/scribe in the time of Jeremiah, bringing a fresh voice into the patriarchal story. How significantly this has enriched me! How much I want others to be as astonished as I was!"" --Luci Shaw author of The Crime of Living Cautiously and Accompanied by Angels ""With the scriptural erudition of the Rabbi she is, and considerable imaginative gifts, Zoë Klein has cr eated in Anatiya a warm, believable companion to an elder Jeremiah, whose quiet love reunites the aged prophet with the passion of love and faith that called him from youth to God and renders in their story a powerful tale of divine love incarnate. --Sam Portaro author of Brightest & Best: A Companion to Lesser Feasts & Fasts, Crossing the Jordan, and Sheer Christianity. ""Redolent in metaphor and spirit, aching with love both earthly and heavenly, The Scroll of Anatiya offers the reader the imagined journey of a young woman disciple of Jeremiah, a journey of a woman's body and spirit. The text draws deeply from the Hebrew Scriptures, while also bringing to speech the voice of a young woman, whose writing 'resonates off the walls.' I recommend reading the text slowly, allowing yourself to savor the language and the imagery, indeed to savor the premise of the scroll."" --Mary C. Earle author of The Desert Mothers: Spiritual Practices from Women of the Wilderness and Days of Grace: Meditations and Practices for Living with Illness. About the Contributor(s): Zoë Klein is the senior rabbi of Temple Isaiah in Los Angeles. She is the author of Drawing in the Dust (Simon and Schuster, 2009). Her poetry and prayers are used in houses of worship across the country. Her writing appears in The Torah: A Women's Commentary (2008) and Holy Ground: A Gathering of Voices on Caring for Creation (2008). She lives in Los Angeles with her husband and three children.
Sklep: Libristo.pl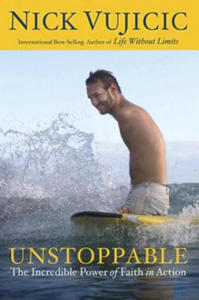 63,38 zł
Książki / Literatura obcojęzyczna
Being unstoppable is about believing and achieving.§It's about having faith in yourself, your talents, your purpose,§and most of all, in God's great love and His divine plan for your life.§§Millions around the world recognize the smiling face and inspirational messages of Nick Vujicic. Born without arms or legs, Nick has not allowed his physical challenges to keep him from enjoying great adventures, a fulfilling and meaningful career, and loving relationships. Nick has overcome trials and hardships by focusing on the promises that he was created for a unique and specific purpose, that his life has value and is a gift to others, and that even though he may endure hardships, God is always present and in control. Nick credits his success to the power that is unleashed when we put our faith into action.§§But how does that happen? In Unstoppable Nick offers guidance and inspiration for dealing with: §§Personal crises§Self-destructive thoughts, emotions, and addictions§Relationship issues§Bullying, persecution, cruelty, and intolerance§Career and job challenges§Imbalance in body, mind, heart, and spirit §Health and disability concerns§Feeling out of control§In sharing compelling stories of his own experiences and those of many others, Nick explains how anyone can create a "ridiculously good life" and become unstoppable.§§What's standing in your way? Are you ready to become unstoppable ?
Sklep: Libristo.pl 92,18 zł
Książki / Literatura obcojęzyczna
Too many of us feel trapped in stagnant romantic, family or workplace relationships. Weighed down by toxic thoughts and emotions, we might be quick to judge and slow to pardon, and self-righteous about our feelings as we dwell on memories of what we or others did (or failed to do). In this new book and CD, Iyanla Vanzant challenges us to liberate ourselves from the wounds of the past and to embrace the new power of forgiveness. With Iyanla's 21-Day Forgiveness Plan, you'll explore relationship dynamics with your parents, children, friends, partners, co-workers, bosses, yourself and even God. With journalling work and Emotional Freedom Techniques (also known as 'tapping'), you'll learn to live with more love; gain new clarity on your life, lessons and blessings; and discover a new level of personal freedom, peace and wellbeing. Forgiveness doesn't mean agreeing with, condoning, or even liking what has happened. Forgiveness means letting go and knowing that - regardless of how challenging, frightening or difficult an experience may seem - everything is just as it needs to be in order for you to grow and learn. When you focus on how things 'should' be, you deny the presence and power of love. Accept the events of the past, while being willing to change your perspective on them. As Iyanla says, 'Only forgiveness can liberate minds and hearts once held captive by anger, bitterness, resentment and fear. Forgiveness is a true path to freedom that can renew faith, build trust and nourish the soul.'
Sklep: Libristo.pl 91,06 zł
Książki / Literatura obcojęzyczna
HAVE YOU EVER WONDERED WHY YOU DO WHAT YOU DO? Or maybe your biggest thought is why other people act the way they do. Why can't your sister sit still long enough to read a book? Or why do you see your neighbor combing the yard for any blade of grass out of place? Does one committee member cause every meeting to run long because she expresses an opinion on every point? God created unique personalities within us that influence our actions and reactions and your personality influences everything you do. Linda Gilden and Tama Westman, two certified personality trainers, offer a one-of-a-kind book, Why You Do What You Do, packed with insight and enlightenment concerning the personalities. The easy-to-use format offers a glimpse into how each personality may react, testimonies from those of each personality, and suggestions as to how you can understand those around you. Why You Do What You Do offers something for everyone: practical points that bring order to the analytical, purposeful person; sparkling stories that satisfy the fun-loving, playful person; directives that challenge the powerful person's need for control; quiet reflections for the low-key, peaceful person to ponder. Are you purposeful? Powerful? Playful? Peaceful? Open the pages of Why You Do What You Do and find out! "If you want to lessen the conflict in your relationships, then dig into Why You Do What You Do. With relatable stories and practical wisdom, Linda and Tama give you the tools to understand others and yourself with love and compassion." ~ KATHI LIPP, Author, Speaker "Linda Gilden and Tama Westman have joined forces to bring us a guide that reveals why we behave the way we do. This book has the answers." ~  GLORIA PENWELL, Author Advocate, Coach
Sklep: Libristo.pl 45,53 zł
Książki / Literatura obcojęzyczna
Moms: Stop comparing yourself to others. Stop striving to meet false expectations. Stop thinking your performance dictates your worth. For far too long mothers have been beaten down by the law of "do better" and "try harder." The burden of "getting it right" threatens to crush weary souls who desire to serve their families faithfully. Christ in the Chaos brings comfort to conflicted hearts that are starved of grace and longing for the freedom in Christ the Bible promises. In this book, Kimm Crandall emphasizes the importance of the gospel and how Christ's life, death, and resurrection change every aspect of motherhood. From finding our identity in Christ and understanding God's grace to taking off the mask of acceptability and dealing with the comparison crud, this book will free you to serve your family knowing that his love for you does not change based on your performance. Christ in the Chaos is a "must read" for every mother who longs for what is seemingly impossible: peace and freedom in the midst of her chaos.
Sklep: Libristo.pl 97,49 zł
Muzyka>Electronica
1. Jarell, Blake - Concentrate 2009 Intro 2. Da Others - Viva La Vida! (Unplugged Mix) 3. Gabriel, Josh - Entanglement 4. Musetta - Standing By My Side (Gutterstylz Mix) 5. Mat Zo - The Price Of Oil 6. Bizard With Gate, The - Iselilja (Michael Cassette 7. Second Left - Comatose 8. Ronde, Ruben De - Grnads Boulevards 9. Preve, Francis - Less Cowbell 10. Adiva / Fee, Vicky - How Does It Feel (Myon & Shan 11. Simon / Shaker - Panorama 12. Simon / Shaker As The Sundayprayers - La Noche Del 13. Beltek - Rumble Clouds 14. Way Out West - Only Love (Jerome Isma-ae Remix) 15. Mr. Pit - The Cube 16. Flare, Lens - Back In Resort (Dns Project Original 17. Tydi / Gallagher, Audrey - You Walk Away 18. Dakota - Chinook (Uplifting Mix) 19. Fabio Xb / Play, Ronnie / Cage, Gabriel - Inside O 20. Buuren, Armin Van / Govaert, Jacqueline - Never Sa 21. Gaia - Tuvan (Gareth Emery Remix) 22. Elevation - Biscayne 23. Shah, Roger / Jones, Chris - To The Sky (Club Mix) 24. Rex Mundi / Susana - Nothing At All (Elevation Rem 25. W&w - System Overload 26. Dakota - Koolhaus (Skytech Stadium Mix) 27. Gnx - Copius Cain (Genix Re-rub) 28. Lange / Moor, Andy - Stadium Four 29. O'callaghan, John / Howells, Sarah - Find Yourself 30. Sunlounger / Kyler England - Change Your Mind (Myo 31. Mat Zo - The Fractal Universe 32. W&w - Mainstage 33. Tritonal / Soto, Christina - Crash Into Reason (Dj 101. Arnej - Dust In The Wind (Intro Mix) 102. Nilsen, Orjan - Moving Mojave 103. Hagen, Ron / Pascal M - Riddles In The Sand (Omnia 104. Da Fresh - Yesterday 105. Ohmna / Nurlaila - Key Of Life (Marlo Remix) 106. Moor, Andy / Wallbridge, Ashley / Nealon, Meigh - 107. Schulz, Markus - Do You Dream 108. Signum / Kelsey, Anita - Come Around Again (Signum 109. Shah, Rodger / Tenishia / Lorilee - I'm Not God (T 110. Brandt, Sebastian - Serenade 111. Fabio Xb / Mazza, Andrea - Light To Lies (Gareth E 112. Dash Berlin / Cerf / Mitiska / Jaren - Man On The 113. Sherry, Mark / Allan, James / Trainer, Stuart - St 114. O'callaghan, John / Lo-fi Sugar - Never Fade Away 115. Cazacu, Claudia - Lekker 116. 3rd Moon - Monsun 117. Push - Interference (Sean Tyas Remix) 118. Bissen / Crossover, The - Washout 119. Webster, Paul - Istanbul 120. Tsukerman, Michael - Tel Aviv 121. Phuture Sound / Angie - Come To Me (Asot 2009 Reco 122. Bronzwaer, Thomas - Look Ahead 123. Black Pearl - Java (Dust & Heatcliff Remix) 124. M6 - Opus Sectrum 125. Vengeance - Explain (Denga Vs Manus Mix) 126. Cazacu, Claudia / Gallagher, Audrey - Freefallin 127. Vengeance - Unexpectation (Denga Vs Manus Mix) 128. Nickson, Robertr - Circles (Andy Blueman Remix) 129. Goulart, Klauss - Blade Runner (Dreas Bangin Mix) 130. Dreastic - Phoebe 131. Goulart, Klauss - Deep Universe (M6 Remix) 132. W&w - The Plan 133. Buuren, Armin Van - Intricacy (Thomas Bronzwaer Re 134. Shah, Roger / Savannah - Body Lotion (Jorn Van Dey
Sklep: Gigant.pl
Sklepy zlokalizowane w miastach: Warszawa, Kraków, Łódź, Wrocław, Poznań, Gdańsk, Szczecin, Bydgoszcz, Lublin, Katowice
Szukaj w sklepach lub całym serwisie
2. Szukaj na wszystkich stronach serwisu
t1=0.073, t2=0, t3=0, t4=0, t=0.073