krainaksiazek freeing love how to love god yourself and others 20130972
- znaleziono 13 produktów w 2 sklepach
39,41 zł
Książki / Literatura obcojęzyczna
Sklep: Libristo.pl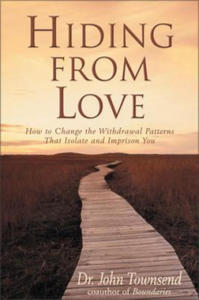 57,41 zł
Książki / Literatura obcojęzyczna
When you experience emotional injury, fear, shame, or pride your first impulse is to hide the hurting parts of yourself from God, others, even yourself. Often you've learned these hiding patterns during childhood to protect yourself in a threatening environment. The problem is that when you hide your injuries and frailties, you isolate yourself from the very things you need in order to heal and mature. What served as protection for a child becomes a prison to an adult. In Hiding from Love, Dr. John Townsend helps you to explore thoroughly the hiding patterns you've developed and guides you toward the healing grace and truth that God has built into safe, connected relationships with himself and others. You'll discover: The difference between "good" and "bad" hiding, Why you hide the broken parts of your soul from the God who can heal them, How to be free to make mistakes without fear of exposing your failures and imperfections, How to obtain the joy and wholeness God intends you to have through healthy bonding with others. Hiding from Love will take you on a journey of discovery toward healing, connected relationships, and a new freedom and joy in living.
Sklep: Libristo.pl 64,29 zł
Książki / Literatura obcojęzyczna
Jesus said, 'You must love the Lord your God with all your soul, mind and strength; and love your neighbour as yourself.' If you had to choose a single verse in the Bible that is a formula for successful living, this would be the one to live by, says Joyce Meyer. Many Christians get mixed up about love. They know they should love God, they know they should love others - but they don't understand what it means to love themselves. Joyce believes that this misconception is one of the greatest pitfalls in the Christian journey. Loving oneself in a balanced, healthy manner is essential in order to have healthy relationships with God and others. Through these inspiring and thoughtful devotions, readers will learn: How to fall in love with God because of who He is rather than what he can give us Why we cannot truly love ourselves until we truly love God Why we must love ourselves in order to love others - because it's impossible to give away something you don't possess Practical ways to put these principles into action and enjoy richer relationships This powerful volume combines the trademark practical teaching, sound psychology and useful insights that Joyce Meyer is known for and will form a firm basis for devotions for years to come.
Sklep: Libristo.pl 92,50 zł
Książki / Literatura obcojęzyczna
Growing in faith and receiving the blessings of God is a universal quest believers have sought for ages. Some Christians spend years attending church and participating in church activities, yet go unfulfilled and remain curious as to why fellow Christians live more dynamic, spirit-filled lives. . Have you ever desired a deeper walk with Christ? . Are you concerned you may have committed the unforgivable sin? . Salvation is free, but do other promises of God require action? . What does it mean to be really blessed? . How can one mature in faith in a complex world? . Do you think you might have missed your calling? In Realizing the Promises of God, Dr. Pinkerton and ten other knowledgeable Christians, with varying religious backgrounds, attempt to answer these difficult questions with a seven-month in-depth study of the perplexing sixth chapter of Hebrews. Without a preconceived plan, they engage in a free-flowing, open-ended discussion which evolves week by week and month by month into a surprising epiphany. With substantial supporting Scripture, they watch the Holy Spirit unfold the methods of God's love before them. . Learn the difference between "iniquity" and "transgression." . Acquaint yourself with what strengthens the soul. . Acquire the steps to a closer walk. . Find what is the believer's responsibility. . Discover the purpose of God's promises. . See how others have grown in faith. . Grasp what releases the power of the Holy Spirit.
Sklep: Libristo.pl 88,16 zł
Książki / Literatura obcojęzyczna
This book of reverent and irreverent poetry invites you to rethink what is sacred. Beginning with a thought provoking essay, It's All God, Anyway, is a map of a spiritual life, and offers guidance on how to awaken to, and listen for, the divine in our everyday lives. Rooted in ordinary life, the poems are readily accessible. They are simple stories about how the author listens for the hidden dimension of existence revealed through the commonplace; demanding neighbors, dinners with loved ones, blazing sunsets, impatient mothers; even the rabbit who has adopted the neighborhood. By immersing yourself in these reflections, you will discover you are thinking of the divine and your own life differently. You are being invited--by recognizing that It's all God, anyway--to live with a different intention, with meaning, purpose, and deliciousness, even if you may sometimes be rooting around in the muck. By joining the author on her journey, you will deepen your own spiritual practice, and connect with the unique language that the divine has for you. The Holy One has innumerable ways of singing us closer. FOR BACK COVER: ""Our job is to be a living psalm, Jinks observes, and this luminous collection of poetry points the way."" --Diane M. Millis, PhD, Author of Deepening Engagement: Essential Wisdom for Leading with Purpose, Meaning, and Joy and Conversation--The Sacred Art ""It's All God, Anyway is a collection of prayerful poems that invite us to see the mysterious, loving unity that underlies all of reality."" --Jacob Staub, Rabbi; Professor of Jewish Philosophy and Spirituality, the Reconstructionist Rabbinical College ""These are poems to experience, because they are invitations to see and celebrate, to taste gladness and delight, to embrace and be embraced by the presence of God and the sacred in the exquisite and unadorned present moment; yes, even in the shmutz."" --Terry Hershey, Protestant Minister; author of Soul Gardening and Sanctuary: Creating a Space for Grace in our Life ""Jennifer (Jinks) Hoffmann . . . helps you recall what your heart knows but has forgotten: that the rush of mystery frightens a little, that we are called to love not only when life is gentle. If you open the door to the worlds contained within this book's covers, chances are good that indeed . . . God may walk in."" --Howard Avruhm Addison, PhD, Rabbi; Associate Professor for Instruction, Temple University; Director, Jewish Spirituality Program, Graduate Theological Foundation ""This book invites you into a sacred conversation between Jinks and her ever present God, in the ordinary and the everyday."" --Kristen Hobby, spiritual director; retreat leader; meditation teacher; author of Nurturing a Gentle Heart ALREADY IN BACK MATTER: Jennifer (Jinks) Hoffmann's loving and lingering attentiveness to the wonders of the world around her suffuses every poem in this deeply reverent but always earthbound book. While her own perspective is rooted in Judaism and Jungian psychology, her heart and mind are open and welcoming to the ways of others. The poems, with their profound respect for mystery, passion for connection, and gratitude for the lavish gifts of existence, will surely beguile readers into accepting Hoffmann's embracing invitation: ""deepen your own covenant with life."" -Judith Viorst, author of Necessary Losses and other non-fiction, fiction, and poetry books for adults and children Jennifer (Jinks) Hoffmann is a poet who stands with one foot firmly planted in the Eternal, and the other in the joys and sorrows of daily life. With an extraordinary breadth of poetic vision, Hoffmann unifies these two realms in a state of being she calls
Sklep: Libristo.pl 58,44 zł
Książki / Literatura obcojęzyczna
How to Live Holy presents a practical guide that encourages us to consider and implement seven principles to help us live more consecrated and mature Christian lives. The first principle is desire, a holy hunger for a deeper relationship with God that results in wanting to please Him and not ourselves. Desire is a prerequisite for living holy. The second principle is devotions, a holy habit. These quiet times with God can strengthen our relationship with Him and prepare us to interact with the world. The third principle is dedication, the holy honor to God that manifests itself in love. God is love, so loving others is a part of living holy. The fourth principle is denying self, a holy handicap or a self-imposed limitation that recognizes that we must die in order to live holy. The fifth principle is denouncing and detaching, the holy hatchet that identifies evil and cuts off whatever would hinder reaching our goal to live holy. The sixth principle is declaration, the holy heralding whereby we speak out with authority and intention to live holy. Finally, the seventh principle is deployment-who and what we summon for holy help in order to defeat the enemy and experience victory. If you're having trouble living holy, this guide is the how-to you've been waiting for. Offering strategies and suggested reading, it helps you propel yourself into the mind-set of holy living.
Sklep: Libristo.pl 109,95 zł
Książki / Literatura obcojęzyczna
There is no greater reward than seeing our children truly blessed. They have the power to open our hearts to unreached treasures. Their triumphs cause celebration, their achievements awe, and so, as parents, we must train our children in the way of Godly victory. They will fight battles, they will feel pain, they will struggle to understand, they will be tempted, and they will experience the suffering of a fallen world. Whether they go from strength to strength and glory to glory is initially dependent on parents. You are God's first line of defense, His first source of blessing, His protection, and His voice. Before they can read, you are quite literally the Word of God for your children. This is parenting, God's way. Letters from God for Children is a parent-child journey that will knit your hearts together. It is a cozy fire to snuggle by. It is a flotation device for parents who may be struggling to connect. It is a compass for parents and children needing God's direction. It will strengthen families and navigate them through the rocks that others have crashed upon. You will have the opportunity to have creative, God-inspired interactions with the hearts of your children. The anatomy of the parent-child relationship will change as you shift into a mentor's role. The influence of peers, media, and threatening voices will dwindle, and you will be equipped to nurture fertile places, heal brokenness, and redirect any rebellion. Along their journey, many children begin to struggle with identity, security, esteem issues, and hidden hurts. These feelings can manifest through disobedience, aggression, lying, rebellion, or closing up and withdrawing. Any loving parent who is concerned with the spiritual well-being of their children will recognize these behaviors as the warnings they are. Parents are the guardians of their child's spirit and must have access to it. Letters from God for Children will keep the hidden heart chambers open and help to open ones that have been sealed shut. Bad seeds will be uprooted and God will use you to plant truth in their place. This is not a "how to" book. It is a God-breathed invitation into parenting as He intended. Answers to your child's questions will be revealed. You will find yourself teaching your son or daughter spiritual truths that will equip him or her for God's great purposes. They will flourish as they begin to understand mercy, purpose, faith, love, power, purity, security, and the many facets of God. This may just be the greatest tool a parent could receive for reaching into their child's heart and pulling out the God-destiny that was written there.
Sklep: Libristo.pl 42,41 zł
Książki / Literatura obcojęzyczna
[English below] En su clásico libro Gracia y Perdón, John y Carol tratan estos dos temas y nos demuestran cuan entrelazados realmente están. En un mundo que exige la justicia y promueve una idea falsa de la gracia, sólo podemos entender la belleza de la gracia de Dios cuando entendemos su amor hacia nosotros. Una vez comprendemos la magnitud de Su amor y la realidad de la gracia que nos ha demostrado, entonces el perdón se convierte en un componente esencial, no negociable, de la vida cristiana. Deja que John y Carol te enseńen cómo dar el regalo del perdón a los demás, así como a ti mismo. Deja que te muestren cómo vivir en la gracia y cómo evitar los peligros de tratar de ejecutar la justicia por ti mismo contra aquellos que te hacen dańo. Vas a ser inspirado por increíbles testimonios de lo que sucede cuando dejas la justicia en manos de Dios y comienzas a vivir en la gracia. ˇVerás la libertad y la sanidad que traerá a tu vida y la vida de los que te rodean! -- In their classic bestseller, Grace & Forgiveness, John and Carol Arnott open up these two topics, and show us how intertwined they really are. In a world that demands justice, while promoting a perverse idea of false grace, we can only truly understand the beauty of God's grace when we understand his love towards us. Once we grasp the magnitude of his love and the reality of the grace we have been shown, then forgiveness becomes an essential, non-negotiable component of the Christian life. Let John and Carol teach you how to give the gift of forgiveness to others as well as to yourself. Let them show you how to live in grace, and avoid the dangers of trying to execute justice yourself against those who hurt you. Be inspired by incredible testimonies of what happens in the lives of those who have left justice in the hands of God and begun to live in grace. Watch freedom - and healing - come into your life and the lives of those around you!
Sklep: Libristo.pl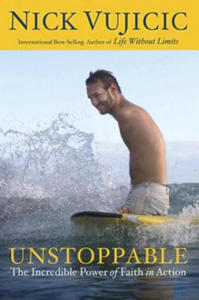 55,06 zł
Książki / Literatura obcojęzyczna
Being unstoppable is about believing and achieving.§It's about having faith in yourself, your talents, your purpose,§and most of all, in God's great love and His divine plan for your life.§§Millions around the world recognize the smiling face and inspirational messages of Nick Vujicic. Born without arms or legs, Nick has not allowed his physical challenges to keep him from enjoying great adventures, a fulfilling and meaningful career, and loving relationships. Nick has overcome trials and hardships by focusing on the promises that he was created for a unique and specific purpose, that his life has value and is a gift to others, and that even though he may endure hardships, God is always present and in control. Nick credits his success to the power that is unleashed when we put our faith into action.§§But how does that happen? In Unstoppable Nick offers guidance and inspiration for dealing with: §§Personal crises§Self-destructive thoughts, emotions, and addictions§Relationship issues§Bullying, persecution, cruelty, and intolerance§Career and job challenges§Imbalance in body, mind, heart, and spirit §Health and disability concerns§Feeling out of control§In sharing compelling stories of his own experiences and those of many others, Nick explains how anyone can create a "ridiculously good life" and become unstoppable.§§What's standing in your way? Are you ready to become unstoppable ?
Sklep: Libristo.pl 75,71 zł
Książki / Literatura obcojęzyczna
In Think and Be Free, Grant Miller takes you on a journey through his life as a child growing up in a plain church, and his quest for truth concerning what God has done for the human family. He was in for a surprise, and so are you as you also discover God is not angry with anyone. Knowing this simple, yet powerful and life-changing truth, you will begin to change your view of yourself and others which results in less pain, greater confidence, and better relationships. Because, you will continue to treat people as you do, as long as you think of them as you have. Grant Miller lives in North Manchester, IN with his wife Darla, and kids, Wynn, Blaine, Lana, and Thad. His hobby has always been a persistent quest to learn all there is to understand about life, the universe we live in, and the Truth that is alive in every human. He has had a special interest in people, how they relate with each other, and specifically the pain and emptiness people experience that is partly a result of being human, partly due to the way one was made to feel as a child, and often times, the lies of religion. The cap sheaf of his interests, being the love and wonderful destiny that God has for every person due to the sacrifice and resurrection of His son, Christ Jesus.
Sklep: Libristo.pl 86,79 zł
Książki / Literatura obcojęzyczna
Your faith will explode as you read Bartleman's challenging insights into faith-filled living from his experiences at Azusa Street. Then you will know how to be an instrument of God's love and healing to others, change your life from ordinary to extraordinary, conquer fears that have defeated you, experience the presence of God for yourself, and become as effective as the early Christians. Your prayer life will be unbelievably transformed as you experience God's moving in your life.
Sklep: Libristo.pl 126,06 zł
Książki / Literatura obcojęzyczna
Place 33: Secrets of Universal Truths Revealed through Hypnotic Channeling weaves a fantastic journey through worlds and dimensions we never imagined. Avalon tells of ways to grow and elevate our conscious awareness as we learn about life and ourselves. Description MEETING Joseph Campbell on the other side and channeling him. Following a pattern of bad relationships, Sherilyn always seems to be escaping; First from her ex-husband and then an ex-boyfriend. Finally, she retreats to Las Vegas, a city filled with energy and opportunity. Sherilyn begins freelancing as a graphic designer to support herself and her children. Little did she know, one design job would change her life forever. Sparks fly when Sherilyn meets Kenton, the manager of a Wind Tunnel. However, a chance encounter with a man named Sterling changes everything. Through various sessions, Sherilyn hypnotizes Sterling, who takes her on the ride of a lifetime on the Elevator of Enlightenment through the 33 Levels of Consciousness. Here, she meets her God Mother, Angie, and others who teach Sherilyn her full potential - how to become a Femanale being. Place 33: Secrets of Universal Truths Revealed through Hypnotic Channeling weaves a fantastic journey through worlds and dimensions we never imagined. Avalon tells of ways to grow and elevate our conscious awareness as we learn about life and ourselves through her own lessons. Such as, what is energy? What does it mean? What is a metaphor? Follow a voyage to discover stunning truths, learn the secrets of energy, love for yourself and others, and an acceptance of our miraculous universe and all its dimensions. If you are a true seeker of Enlightenment, Place 33 will guide you toward the knowledge for expansion.
Sklep: Libristo.pl 97,49 zł
Muzyka>Electronica
1. Jarell, Blake - Concentrate 2009 Intro 2. Da Others - Viva La Vida! (Unplugged Mix) 3. Gabriel, Josh - Entanglement 4. Musetta - Standing By My Side (Gutterstylz Mix) 5. Mat Zo - The Price Of Oil 6. Bizard With Gate, The - Iselilja (Michael Cassette 7. Second Left - Comatose 8. Ronde, Ruben De - Grnads Boulevards 9. Preve, Francis - Less Cowbell 10. Adiva / Fee, Vicky - How Does It Feel (Myon & Shan 11. Simon / Shaker - Panorama 12. Simon / Shaker As The Sundayprayers - La Noche Del 13. Beltek - Rumble Clouds 14. Way Out West - Only Love (Jerome Isma-ae Remix) 15. Mr. Pit - The Cube 16. Flare, Lens - Back In Resort (Dns Project Original 17. Tydi / Gallagher, Audrey - You Walk Away 18. Dakota - Chinook (Uplifting Mix) 19. Fabio Xb / Play, Ronnie / Cage, Gabriel - Inside O 20. Buuren, Armin Van / Govaert, Jacqueline - Never Sa 21. Gaia - Tuvan (Gareth Emery Remix) 22. Elevation - Biscayne 23. Shah, Roger / Jones, Chris - To The Sky (Club Mix) 24. Rex Mundi / Susana - Nothing At All (Elevation Rem 25. W&w - System Overload 26. Dakota - Koolhaus (Skytech Stadium Mix) 27. Gnx - Copius Cain (Genix Re-rub) 28. Lange / Moor, Andy - Stadium Four 29. O'callaghan, John / Howells, Sarah - Find Yourself 30. Sunlounger / Kyler England - Change Your Mind (Myo 31. Mat Zo - The Fractal Universe 32. W&w - Mainstage 33. Tritonal / Soto, Christina - Crash Into Reason (Dj 101. Arnej - Dust In The Wind (Intro Mix) 102. Nilsen, Orjan - Moving Mojave 103. Hagen, Ron / Pascal M - Riddles In The Sand (Omnia 104. Da Fresh - Yesterday 105. Ohmna / Nurlaila - Key Of Life (Marlo Remix) 106. Moor, Andy / Wallbridge, Ashley / Nealon, Meigh - 107. Schulz, Markus - Do You Dream 108. Signum / Kelsey, Anita - Come Around Again (Signum 109. Shah, Rodger / Tenishia / Lorilee - I'm Not God (T 110. Brandt, Sebastian - Serenade 111. Fabio Xb / Mazza, Andrea - Light To Lies (Gareth E 112. Dash Berlin / Cerf / Mitiska / Jaren - Man On The 113. Sherry, Mark / Allan, James / Trainer, Stuart - St 114. O'callaghan, John / Lo-fi Sugar - Never Fade Away 115. Cazacu, Claudia - Lekker 116. 3rd Moon - Monsun 117. Push - Interference (Sean Tyas Remix) 118. Bissen / Crossover, The - Washout 119. Webster, Paul - Istanbul 120. Tsukerman, Michael - Tel Aviv 121. Phuture Sound / Angie - Come To Me (Asot 2009 Reco 122. Bronzwaer, Thomas - Look Ahead 123. Black Pearl - Java (Dust & Heatcliff Remix) 124. M6 - Opus Sectrum 125. Vengeance - Explain (Denga Vs Manus Mix) 126. Cazacu, Claudia / Gallagher, Audrey - Freefallin 127. Vengeance - Unexpectation (Denga Vs Manus Mix) 128. Nickson, Robertr - Circles (Andy Blueman Remix) 129. Goulart, Klauss - Blade Runner (Dreas Bangin Mix) 130. Dreastic - Phoebe 131. Goulart, Klauss - Deep Universe (M6 Remix) 132. W&w - The Plan 133. Buuren, Armin Van - Intricacy (Thomas Bronzwaer Re 134. Shah, Roger / Savannah - Body Lotion (Jorn Van Dey
Sklep: Gigant.pl
Sklepy zlokalizowane w miastach: Warszawa, Kraków, Łódź, Wrocław, Poznań, Gdańsk, Szczecin, Bydgoszcz, Lublin, Katowice
Szukaj w sklepach lub całym serwisie
2. Szukaj na wszystkich stronach serwisu
t1=0.64, t2=0, t3=0, t4=0.021, t=0.64