krainaksiazek french economy and the state 20107039
- znaleziono 12 produktów w 2 sklepach 197,54 zł
Książki / Literatura obcojęzyczna
Over the past two decades, many welfare states have experienced a combination of low economic growth and rising unemployment, concurrent with increasing pension and health care obligations, which has exacerbated government budget deficits. Some analysts forecast that for a number of welfare states these problems will worsen in the future. Their fiscal problems, in particular, present welfare state policy makers with the dilemma of attempting to fund redistribution schemes consistent with the ideal of a secure egalitarian society while at the same time remaining competitive in a 'new economy' that places a premium on competition, innovation, and flexible labour and product markets. Thus, an important issue has emerged: what types of reforms are required to enable welfare states to preserve sustainability? For the purpose of this study, a sustainable welfare state is one that can remain the guarantor against social risks and adverse economic trends for all segments of their respective societies and satisfy sound fiscal criteria (such as the Maastricht requirement for all members of the EMU that their fiscal budget deficit does not exceed 3% of the GDP), without imposing considerable financial burdens on future generations.
Sklep: Libristo.pl 56,12 zł
Książki / Literatura obcojęzyczna
By the 11th century the French King had lost control of border regions, while local warfare had grown alarmingly frequent. In fact the energies of the French military elite were now focused on petty internal squabbles and external adventures like the Norman conquest of England. Nevertheless, the population and economy both expanded, although it was not until the 12th century that the crown rebuilt its power-base. Despite its slow start when compared with neighbours like England, the Kingdom of France had, by the 13th century, risen to become the most powerful state in Western Europe. This title describes the organisation, history and tactics of French medieval armies.
Sklep: Libristo.pl 276,47 zł
Książki / Literatura obcojęzyczna
Canada and Ukraine probably differ more than they are alike: location, size, culture, politics, economy, history, society, language. Well, oddly enough, the countries appear rather similar than different when it comes to the last three aspects if viewed through the prism of the language issue. Having provided theoretical, historical background to the language issue in both countries and proven their comparability, this paper analyzes the official language policies in Canada and Ukraine since the Quiet Revolution in Québec and Perestroika in the Soviet Union, traces the development of de jure, as in the case of Canada, and de facto, as in the case of Ukraine, bilingualism. The paper goes on to study the state of the language rights the peoples of Canada and Ukraine enjoy in their daily lives, the level of satisfaction with their protection of the respective linguistic communities. Having no official statistics on origin and number of complaints against the alleged violations of language rights in Ukraine at its disposal, the paper resorts to the analysis of the relevant court decisions, ultimately answering the question why Ukrainian is not English or Russian is not French.
Sklep: Libristo.pl 799,74 zł
Książki / Literatura obcojęzyczna
The Mitterrand years saw the transformation of business and its relationship to government. From State to Market, first published in 1996, details the governmental policies toward business that went from nationalization to privatization, deregulation, and ever-increasing European integration, bringing with them the move from a dirigiste, or state-directed, economy to a more market-oriented one. Professor Schmidt profiles the players, the interpenetrating elite of top business and government officials who share common state educational history and career track and who, as the beneficiaries of the all-pervasive culture of the state, have managed not only to maintain their hold in the ministries but also to colonize industry. This book, which spans the fields of public policy and political economy, contains both empirical information - the results of over forty interviews with top business and government officials - and a theoretical framework that sets French state-society relations in comparative perspective.
Sklep: Libristo.pl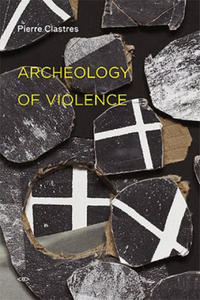 83,86 zł
Książki / Literatura obcojęzyczna
The war machine is the motor of the social machine; the primitive social being relies entirely on war, primitive society cannot survive without war. The more war there is, the less unification there is, and the best enemy of the State is war. Primitive society is society against the State in that it is society-for-war.--from The Archeology of ViolenceAnthropologist and ethnographer Pierre Clastres was a major influence on Gilles Deleuze and Flix Guattari's Anti-Oedipus, and his writings formed an essential chapter in the discipline of political anthropology. The posthumous publication in French of Archeology of Violence in 1980 gathered together Clastres's final groundbreaking essays and the opening chapters of the book he had begun before his death in 1977 at the age of 43. Elaborating upon the conclusions of such earlier works as Society Against the State, in these essays Clastres critiques his former mentor, Claude Lvi-Strauss, and devastatingly rejects the orthodoxy of Marxist anthropology and other Western interpretive models of "primitive societies." Discarding the traditional anthropological understanding of war among South American Indians as arising from a scarcity of resources, Clastres instead identifies violence among these peoples as a deliberate means to territorial segmentation and the avoidance of a State formation. In their refusal to separate the political from the social, and in their careful control of their tribal chiefs--who are rendered weak so as to remain dependent on the communities they represent--the "savages" Clastres presents prove to be shrewd political minds who resist in advance any attempt at "globalization."The essays in this, Clastres's final book, cover subjects ranging from ethnocide and shamanism to "primitive" power and economy, and are as vibrant and engaging as they were thirty years ago. This new edition--which includes an introduction by Eduardo Viverios de Castro--holds even more relevance for readers in today's an era of malaise and globalization.
Sklep: Libristo.pl 80,04 zł
Książki / Literatura obcojęzyczna
Capitalism was born in England, yet the dominant Western conceptions of modernity come from elsewhere, notably from France, the historical model of 'bourgeois' society. In this lively and wide-ranging book, Ellen Meiksins Wood argues that what is supposed to have epitomized bourgeois modernity, especially the emergence of a 'modern' state and political culture in continental Europe, signalled the persistence of precapitalist social property relations. Conversely, the absence of a 'modern' state and political discourse in England testified to the presence of a well-developed capitalism. The fundamental flaws in the British economy are not just the symptoms of arrested development but the contradictions of the capitalist system itself. Britain today, Wood maintains, is the most thoroughly capitalist culture in Europe. Weaving together economic and political history with the history of ideas, Wood ranges across a broad spectrum of current debates, from the 'Nairn-Anderson these' to the contributions of J.C.D. Clark and Alan Macfarlane, and over a wide variety of topics: the development of British capitalism and French absolutism; the state, the nation and their symbolic representations; revolution and tradition; the cultural patterns of English speech; urbanism, ruralism and the landscape garden; ideas of sovereignty, democracy, property and progress. This book will be as interesting and provocative to observers of contemporary capitalism as to historians of early modern Europe or Western political thought.
Sklep: Libristo.pl 406,41 zł
Vietnam Alphascript Publishing
Książki / Literatura obcojęzyczna
Vietnam. History of Vietnam, Cochinchina Campaign, Sino-French War, French Indochina, Empire of Vietnam, First Indochina War, North Vietnam, State of Vietnam, Vietnam War, State of Vietnam referendum, 1955, Ngo Dinh Diem, Viet Cong, Ho Chi Minh trail, Army of the Republic of Vietnam, Politics of Vietnam, Human rights in Vietnam, Provinces of Vietnam, Districts of Vietnam, Geography of Vietnam, Economy of Vietnam, Names of Vietnam, Vietnam People's Army, Transport in Vietnam, Vietnamese language, List of ethnic groups in Vietnam, Education in Vietnam, International rankings of Vietnam, Culture of Vietnam, Religion in Vietnam, Demographics of Vietnam
Sklep: Libristo.pl 147,80 zł
Książki / Literatura obcojęzyczna
In "A Gathering of Rivers", Lucy Eldersveld Murphy traces the histories of Indian, multiracial, and mining communities in the western Great Lakes region during the eighteenth and early nineteenth centuries. For a century the Winnebagos (Ho-Chunks), Mesquakies (Fox), and Sauks successfully confronted waves of French and British immigration by diversifying their economies and commercializing lead mining. The success of the Native communities prompts important questions: What strategies did they devise to accommodate the newcomers? Why and how did very different cultures forge stable communities and working relationships? And what led to the conflicts that shattered this syncretic frontier world? Focusing upon personal stories and detailed community histories, Murphy charts the changing economic forces at work in the region, connecting them to shifts in gender roles and intercultural relationships.She argues that French, British, and Native peoples forged a social and economic syncretism expressed partly by mixed-race marriages and the emergence of multiethnic communities at Green Bay and Prairie du Chien. Significantly, Native peoples in the western Great Lakes region were able to adapt successfully to the new frontier market economy until their Native-controlled lead mining operations became the envy of outsiders who forced their way into the region during the 1820s. Murphy examines the creation of the mining and settler communities and the breakdown of their relations with Indian people. Lucy Eldersveld Murphy is an assistant professor of history at Ohio State University-Newark. She is the coeditor of "Midwestern Women: Work, Community, and Leadership at the Crossroads".
Sklep: Libristo.pl 95,34 zł
Książki / Literatura obcojęzyczna
For two hundred years historians have viewed England's Glorious Revolution of 1688-1689 as an un-revolutionary revolution - bloodless, consensual, aristocratic, and above all, sensible. In this brilliant new interpretation Steve Pincus refutes this traditional view. By expanding the interpretive lens to include a broader geographical and chronological frame, Pincus demonstrates that England's revolution was a European event, that it took place over a number of years, not months, and that it had repercussions in India, North America, the West Indies, and throughout continental Europe. His rich historical narrative, based on masses of new archival research, traces the transformation of English foreign policy, religious culture, and political economy that, he argues, was the intended consequence of the revolutionaries of 1688-1689. James II developed a modernization programme that emphasized centralized control, repression of dissidents, and territorial empire. The revolutionaries, by contrast, took advantage of the new economic possibilities to create a bureaucratic but participatory state. The post-revolutionary English state emphasized its ideological break with the past and envisioned itself as continuing to evolve. All of this, argues Pincus, makes the Glorious Revolution - not the French Revolution - the first truly modern revolution. This wide-ranging book reenvisions the nature of the Glorious Revolution and of revolutions in general, the causes and consequences of commercialization, the nature of liberalism, and ultimately the origins and contours of modernity itself.
Sklep: Libristo.pl 177,93 zł
Książki / Literatura obcojęzyczna
Source: Wikipedia. Pages: 188. Chapters: Socialism, Suez Crisis, Nurse uniform, Dune, Perjury, Banner-making, Stella Artois, Private finance initiative, 999, Boiler insurance, Construction, Battle of the Imjin River, Lean construction, Food waste, Aftermath of the Falklands War, Dry rot treatment, Pirate radio, Double act, Common Pheasant, Member of the European Parliament, Lancia Beta, Boys' Brigade, Vehicle recovery, Consent, Train whistle, PAT Testing, Citroën C3, Biomedical scientist, Carbon emissions reporting, Omission, Transition to war, Gunpowder magazine, Constructive dismissal, Chief Whip, Liquidation, Regional variation, Permanent Secretary, Stamp vending machine, Crematory, Glass recycling, Synthetic phonics, Immigration officer, Substitute, Cold water pitting of copper tube, Common purpose, Reintroduction, Free school meal, Sub-Lieutenant, Loft conversion, Design history, Game preservation, Collar day, Defence of property, Welfare reform, UEFA Pro Licence, Clock ident, Costs lawyer, Local eGovernment, Municipal services, ALARP, Beneficiary, Small government, Social club, Bank charge, Industrial school, Public security, Attempted murder, Right of abode, Cohabitation agreement, Flood risk assessment, Zanussi, Consultant pharmacist, Phoenix company, Stabbing, School run, Police notebook, Cruise, Honda CBR125R, Manual fare collection, Police intelligence, Workplace jargon, List of boutique investment banks, Auto locksmith, Scania N112, International Gladiators 2, Selective door operation, Memorandum of association, Showcase Cinemas, War grave, Phone-in, School tie, Local door operation, Senior house officer, Honeypot, Guideline Daily Amount, Sandite, No overall control, Endowment selling, Cinema de Lux, Spent law, French knickers, Polling place, Criminal costs, Brass rubbing, Battle of Zutphen, Reprimand, Sworn testimony, Raft spider, Skyrocket, Legal year, Administrative removal, Primary carer, Burns and Porter, Hydrometry. Excerpt: Socialism is an economic system in which the means of production are publicly or commonly owned and controlled co-operatively, or a political philosophy advocating such a system. A primary goal of socialism is social equality and a distribution of wealth based on one's contribution to society, and an economic arrangement that would serve the interests of society as a whole. As a form of social organization, socialism is based on relatively equal-power relations, self-management and a reduction or elimination of hierarchical forms of management in the economic structure of society. As an economic system, socialism is the direct allocation of capital goods (means of production) so that production is carried out for use, directly meeting economic demand, and accounting is based on some physical magnitude such as physical quantities or a direct measure of labour time. Goods and services for consumption are distributed through markets, and distribution of income is based on the principle of individual merit/individual contribution. As a political movement, socialism includes a diverse array of political philosophies, ranging from reformism to revolutionary socialism. Some currents of socialism, often referred to as state socialism, advocate complete nationalisation of the means of production, distribution and exchange as a strategy for implementing socialism; while social democrats advocate public control of capital within the framework of a market economy. Libertarian socialists and anarchists reject u...
Sklep: Libristo.pl 45,80 zł
Nauki humanistyczne
Alain de Botton, best-selling author of How Proust can Change Your Life, has set six of the finest minds in the history of philosophy to work on the problems of everyday life. Here then are Socrates, Epicurus, Seneca, Montaigne, Schopenhauer and Nietzsche on some of the things that bother us all; lack of money, the pain of love, inadequacy, anxiety, the fear of failure and the pressure to conform.
Sklep: Albertus.pl 190,85 zł
Missouri Harlan Davidson Inc
Książki / Literatura obcojęzyczna
Combining a chronological overview with topical development, this team of esteemed authors presents in engaging detail the rich and varied history of Missouri, a state that has played a pivotal role in the nation's history from the pre-Columbian period to the present. In a clear engaging style that all students of Missouri history are certain to enjoy, the authors explore such subjects as Missouri's Indian peoples, French and Spanish settlement, slavery, the American Civil War and Reconstruction, politics from territorial days to the present, cultural and industrial development, both world wars, historical and recent demographics, and the difficult choices that Missourians face regarding the economy, the environment, and education as the 21st century unfolds. Featuring an entirely new chapter as well as new maps, photographs, newly revised Suggestions for Further Reading, and a comprehensive index, this latest edition of our popular survey text will continue to enlighten and engage all those who call Missouri home.
Sklep: Libristo.pl
Sklepy zlokalizowane w miastach: Warszawa, Kraków, Łódź, Wrocław, Poznań, Gdańsk, Szczecin, Bydgoszcz, Lublin, Katowice
Szukaj w sklepach lub całym serwisie
2. Szukaj na wszystkich stronach serwisu
t1=0.081, t2=0, t3=0, t4=0, t=0.081