krainaksiazek from victim to survivor 20089646
- znaleziono 14 produktów w 3 sklepach 321,85 zł
Książki / Literatura obcojęzyczna
Sklep: Libristo.pl
42,47 zł
Książki / Literatura obcojęzyczna
In this searing and surprising memoir, Samantha Geimer, "the girl" at the center of the infamous Roman Polanski sexual assault case, breaks a virtual thirty-five-year silence to tell her story and reflect on the events of that day and their lifelong repercussions. March 1977, Southern California. Roman Polanski drives a rented Mercedes along Mulholland Drive to Jack Nicholson's house. Sitting next to him is an aspiring actress, Samantha Geimer, recently arrived from York, Pennsylvania. She is thirteen years old. The undisputed facts of what happened in the following hours appear in the court record: Polanski spent hours taking pictures of Samantha-on a deck overlooking the Hollywood Hills, on a kitchen counter, topless in a Jacuzzi. Wine and Quaaludes were consumed, balance and innocence were lost, and a young girl's life was altered forever-eternally cast as a background player in her own story. For months on end, the Polanski case dominated the media in the US and abroad. But even with the extensive coverage, much about that day-and the girl at the center of it all-remains a mystery. Just about everyone had an opinion about the renowned director and the girl he was accused of drugging and raping. Who was the predator? Who was the prey? Was the girl an innocent victim or a cunning Lolita artfully directed by her ambitious stage mother? How could the criminal justice system have failed all the parties concerned in such a spectacular fashion? Once Polanski fled the country, what became of Samantha, the young girl forever associated with one of Hollywood's most notorious episodes? Samantha, as much as Polanski, has been a fugitive since the events of that night more than thirty years ago. Taking us far beyond the headlines, The Girl reveals a thirteen-year-old who was simultaneously wise beyond her years and yet terribly vulnerable. By telling her story in full for the first time, Samantha reclaims her identity, and indelibly proves that it is possible to move forward from victim to survivor, from confusion to certainty, from shame to strength.
Sklep: Libristo.pl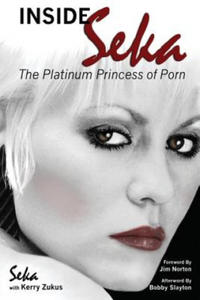 122,13 zł
Książki / Literatura obcojęzyczna
"The Mount Rushmore of Adult Entertainment has four heads: John Holmes, Marilyn Chambers, Jenna Jameson, and Seka. That's it; there ain't no more." - Bill Margold, famed adult film actor, agent, producer, director, and activist Seka-The Platinum Princess, the Marilyn Monroe of Porn, the queen of XXX cinema's Golden Age, and John Holmes' favorite leading lady. Seka is a legendary performer in the annals of adult cinema, and many would say the greatest. Seka's name was so big in XXX that her name above the title was not enough-her name had to be in the title! Seka's real life story, though, is as enigmatic as her screen persona. She was never a victim-on-screen or off. This is no tale of remorse, abuse, or self-destructive behavior. Seka was post-feminist before the term was born. Inside Seka is the story of a survivor, a trailblazer, and an icon-still one of the most popular and famous porn stars ever; the last of the natural beauties. "Before the Jennas, the Bree Olsons, or the Savannas, the undisputed blonde bombshell of XXX movies was Seka, which makes her story so important in the history of adult entertainment." - Ron Jeremy, porn legend, holder of the Guinness Book of World Records for "Most Appearances in Adult Films". "From calling the shots in a film genre in the days when it was completely controlled by men, to standing and being heard at the infamous Meese Commission, Seka shatters the myth of the poor little victim who lost her way. Don't expect excuses and apologies. This is one blonde bombshell who lives by her own rules." - Candida Royalle, author, entrepreneur, and erotic film pioneer "She was one of the hottest girls in the XXX business, able to seduce any man she wanted. So it should come as no surprise that her story is riveting." - Larry Flynt, Hustler magazine Kerry Zukus is the author, co-author, or ghostwriter of over 40 books, including From Harvard to Hell and Back, the upcoming Inside the Hotel Rwanda, and Book of the Month Club Feature Selection The Fourth House.
Sklep: Libristo.pl 88,16 zł
Książki / Literatura obcojęzyczna
Description A serious pro-survival, pro-recovery book, written because I have been the survivor of many suicide attempts, not to forget also the person left behind after actual suicides, and the victim of serious self-harm in myself and those I love. I haven't attempted suicide or self-harmed for 8 years and I don't plan to do so again, but I always have my plan to hand. Starting at the age of 11, I have attempted suicide 443 times (sometimes barely surviving, twice dying, only to be revived) and for fifteen years I was a person who self-harmed - cutting and bloodletting, sometimes as self-harm, sometimes as a suicide attempt. The two are definitely linked but not all self-harm is suicidal, not all suicide attempts are meant to kill, and sadly about one million people kill themselves every year, not all of them meaning to. As I have also been the victim left behind when someone I loved took their own life, I really can see the issue from all perspectives. Allow me to fill you in on my personal experience first of all, so you know you are 'talkingż to someone who really has been there before herself. Pull up a chair, or sit back in bed, and we will talk.
Sklep: Libristo.pl 97,77 zł
Overcome Writers of the Round Table Press
Książki / Literatura obcojęzyczna
On June 10, 2007, Carmen Blandin Tarleton's estranged husband broke into her rural Vermont home, beat her with a baseball bat, and doused her with industrial-strength lye. Doctors called it "THE MOST HORRIFIC INJURY A HUMAN BEING COULD SUFFER." Tarleton spent the next three and a half months in a medically induced coma, and when she awoke, it was to an unimaginable reality: she was blind and permanently disfigured, with burns covering more than eighty percent of her body. Her recovery would include months of painful rehab, dozens of surgeries, and total dependence on family, friends, and strangers for physical and financial care. With so much taken away, no one could have anticipated what Tarleton would gain from her experience: an awakening. A purpose. Joy. By sharing her struggles and ultimate victory over catastrophic loss, Tarleton proves that life is a choice-and, in the process, offers a rare glimpse into the best and worst corners of the human heart. "CARMEN IS SO UNFLINCHINGLY HONEST, SO TRANSPARENT . . . Overcome: Burned, Blinded, and Blessed is an opportunity to bask, for just for a little while, in the rays of her exceptional spirit." -JONI BUSBY, SUPERVISING PRODUCER, THE DOCTORS "Carmen's story is one of tragedy and triumph. She is truly an example of the strength and beauty of the human spirit. Carmen went from victim to survivor and teaches us all that we can overcome the unimaginable and create the lives we would like to live." żJENNIFER RADICS, MBA EXECUTIVE DIRECTOR, ALISA ANN RUCH BURN FOUNDATION "Carmen Tarleton's story is a riveting account of a courageous woman who teaches us all the power of fighting suffering with relentless hope and tenacity." żSAMIR MELKI, MD, PHD FOUNDER, BOST ON EYE GROUP "Carmen tells her inspiring story with remarkable clarity and honesty. She has endured a journey many might be unable to endure and arrived to provide the reader with wisdom, compassion, and inspiration. As heavy as the price was for Carmen, Overcome is a wonderful gift to those of us who take the time to read it. Her story is, at heart, one of a profound and courageous journey, and she has arrived with great treasures to offer us all." żDAVID VOGEL PRESIDENT, BURN SURVIVORS OF NEW ENGLAND "Told with sincerity and grace, Overcome powerfully illustrates the unlimited resilience of the human spirit. Carmen's heart-thumping journey is at times harrowing, yet always keenly illuminating. Overcome is a bracing triumph of the soul." żMICHAEL PAUL MASON AUTHOR OF HEAD CASES: STORIES OF BRAIN INJURY AND ITS AFTERMATH
Sklep: Libristo.pl 88,16 zł
Książki / Literatura obcojęzyczna
This book takes you into the centre of my childhood and shows you how everything is not always what is seems. To the outside world we were a 'normal' family and that is just how my mother liked it to appear. But behind the closed front door was drinking, abuse, addiction, violence and for a time a man who posed as a family friend in order to gain access to the boys. I take you from my childhood, through my teens and on the very rocky journey of my healing from the past. I share with you my innermost thoughts during some of the most difficult times of my life so far. This book gives you an insight into a victim of child abuse working her way through to becoming a survivor. Along the journey I too fell into relationships where domestic violence was common place and I share with you my experiences and what made me finally walk away. This book is about survival, it is about how you can go to rock bottom and come back up again. How you can feel that your life is finished and then find a whole new purpose and energy for living. In my previous book 'This Tangled Web' I shared my poetry written in the years after my abuse...here we have the untangling of that web and the story behind the poetry.
Sklep: Libristo.pl 125,82 zł
Książki / Literatura obcojęzyczna
Source: Wikipedia. Pages: 110. Chapters: Whenever You Need Somebody, Here's to Future Days, Living in the Background, Always Guaranteed, Emotional, Pulse, Let the Music Play, Push, Hangin' Tough, Poolside, Another Step, Will to Power, Samantha Fox, Quick Step and Side Kick, In the Middle of Nowhere, Travelogue, Strangers on a Train, Big Bam Boom, Vivencias, Alphabet City, The Luxury Gap, Indigo, A New Flame, Believe, Sa-Fire, Coming Around Again, A Private Heaven, The Original Soul of Michael Jackson, Catch as Catch Can, Pillows & Prayers, Hold Me in Your Arms, In Outer Space, If That's What It Takes, Dream Factory, Best Kept Secret, Gotta Let This Hen Out!, Far from the Hurting Kind, Better Than Heaven, Just Another Day in Paradise, Soul Provider, The Thin Red Line, Big Canoe, Canadian Tour 1983, Canzoni, Preghiere, Danze del II Millennio - Sezione Europa, Het Vind, Mandy, Juice, Café Bleu, Steve McQueen, Kaleidoscope World, Globe of Frogs, Dream Come True, Love and Dancing, Provision, All or Nothing, Men and Women, The Essential Cyndi Lauper, Diamond Sun, 1982 with a Bullet, Tenants of the Lattice-Work, Chacun Tout Le Monde, Imagination, Mirrors, Close, Despite Straight Lines, Sophisticated Boom Boom, Nu tändas tusen juleljus, My Toot Toot, Junge Roemer, See Jungle! See Jungle! Go Join Your Gang, Yeah. City All Over! Go Ape Crazy, North Marine Drive, Southside, Caramba, Boogie Box High, 1982 Out of the Blue, Wendy and Lisa, 99 Luftballons, Hysteria, The Finest, Allting som ni gör kan jag göra bättre, The Painter, 100%, Do You Wanna Get Away, Pleasure Victim, Canzone d'Amore, All That Jazz, Safety in Numbers, Everything, Barry Manilow, Close to the Bone, Select, Un hombre solo, Laberinto de Amor, Knife, Fyra Bugg & en Coca Cola, François, Amii Stewart, Glenn Medeiros, Bi-Coastal, Love Supreme, Altogether, Confessions of a Pop Group, Fabrique, Inspiration, Monologue of Love, Wonderful Life, Baby O, Bra vibrationer, Gyan, Jump!, Blue Slipper, Arc of a Diver, Bang!, Cuéntame, Danseparc, Fuel for the Fire, The Cost of Loving, Burning Farm, Dalek I Love You, Heart of Gold, Tú Sin Mí, Holiday '80, KC Ten, Främling, Deborah Harry Collection, Geisha Boys and Temple Girls, Living On Video, Staying Alive, Love Zone, Trouble or Nothin', Songs to Remember, Pop Goes the World, Lefty, The Witch, Between the Lines, Renaissance, Don Giovanni, All in a Night's Work, Trance and Dance, Bítiđ Fast í Vítiđ, The Art Garfunkel Album, Time, Nunca Te Diré Adiós / En Concierto, Friends, Who's Afraid of the Art of Noise?, Bookbinder's Kid, Pĺ egna ben, Space Cadet, Fascination!, Protest Songs, Bobby's Girl, Varför är kärleken röd?, Educaçăo Sentimental, One Night with a Stranger, Fire and Water, Sissel, Twilight of Idols, Pop Said..., Introducing The Style Council, A Collection: Greatest Hits.. and More, Boom Boom Chi Boom Boom, Melancolie, Survivor in Love, Steg för steg, On the Way to the Sky, Waiting for the Morning, Not Me, Chain Reaction, Answers to Nothing, Bangin', Folk of the 80's, And That's Not All..., C'est C Bon, Bobbysocks!, Instant Hits, Fruit at the Bottom, Don't Just Stand There, Allroy Sez, Chronicles, Heartlight, Dancing on the Couch, Album of Love, Silver, Born Yesterday, Christmas with The Jets, Feuer und Flamme, Scener, Loudmouth, Talking in Your Sleep, The Adventures of Women & Men Without Hate in the 21st Century, Untitled, I Wear the Face, Mystery Walk, Immunity, Hard to Hold, Miss America, A Distant Shore, Den sjunde vĺgen, Kikkis 15 bäs...
Sklep: Libristo.pl 92,96 zł
Książki / Literatura obcojęzyczna
The F-You Project's commitment to creating a supportive environment for young people to tell the story of their deepest hurts is an inspiration. A more peaceful world starts with each of us finding a safe place to let go of our pain, anger and resentment. F-You and their remarkable community-building do exactly that. Tutu Global Forgiveness Challenge F-You: The Forgiveness Project is a social initiative that encourages the reflection of forgiveness towards ourselves and others. We feature speakers and writers who have crossed the line from victim to survivor, finding peace in the process. Grief, Loss, and Acceptance is the second in a series of books featuring words and experiences on loss, death, trauma and restoration. This book is empowering, gritty and honest-just like the human process of forgiveness. All pieces are submitted in the hopes of making a difference.
Sklep: Libristo.pl 46,32 zł
Książki / Literatura obcojęzyczna
It was luxurious Palm Beach, by the manicured lawns and Olympic-sized swimming pool, that financier Bernard Madoff ravaged the world of philanthropy and high society he had strived so hard to join, vaporising the assets of charities, foundations and individuals that had trusted him with their funds. It seems nothing was sacrosanct to Madoff, possibly the greatest con-man in history. Even Elie Wiesel's foundation has lost tens of millions. How could Madoff, a pillar of the Jewish community, do this to a Nobel Laureate and Auschwitz survivor? But Wiesel was hardly alone in trusting the rogue financier. How could some of the most sophisticated and worldly people in America fall victim to a collective delusion for year after year? THE BELIEVERS answers these unsettling questions. It opens up the clubbish world where Madoff operated, tracing the links from Palm Beach and The Hamptons to the salons and clubs of Manhattan society. It details the network of relationships across which flows hundreds of millions of dollars. 'The Believers' shows how despite material success and acclaim, some human impulses remain eternal. It reveals how an underlying sense of insecurity still shapes some of the richest and most successful individuals in America, making them crave ever more status and peer acclaim. By focusing on Madoff's connection to, and catastrophic impact on, the American Jewish community, THE BELIEVERS dramatically humanises a story that is part financial scandal and part Greek tragedy.
Sklep: Libristo.pl 52,99 zł
Książki Obcojęzyczne>Angielskie>Economics, finance, business & management>Business & management>Management & management techniques>Lead...
This Book Will Teach You How To: Change The Way You Think About Yourself And How You Approach To Situations; Equip Both You And Your Fellow Coworkers Physically And Emotionally To Become Flexible To Change; Play To Your Strengths; Move From Being A Victim To Being A Survivor.
Sklep: Gigant.pl 112,52 zł
Książki / Literatura obcojęzyczna
If Zouncerie Dovell Braxton has learned one thing in her struggle to survive, it is how to overcome adversity. In a personal yet unsentimental voice, Zouncerie shares her extraordinary life experiences in a straightforward way. Intertwining stories that alternately reflect impaired judgment and clear-headed, independent perseverance, Zouncerie clearly demonstrates how her steadfast faith and unwillingness to be a victim allow her to move on after each test of her strength.Zouncerie ascends from abuse at the hands of her stepfather to definitive success as an award-winning teacher. The strength for her challenges and survival lie in between divorces from bigamists, unrequited love, heartache, and financial battles. Her experiences weave an engaging story that will leave you wondering how one woman could survive so many challenges.As an attorney once told Zouncerie, "If we were in a dark alley, and only one of us could come out, my money would be on you. You are a survivor." Her story will motivate young people to believe that they can survive and succeed, no matter what life presents. Adults, too, will gain insight into how to overcome difficulties and emerge unscathed.
Sklep: Libristo.pl 109,99 zł
Książki Obcojęzyczne>Angielskie>Literature & literary studies>Literature: history & criticism>Fiction, novelists & prose writersKsiążki Ob...
Who Was Jean Amery? Victim Or Survivor? Agnostic Or Jew? Austrian Or Exile? Philosopher Or Journalist? This Biography Demonstrates That He Is More - Far More - Than Some Enigmatic Cult Figure: He Is One Of The Most Influential Of Holocaust Survivors And O
Sklep: Gigant.pl 107,90 zł
Nauki humanistyczne
"...compelling reading for anyone working with women and children living with and leaving domestic violence." - From the Foreword by Cathy Humphreys. Women who leave an abusive relationship often experience feelings of fear, bewilderment, anger and confusion. The trauma caused by domestic violence leaves a legacy that stays with the survivor, and it is not uncommon for women to experience feelings of loss and grief similar to those following bereavement, but made more complex by the effect that abuse has had on their emotional health and well-being. "Supporting Women after Domestic Violence" offers accessible advice on how to enable women who have experienced domestic violence to embark on a journey of recovery. The book draws on theory, original research and the personal experiences of women who have encountered domestic violence to explore the complex practical and emotional support they need when engaging in the process of recovery. It highlights the difficulties a victim of domestic violence may encounter following an abusive relationship, offers action points to improve service provision, and covers important issues in recovery, such as the value of mutual support and how women can regain a sense of normality and self-esteem. This book will be a key resource for those working within women's refuges, as well as social workers, counsellors, mental health professionals and many others whose work may bring them into situations where domestic violence is an issue.
Sklep: Albertus.pl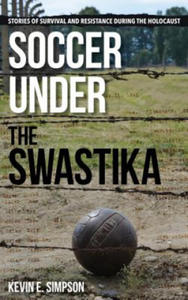 139,61 zł
Książki / Literatura obcojęzyczna
As millions were caught up in the conflict of World War II, soccer emerged as both a response to domination and a means of manipulation by those in power. Soccer under the Swastika reveals this little-known part of history, rescuing from obscurity many poignant survivor testimonies, old accounts of wartime players, and the diaries of survivors and perpetrators. In victim accounts and rare photographsżmany published for the first time in this bookżhidden stories of soccer in almost every Nazi concentration camp appear. To these captives, soccer was a means of survival, a glimmer of joy between daily beatings and torture, and a show of resistance against the most heinous regime the world had ever seen.
Sklep: Libristo.pl
Sklepy zlokalizowane w miastach: Warszawa, Kraków, Łódź, Wrocław, Poznań, Gdańsk, Szczecin, Bydgoszcz, Lublin, Katowice
Szukaj w sklepach lub całym serwisie
2. Szukaj na wszystkich stronach serwisu
t1=0.036, t2=0, t3=0, t4=0.023, t=0.036