krainaksiazek fundoscopy made easy international edition 20127851
- znaleziono 13 produktów w 3 sklepach 147,21 zł
Książki / Literatura obcojęzyczna
Neurological examination is one of the most intimidating procedures for medical students and junior doctors to perform and be assessed on. This book clearly guides you through the essentials of neurological examination - providing the relevant background and telling you what to do, what you can find and what it means. 'Common mistakes' and 'Tips' boxes are included throughout. This revised fifth edition of an international bestseller - now translated into more than ten languages - updates the most efficient and effective examination techniques. New colour photographs have been added to aid understanding in the examination of the eye and the latest guidance on passing clinical exams is included in an enhanced final chapter.
Sklep: Libristo.pl 350,61 zł
Medycyna > English Division
Clinical Imaging of the Small Intestine offers a complete review of small bowel radiology and its applications. With contributions from leading international authorities, the book provides the reader with the pertinent aspects of gastrointestinal radiology, specifically the problems of technique and interpretation that confront radiologists. The second edition was revised to include: - CT and MRI of the small bowel; - Sonography of the small bowel; - Assessing the activity of Crohn's disease with MRI; - Vascular disorders and small bowel obstructions; - Immune deficiency diseases; - Differential diagnosis based on both pathologic and radiologic findings; - New Figures and expanded index. The comprehensive scope of coverage makes this book a highly specialized but nonetheless state-of-the-art reference for those practitioners who have an interest in learning more about intestinal imaging, including radiologists, gastroenterologists and surgeons. From the reviews of the second edition: "[This title] is a comprehensive, well-written book about the small bowel. The book has been completely revised and expanded since its first edition in 1989 to reflect the significant advancements made in small-bowel imaging over the last decade. This second edition is organized into 23 chapters. The first section consists of three chapters that review the basic anatomy, pathophysiology, and immunology of the small intestine. These chapters are easy to read and include numerous graphs and line drawings that clarify complex topics such as absorptive physiology. The next 10 chapters are dedicated to imaging techniques. The role of cross-sectional imaging'is thoroughly covered with individual chapters dedicated to sonography, CT and MR imaging. 'chapters also cover the roles of scintigraphy, angiography, and enteroscopy n small-bowel imaging. '.[This title] is easy to read, is well organized, and provides a thorough discussion of small-bowel anatomy, pathology, and imaging findings. It is an excellent resource for radiologists who want to learn more about the current status of small-bowel imaging" -- American Journal of Roentgenology, September 2002 "Clinical Imaging of the Small Intestine is a comprehensive, well-written book about the small bowel. The book has been completely revised and expanded since its first edition in 1989 ... . Clinical Imaging of the Small Intestine is easy to read, is well organized, and provides a thorough discussion of small-bowel anatomy, pathology, and imaging findings. It is an excellent resource for radiologists who want to learn more about the current status of small bowel imaging." (Karen M. Horton, American Journal of Roentgenology, Vol. 26 (4), 2003)
Sklep: Ksiazki-medyczne.eu 1914,35 zł
Książki / Literatura obcojęzyczna
For the 3rd Edition of this popular, authoritative and respected book, the collection has been completely revised and enlarged, with the addition of around 200 new spectra bringing the total number in the library to around 800. A number of improvements in the layout and design of the collection have been made. Some of these, such as a simpler classification system, clearer headings for the spectra, and the insertion of material indexes at the end of each section have been designed to make the library quicker and easier to use. It is also the case that, whereas the previous two editions were comprised of only four separate sub-libraries, covering the transmission and pyrolysate spectra of both rubber and plastic materials, another major improvement for this edition has been the incorporation of an additional, comprehensive library produced using a single bounce attenuated total reflectance (ATR) accessory. This is a very useful development, as since the publication of the second edition of this library in 1997, this type of ATR technique has acquired a high degree of popularity due to its many attributes, including speed and ease of use, the need for only small amounts of sample, and its virtually non-destructive nature. All the spectra in the collection have been collected and stored at a resolution of 4 cm-1 and are plotted as percentage transmittance against wavenumber. For the transmission and pyrolyate spectra, the wavenumber range shown is 400 to 4000 cm-1, whereas for the single bounce, diamond window ATR spectra the range is 650 to 4000 cm-1. The layout of the spectra has been changed for this edition - within each of the five sub-libraries spectra are listed in alphabetical order according to material type, which is displayed in the main heading above each spectrum. A number of polymer blends are represented in these sub-libraries, and the proportions of the polymers in the blend is also shown in this main heading. There is also a secondary heading for each spectrum, where as much additional information as possible has been provided, e.g., the trade name of the material, its manufacturer, compositional information, (e.g., fillers present), and the method of preparing the sample, (e.g., film cast from chloroform) for the recording of the spectrum. As mentioned above, transmission, pyrolysate and ATR spectra are all present in the library. Two different approaches were used to produce the sample films that were used for the recording of the transmission spectra: hot pressing, and casting from a polymer solution. The pyrolysate spectra of the polymers were recorded from collected pyrolysis condensates. Where necessary, samples for pyrolysate work were cleaned up by an initial solvent extraction step. The spectra for the ATR part of the library were recorded using a single bounce, diamond window ATR accessory. This library represents one of the most comprehensive, independent collections of infrared spectra that are commercially available. Drawing on Rapra's international reputation as a centre of excellence and compiled by polymer analysts for polymer analysts it has proved, since the first edition appeared in 1992, to be of immense value to users from both academia and industry. The many improvements in this edition, particularly the inclusion of an ATR section and the enlargement of the range of polymer blends that are covered, will ensure that this library continues to be a must have acquisition for all those concerned with the analysis of polymers and polymer systems.
Sklep: Libristo.pl 1043,88 zł
Medycyna > English Division
First written by Philip Stell and Arnold Maran in 1972, Stell & Maran's Textbook of Head and Neck Surgery and Oncology has been revised in both content and approach over the years to reflect the enormous progress made in the area. Now in its fifth edition, the book remains a key textbook for trainees in otolaryngology and head and neck surgery. Written with a strong multidisciplinary approach, the book has expanded considerably to include the expertise of international editors and contributing authors from a wide variety of backgrounds, including ENT, radiotherapy, plastic surgery, and maxillofacial surgery. Key Features: An international team of editors and contributors from a variety of different specialties Thoroughly updated to include recent advances in molecular biology and diagnostic imaging A greatly expanded section on reconstruction to reflect the importance of this area An improved balance of content to enhance the multidisciplinary approach Full-colour photos and illustrations throughout As a first text for trainee head and neck and ENT surgeons or as a reference source for practitioners in a variety of related fields, Stell & Maran's Textbook of Head and Neck Surgery and Oncology remains the best-illustrated and most up-to-date volume in its field. "It is a bigger and better book than its predecessor... the entire book is well organized ... plenty of colourful pictures, diagrams, tables, summary, and key point boxes." -The Journal of Laryngology & Otology "The fifth edition has been worth the wait and shall remain an essential first text and reference book for trainee head and neck surgeons the world over. It is clearly written and is an excellent resource for every trainee's library." -ENT News " ... beautifully illustrated throughout with colour clinical photographs, excellent line diagrams, and appropriate imaging. ... The section on non surgical treatments such as chemo and radiotherapy and biological targeting was particularly good and relatively easy to read!" -P.A. Brennan, Queen Alexandra Hospital, Portsmouth, UK, British Journal of Oral and Maxillofacial Surgery
Sklep: Ksiazki-medyczne.eu 54,88 zł
Książki / Literatura obcojęzyczna
A new edition of the market-leading atlas for CXC Geography students, Philip's Certificate Atlas for the Caribbean provides extensive coverage of the Caribbean area, together with a comprehensive selection of world and regional maps. The atlas is arranged in three sections for ease of use, with each page colour-coded for rapid reference. The first section is devoted to a detailed coverage of the Caribbean region in 48 pages, and includes maps of every island plus Belize and Guyana, as well as topographical, land use, tourism and mining maps. The second section is made up of 72 pages of World topographical maps, incorporating continental thematic maps on topics such as population, climate and biomes, followed by 32 pages of World thematic maps. This new 7th edition features updated mapping of all Caribbean islands, as well as the latest statistics. The World map section contains additional coverage of Brazil, the Americas and Asia, while the World thematic section includes maps on volcanoes, El Nino, tourism, energy, minerals, industry, trade and international organizations. Completing the atlas is a section of CXC study maps covering topics such as farming, soil conservation, economics, tourism and urban land use. New for this edition are features on UK tourism, Mauritius, Hong Kong and Brazil. The index gives letter-figure grid references as well as latitude and longitude co-ordinates.
Sklep: Libristo.pl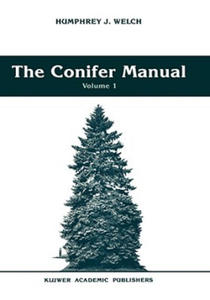 2267,38 zł
Książki / Literatura obcojęzyczna
The research that has culminated in the pUblication being introduced . worldwide) save by one or two of this Manual was in the first place undertaken private conifer enthusiasts. My own efforts at 1 for a new edition of the book Manual of Cultivated recording data at Devizes made possible the Conifers by P. den Ouden and Dr B. K. Boom appearance in 1979 of a larger book: Manual of (both now deceased), published in 1965. Dwarf Conifers. That book was clearly in effect The claim in that book to have included every a partial up-dating of the den Ouden and Boom cultivar published since 1753 was not entirely book under revision, so the decision was made realised, and the stated objective, i. e. that the book to produce an entirely new work, with the present should serve as a basis for the international register title and with the following objectives. that was even at that date under consideration required a lot of space to be devoted to quite 1. To bring the taxonomy into line with current archaic information. practice. Each of the authors of the Manual of Cultivated 2. To extend the species descriptions and make them (by the use of side headings) more easy Conifers was well qualified for the task. P. den Ouden had been systematically collecting conifer to use. 3. To supply some form of 'keys'.
Sklep: Libristo.pl 67,40 zł
Inne 1
The "World Bank Atlas 2003" provides easy-to-read colourful world maps, tables and graphs highlighting key social, economic and environmental data for 206 countries. The atlas parallels the six thematic sections of World Development Indicators: world view, people, economy, environment, states and markets and global links. This 2003 edition covers progress made toward the international development goals of economic well-being, social development and environmental sustainability and regeneration. The atlas also contains new estimates of purchasing power parities (PPP) as well as data on relative prices for countries that participated in the International Comparison Programme. Economic data also includes gross national income (GNI) and the shares of exports, agriculture and investment in gross domestic product (GDP). Among other information avaliable is data on private investment, energy consumption and population growth.
Sklep: Albertus.pl 49,99 zł
Książki / Literatura obcojęzyczna
The acclaimed bestseller about visual problem solving-now bigger and better "There is no more powerful way to prove that we know something well than to draw a simple picture of it. And there is no more powerful way to see hidden solutions than to pick up a pen and draw out the pieces of our problem." So writes Dan Roam in "The Back of the Napkin," the international bestseller that proves that a simple drawing on a humble napkin can be more powerful than the slickest PowerPoint presentation. Drawing on twenty years of experience and the latest discoveries in vision science, Roam teaches readers how to clarify any problem or sell any idea using a simple set of tools. He reveals that everyone is born with a talent for visual thinking, even those who swear they can't draw. And he shows how thinking with pictures can help you discover and develop new ideas, solve problems in unexpected ways, and dramatically improve your ability to share your insights. Take Herb Kelleher and Rollin King, who figured out how to beat the traditional hub-and-spoke airlines with a bar napkin and a pen. Three dots to represent Dallas, Houston, and San Antonio. Three arrows to show direct flights. Problem solved, and the picture made it easy to sell Southwest Airlines to investors and customers. Now with more color, bigger pictures, and additional content, this new edition does an even better job of helping you literally see the world in a new way. Join the teachers, project managers, doctors, engineers, assembly-line workers, pilots, football coaches, marine drill instructors, financial analysts, students, parents, and lawyers who have discovered the power of solving problems with pictures.
Sklep: Libristo.pl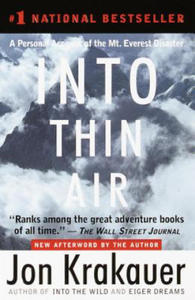 68,23 zł
Książki / Literatura obcojęzyczna
A bank of clouds was assembling on the not-so-distant horizon, but journalist-mountaineer Jon Krakauer, standing on the summit of Mt. Everest, saw nothing that "suggested that a murderous storm was bearing down." He was wrong. The storm, which claimed five lives and left countless more--including Krakauer's--in guilt-ridden disarray, would also provide the impetus for Into Thin Air, Krakauer's epic account of the May 1996 disaster. By writing Into Thin Air, Krakauer may have hoped to exorcise some of his own demons and lay to rest some of the painful questions that still surround the event. He takes great pains to provide a balanced picture of the people and events he witnessed and gives due credit to the tireless and dedicated Sherpas. He also avoids blasting easy targets such as Sandy Pittman, the wealthy socialite who brought an espresso maker along on the expedition. Krakauer's highly personal inquiry into the catastrophe provides a great deal of insight into what went wrong. But for Krakauer himself, further interviews and investigations only lead him to the conclusion that his perceived failures were directly responsible for a fellow climber's death. Clearly, Krakauer remains haunted by the disaster, and although he relates a number of incidents in which he acted selflessly and even heroically, he seems unable to view those instances objectively. In the end, despite his evenhanded and even generous assessment of others' actions, he reserves a full measure of vitriol for himself. This updated trade paperback edition of Into Thin Air includes an extensive new postscript that sheds fascinating light on the acrimonious debate that flared between Krakauer and Everest guideAnatoli Boukreev in the wake of the tragedy. "I have no doubt that Boukreev's intentions were good on summit day," writes Krakauer in the postscript, dated August 1999. "What disturbs me, though, was Boukreev's refusal to acknowledge the possibility that he made even a single p
Sklep: Libristo.pl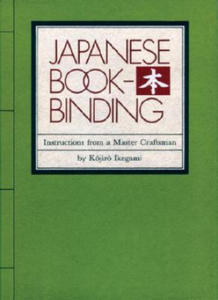 185,47 zł
Książki / Literatura obcojęzyczna
A third-generation traditional bookbinder gives easy-to-follow instructions for making all the major, historically important styles of Japanese bindings as well as traditional book cases--the custom-made folding boxes that afford handsome protection for Japan's exquisite books. The authoritative text, written by one of Japan's leading professional bookbinders, has been fully adapted for Western readers. Both American and Japanese suppliers of traditional tools and materials are provided and substitutes are recommended for items not readily available. For centuries the West has admired Japanese books, but only now can we make them ourselves and take full advantage of their creative possibilities. Stunning and practical, these bindings are ideal for preserving calligraphy, letters, artwork, and poems, for adding a distinctive touch to limited-edition books, and for use as diaries or gifts.
Sklep: Libristo.pl 1002,93 zł
Książki / Literatura obcojęzyczna
This book provides coverage of the world's major economically significant crop plants and a critical resume of important research findings. Each chapter gives cytotaxonomic background, early history, recent history and future prospects of an individual crop or species. The chapters have a standard format to allow easy comparison between species, and includes detailed examination of: cytotaxonomic background, early history, recent history and future prospects. A major theme of this edition is biodiversity, which is currently attracting a great deal of international interest. In addition, it considers the rapid advances made in the field, along with new molecular techniques that have provided major advances in knowledge. The book is suitable for plant breeders, pathologists, entomologists and students of agriculture and crop evolution.
Sklep: Libristo.pl 150,95 zł
Książki / Literatura obcojęzyczna
Since its first appearance in 1991, The European Reformation has offered a clear, integrated, and coherent analysis and explanation of how Christianity in Western and Central Europe from Iceland to Hungary, from the Baltic to the Pyrenees splintered into separate Protestant and Catholic identities and movements. Catholic Christianity at the end of the Middle Ages was not at all a uniformly 'decadent' or corrupt institution: it showed clear signs of cultural vigour and inventiveness. However, it was vulnerable to a particular kind of criticism, if ever its claims to mediate the grace of God to believers were challenged. Martin Luther proposed a radically new insight into how God forgives human sin. In this new theological vision, rituals did not 'purify' people; priests did not need to be set apart from the ordinary community; the church needed no longer to be an international body. For a critical 'Reformation moment', this idea caught fire in the spiritual, political, and community life of much of Europe. Lay people seized hold of the instruments of spiritual authority, and transformed religion into something simpler, more local, more rooted in their own community. So were born the many cultures, liturgies, musical traditions and prayer lives of the countries of Protestant Europe. This new edition embraces and responds to developments in scholarship over the past twenty years. Substantially re-written and updated, with both a thorough revision of the text and fully updated references and bibliography, it nevertheless preserves the distinctive features of the original, including its clearly thought-out integration of theological ideas and political cultures, helping to bridge the gap between theological and social history, and the use of helpful charts and tables that made the original so easy to use.
Sklep: Libristo.pl 31,27 zł
Casseroles Bristol Publishing Enterprises Inc.,U.S.
Książki / Literatura obcojęzyczna
Casseroles are easy to fix; can be made in advance and refrigerated; are perfect for leftovers; and are very economical. This revised edition of Casseroles contains old favorites, new ideas, international fare, and lots of ways to cut the fat and calories. Special sections for cooks in a hurry.
Sklep: Libristo.pl
Sklepy zlokalizowane w miastach: Warszawa, Kraków, Łódź, Wrocław, Poznań, Gdańsk, Szczecin, Bydgoszcz, Lublin, Katowice
Szukaj w sklepach lub całym serwisie
2. Szukaj na wszystkich stronach serwisu
t1=0.079, t2=0, t3=0, t4=0.023, t=0.08