krainaksiazek gems of combinatorial optimization and graph algorithms 20123740
- znaleziono 9 produktów w 2 sklepach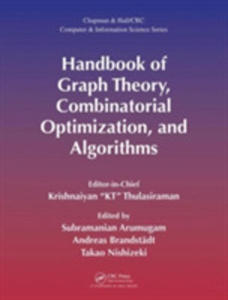 679,99 zł
Książki Obcojęzyczne>Angielskie>Mathematics & science>Mathematics>Combinatorics & graph theory
Sklep: Gigant.pl 471,71 zł
Książki / Literatura obcojęzyczna
This book constitutes the refereed proceedings of the 13th International Conference on Integer Programming and Combinatorial Optimization, IPCO 2008, held in Bertinoro, Italy, in May 2008.§The 32 revised full papers presented were carefully reviewed and selected from 95 submissions. The papers cover various aspects of integer programming and combinatorial optimization and present recent developments in theory, computation, and applications in that area. Topics included are such as approximation algorithms, branch and bound algorithms, branch and cut algorithms, computational biology, computational complexity, computational geometry, cutting plane algorithms, diophantine equations, geometry of numbers, graph and network algorithms, integer programming, matroids and submodular functions, on-line algorithms and competitive analysis, polyhedral combinatorics, randomized algorithms, random graphs, scheduling theory and scheduling algorithms, and semidefinite programs.
Sklep: Libristo.pl 293,32 zł
Książki / Literatura obcojęzyczna
This book constitutes the thoroughly refereed post-workshop proceedings of the 25th International Workshop on Combinatorial Algorithms, IWOCA 2014, held in Duluth, MN, USA, in October 2014. The 32 revised full papers presented were carefully reviewed and selected from a total of 69 submissions. The papers focus on topics such as Algorithms and Data Structures, Combinatorial Enumeration, Combinatorial Optimization, Complexity Theory (Structural and Computational), Computational Biology, Databases (Security, Compression and Information Retrieval), Decompositions and Combinatorial Designs, Discrete and Computational Geometry, as well as Graph Drawing and Graph Theory. IWOCA is a yearly forum for researchers in designing algorithms field to advance creativeness of intersection between mathematics and computer science. This is the first time this conference is being held in U.S.§§
Sklep: Libristo.pl 1121,49 zł
Książki / Literatura obcojęzyczna
Combinatorial (or discrete) optimization is one of the most active fields in the interface of operations research, computer science, and applied math ematics. Combinatorial optimization problems arise in various applications, including communications network design, VLSI design, machine vision, air line crew scheduling, corporate planning, computer-aided design and man ufacturing, database query design, cellular telephone frequency assignment, constraint directed reasoning, and computational biology. Furthermore, combinatorial optimization problems occur in many diverse areas such as linear and integer programming, graph theory, artificial intelligence, and number theory. All these problems, when formulated mathematically as the minimization or maximization of a certain function defined on some domain, have a commonality of discreteness. Historically, combinatorial optimization starts with linear programming. Linear programming has an entire range of important applications including production planning and distribution, personnel assignment, finance, alloca tion of economic resources, circuit simulation, and control systems. Leonid Kantorovich and Tjalling Koopmans received the Nobel Prize (1975) for their work on the optimal allocation of resources. Two important discover ies, the ellipsoid method (1979) and interior point approaches (1984) both provide polynomial time algorithms for linear programming. These algo rithms have had a profound effect in combinatorial optimization. Many polynomial-time solvable combinatorial optimization problems are special cases of linear programming (e.g. matching and maximum flow). In addi tion, linear programming relaxations are often the basis for many approxi mation algorithms for solving NP-hard problems (e.g. dual heuristics).
Sklep: Libristo.pl 366,73 zł
Książki / Literatura obcojęzyczna
This book constitutes the refereed proceedings of the 4th Italian Conference on Algorithms and Complexity, CIAC 2000, held in Rome, Italy, in March 2000.The 21 revised full papers presented were carefully reviewed and selected from 41 submissions; also included are four invited survey papers. Among the topics addressed are combinatorial optimization, graph algorithms, graph computations, complexity theory, diagram design, approximation, scheduling, sorting, computational geometry, searching, and pattern matching.
Sklep: Libristo.pl 729,76 zł
Książki / Literatura obcojęzyczna
This book constitutes the refereed proceedings of the 11th International Conference on Algorithms and Computation, ISAAC 2000, held in Taipei, Taiwan in December 2000.The 46 revised papers presented together with an invited paper were carefully reviewed and selected from 87 submissions. The papers are organized in topical sections on algorithms and data structures; combinatorial optimization; approximation and randomized algorithms; graph drawing and graph algorithms; automata, cryptography, and complexity theory; parallel and distributed algorithms; computational geometry; and computational biology.
Sklep: Libristo.pl 223,75 zł
Książki / Literatura obcojęzyczna
There has been an explosive growth in the field of combinatorial algorithms. These algorithms depend not only on results in combinatorics and especially in graph theory, but also on the development of new data structures and new techniques for analyzing algorithms. Four classical problems in network optimization are covered in detail, including a development of the data structures they use and an analysis of their running time. Data Structures and Network Algorithms attempts to provide the reader with both a practical understanding of the algorithms, described to facilitate their easy implementation, and an appreciation of the depth and beauty of the field of graph algorithms.
Sklep: Libristo.pl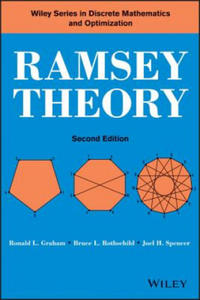 430,52 zł
Książki / Literatura obcojęzyczna
Wiley-Interscience Series in Discrete Mathematics and Optimization Advisory Editors: Ronald L. Graham, Jan Karel Lenstra, and Robert E. Tarjan Discrete mathematics, the study of finite structures, is one of the fastest-growing areas in mathematics. The wide applicability of its evolving techniques points to the rapidity with which the field is moving from its beginnings to its maturity, and reflects the ever-increasing interaction between discrete mathematics and computer science. This Series provides broad coverage of discrete mathematics and optimization, ranging over such fields as combinatorics, graph theory, enumeration, and the analysis of algorithms. The Wiley-Interscience Series in Discrete Mathematics and Optimization will be a substantial part of the record of the extraordinary development of this field. A complete listing of the titles in the Series appears on the inside front cover of this book. "[Integer and Combinatorial Optimization] is a major contribution to the literature of discrete programming. This text should be required reading for anybody who intends to research this area or even just to keep abreast of developments." --Times Higher Education Supplement, London "An extensive but extremely well-written graduate text covering integer programming." --American Mathematical Monthly Recent titles in the Series include: Integer and Combinatorial Optimization George L. Nemhauser and Laurence A. Wolsey 1988 (0 471-82819-X) 763 pp. Introduction to the Theory of Error-Correcting Codes Second Edition Vera Pless For mathematicians, engineers, and computer scientists, here is an introduction to the theory of error-correcting codes, focusing on linear block codes. The book considers such codes as Hamming and Golay codes, correction of double errors, use of finite fields, cyclic codes, B.C.H. codes, weight distributions, and design of codes. In a second edition of the book, Pless offers thoroughly expanded coverage of nonbinary and cyclic codes. Some proofs have been simplified, and there are many more examples and problems. 1989 (0 471-61884-5) 224 pp.
Sklep: Libristo.pl 393,01 zł
Książki / Literatura obcojęzyczna
The book constitutes the joint refereed proceedings of the 11th International Conference on Relational Methods in Computer Science, RelMiCS 2009, and the 6th International Conference on Applications of Kleene Algebras, AKA 2009, held in Doha, Qatar in November 2009.§The 22 revised full papers presented together with 2 invited papers were carefully reviewed and selected from numerous submissions. The papers describe the calculus of relations and similar algebraic formalisms as methodological and conceptual tools with special focus on formal methods for software engineering, logics of programs and links to neighbouring disciplines. Their scope comprises relation relation algebras and Kleene algebras, related formalisms such as process algebras, fixed point calculi, idempotent semirings, quantales, allegories, dynamic algebras, cylindric algebras and their applications in areas such as verification, analysis and development of programs and algorithms relational formal methods such as B or Z, tabular methods, algebraic approaches to logics of programs, modal and dynamic logics, interval and temporal logics, algebraic semantics of programming languages , graph theory and combinatorial optimization, games, automata and language theory, mechanised and automated reasoning, decision procedures, spatio-temporal reasoning, knowledge acquisition, preference and scaling methods or information systems.
Sklep: Libristo.pl
Sklepy zlokalizowane w miastach: Warszawa, Kraków, Łódź, Wrocław, Poznań, Gdańsk, Szczecin, Bydgoszcz, Lublin, Katowice
Szukaj w sklepach lub całym serwisie
2. Szukaj na wszystkich stronach serwisu
t1=0.045, t2=0, t3=0, t4=0, t=0.045