krainaksiazek geometric integration theory 20107058
- znaleziono 8 produktów w 2 sklepach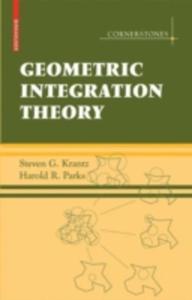 319,99 zł
Książki Obcojęzyczne>Angielskie>Mathematics & science>Mathematics>Geometry
This Self-contained And Accessible Textbook Introduces Geometric Measure Theory Through The Notion Of Currents. Motivating Key Ideas With Examples And Figures, This Book Is A Comprehensive Introduction Ideal For Both Self-study And For Use In The Classroo
Sklep: Gigant.pl 285,13 zł
Książki / Literatura obcojęzyczna
This self-contained and accessible textbook introduces geometric measure theory through the notion of currents. Motivating key ideas with examples and figures, this book is a comprehensive introduction ideal for both self-study and for use in the classroom.
Sklep: Libristo.pl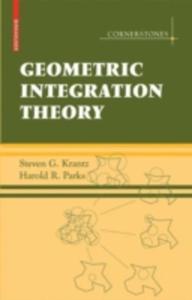 339,99 zł
Książki Obcojęzyczne>Angielskie>Mathematics & science>Mathematics>Geometry
0x014163e200000000
Sklep: Gigant.pl 76,73 zł
Książki / Literatura obcojęzyczna
Chapter 0/Set Theory and Topology 0.1. SET THEORY 0.1.1. Sets 0.1.2. Set Operations 0.1.3. Cartesian Products 0.1.4. Functions 0.1.5. Functions and Set Operations 0.1.6. Equivalence Relations 0.2. TOPOLOGY 0.2.1. Topologies 0.2.2. Metric Spaces 0.2.3. Subspaces 0.2.4. Product Topologies 0.2.5. Hausdorff Spaces 0.2.6. Continuity 0.2.7. Connectedness 0.2.8. Compactness 0.2.9. Local Compactness 0.2.10. Separability 0.2.11 Paracompactness Chapter 1/Manifolds 1.1. Definition of a Mainifold 1.2. Examples of Manifolds 1.3. Differentiable Maps 1.4. Submanifolds 1.5. Differentiable Maps 1.6. Tangents 1.7. Coordinate Vector Fields 1.8. Differential of a Map Chapter 2/Tensor Algebra 2.1. Vector Spaces 2.2. Linear Independence 2.3. Summation Convention 2.4. Subspaces 2.5. Linear Functions 2.6. Spaces of Linear Functions 2.7. Dual Space 2.8. Multilinear Functions 2.9. Natural Pairing 2.10. Tensor Spaces 2.11. Algebra of Tensors 2.12. Reinterpretations 2.13. Transformation Laws 2.14. Invariants 2.15. Symmetric Tensors 2.16. Symmetric Algebra 2.17. Skew-Symmetric Tensors 2.18. Exterior Algebra 2.19. Determinants 2.20. Bilinear Forms 2.21. Quadratic Forms 2.22. Hodge Duality 2.23. Symplectic Forms Chapter 3/Vector Analysis on Manifolds 3.1. Vector Fields 3.2. Tensor Fields 3.3. Riemannian Metrics 3.4. Integral Curves 3.5. Flows 3.6. Lie Derivatives 3.7. Bracket 3.8. Geometric Interpretation of Brackets 3.9. Action of Maps 3.10. Critical Point Theory 3.11. First Order Partial Differential Equations 3.12. Frobenius' Theorem Appendix to Chapter 3 3A. Tensor Bundles 3B. Parallelizable Manifolds 3C. Orientability Chapter 4/Integration Theory 4.1. Introduction 4.2. Differential Forms 4.3. Exterior Derivatives 4.4. Interior Products 4.5. Converse of the Poincaré Lemma 4.6. Cubical Chains 4.7. Integration on Euclidean Spaces 4.8. Integration of Forms 4.9. Strokes' Theorem 4.10. Differential Systems Chapter 5/Riemannian and Semi-riemannian Manifolds 5.1. Introduction 5.2. Riemannian and Semi-riemannian Metrics 5.3. "Lengeth, Angle, Distance, and Energy" 5.4. Euclidean Space 5.5. Variations and Rectangles 5.6. Flat Spaces 5.7. Affine connexions 5.8 Parallel Translation 5.9. Covariant Differentiation of Tensor Fields 5.10. Curvature and Torsion Tensors 5.11. Connexion of a Semi-riemannian Structure 5.12. Geodesics 5.13. Minimizing Properties of Geodesics 5.14. Sectional Curvature Chapter 6/Physical Application 6.1 Introduction 6.2. Hamiltonian Manifolds 6.3. Canonical Hamiltonian Structure on the Cotangent Bundle 6.4. Geodesic Spray of a Semi-riemannian Manifold 6.5. Phase Space 6.6. State Space 6.7. Contact Coordinates 6.8. Contact Manifolds Bibliography Index
Sklep: Libristo.pl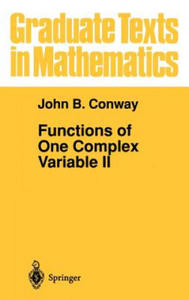 306,28 zł
Książki / Literatura obcojęzyczna
This book discusses a variety of problems which are usually treated in a second course on the theory of functions of one complex variable. It treats several topics in geometric function theory as well as potential theory in the plane. In particular it covers: conformal equivalence for simply connected regions, conformal equivalence for finitely connected regions, analytic covering maps, de Branges' proof of the Bieberbach conjecture, harmonic functions, Hardy spaces on the disk, potential theory in the plane. The level of the material is gauged for graduate students. Chapters XIII through XVII have the same prerequisites as the first volume of this text, GTM 11. For the remainder of the text it is assumed that the reader has a knowledge of integration theory and functional analysis. Definitions and theorems are stated clearly and precisely. Also contained in this book is an abundance of exercises of various degrees of difficulty.
Sklep: Libristo.pl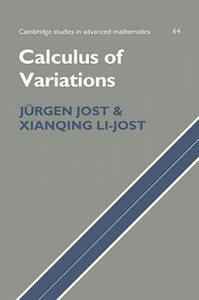 801,44 zł
Książki / Literatura obcojęzyczna
This textbook on the calculus of variations leads the reader from the basics to modern aspects of the theory. One-dimensional problems and the classical issues like Euler-Lagrange equations are treated, as are Noether's theorem, Hamilton-Jacobi theory, and in particular geodesic lines, thereby developing some important geometric and topological aspects. The basic ideas of optimal control theory are also given. The second part of the book deals with multiple integrals. After a review of Lebesgue integration, Banach and Hilbert space theory and Sobolev spaces (with complete and detailed proofs), there is a treatment of the direct methods and the fundamental lower semicontinuity theorems. Subsequent chapters introduce the basic concepts of the modern calculus of variations, namely relaxation, Gamma convergence, bifurcation theory and minimax methods based on the Palais
Sklep: Libristo.pl 237,58 zł
Książki / Literatura obcojęzyczna
Intended for a one year course, this text serves as a single source, introducing readers to the important techniques and theorems, while also containing enough background on advanced topics to appeal to those students wishing to specialize in Riemannian geometry. This is one of the few Works to combine both the geometric parts of Riemannian geometry and the analytic aspects of the theory. The book will appeal to a readership that have a basic knowledge of standard manifold theory, including tensors, forms, and Lie groups.§§Important revisions to the third edition include:§§a substantial addition of unique and enriching exercises scattered throughout the text;§§inclusion of an increased number of coordinate calculations of connection and curvature;§§addition of general formulas for curvature on Lie Groups and submersions;§§integration of variational calculus into the text allowing for an early treatment of the Sphere theorem using a proof by Berger;§§incorporation of several recent results about manifolds with positive curvature;§§presentation of a new simplifying approach to the Bochner technique for tensors with application to bound topological quantities with general lower curvature bounds.§§From reviews of the first edition:§§"The book can be highly recommended to all mathematicians who want to get a more profound idea about the most interesting achievements in Riemannian geometry. It is one of the few comprehensive sources of this type."§§Bernd Wegner, ZbMATH§
Sklep: Libristo.pl 216,43 zł
Książki / Literatura obcojęzyczna
Numerical analysis presents different faces to the world. For mathematicians it is a bona fide mathematical theory with an applicable flavour. For scientists and engineers it is a practical, applied subject, part of the standard repertoire of modelling techniques. For computer scientists it is a theory on the interplay of computer architecture and algorithms for real-number calculations. The tension between these standpoints is the driving force of this book, which presents a rigorous account of the fundamentals of numerical analysis of both ordinary and partial differential equations. The exposition maintains a balance between theoretical, algorithmic and applied aspects. This new edition has been extensively updated, and includes new chapters on emerging subject areas: geometric numerical integration, spectral methods and conjugate gradients. Other topics covered include multistep and Runge-Kutta methods; finite difference and finite elements techniques for the Poisson equation; and a variety of algorithms to solve large, sparse algebraic systems.
Sklep: Libristo.pl
Sklepy zlokalizowane w miastach: Warszawa, Kraków, Łódź, Wrocław, Poznań, Gdańsk, Szczecin, Bydgoszcz, Lublin, Katowice
Szukaj w sklepach lub całym serwisie
2. Szukaj na wszystkich stronach serwisu
t1=0.041, t2=0, t3=0, t4=0, t=0.041