krainaksiazek germany and the ottoman empire 1914 1918 20106718
- znaleziono 9 produktów w 4 sklepach 161,76 zł
Książki / Literatura obcojęzyczna
Provides extensive documentation of disease and death across the Ottoman Empire during World War I, when epidemics annihilated armies and caused civilians to perish en masse, and what it meant for the war.
Sklep: Libristo.pl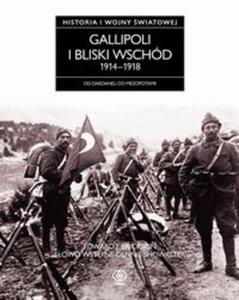 52,10 zł
Wydawnictwa naukowe i popularno-naukoweWojny, bitwy, powstania, rewolucje
Wojna na Bliskim Wschodzie toczyła się między Turkami, Brytyjczykami, Francuzami i Rosjanami ? stawką była kontrola nad ziemiami i narodami pozostającymi w osmańskim jarzmie od XV wieku. Imperium Osmańskie, uważane za ?chorego człowieka Europy?, wciąż panowało nad znaczną częścią Bliskiego Wschodu. Choć początkowo było neutralne, po intensywnej presji dyplomatycznej ze strony Niemiec przyłączyło się do obozu państw centralnych w październiku 1914 roku. Imperium Osmańskie starło się z Rosją na Zakaukaziu, ale w surowych zimowych warunkach Turcy zostali rozgromieni pod Sarikamiş i do roku 1916 ponosili same porażki. Rewolucje z 1917 roku doprowadziły do rozproszenia wojsk rosyjskich w tym rejonie, a w następnym roku nowa Armia Islamu otrzymała zadanie zdobycia bogatego w złoża ropy naftowej Baku i wyparcia jego brytyjskich obrońców. W Mezopotamii siły osmańskie początkowo uległy Brytyjczykom, ale konsekwencją decyzji generała Townshenda o pozostaniu w Kut al-Amarze była kapitulacja jego wojsk. Ta strata skłoniła Brytyjczyków do wyekspediowania znacznie większych oddziałów, dzięki czemu zdobyto Bagdad i Mosul. Ogromne sukcesy przyniosła również brytyjska ofensywa w Palestynie. Kluczowym starciem tego teatru działań wojennych było jednak Gallipoli, gdzie po raz pierwszy od ponad 200 lat siły osmańskie odniosły zwycięstwo w walce z zachodnimi Europejczykami. Kampania na Gallipoli wywarła głęboki wpływ nie tylko na Turków, ale również na walczące tam wojska brytyjskie, australijskie i nowozelandzkie.? Szczegółowy opis tła i przebiegu I wojny światowej na wszystkich teatrach działań wojennych, na których walczyły wojska Imperium Osmańskiego.? Ponad 200 fotografii i rysunków ukazujących żołnierzy, czołowych dowódców i kluczowe bitwy prowadzonych tam kampanii.? Ponad 20 kolorowych map głównych rejonów operacji, w tym Zakaukazia, Gallipoli, Mezopotamii i Palestyny.? Barwny opis wciąż panujących na Zachodzie błędnych wyobrażeń o niezdyscyplinowaniu i nieskuteczności wojsk osmańskich, ataków na Kanał Sueski, udanej obrony Dardaneli, katastrofalnej kapitulacji Brytyjczyków w Kut al-Amarze, zdobycia Bagdadu, Jerozolimy i Damaszku, rewolty arabskiej, Armii Islamu i upadku Imperium Osmańskiego. Seria HISTORIA I WOJNY ŚWIATOWEJ to sześciotomowa historia militarna konfliktu 1914?1918. Edward J. Erickson służył jako artylerzysta i sztabowiec w armii amerykańskiej w Stanach Zjednoczonych, Europie i na Bliskim Wschodzie ? podczas pierwszej wojny w Zatoce Perskiej z 3 Dywizją Pancerną, a podczas inwazji na Irak z 4 Dywizją Piechoty. Przeszedł w stan spoczynku w randze podpułkownika. Doktoryzował się na uniwersytecie w Leeds w Wielkiej Brytanii. W 2007 roku wrócił do Bagdadu jako profesor nauk politycznych w Wyższej Szkole Ministerstwa Obrony. Obecnie wykłada sztukę operacyjną na Uniwersytecie Korpusu Piechoty Morskiej w Quantico w stanie Wirginia. Uznawany za jednego z czołowych ekspertów od armii osmańskiej z okresu I wojny światowej, opublikował m.in. książki Ordered to Die: A History of the Ottoman Army in the First World War, Defeat in Detail: The Ottoman Army in the Balkans, 1912?1913 oraz Ottoman Army Effectiveness in World War I: A Comparative Study. Dennis Showalter jest profesorem historii w Colorado College i byłym przewodniczącym Towarzystwa Historii Militarnej. Specjalizuje się w porównawczej historii wojskowości. Jego ostatnie monografie to The Wars of Frederick the Great, The Wars of German Unification, Tannenberg 1914. Zderzenie imperiów oraz Patton i Rommel. Dowódcy XX wieku.
Sklep: Booknet.net.pl 44,74 zł
Książki naukowe>Historia>Wojskowość>Historia wojskowości>Wojny i bitwy
Wojna na Bliskim Wschodzie toczyła się między Turkami, Brytyjczykami, Francuzami i Rosjanami
Sklep: Madbooks.pl 49,00 zł
Wydawnictwa naukowe i popularno-naukowe>Wydawnictwa popularno-naukowe
Wojna na Bliskim Wschodzie toczyła się między Turkami, Brytyjczykami, Francuzami i Rosjanami
Sklep: Bonusmedia 460,80 zł
Książki / Literatura obcojęzyczna
This book examines German attempts to acquire colonial territories in East Asia and the Pacific, and discusses the huge impact this had on local and other international powers. It covers the German acquisition of Kiautschou in 1897, which had profound consequences for China, beginning a "scramble for concessions" by other western powers; the formation of the powerful German East Asiatic Cruiser Squadron which was seen by the British as a major threat, and which resulted in the advent of the Fleet-Unit concept and the birth of the Royal Australian Navy; the Japanese siege and capture of the key German base of Tsingtau in 1914, and the fate of the various former German colonies after Germany's defeat in 1918. The book contains many illustrations from the author's extensive private collection. Charles Stephenson is an extensively published military historian, whose books include: Moel Famau and the Jubilee Tower of King George III (2008); Servant to the King for His Fortifications: Paul Ive and the Practise of Fortification (2008); The Admiral's Secret Weapon, published by Boydell in 2006; Fortifications of the Channel Islands, 1941-45: Hitler's Impregnable Fortress (2006); The Fortifications of Malta, 1530-1945 (2004); and Zeppelins: German Airships, 1900-1940 (2004).
Sklep: Libristo.pl 89,44 zł
Książki / Literatura obcojęzyczna
After securing the capture of Jerusalem General Allenby planned a campaign that would knock Turkey out of World War 1. In a spectacular campaign General Allenby's Egyptian Expeditionary Force achieved the breakthrough in Palestine that commanders on the Western Front had only dreamed of. Supported by Lawrence and his Arab irregulars, the Desert Mounted Corps swept across the Turkish rear, destroying three armies in the process. Turkey's war was over and the days of the tottering Ottoman Empire were numbered. This was a British 'Blitzkrieg' with a speed of advance that stunned the world twenty years before Germany's Panzers rolled across Europe.
Sklep: Libristo.pl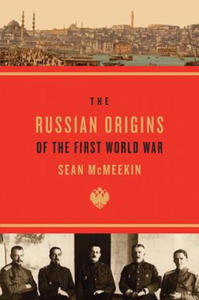 84,64 zł
Książki / Literatura obcojęzyczna
The catastrophe of the First World War, and the destruction, revolution, and enduring hostilities it wrought, make the issue of its origins a perennial puzzle. Since World War II, Germany has been viewed as the primary culprit. Now, in a major reinterpretation of the conflict, Sean McMeekin rejects the standard notions of the war's beginning as either a Germano-Austrian preemptive strike or a "tragedy of miscalculation." Instead, he proposes that the key to the outbreak of violence lies in St. Petersburg. It was Russian statesmen who unleashed the war through conscious policy decisions based on imperial ambitions in the Near East. Unlike their civilian counterparts in Berlin, who would have preferred to localize the Austro-Serbian conflict, Russian leaders desired a more general war so long as British participation was assured. The war of 1914 was launched at a propitious moment for harnessing the might of Britain and France to neutralize the German threat to Russia's goal: partitioning the Ottoman Empire to ensure control of the Straits between the Black Sea and the Mediterranean. Nearly a century has passed since the guns fell silent on the western front. But in the lands of the former Ottoman Empire, World War I smolders still. Sunnis and Shiites, Arabs and Jews, and other regional antagonists continue fighting over the last scraps of the Ottoman inheritance. As we seek to make sense of these conflicts, McMeekin's powerful expose of Russia's aims in the First World War will illuminate our understanding of the twentieth century.
Sklep: Libristo.pl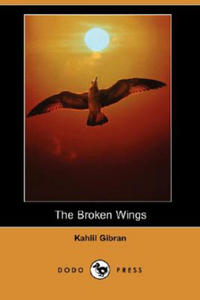 61,60 zł
Książki / Literatura obcojęzyczna
Kahlil Gibran (1883-1931) was a Lebanese American of Assyrian descent, an artist, poet and writer. He was born Gibran Khalil Gibran in Lebanon (at the time a Syrian Province of the Ottoman Empire) and spent much of his productive life in the United States. While most of Gibran's early writings were in Syriac and Arabic, most of his work published after 1918 was in English. Gibran also took part in the New York Pen League, also known as the "immigrant poets" (al-mahjar), alongside other important Lebanese American authors such as Ameen Rihani ("the father of Lebanese American literature"), Mikhail Naimy and Elia Abu Madi. Gibran's best-known work is The Prophet, a book composed of 26 poetic essays, first written in English in 1923. The Prophet remains famous to this day, having been translated into more than 20 languages. Other works in English include: Spirits Rebellious, (1908), The Broken Wings (1912), A Tear and a Smile (1914), The Forerunner (1920), Sand and Foam (1926), Jesus the Son of Man (1928), The Earth Gods (1929), The Wanderer (1932) and The Garden of the Prophet (1933).
Sklep: Libristo.pl 50,08 zł
Książki / Literatura obcojęzyczna
Excerpt from Verdun, Argonne-Metz: 1914-1918 Verdun, one of France's most ancient cities, was first a Gallic, then under the name of Virodunum Castrum, a Roman fortress. In 843 Die celebrated treaty which divided the Carolingian Empire and annexed Verdun to the Kingdom of Lorraine was signed there. From 870 to 879 Verdun became part of France, but in 923 it was incorporated in the German Empire. As a county, it was governed under the feudal system by the hereditary counts, the last of whom was Godefroy de Bouillon, and later by the episcopal counts and bishops. In the 10th century, Bishop Haimont, of Verdun, persuaded the Count of Verdun to transfer his rights to him. The arrangement was confirmed by Emperor Othon III, but the count's heirs disputed the bishops' title to the town. Later, the burgesses revolted against the authority of the bishops, and after a sanguinary struggle succeeded in throwing off their yoke about I he middle of the 13th century. After a long occupation by the Germans, Henri II, King of France, retook Verdun in 1552 and granted it privileges which were confirmed by François II in 1559. During the Religious Wars, the town was for the Leaguers, and only agreed to receive Henry IV's envoy, after that prince's conversion to the Roman Faith. The burgesses did not take the oath of allegiance to the King of France until 1601. About the Publisher Forgotten Books publishes hundreds of thousands of rare and classic books. Find more at www.forgottenbooks.com This book is a reproduction of an important historical work. Forgotten Books uses state-of-the-art technology to digitally reconstruct the work, preserving the original format whilst repairing imperfections present in the aged copy. In rare cases, an imperfection in the original, such as a blemish or missing page, may be replicated in our edition. We do, however, repair the vast majority of imperfections successfully; any imperfections that remain are intentionally left to preserve the state of such historical works.
Sklep: Libristo.pl
Sklepy zlokalizowane w miastach: Warszawa, Kraków, Łódź, Wrocław, Poznań, Gdańsk, Szczecin, Bydgoszcz, Lublin, Katowice
Szukaj w sklepach lub całym serwisie
2. Szukaj na wszystkich stronach serwisu
t1=0.029, t2=0, t3=0, t4=0.019, t=0.029