krainaksiazek give them me ending the search 20167770
- znaleziono 11 produktów w 3 sklepach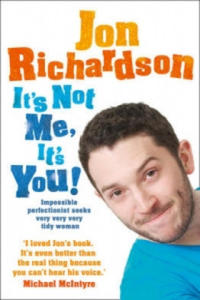 44,46 zł
Książki / Literatura obcojęzyczna
'I loved Jon's book. It's even better than the real thing because you can't hear his voice.' Michael McIntyre A control freak looks for love (women who leave wet teaspoons in sugar bowls need not apply). 'I haven't woken up with a cup of tea by the bed for seven years. It seems such a small thing but it's one of a thousand things I miss about having someone around to take care of me. I have spent my entire adult life getting things the way I want them and all I want now is someone to give it all up for.' Is your filing faultless? Your CDs, apostrophes, cutlery all in the right places? Can you eat a biscuit in the correct way? Then Jon Richardson (single for seven years and counting) could be your ideal man...Living alone in a one bedroom flat in Swindon, Jon has had far too much time on his hands to think. In fact to obsess. About almost everything. Jon's obssessive compulsive personality disorder has seen him arrange the coins in his pockets in ascending size and colour code his bookshelves. It takes him less than 90 seconds to locate a receipt for a pair of shoes he bought in 1997. Over to the filing cabinet and R for receipts, S for shoes. But Jon doesn't want to be like this, in fact he would quite like to share his life with someone. But who could that someone be? Someone like himself, a quarrelsome perfectionist only with breasts and less body hair? Absolutely not. But who exactly is Jon looking for and where will he find her? Faced with a loveless future filled with his own peculiar quirks and perfectionism, Jon sets about his search for The One. The question is, will he mind her keeping the knives to the left of the forks in the cutlery drawer or organising the CDs by genre and not alphabetically?
Sklep: Libristo.pl 54,10 zł
Powieści i opowiadania
Orlando Figes
Sklep: Albertus.pl 45,80 zł
Nauki humanistyczne
Alain de Botton, best-selling author of How Proust can Change Your Life, has set six of the finest minds in the history of philosophy to work on the problems of everyday life. Here then are Socrates, Epicurus, Seneca, Montaigne, Schopenhauer and Nietzsche on some of the things that bother us all; lack of money, the pain of love, inadequacy, anxiety, the fear of failure and the pressure to conform.
Sklep: Albertus.pl 53,09 zł
Książki / Literatura obcojęzyczna
"A book to rival TWILIGHT and VAMPIRE DIARIES, and one that will have you wanting to keep reading until the very last page! If you are into adventure, love and vampires this book is the one for you!" --Vampirebooksite.com (Turned)DESIRED is Book #5 in the #1 Bestselling series THE VAMPIRE JOURNALS, which begins with TURNED (Book #1)! In DESIRED (Book #5 in the Vampire Journals), Caitlin Paine wakes to discover that she has once again traveled back in time. This time, she has landed in eighteenth century Paris, an age of great opulence, of kings and queens-but also of revolution. Reunited with her true love, Caleb, the two of them finally have the quiet, romantic time together that they never had. They spend idyllic time together in the city of Paris, visiting its most romantic sites, as their love grows ever deeper. Caitlin decides to give up the search for her father, so that she can savor this time and place, and spend her life with Caleb. Caleb takes her to his medieval castle, near the ocean, and Caitlin is happier than she ever dreamed. But their idyllic time together is not destined to last forever, and events intercede that force the two of them apart. Caitlin once again finds herself united with Aiden and his coven, with Polly and with new friends, as she focuses again on her training, and on her mission. She is introduced to the lavish world of Versailles, and encounters outfits and opulence beyond what she ever dreamed. With never ending feasts and parties and concerts, Versailles is a world of its own. She is happily reunited with her bother Sam, who is also back in time, and having dreams of their father, too. But all is not as well as it seems. Kyle has traveled back in time, too-this time, with his evil sidekick, Sergei-and he is more determined than ever to kill Caitlin. And Sam and Polly each fall ever deeper into toxic relationships, which just might threaten to destroy everything around them. As Caitlin becomes a true and hardened warrior, she comes closer than ever to finding her father, and the mythical Shield. The climactic, action-packed ending, takes Caitlin through a whirlwind of Paris' most important medieval locations, on a hunt for clues. But surviving this time will demand skills she never dreamed she had. And reuniting with Caleb will require her to make the hardest choices-and sacrifices-of her life.
Sklep: Libristo.pl 10,11 zł
Książki & Multimedia > Książki
Opis - Wspólne głośne czytanie buduje szczególną więź emocjonalną między rodzicami a dziećmi oraz rozbudza w najmłodszych ciekawość świata. Nazwa - Biblioteczka przedszkolaka. Wiersze dla chłopców Autor - Praca zbiorowa Oprawa - Twarda Wydawca - Olesiejuk Kod ISBN - 9788327429148 Kod EAN - 9788327429148 Rok wydania - 2015 Język - polski Seria wydawnicza - Biblioteczka przedszkolaka Format - 19.0x23.0cm Ilość stron - 24 Podatek VAT - 5% Premiera - 2015-04-24
Sklep: InBook.pl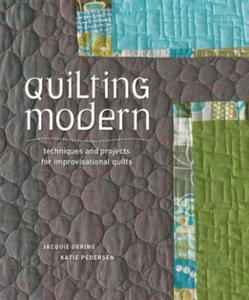 99,82 zł
Książki / Literatura obcojęzyczna
"If you've ever thought, for even a moment, that you'd like to explore improvisational piecing techniques, then this is a must-have book for you. And, if you haven't thought about exploring improvisation, then this book is still for you. Why? Because it is so crammed full of eye-candy that you'll wonder why you haven't yet played with this process." - Malka Dubrawsky, author, Fresh Quilting "Jacquie and Katie are right up there as two of my favorite quilters and bloggers. This book is absolutely gorgeous, right down to how it feels in your hand (something I find weirdly important!)." - Ashley Newcomb, FilmintheFridge.com "What we really like about this book is this duo's deep respect for traditional quiltmaking and their oh-so-true advice to master the foundational techniques for making quilts in order to better manipulate them for your improvisational masterpieces." - Generation Q magazine "When it comes to modern quilting, I have a whole lotta opinions! I feel pretty strongly that it's a specifically definable aesthetic movement. I think that modern quilting is waaaay more about design than it is about using a specific a line of fabric or currently on trend color combos. And in my opinion, this book, is really and truly an example of modern quilting." - Alissa Haight Carlton, author, Modern Minimal and Block Party: The Modern Quilting Bee "Jacquie and Katie are two women who I so greatly admire and am in awe of. Both of them in their own way have sparked a flame in me like only a few others have." - Monica Solorio-Snow, TheHappyZombie.com "Page after page of gorgeous quilty goodness." - Rashida Coleman-Hale, author, I Love Patchwork and Zakka Style "It's fabulous! Thoughtful and approachable instructions for a variety of improvisationally-pieced quilt projects." - Elizabeth Hartmann, author Modern Patchwork and The Practical Guide to Patchwork "I really cannot recommend this book enough... for me it has hit a new standard as far as quilting books go." - Amber Carrillo, One Shabby Chick "These ladies know how to TEACH what they know. The extensive step-by-step diagrams are impressive. No detail left behind. Sometimes all the elements of a book come together in such a way that the end result is nothing short of spectacular." - Kathy Mack, Pink Chalk Studio "A book that is truly a work of art, that clearly speaks to the modern quilting community!" - Angela Waters, author, Free-Motion Quilting with Angela Walters "Refreshing and invigorating." - Rita Hodge, Red PepperQuilts.com "Amazing projects." - ewMamaSew.com "There's just the right, hard-to-find mix here. Enough support, tips, technique and design to give you confidence and skills, plus improvisational tools to give you freedom in your quilting approach." - SewMamaSew.com "One thing I've come across again and again when teaching others or just doing a casual sewing day, is that lots of people are (dare I say?) s.c.a.r.e.d or simply say they 'don't know how' to do improv. So if you've ever found yourself saying those words, this book would be a great addition to your sewing book library." - Penny Layman, Sew Take a Hike "So many beautiful ideas, packed into one gorgeous book." - Susan Beal, author, Modern Log Cabin Quilting "Jacquie and Katie talk the reader through innovative techniques that, to me, represent what the modern quilt movement is all about. If you've ever seen a quilt that has gorgeously crazy piecing that seems like it would be impossible to do, then this book can break it down for you and expose the mysteries behind it." - Blair Stocker, Wisecraft
Sklep: Libristo.pl 91,84 zł
Książki / Literatura obcojęzyczna
My youngest son, Sam, hands me a DVD converted from a video recording taken years ago. Apprehensive, I slide it into a laptop and watch the scene from my past come to life. After viewing only part of it, he exits to do homework, pauses, and quips, "What happened to you, Mom?" Time suspends as I search for a reply. "Life ... life happened, Sam-a lot of life. Like your dad dying and you and I ending up with a genetic disorder. Muscle biopsies, spinal taps, surgeries, you know. Crazy stuff happened." He looks my way only somewhat understanding. His seventeen-year-old, senior-in-high-school self tries on my explanation, but it doesn't quite fit. He can't give in so why should I? He continues up the stairs and I stand alone. Alone with the reality that the hard stuff is winning. That I caved under the pressure. That my tall, blond-haired, blue-eyed son knows who I was, compared to who I am.
Sklep: Libristo.pl 255,17 zł
Książki / Literatura obcojęzyczna
"Dear PHP, It's over between us. You can keep the kitchen sink, but I want my MVC. With TurboGears, I was able to shed the most heinous FileMaker Pro legacy 'solu-tion' imaginable. It has relationships based on fields that change frequently, causing 'disappearing data.' I replaced it with an easy to maintain TurboGears application. Defunkifying and normalizing many years worth of munged data took twice as long as developing the TurboGears's application itself. TurboGears's excellent set of tools and best-of-breed approach makes it so easy to build applications quickly." -Isaac Csandl, Manager of Information Technology, Chicago Legal Search, Ltd. "TurboGears has resulted in significant time savings for rPath. Before it was released, we ex-pected to spend significant time building a Web framework for our rPath Appliance Agent product. TurboGears sharpens our focus on building a quality application; it allows us to provide more value to our customers, rather than reinventing the Web wheel." -Michael K. Johnson, rPath Founding Engineer and Coauthor of Linux Application Development, Second Edition "I think this is the first time that a Web framework's functionality has been so obvious." -Bruce Eckel, Author of Thinking in Java and Thinking in C++ "TurboGears helped me build more complex Web applications more quickly and with fewer headaches than any other framework I've used. Just like Python itself, it made me more productive with a minimal learning curve." -Quentin Hartman, System Administrator "TurboGears has changed the way I develop Web applications, from model, to view, to controller. Thanks to the power of TurboGears, I was able to develop the first version of WhatWhat in less than a week of my spare time." -Jonathan LaCour, Development Team Lead, Optio "TurboGears has provided a way for me to greatly enhance my productivity by real-izing the potential of Web-based agile development with Python." -Brandon Goldfedder, Vice President of Engineering, Information Extraction and Transport (IET Inc.), and Author of The Joy of Patterns "TurboGears really changed the way I schedule project releases: It allows me to deliver them faster and with better quality than when I used to use GUI toolkits." -Jorge Godoy, Owner of G2C Tech Consultoria in Brazil, former Lead Developer for Conectiva documentation team "With TurboGears, I was able to transition my Python projects into Web applications as easily as possible." -Benjamin T. Hamilton, Software Engineer "Norwegian-based company Scanmine AS makes extensive use of Python and Turbo-Gears in all parts of its operation. TurboGears makes it a breeze to build highly sophis-ticated Web 2.0 applications with out-of-the-box features for multiple languages with full Unicode, REST, AJAX, RSS/Atom, and more. This enables Scanmine to put a face on their technology development in a minimal amount of time. "It has been said that there are as many Web frameworks as there are Python Web programmers. This apparent Web framework fragmentation has long been perceived as a weakness, until TurboGears came along and turned weakness into strength." -Rune Hansen, Senior Systems Designer, Scanmine AS "TurboGears is a well thought-out framework; the design choices it has made will help you be more productive. TurboGears will give you confidence with its foundation of stable best-of-breed Python components. If you are coming from other languages, consider working in TurboGears and Python to bring fun back into your Web develop-ment work." -Jeff Marshall, Partner with FrozenBear "When we started developing Oprius Foundations with TurboGears, we weren't sure if it really would help us develop quicker and higher-quality code. After two months, we had a task manager to rival Tada List. After seven months, we had an entire contact management system to compete with the big boys." -Jason Chu, Lead Developer, Oprius Software Inc. "Conventional programming wisdom states that rewriting any working project from scratch is a bad idea. TurboGears was good enough to convince me to do this anyway, and I have been nothing but thrilled with the results. With TurboGears, I was able to implement an AJAX-based Web site with a nice Web API more easily than I ever thought possible. If you are trying to do either of those in Python, you owe it to your-self to look at this project. Using TurboGears was one of the few times in my program-ming career where a task was significantly less complicated than I thought possible." -Adam Jones, Lead Programmer, RecursiveThought Software Master TurboGears: The Easy Python Framework for Rapid Web Development TurboGears harnesses the power of Python to provide a dynamic and easy-to-use Web development framework: one that dramatically increases developer productivity, and makes it far easier to create dynamic, user-friendly, Ajax-enabled Web applications. Now, for the first time, there's a definitive guide to TurboGears-coauthored by its creator, Kevin Dangoor. This book will help experienced Web developers get productive with TurboGears-fast. You'll quickly build your first TurboGears Web application-then extend it one step at a time, mastering the underlying libraries that make these enhancements possible. Next, the authors demonstrate TurboGears at work in a real-world application, by examining the code for "WhatWhat Status," an open source project status tracking application. Finally, you'll gain deep insight into the model, view, and controller technologies TurboGears is built upon: knowledge that will help you build far more robust and capable Python applications. Coverage includes * Understanding the architecture of a TurboGears application * Mastering SQLObject, customizing it, and using it with TurboGears models * Utilizing TurboGears view technologies, including dynamic templates and MochiKit for Ajax * Bringing CSS, XHTML, and JavaScript together in reusable components with TurboGears Widgets * Using CherryPy and TurboGears controller technologies: from decorators to deployment * Exploring the TurboGears toolbox * Ensuring security and managing user access permissions in TurboGears applications Preface xxiii Acknowledgments xxv Part I: TurboGears Fundamentals Chapter 1: Introduction to TurboGears 3 Chapter 2 Getting Started with TurboGears 13 Chapter 3: The Architecture of a TurboGears Application 25 Part II: Building a Simple TurboGears Application Chapter 4: Creating a Simple Application 43 Chapter 5: Enhancing Our Bookmark Application 59 Part III: Exploring a Real World TurboGears Application Chapter 6: Exploring More Complex Models in WhatWhat Status 83 Chapter 7: Controllers, Views, and JavaScript in the WhatWhat Status 97 Chapter 8: RSS, Cookies, and Dynamic Views in WhatWhat Status 115 Chapter 9: Ajax and WhatWhat Status Projects 133 Part IV: SQLObject and TurboGears Models Chapter 10: SQLObject Basics 151 Chapter 11: Mastering SQLObject 165 Chapter 12: Customizing SQLObject Behavior 183 Part V: TurboGears View Technologies Chapter 13: Dynamic Templates with Kid 209 Chapter 14: Creating Better JavaScript with MochiKit 225 Chapter 15: Effective Ajax with MochiKit 273 Chapter 16: TurboGears Widgets: Bringing CSS, XHTML, and JavaScript Together in Reusable Components . 309 Part VI: CherryPy and TurboGears Controller Technologies Chapter 17: CherryPy and TurboGears Decorators 335 Chapter 18: TurboGears Deployment 355 Part VII: TurboGears Extras Chapter 19 The TurboGears Toolbox and Other Tools 371 Chapter 20: Internationalization 383 Chapter 21: Testing a TurboGears Application 397 Chapter 22: TurboGears Identity and Security 417 Part VIII: Appendix Appendix: SQLAlchemy 431 Index 449
Sklep: Libristo.pl 72,30 zł
Książki / Literatura obcojęzyczna
"A thriller that grabs readers and doesn't let go, skillfully twisting, turning, and manipulating its plot for maximum impact." Donovan, eBook Reviewer, Midwest Book Review ~~~ Evolved Publishing presents a gripping glimpse of the near future, in which a twisted serial killer finds power in a corrupt political culture. [Thriller, Suspense, Crime, Serial Killer, Vigilante Justice, Psychological, Vengeance] ~~~ When her 19-year-old son Jack miraculously recovers from a serious head trauma, Maggie is sure her luck has changed. But when she's abducted by a shadow from her past - a phantom with dangerous sapphire eyes - it's up to Jack and his younger brother Tom to unravel the mystery and save their mom from a deadly psychological battle. ~ The brothers seek help from their colorful great aunt, who exposes them to a world of nefarious family secrets, explosive government conspiracies, and a series of horrific murders. Together they must navigate a dark underworld full of political subterfuge and class warfare. ~ Yet as they search for their mother, Jack changes-raked by skull splitting headaches and weird visions. How exactly did he recover from his coma, and how does this tie into the psychopath who's abducted their mother? ~ Will Jack and Tom save Maggie before her abductor reaches his shatter point? Does Jack have enough time left? ~~~ 'Shatter Point' is an exciting novel of suspense, action, drama and even a little bit of horror.... It's definitely one of the best novels out there right now." - Next Page Reviews ~~~ "When I reached the last 100 pages no one was going to be able to stop me reading until I knew the ending!" - Olivia's Catastrophe
Sklep: Libristo.pl 137,76 zł
Książki / Literatura obcojęzyczna
"Marketing has entered a new era of rapid advance. Those unwilling to experiment with new combinations of traditional and internet marketing will be left behind." -Chris Trimble, Adjunct Associate Professor of Business Administration, Tuck School of Business at Dartmouth and Coauthor, Ten Rules for Strategic Innovators: From Idea to Execution "It's no secret that business has been changing dramatically over the last decade. To succeed in this rapidly changing environment, businesses must adapt their marketing strategies accordingly-The New Language of Marketing 2.0 provides practical, proven, and prescient tools to do exactly that." -Dr. Steve Moxey, Research Fellow, High-Tech Marketing, Manchester Business School "Most U.S. marketers mistakenly think 'going global' is just a matter of translating your promotional materials into different languages and widening your media buys. Packed with real-life examples, this new book amply demonstrates that successful global marketing is actually all about local marketing. Learn how to give a local spin within each regional marketplace for global success." -Anne Holland, Founder, MarketingSherpa Inc Use ANGELS and Web 2.0 Marketing to Drive Powerful, Quantifiable Results For every marketer, strategist, executive, and entrepreneur Today, marketers have an array of radically new Web 2.0-based techniques at their disposal: viral marketing, social networking, virtual worlds, widgets, Web communities, blogs, podcasts, and next-generation search, to name just a few. Now, leading IBM marketing innovator Sandy Carter introduces ANGELS, a start-to-finish framework for choosing the right Web 2.0 marketing tools-and using them to maximize revenue and profitability. Carter demonstrates winning Web 2.0 marketing at work through 54 brand-new case studies: organizations ranging from Staples to Harley Davidson, Coca-Cola to Mentos, Nortel to IBM itself. You'll discover powerful new ways to market brands and products in both B2B and B2C markets...integrate Web 2.0, experiential, and conventional marketing...maximize synergies between global and local marketing...gain more value from influencers, and more. Includes information, case studies, and working examples for next generation marketing strategies such as: * Social networks with virtual environments, including Second Life * Online communities including Facebook * Viral Marketing and eNurturing * Serious Gaming * Widgets * Wikis * Blogging, including Twitter * RSS * Podcasting * Videocasting Whether you're a marketing professional, Web specialist, strategist, executive, or entrepreneur, this book will help you drive immense, quantifiable value from Web 2.0 technologies-now, and for years to come. Sandy Carter's breakthrough ANGELS approach, a step-by-step framework for success: Analyze and ensure strong market understanding Nail the relevant strategy and story Go to Market Plan Energize the channel and community Leads and revenue Scream!!! Don't forget the Technology! BONUS Content Available Online: Additional chapters, case studies, examples, and resources are available on the book companion site, ibmpressbooks.com/angels. ================================== Table of Contents Introduction A: Analyze Here, There, and Everywhere Chapter 1: Listening and Analyzing in the Global World Chapter 2: Segmentation in Action: The Nortel Case Chapter 3: Globalization: Lenovo, Google, Unilever, and IBM N: Nail the Strategy Chapter 4: Fish Where the Fish Are and Use the Right Bait Chapter 5: Relevance and Roles: Forrester Research Chapter 6: Lightly Branded: EepyBird, The Coca-Cola Company, and Mentos Chapter 7: Corporate Social Responsibility: IBM's Project Green and Marks & Spencer G: Go-to-Market Chapter 8: Break Through the Noise Chapter 9: Influencer Value: The IBM Case Study E: Energize the Ecosystem and Market Chapter 10: The New Vessels Chapter 11: Energize the Channel with Communities: OMG, Adobe and Rubicon Consulting, and Harley-Davidson Chapter 12: Virtual Environments: The Coca-Cola Company and IBM Chapter 13: Widgets: The Use of Widgets at IBM Chapter 14: Blogs: Midwest Airlines and IBM Chapter 15: Serious Gaming: IBM's Innov8 L: Leads and Revenue Chapter 16: Show Me the Money: A Discussion with Google, the Marketing Leadership Council, and MarketingNPV Chapter 17: Innovation, Engagement, and Business Results: adidas Group, ConAgra Foods, and Tellabs Chapter 18: Marketing Dashboards: IBM Cognos S: Scream Through Technology Chapter 19: Screaming World Changes Chapter 20: Technology Matters: IBM, Staples, Dell, and MyVirtualModel Putting It All Together Chapter 21: End-to-End Example: IBM WebSphere and the SOA Agenda, Prolifics, and Ascendant Technology Chapter 22: The Top 10 Don'ts and the Marketing Organization of the Future The following materials can be found on the companion Web site at ibmpressbooks com/angels: Online 1: Relationship and Word of Mouth: Rackspace Online 2: Personal Branding Online 3: National Environmental Policy Act
Sklep: Libristo.pl 44,80 zł
Powieści i opowiadania
Is Moses Herzog
Sklep: Albertus.pl
Sklepy zlokalizowane w miastach: Warszawa, Kraków, Łódź, Wrocław, Poznań, Gdańsk, Szczecin, Bydgoszcz, Lublin, Katowice
Szukaj w sklepach lub całym serwisie
2. Szukaj na wszystkich stronach serwisu
t1=0.101, t2=0, t3=0, t4=0.016, t=0.101