krainaksiazek glass nanocomposites synthesis properties and applications 20048410
- znaleziono 7 produktów w 3 sklepach 207,51 zł
Książki
Sklep: KrainaKsiazek.pl 496,54 zł
Książki / Literatura obcojęzyczna
Glass Nanocomposites: Synthesis, Properties and Applications provides the latest information on a rapidly growing field of specialized materials, bringing light to new research findings that include a growing number of technologies and applications. With this growth, a new need for deep understanding of the synthesis methods, composite structure, processing and application of glass nanocomposites has emerged. In the book, world renowned experts in the field, Professors Karmakar, Rademann, and Stepanov, fill the knowledge gap, building a bridge between the areas of nanoscience, photonics, and glass technology. The book covers the fundamentals, synthesis, processing, material properties, structure property correlation,  interpretation thereof, characterization, and a wide range of applications of glass nanocomposites in many different devices and branches of technology. Recent developments and future directions of all types of glass nanocomposites, such as metal-glasses (e.g., metal nanowire composites, nanoglass-mesoporous silica composites), semiconductor-glass and ceramic-glass nanocomposites, as well as oxide and non-oxide glasses, are also covered in great depth. Each chapter is logically structured in order to increase coherence, with each including question sets as exercises for a deeper understanding of the text. Provides comprehensive and up-to-date knowledge and literature review for both the oxide and non-oxide glass nanocomposites (i.e., practically all types of glass nanocomposites)Reviews a wide range of synthesis types, properties, characterization, and applications of diverse types of glass nanocompositesPresents future directions of glass nanocomposites for researchers and engineers, as well as question sets for use in university courses
Sklep: Libristo.pl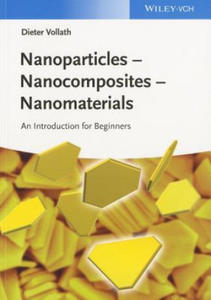 206,40 zł
Książki / Literatura obcojęzyczna
Meeting the demand for a readily understandable introduction to nanomaterials and nanotechnology, this textbook specifically addresses the needs of students - and engineers - who need to get the gist of nanoscale phenomena in materials without having to delve too deeply into the physical and chemical details. The book begins with an overview of the consequences of small particle size, such as the growing importance of surface effects, and covers successful, field-tested synthesis techniques of nanomaterials. The largest part of the book is devoted to the particular magnetic, optical, electrical and mechanical properties of materials at the nanoscale, leading on to emerging and already commercialized applications, such as nanofluids in magnetic resonance imaging, high-performance nanocomposites and carbon nanotube-based electronics. Based on the author's experience in teaching nanomaterials courses and adapted, in style and level, for students with only limited background knowledge, the textbook includes further reading, as well as information boxes that can be skipped upon first reading.
Sklep: Libristo.pl 606,33 zł
Książki / Literatura obcojęzyczna
Nano-Glass Ceramics: Processing, Properties and Applications, provides comprehensive coverage of synthesis and processing methods, properties and applications of the most important types of nano-glass ceramics, from a unique material science perspective. Emphasis is placed on the experimental and practical aspects of the subject while covering the theoretical and practical aspects and presenting, numerous examples and details of experimental methods. In the discussing the many varied applications of nano-glass ceramics, consideration is given to both, the fields of applications in which the materials are firmly established and the fields where great promise exists for their future exploitation. The methods of investigation adopted by researchers in the various stages of synthesis, nucleation, processing and characterization of glass ceramics are discussed with a focus on the more novel methods and the state of the art in developing nanostructured glass ceramics. * Comprehensive coverage of nanostructured glass ceramics with a materials science approach. The first book of this kind* Applications-oriented approach, covering current and future applications in numerous fields such as Biomedicine and ??Electronics* Explains the correlations between synthesis parameters, properties and applications guiding R&D researchers and engineers to choose the right material and increase cost-effectiveness
Sklep: Libristo.pl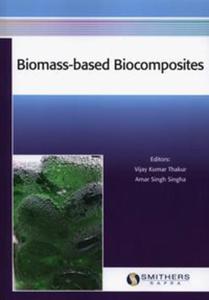 572,10 zł
Książki
Green polymer materials from biomass-based natural resources are of paramount importance in a range of applications, from biomedicine to biocomposites. Indeed, during the last few years there has been increasing demand for green biocomposites obtained from renewable and sustainable biomass-based resources. Plants, grasses, straws, agriculture residues, algae, water plants etc. are among one of the most promising and the most abundant bio-based resources of biopolymers on earth and they are an indispensable component in biocomposites. One of the important features of biomass-based materials is that they can be designated and tailored to meet different requirements depending upon the application. Renewability, low cost, eco-friendliness, ease of processing, non-abrasiveness and relevant mechanical as well as physico-chemical properties are among the most important advantages of using biomass-based materials for the development of green biocomposites.The prime aim of this book is to give an overview on different kinds of biomass-based biocomposites for a range of applications, from biocomposites to biomedicine. This book is unique in the sense that it deals exclusively with biomass-based biocomposites that are procured from the biopolymers found in nature. In addition, it covers novel topics related to the synthesis, properties, characterization and diverse applications of different biomass-based biocomposites including nanocomposites. Some of the main features are: An overview of the applications of biomass-based biocomposites in different fields to provide researchers/students with a thorough insight into the various systems. An up-to-date working reference on biomass-based biocomposites, including state-of-the-art techniques and developments in the field. Although the commercial applications of these biocomposites are in their infancy, these materials have a huge commercial potential. In setting out the next generation of advances in eco-friendly biomass-based biocomposites, this book opens the way for further developments in the field. A review of the wealth of research on new biomass-based polymers, together with their applications.Biomass-based Biocomposites will be a standard reference book for biocomposites engineers and all those studying and researching in this important area, as well as those in the automotive industry. Professionals in academia and industry will appreciate the multidisciplinary nature of this comprehensive and practical reference book.
Sklep: Booknet.net.pl 496,54 zł
Książki / Literatura obcojęzyczna
This book offers a comprehensive overview of nanocrystalline cellulose (NCC) and the development of advanced materials based on NCC for industrial and medical applications. The contents provide unique information on the physics, chemistry, biology and technology of NCC and NCC-based advanced materials, in addition to detailed coverage of the engineering aspects, addressing the challenges involved in nanomanufacturing on a large industrial scale.§Contents include:§A detailed treatment of the structure, morphology and synthesis of NCC.§The science and engineering of producing NCC and how surface/interface modifications of NCC could lead to developing novel biomaterials with attractive structural and functional properties.§The scientific bases for developing NCC-based nanomateials with advanced functionalities for industrial/medical applications.§A detailed coverage of the eco-efficient engineering processes and technical modifications required for the potential manufacture of these functional bionanomaterials for applications such as packaging and utilization in heavy industries (e.g., automotives).§This book is for audiences in the physical, chemical and biological sciences as well as engineering disciplines. It is of critical interest to industrialists seeking to develop new materials for the advanced industrial economies of the 21st century, ranging from adaptive "smart" packaging materials, to new chiral inorganic materials for pharmaceutical applications, to high-performance nanocomposites for structural applications.
Sklep: Libristo.pl 485,49 zł
Książki / Literatura obcojęzyczna
The emerging field of nanotechnology has envisioned a great impact in basic and applied research in different areas, leading to the production of materials with novel properties and devices with new or improved performance. Findings in this field have opened new opportunities for active research in different areas such as biomedicine, catalysis, electronics, and cosmetics, among others. With the continued aim of providing a forum where the latest developments in nanoscience and nanotechnology can be presented and discussed, the XXI International Materials Research Congress held in Cancún, México in August 2012, hosted the Nanostructured Materials and Nanotechnology Symposium. Topics covered include the synthesis of nanostructures and nanocomposites; optical, electrical and structural characterization techniques; modeling of structures and theoretical analysis of properties; carbon based nanostructures and different applications of nanomaterials as in catalysis, biomedicine and sensors development.
Sklep: Libristo.pl
Sklepy zlokalizowane w miastach: Warszawa, Kraków, Łódź, Wrocław, Poznań, Gdańsk, Szczecin, Bydgoszcz, Lublin, Katowice
Szukaj w sklepach lub całym serwisie
2. Szukaj na wszystkich stronach serwisu
t1=0.083, t2=0, t3=0, t4=0.014, t=0.083