krainaksiazek gluten free diet go gluten free now how and why you should avoid gluten 20121376
- znaleziono 4 produkty w 1 sklepie 75,04 zł
Książki / Literatura obcojęzyczna
A modern gluten-free diet is a simple way to get back to feeling fit and healthy. In these pages you'll find delicious, approachable and easy recipes packed with vibrant flavours that you will be happy to share with friends and family. Your guests won't even realize that they are eating gluten-free! You or your child, partner, relative or friend may have been advised by a doctor to go gluten-free. At first, this may seem a huge challenge, but gluten-free eating needn't mean missing out on the treats that others take for granted. Cakes, breads, pastries and puddings are all within reach. Gluten-free ingredients are now readily available from your local supermarket or health food shop (or online) and can be transformed into fab suppers to share with friends and family, from pasta dishes, pizzas and pancakes to light, moreish cakes and deliciously crumbly pies and tarts. If you have just been diagnosed with coeliac disease, what you can buy and what you can cook may seem a little bewildering - you will need to avoid wheat, barley, rye, and any products containing them. If you have been diagnosed for a while you may feel as though you always cook the same dishes, week in week out. In this book you will find inspirational new recipes to eat alongside your old favourites, along with many tips and variations to create a wide-ranging gluten-free repertoire.
Sklep: Libristo.pl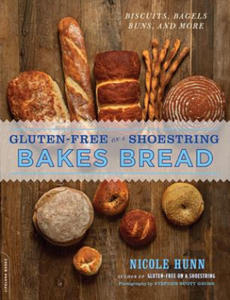 65,10 zł
Książki / Literatura obcojęzyczna
If you're eating gluten-free, you know the challenges of bread. You probably know where to get the packaged stuff--and you know the exorbitant cost. Maybe you've bought mixes and bread makers in a vain attempt to avoid the mystery of how to bake gluten-free at home altogether. Now, thanks to Nicole Hunn, you don't have to settle for the high price of packaged, frozen loaves. Welcome to easy, budget-friendly, delicious recipes for all your favorites, from shaped breads to flatbreads, biscuits, scones, and muffins. You'll learn to master lean crusty white bread, hearty whole-grain, fragrant cinnamon swirl, decadent cheese bread, not to mention a wild yeast starter you'll use to make everything imaginable, including a real no-rye "rye" bread. And you won't need a bread machine or any fancy supplies. Nicole covers all the essentials, including: recipes from a bread flour that makes it all work, all-purpose flour blends, a whole-grain blend, and a pastry flour; key techniques; the secrets to working ably with gluten-free dough; and even a whole section on troubleshooting, in case things go off the rails a bit. Gluten-Free on a Shoestring Bakes Bread tells you everything you need to know to make the artisan-style bread you've been missing--and at a fraction of the cost.
Sklep: Libristo.pl 191,82 zł
Książki / Literatura obcojęzyczna
PRAISE FOR THE DOLCE DIET: LIVING LEAN! "Dolce is a lifestyle changer." - ESPN "I love The Dolce Diet; it's amazing! It's not just for cutting weight. It's about learning to eat properly for your health." -Vitor Belfort, UFC two-time world champion "Mike Dolce's the best in the business."-Chael Sonnen, UFC world title contender "Mike Dolce's knowledge of nutrition and strength & conditioning has led him to be one of the most highly sought-after coaches in the sport." -Joshua Carey, Bleacher Report "You can learn a lot from this man right here." -Ariel Helwani, AOL's MMAFighting.com ABOUT THE DOLCE DIET: LIVING LEAN For the first time in print, Mike Dolce shares the same principles, recipes and workouts he uses in MMA's elite fight camps and how they can be used by you! INSIDE you will learn: * Recipes used in MMA's top fight camps with gluten-free & vegan options * Easy to follow sample meal plans with gluten-free & vegan options * Strength & Conditioning exercises with instructions & photos * Workout plans used by today's top athletes Called "the patron saint of weight cutting," Mike Dolce has coordinated the high-profile weight loss for many of the world's top athletes, including... * Vitor "The Phenom" Belfort, UFC two-time world champion * Thiago "Pitbull" Alves, UFC world title contender * Chael Sonnen WEC / UFC world title contender * Gray "Bully" Maynard, UFC world title contender * Michael "The Count" Bisping, The Ultimate Fighter 3 winner * Duane "BANG" Ludwig, UFC & K-1 veteran * Quinton "Rampage" Jackson, UFC / Pride FC world champion * Mike "Quicksand" Pyle, WEC world champion * Jay "Thorobred" Hieron, IFL world champion * Jake "Juggernaut" Ellenberger, UFC veteran * Ed "Shortfuse" Herman, The Ultimate Fighter 3 runner-up * Chris "The Crippler" Leben, UFC veteran and many more! Web: THEDOLCEDIET.com Twitter: @thedolcediet ACCOLADES FOR THE DOLCE DIET: LIVING LEAN #1 Amazon USA Bestseller #1 Amazon UK Bestseller #1 Amazon Canada Bestseller #1 Barnes & Noble Bestseller #1 Buy.com Bestseller #1 iTunes Bestseller WHAT PEOPLE ARE SAYING ABOUT THE DOLCE DIET The Dolce Diet, three words about Living Lean: 1. Simple 2. Inspirational 3. Effective. Thank you, Mike Dolce! You've made staying in shape easy! ~STEWART M. The Dolce Diet, Love it! My Little-Boy-2-B has been on it for 5.5 months! This diet is truly amazing for moms pre & post baby! Yes, The Dolce Diet is prego friendly! Plenty of the RIGHT kind of food that tastes great! ~THE H2H WAITRESS Started two weeks ago. Lost 13 pounds so far. Yea! Love the recipes! So do my kids! Thank you! ~DAWN H. Body fat down 4% in 2 months?! Yessss! #LIVING LEAN ~MOLLY C. The Dolce Diet, started 410, down 50 lbs. so far. ~ JOSH W. The Dolce Diet, 13 lbs. lost in 4 weeks! People are asking what I'm doing...Telling them LIVING LEAN! ~MIKE S. Real talk! The Dolce Diet is the Einstein, da Vinci and Jesus of losing weight all wrapped up in one...gluten free wrap that is. ~MIKEY F. Another 5 (lbs. lost) on The Dolce Diet. 25 pounds down in 2 weeks, 100 to go! #LivingLean! ~JOHN P. Making THE DOLCE DIET turkey burgers. LIVING LEAN and loving it! ~JULIE W. The Dolce Diet, I've lost 35 lbs. of fat since January 3rd. Healthy and delicious! I love Living Lean. ~BRANDON E. I can't walk! That means I had a great booty workout!! Yeah buddy! #LIVINGLEAN ~MARI C. The Dolce Diet, 31 lbs. lost now. Feeling great. Can't believe I didn't do this before. 16 lbs. to go. ~JEFF S. 24 lbs in 6 weeks! BOOM! All thanks to The Dolce Diet & Living Lean! ~CHRIS P. I read through The Dolce Diet: Living Lean & I planned my next whole week & a half's daily menu & organized my shopping list today. #Motivated ~DANI B. Day 40 tastes just as good! (Mike Dolce is) the Weight Whisperer. ~STEPHANIE S.
Sklep: Libristo.pl 65,10 zł
Książki / Literatura obcojęzyczna
The Grit Doctor is one tough task-mistress ...First she instructed us to lace up our trainers in RUN FAT B!TCH RUN Then she told us to clear the clutter in GET YOUR SH!T TOGETHER Now she is ordering us to CUT THE CRAP and get real with our eating habits Should you go gluten free? Does detoxing work? What exactly is a superfood? Does healthy eating have to involve obscure ingredients and complex recipes? If you're confused by increasingly complicated - and contradictory - nutritional advice, it's time to call in Ruth Field and her formidable alter-ago, The Grit Doctor. With her familiar tough-love style and wicked sense of humour, The Grit Doctor will demystify and simplify healthy eating, enabling readers to see past the bullsh!t and make practical and tasty choices for themselves and their families. Cutting the crap is just as much about eliminating unhelpful and unhealthy pseudo-science as it is about reducing your waistline. In CUT THE CRAP, Ruth Field will empower readers to ditch faddy diets for good and instead embrace a realistic, sustainable and enjoyable healthy eating plan. This isn't a diet, it's a way of life.
Sklep: Libristo.pl
Sklepy zlokalizowane w miastach: Warszawa, Kraków, Łódź, Wrocław, Poznań, Gdańsk, Szczecin, Bydgoszcz, Lublin, Katowice
Szukaj w sklepach lub całym serwisie
2. Szukaj na wszystkich stronach serwisu
t1=0.074, t2=0, t3=0, t4=0, t=0.074