krainaksiazek go set a watchman a guide for readers 20121123
- znaleziono 11 produktów w 2 sklepach 106,66 zł
Książki / Literatura obcojęzyczna
Earning praise from scientists, journalists, faculty, and students, The Chicago Guide to Writing about Numbers has helped thousands of writers communicate data clearly and effectively. Its publication offered a much - needed bridge between good quantitative analysis and clear expository writing, using straight forward principles and efficient prose. With this new edition, Jane E. Miller draws on a decade of additional experience and research, expanding her advice on reaching everyday audiences and further integrating non-print formats. Miller opens by introducing a set of basic principles for writing about numbers, then presents a toolkit of techniques that can be applied to prose, tables, charts, and presentations. Throughout, she emphasizes flexibility, showing writers that different approaches work for different kinds of data and different types of audiences. The second edition adds a chapter on writing about numbers for lay audiences, explaining how to avoid overwhelming readers with jargon. Also new is an appendix comparing the contents and formats of speeches, research posters, and papers, to teach writers how to create all three without starting each from scratch. An expanded companion website includes new resources such as slide shows and podcasts that illustrate the concepts and techniques, along with an updated study guide of problem sets and course extensions. This continues to be the only book that brings together all the tasks that go into writing about numbers in one volume. Field-tested with students and professionals alike, this holistic book is the go - to guide for everyone who writes or speaks about numbers.
Sklep: Libristo.pl 43,21 zł
Książki / Literatura obcojęzyczna
Prepare to be Tested.The story that kicked off the international #1 bestselling "Vampire Academy" series is NOW A MAJOR MOTION PICTURE.Read it Before it Hits Theaters February 14th, 2014! The official guide to the #1 international bestselling Vampire Academy series--now a major motion picture! Sink your teeth into the must-have collector's item for every fan of Richelle Mead's Vampire Academy series, complete with color photos from the set of the movie! Discover the history of St. Vladimir's Academy, explore the dark psychology behind Rose and Lissa's spirit bond, and find out even more illicit secrets about Moroi society. This ultimate guide will feature everything readers want and need to go even deeper into the world of the series . . . every heartache, every betrayal, every sacrifice, and so much more!
Sklep: Libristo.pl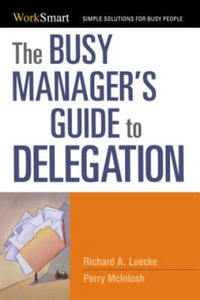 59,15 zł
Książki / Literatura obcojęzyczna
Delegation amounts to a lot more than just passing work off onto subordinates. Filled with quick tips, exercises, self-assessments, and practical worksheets, this book presents an easy-to-master, five-step process for effective delegation. It shows readers how to set the stage for excellent results and what to do if things go wrong.
Sklep: Libristo.pl 54,10 zł
Powieści i opowiadania
Orlando Figes
Sklep: Albertus.pl 128,83 zł
Książki / Literatura obcojęzyczna
This set of 30 cloze short stories is designed to provide reading and comprehension material that is appropriate for adults who have literacy skills that do not allow them to be/feel successful in their everyday lives. A number of reasons account for the large number of adults in this category. Failure in school, a broken family, illness, negative life experiences, emigration, second language English and many other causes may have contributed to their situation. Most of these adults are aware of their needs. They also often lack confidence in their reading ability and wish to improve and further develop their literacy skills.This is hard to achieve by oneself, so many adults look for support. Seeking help is a huge step.Adults who seek help may have different motivations, including getting a job or moving up the job ladder. Or it may mean gaining independence in commonplace tasks such as sitting a driving exam, writing a grocery list, reading the newspaper or doing personal banking. The main result of their efforts in literacy programs, in addition to increasing their reading skills, is the improvement of their self-image. They will be able to feel the effects in every part of their lives.How is the resource organized? The stories have been presented according to a continuum that gets gradually more difficult. They provide a variety of worthwhile reading development alternatives, using fiction and non-fiction. The contents of this resources approximately the average reading levels of 11-14 year olds. Each story is accompanied with a photo and five comprehension questions. This resource is produced in the form of black line master worksheets. Ideas for using photocopiable worksheets are suggested at the end of this introduction.What is Cloze? The cloze procedure was initially used for testing, diagnosing, classifying and identifying deficiencies in reading ability. Words are deleted from a passage and the reader is required to fill in the blanks. It is still widely used for diagnostic purposes. In recent years however the cloze procedure has also been used as an aid for reading instruction. Activities using the cloze procedure can help to develop reading and writing skills by teaching the student how to gain meaning from context clues. Cloze can also help with grammar, spelling and sequencing.How is comprehension tested? The purpose of reading is for the reader to gain information from the written word. It is possible to 'say' a word accurately but get no meaning or only a limited meaning from it. Therefore, checking the reader's understanding or comprehension of the text they have read is very important. Start by asking your student what the purpose of reading is. Many will answer with phrases such as 'learning to spell', or 'saying the words'. If necessary, explain to them that the whole point of reading is to take the meaning out of the words that the writer put there. You might like to discuss the fact that it doesn't matter too much whether they read every word correctly, or whether they sound good when reading aloud.What matters is whether they take the meaning from the text. Ask the students how they will know that they have understood the text. They will come to realise that by answering the questions accurately, they are demonstrating that they have actually read the text, ie that they have understood the meaning behind the individual words. After your initial assessment of each of your students, you may find some of them need to start by discussing what the story is about, and even, in the early stages, by reading the story once or twice to them before they try reading it. Then, having read the story as many times as they feel they need to in order to understand the meaning, the student will complete the five comprehension questions that accompany that particular story.Questions test a variety of comprehension skills and go beyond basic recall. Most of the questions are inferential, evaluative or analytical.Inferential, evaluative and analytical questions require the reader to think beyond the words or to 'read between the lines', picking subtle clues that are not immediately obvious. These questions usually require the reader to write answers based on their understanding or opinion of the story, draw conclusions, make predictions, identify main ideas and use context to guess meaning. Some of the stories require the use of reference materials such as a dictionary, maps and diagrams.Strategies - Each story can be used in many ways. Here are three: The tutor reads the story to the students with the missing words included, and then lets the students do the cloze exercise using their listening memory; The students read the story and fill in the gaps with any words they want. Their answers do not have to match the listed words, as long as they make sense in the context of the story. This should lead to an interesting discussion; and, Students read the story and then fill in the gaps, with the words provided, to complete the story so that it makes sense.After they are familiar with the story, they answer the questions you assign. Many different skills can be improved using different strategies with these stories.Discussion - discussing the topic of a story before the student reads it will give them clues; discuss related aspects of a story. Reading aloud - the way a text is read aloud, and words emphasised and grouped in particular ways, will indicate a level of understanding. Word identification - some words will be known by sight and reinforced in the text. Word attack (decoding) - decoding skills must be taught so that students can apply them when reading independently. Silent reading - silent reading is a highly developed skill which takes time to master. Help them gain confidence.Repetition - students begin to recall words when reading text a second or third time. Developing skilled reading has a lot to do with reading 'mileage' - just doing the practice.Photos - clues can also be gained from the photo on each page. This isn't cheating - it's something we all do to assist our understanding of text. Context - adults have a wealth of experience which they can use. To read effectively, readers need to learn to take risks without the fear of failure. Teach students how to guess what a word means using the surrounding clues. Use the word in another context to reinforce the learning. Analysis - encourage students to read analytically, thinking beyond the written information, and relating what they read to their own experiences. Some questions can have more than one right answer, as long as the reasoning is logical.Revision - the stories can be effectively used for revision. Keep stories in a folder so they can reread their favourites regularly. Enrichment - students may find particular stories more appealing than others. When they really enjoy a story, find related stories from other sources to read. These will more likely hold their interest and speed up their learning.Photocopiable resources - The following is a list of some of the ways in which photocopiable teaching resources (black line masters or BLM) may be used in an instructional environment to ensure variety of presentation and moderation in photocopying costs. Copy the resource to A4 paper at a rate of one sheet per student. Students write on the sheet. Copy the resource to A4 paper at a rate of one sheet per group. Students work together to complete one sheet between them. Use the resource as a tutor guide only, running the exploration as a tutor-guided activity. Copy the resource to the whiteboard. Copy the resource to an OHP transparency and project it on the wall. Keep the OHP with the resource book so that tutors choosing the same resource do not have to copy the page again.Some resources lend themselves to a discussion activity, where half the class does one activity and the other half does another.They pair up to 'mark' each other's work. Copy the resource to A3 paper using the enlarging function of your copier. Use this page as a wall chart. Copy the resource 2 per A4 sheet (depending on legibility). Guillotine. Students paste the small sheets into their workbooks then write their answers or complete the activities on the adjoining pages.Copy all the pages required for the unit to A3 to form a booklet. Pages can either be retained at A4 presentation size or reduced to A5. By choosing say 8 pages to present in this way during the unit, students can each receive a small booklet at the start of the unit comprised of just one or two sheets of A3 paper folded and stapled appropriately. Present a copy of the resource to students the day before the exercise. Explain that they will be required to present this part of the unit in their own way the following day. Use peer teaching by presenting the resource to one student to teach the ideas to others.
Sklep: Libristo.pl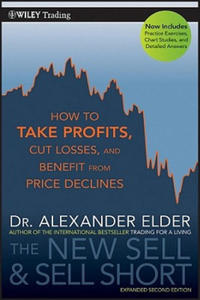 170,60 zł
Książki / Literatura obcojęzyczna
A detailed look at one of the most underestimated aspects of trading-selling In The New Sell and Sell Short, Second Edition, Dr. Alexander Elder explains how to exit a stock at the right time and how to initiate a short position to profit from a stock that is showing weakness. Often overlooked, selling properly enables a trader to cut losses and maximize profits. Moreover, short selling in a weak market can generate big profits and should be a part of every trader's arsenal of tools. The new edition contains numerous examples of short selling stocks from the 2008-2009 bear market, demonstrating very clearly why traders do themselves a disservice by only focusing on the long side. In addition, the new edition contains an extensive study guide to help readers master the material prior to trading. Elder shares real-world examples that show how to manage your positions by adjusting your exit points as a trade unfolds. Contains new examples and insights from the 2008-2009 market meltdown Includes an extensive study guide with 115 questions and answers and 17 chart studies Discusses the selling process from a variety of angles: technical, fundamental, and psychological Explains how to maximize winnings in a profitable trade and how to minimize losses when a trade doesn't go as planned Offers detailed guidance for traders of stocks, financial futures, commodities, and currencies Explains how to set profit targets and stop-loss orders prior to entering any trade Other bestselling titles by Elder: Trading for a Living, Come Into My Trading Room, and Entries and Exits Understanding where and when to sell is essential to successful trading. The New Sell and Sell Short, Second Edition is the definitive reference to this overlooked, but vitally important, aspect of trading.
Sklep: Libristo.pl 78,76 zł
Książki / Literatura obcojęzyczna
PRINCESS MONONOKE: HAYAO MIYAZAKI: POCKET MOVIE GUIDE This book focusses on Hayao Miyazaki's 1997 masterpiece Princess Mononoke. Princess Mononoke is a work of genius. It is a masterpiece. It is one of the most staggeringly incredible films you will ever see. By any standards you want to apply, the level of imagination and artistry and detail and insight and energy in this movie is simply astounding. As well as being a visionary piece, with the highest quality animation achievable, with fascinating characters, stupendous action, brilliant set-pieces, and with some deeply poetic episodes, Princess Mononoke is also a thematically rich movie. There are many levels to this wonderful picture. This new study of Hayao Miyazaki's Princess Monoke includes sections on Miyazaki's influences . his contemporaries and colleagues (including Akira Kurosawa) . his characters . his movies' relation to Western animation (including the Walt Disney Company) . and his themes and motifs. The book also explores Japanese animation, its production and style, some classics of anime, and digital animation. Born on January 5, 1941 in Tokyo, Hayao Miyazaki is known as the 'Japanese Disney', a filmmaker as revered - and as popular - as Walt Disney or Steven Spielberg. Miyazaki, in short, is a true phenomenon in contemporary animation and in world cinema. Miyazaki's movies include Princess Mononoke, Spirited Away, Howl's Moving Castle, Laputa: Castle In the Sky and My Neighbor Totoro. Hayao Miyazaki may be the most talented fantasy filmmaker of his generation: not even the finest filmmakers of Hollywood can rival his films when it comes to creating fantasy worlds, and fantastical characters and events. Miyazaki has millions of fans around the world, not least among fellow animators and filmmakers, for whom he is a genius. What Hayao Miyazaki's films do is to bring you completely into a fantasy world that is instantly recognizable and familiar. It's as if these fantasy realms have always existed - very much like J.R.R. Tolkien's Middle-earth or Ursula Le Guin's Earthsea (both influences on Miyazaki). Includes quotes by Miyazaki; reviews by fans; and resources. Fully illustrated. With filmography, bibliography and notes.208 pages. ISBN 9781861713711. www.crmoon.com AUTHOR'S NOTE: I hope this book offers readers some new insights into Princess Monoke and the movies of the incredible filmmaker Hayao Miyazaki, so they can go back and enjoy the movie all over again. The book also includes technical info on animation, a chapter on the animation industry in Japan, and comparisons between Miyazaki's films and those in the West, including Walt Disney's work.
Sklep: Libristo.pl 52,77 zł
Książki / Literatura obcojęzyczna
"Finally, a book that talks about money in a way that's accessible, useful and - crucially - interesting. Mrs Moneypenny walks us through the perils and pitfalls of personal finance and makes a persuasive case for the need for gender-specific advice for independent women everywhere". (Justine Roberts, CEO, Mumsnet). Get a money makeover from the legendary FT columnist, Mrs Moneypenny, author of Mrs Moneypenny's Careers Advice for Ambitious Women. Why do personal finances present such a hurdle for women? And what can we do about it? In her bestselling book Mrs Moneypenny's Careers Advice for Ambitious Women, Mrs Moneypenny stressed the importance of financial literacy and introduced the idea of a 'financial finish line' - or how much money you need in your lifetime. But how do you know what 'enough' looks like? And how do you get there? In this essential and punchy guide, the hilarious and wise Mrs Moneypenny shows you how to set your own financial finish line, and then how to go about reaching it. From increasing your income to cutting your bills cutting your grocery bills, from starting a business to saving a pension, she gives practical, easy ways to think about your money and take control of your life. Whether you're struggling to remember what interest rate you are paying on your mortgage, or are an entrepreneur trying to raise the finance for your business, this book will inspire you, inform you, and above all, empower you. "Clever, wise, funny and necessary. This book should be by every woman's bed". (Jeanette Winterson). "This is just the book I wish someone who cared about me and my indigent future had pressed into my clueless hands when I was in my twenties". (Rachel Johnson). For over 14 years Mrs Moneypenny has been entertaining readers of the Financial Times with her weekly column. She presented the Channel 4 series 'Superscrimpers', and the Mrs Moneypenny show has run at the Edinburgh Fringe, off Broadway and the Hay Festival. She is the author of Mrs Moneypenny's Careers Advice for Ambitious Women. Heather McGregor owns and runs Taylor Bennett, the executive search firm. She is a committed philanthropist in the area of employability and social mobility, having founded the Taylor Bennett Foundation in 2008, and is currently the chair of Career Academies Foundation.
Sklep: Libristo.pl 89,60 zł
Książki / Literatura obcojęzyczna
Increasingly, identity theft is a fact of life. We might once have hoped to protect ourselves from hackers with airtight passwords and aggressive spam folders, and those are good ideas as far as they go. But the truth is, there are people out there -- a lot of them -- who treat stealing your identity as a full-time job. One such company is a nameless firm located in Russia, which has a trove of over a billion internet passwords. Another set up a website full of live streams of hacked web cameras, showing everything from people's offices and lobbies to the feeds from baby monitors. Even purchases made in person are still logged by retailers like Target, who are famously vulnerable to hackers. Adam Levin, a longtime consumer advocate and identity fraud expert, is your guide to this brave new world. By telling memorable stories and extracting the relevant lessons, he offers a strategy for dealing with these risks. You may not be able to prevent identity theft, but you certainly shouldn't wait until it happens to take action. Levin's approach is defined by the three M's: minimizing risk, monitoring your identity, and managing the damage. The book is also organized around the different problems caused by identity theft: financial, criminal, medical, familial, etc., enabling readers to dip into the sections most relevant to them. Swiped is a practical, lively book that is essential to surviving the ever-changing world of online security. It is invaluable not only for preventing problems but helping cope when they arrive.
Sklep: Libristo.pl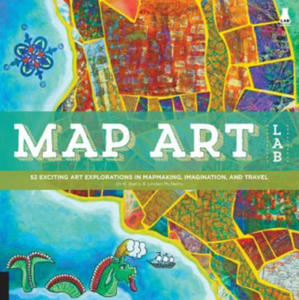 89,60 zł
Książki / Literatura obcojęzyczna
A refreshing source of ideas to help you explore all aspects of maps, this book encourages you to travel through the exciting world of cartography. It features 52 fun and creative map-related activities set into weekly artistic exercises. Travel through the exciting world of cartography with Map Lab. This fun and creative book features 52 map-related activities set into weekly exercises, beginning with legends and lines, moving through types and styles, and then creating personalized maps that allow you to journey to new worlds. Authors Jill K. Berry and Linden McNeilly guide readers through useful concepts while exploring colorful, eye-catching graphics. The labs can be used as singular projects or to build up to a year of hands-on creative experiences. Map Lab is the perfect book for map lovers, creative/DIY-inspired, designers. Artists of all ages and experience levels can use this book to explore enjoyable and engaging exercises. Everyone loves maps. And what's not to love? They are beautiful and fascinating, they teach you things, they show you where you are, places you long to go, and places you dare to imagine.
Sklep: Libristo.pl 72,86 zł
Książki / Literatura obcojęzyczna
World class marketing experts, Nirmalya Kumar and Jan-Benedict Steenkamp set out a cutting-edge plan for emerging market brands to achieve success in international markets. This best-selling, updated edition outlines eight strategies - including the Asian tortoise route, from B2B to B2C, brand acquisition and leveraging cultural resources - that will take brands from domestic dominance to worldwide triumph and dominance. For each strategic route, Kumar and Steenkamp examine the most effective implementation and identify the problems that companies will face and how these can be overcome. Full of international case studies including HTC, Tata Motors, Samsung, Lenovo, Pearl River Piano, Havaianas and Corona, the authors demonstrate that their strategies and underlying strategic brand-building principles are here to stay. Brand Breakout is not only a practical and enlightening guide for emerging market brands but crucial reading for Western companies who should not underestimate the challenge coming from these up-and-coming international businesses. It equips readers with the knowledge and techniques so that their brand can finally go global.
Sklep: Libristo.pl
Sklepy zlokalizowane w miastach: Warszawa, Kraków, Łódź, Wrocław, Poznań, Gdańsk, Szczecin, Bydgoszcz, Lublin, Katowice
Szukaj w sklepach lub całym serwisie
2. Szukaj na wszystkich stronach serwisu
t1=0.057, t2=0, t3=0, t4=0, t=0.057