krainaksiazek gog valancourt 20th century classics 20123632
- znaleziono 8 produktów w 2 sklepach 82,21 zł
Książki / Literatura obcojęzyczna
"Claude Houghton's novels are always interesting . . . Julian Grant Loses His Way is the best book of his that I have read . . . Houghton's talent is at its best." - Graham Greene, The Spectator "Fascinating, absorbing reading . . . an arresting book." - Kirkus Reviews "He is an extremely interesting novelist, and a genuinely original one." - J. B. Priestley Shortly after dawn, Julian Grant finds himself in London, unsure of who he is or where he's been, but sensing vaguely that he is on his way to an appointment. Taking refuge in a café to collect his thoughts over a cocktail, he is suddenly beset by a series of scenes and images from his past: his monastic childhood, the dismal years in a dreary office job, his unexpected inheritance of a fortune, his cruelty to the women who have loved him. As he struggles to understand his situation and figure out who he is and where he is going, he tries to discover the truth behind his strange experience. Is he going mad? Is he asleep and somehow trapped in a surreal dreamworld? Or could there be some other, more chilling explanation for his disorientation and the disturbing visions to which he is being subjected? This first-ever reprint of Houghton's classic novel features a reproduction of its original jacket art. Claude Houghton (1889-1961) won a cult following in the 1930s for his mystery and thriller novels featuring razor-sharp dialogue and unusual metaphysical themes, the best known of which is I Am Jonathan Scrivener (1930). Though praised by critics and widely admired by his fellow authors, including J. B. Priestley, Hugh Walpole, and Henry Miller, Houghton has fallen into neglect and deserves rediscovery as a key novelist of the interwar period in Great Britain. Several of Houghton's other novels are also available from Valancourt Books.
Sklep: Libristo.pl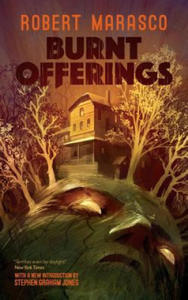 71,44 zł
Książki / Literatura obcojęzyczna
Sklep: Libristo.pl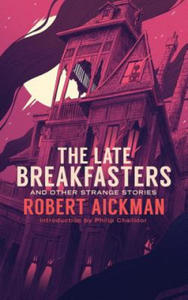 91,24 zł
Książki / Literatura obcojęzyczna
Sklep: Libristo.pl 73,02 zł
Książki / Literatura obcojęzyczna
Sklep: Libristo.pl 73,02 zł
Książki / Literatura obcojęzyczna
Sklep: Libristo.pl 73,02 zł
Książki / Literatura obcojęzyczna
The Cook opens with Conrad, nearly seven feet tall, gaunt, and dressed all in black, arriving on his bicycle in the town of Cobb. He quickly secures a job as cook for the wealthy Hill family, winning their hearts and stomachs with his delectable dishes, and before long he has everyone around him eating out of his hand. But Conrad has a sinister, inscrutable plan in view, and after becoming master of their palates, next may be their souls . . . A mouth-watering blend of delicious black humor and Kafkaesque horror story, The Cook (1965) is a dark fable "beginning in a vein of innocent fairy tale and ending with satanic revels" (The Observer). Long out of print, this cult classic returns in a new edition featuring Milton Glaser's iconic dust jacket art from the first edition. "I have much enjoyed The Cook, for I am very fond of Satan. My congratulations to Mr. Kressing on his achievement." - John Fowles "A finely wrought, captivating tale of suspense-a superior entertainment." - Detroit News "I haven't been so gripped by any first novel since Lord of the Flies." - Irving Wardle, The Observer "A fable, part diabolique, part diversion ... high originality, some style, and a come-on which assures that it will be read at one sitting." - Kirkus Reviews
Sklep: Libristo.pl 77,62 zł
Książki / Literatura obcojęzyczna
'An entertaining confidence game, which seduces, startles, and ... assuredly succeeds in engaging one's interest.' - Kirkus Reviews '[Wilson] continues to try to find out what is really important in life ... surely his intentions deserve all our respect. And by the way, Necessary Doubt is also quite a good thriller.' - Times Literary Supplement 'A grippingly readable suspense story.' - The Observer Several extremely rich men have died under suspicious circumstances, and Karl Zweig, a professor of philosophy, has reason to suspect they were murdered by his former student, Gustav Neumann, a brilliant young man who had once espoused the desire to become a master criminal. When he observes Neumann in the company of Sir Timothy Ferguson, a wealthy and sick old baronet, Zweig believes he may soon be Neumann's next victim. But as Zweig races to gather evidence against his old friend, he begins to be unsure whether any murders have been committed at all. Instead, Neumann may be involved in something even more disturbing and bizarre than anyone could ever imagine . . . First published in 1964, Necessary Doubt is a suspenseful and page-turning thriller that reflects Colin Wilson's lifelong interest in crime and murder and explores intriguing questions of existential philosophy. This edition is the first in more than thirty-five years and features a new introduction by Colin Stanley.
Sklep: Libristo.pl 91,51 zł
Książki
Sklep: KrainaKsiazek.pl
Sklepy zlokalizowane w miastach: Warszawa, Kraków, Łódź, Wrocław, Poznań, Gdańsk, Szczecin, Bydgoszcz, Lublin, Katowice
Szukaj w sklepach lub całym serwisie
2. Szukaj na wszystkich stronach serwisu
t1=0.053, t2=0, t3=0, t4=0.026, t=0.053