krainaksiazek good retirement guide 20108643
- znaleziono 12 produktów w 3 sklepach 58,70 zł
Książki
Sklep: KrainaKsiazek.pl 94,99 zł
Książki Obcojęzyczne>Angielskie>Health & personal development>Self-help & personal development>Retirement
0x003d8a4800000000
Sklep: Gigant.pl 114,99 zł
Książki Obcojęzyczne>Angielskie>Health & personal development>Self-help & personal development>Retirement
Essential Reading For All Those Looking Forward To Making The Most Of Their Retirement, The Good Retirement Guide Includes Information On Pensions, Tax, Investments, Housing, Health, Holidays, Leisure Activities And Wills.
Sklep: Gigant.pl 106,42 zł 24,99 zł
Książki Obcojęzyczne>Angielskie>Health & personal development>Self-help & personal development>Retirement
0x00d3bd1d00000000
Sklep: Gigant.pl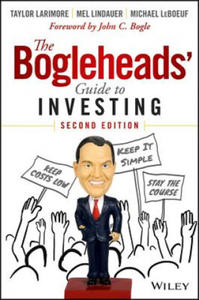 108,61 zł
Książki / Literatura obcojęzyczna
The irreverent guide to investing against common sense, Boglehead style The Boglehead's Guide to Investing is a DIY handbook that espouses the sage investment wisdom of John C. Bogle. This witty and wonderful book offers contrarian advice that provides the first step on the road to investment success, illustrating how relying on typical "common sense" is destined to leave you poorer. This updated edition includes new information on backdoor Roth IRAs and ETFs as mainstream buy and hold investments, estate taxes and gifting, plus changes to the laws regarding Traditional and Roth IRAs, and 401k and 403b retirement plans. With warnings and principles both precisely accurate and grandly counterintuitive, the Boglehead authors show how beating the market is a zero-sum game. Investing can be simple, but it's certainly not simplistic. Over the course of twenty years, the followers of John C. Bogle have evolved from a loose association of investors to a major force with the largest and most active non-commercial financial forum on the Internet. The Boglehead's Guide to Investing brings that communication to you with comprehensive guidance to the investment prowess on display at Bogleheads.org. You'll learn how to craft your own investment strategy using the Bogle-proven methods that have worked for thousands of investors, and how to: Choose a sound financial lifestyle and diversify your portfolio Start early, invest regularly, and know what you're buying Preserve your buying power, keeping costs and taxes low Throw out the "good" advice that leads to investment failure Financial markets are essentially closed systems in which one's gain garners another's loss. Investors looking for a roadmap to successfully navigating these choppy waters long-term will find expert guidance, sound advice, and a little irreverent humor in The Boglehead's Guide to Investing .
Sklep: Libristo.pl 92,82 zł
Książki / Literatura obcojęzyczna
" I would sleep better if I knew that Bernanke, Geithner, Bachus, Sen. Tim Johnson, Obama and Romney all kept dog-eared copies of Kevin Mellyn's Broken Markets on their nightstands. . . . Mellyn's work is a fascinating, important, and eminently good read and should inform the debate on overhauling the U.S. and global financial regulatory systems and sustainable macro fiscal and monetary policy. "§§--Eric Grover, in his review of Broken Markets in The American Banker§§Broken Markets allows the intelligent non-specialist to understand and navigate the ongoing worldwide aftermath of the 2008 financial market meltdown. The key theme of the book is how the leading financial institutions and the political leadership of the U.S. and European Union have failed us and set the stage for continued market turmoil. It explains what this means for investors, borrowers, society in general, and the financial-services industry. Former banker Kevin Mellyn focuses on providing readers with clear and simple explanations of the forces at work and the potential consequences for their future prosperity.§§As this book makes clear, what's coming is a world in which high structural unemployment and flat or declining real income is likely not to mention a diminished retirement financial safety net. The book therefore provides actionable information for protecting wealth and making prudent investment decisions in an economy that is nothing like the one that has sustained us for decades.§§As a forward-looking narrative about rapidly changing events and volatile markets and politics, Broken Markets will provide no single prediction about the future but rather describe alternative scenarios and provide the reader with signposts to watch out for in deciding which reality is actually unfolding. Unlike most books written by journalists on global finance, the scenarios and signposts described will be largely based on the lessons of financial and political history rather than breaking news. This book:§§Tells you in plain language how today's financial system threatens your livelihood and wealth §Tells you why and how governments worldwide, with some notable exceptions, are taking actions likely to make things worse instead of better §Explains how the leading financial institutions lost their way during the bubble years and how they can find the path back to prosperity and value to society §Tells you what life will be like in a "post-finance" economy and how you can protect your wealth
Sklep: Libristo.pl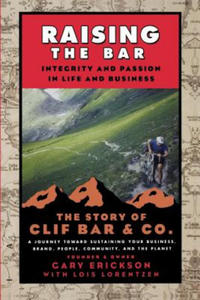 145,09 zł
Książki / Literatura obcojęzyczna
In April of 2000, Gary Erickson turned down a $120 million offer to buy his thriving company. Today, instead of taking it easy for the rest of his life and enjoying a luxurious retirement, he's working harder than ever. Why would any sane person pass up the financial opportunity of a lifetime? Raising the Bar tells the amazing story of Clif Bar's Gary Erickson and shows that some things are more important than money. Gary Erickson and coauthor Lois Lorentzen tell the unusual and inspiring story about following your passion, the freedom to create, sustaining a business over the long haul, and living responsibly in your community and on the earth. Raising the Bar chronicles Clif Bar's ascent from a homemade energy bar to a $100 million phenomenon with an estimated 35 million consumers, and a company hailed by Inc. magazine as one of the fastest-growing private companies in the U.S. four years in a row. The book is filled with compelling personal stories from Erickson's life-trekking in the Himalayan mountains, riding his bicycle over roadless European mountain passes, climbing in the Sierra Nevada range--as inspiration for his philosophy of business. Throughout the book, Erickson--a competitive cyclist, jazz musician, world traveler, mountain climber, wilderness guide, and entrepreneur--convinces us that sustaining one's employees, community, and environment is good business. If you are a manager, executive, business owner, or board member, Raising the Bar is your personal guide to corporate integrity. If you are a sports enthusiast, environmentalist, adventure lover, intrigued by a unique corporate culture, or just interested in a good story, Raising the Bar is for you.
Sklep: Libristo.pl 60,09 zł
Książki / Literatura obcojęzyczna
Do you love the feel of a good lotion but find yourself unhappy with the cost, or wary of the chemical ingredients? Do you ever wonder if you could make it for yourself at home? Are you afraid to try because the lotion might not turn out well, or might even be unsafe? Anne L. Watson's "Smart Soapmaking" was the first book based on modern techniques that eliminate the drudgery and guesswork from home soapmaking. Now, by popular demand, she continues her handcraft cosmetics revolution with the first practical, comprehensive book on making lotion. Whether you want to make lotion for personal use or to sell, Anne allays any fears with methods that are proven safe and approved by experts, yet simple and easy enough to perform in your kitchen. You'll soon be making lotion that's better than any you've been buying, and at a fraction of the cost. ///////////////////////////////////////////////// Anne L. Watson is the author of the wildly popular and widely acclaimed beginners book "Smart Soapmaking." She has made soap professionally under the company name Soap Tree, and before her retirement was a historic preservation architecture consultant. Anne's other published books include "Milk Soapmaking," "Baking with Cookie Molds," and several novels. Anne, her husband, Aaron, and their cat, Skeeter, live in Friday Harbor, Washington. ///////////////////////////////////////////////// "The definitive guide to lotionmaking." -- Donna Puizina, Ekoaromas, Lafayette, New Jersey "Spells out everything and makes it easy to understand." -- Cheryl McCoy, Emerald City Soap, Haven, Kansas "Anne makes it so much fun, and so easy." -- Mary Jean Hammann, Grandma Jean's Soaps and Lotions, New London, Ohio "So logical and easy to understand that my first batch was a success AND a sell-out!" -- Susan Dinion, Holiday Farm & Handmade Goods, Berlin, Massachusetts ///////////////////////////////////////////////// CONTENTS A Few First Thoughts Lies and Lotions (Myths About Lotion and Lotionmaking) Lotion Lingo (Learning the Jargon) What Is Lotion, Anyway? (What It Is and What Goes Into It) The Two Ways to Sanitize Lotion (And How to Choose Between Them) What Do I Put It In? (Choosing Your Bottles) What Do I Use to Make It? (Gathering the Equipment You Need) Step-by-Step Lotionmaking (From Prep to Cleanup and Beyond) Testing Your Lotion (Making Sure It's Safe) More Recipes! (Different Lotions You Can Try) Milk Lotion Recipes (Treating Your Skin to Milk) Designing Your Own (How to Create Great Recipes) Troubleshooting (Tricks, T
Sklep: Libristo.pl 77,19 zł
Książki / Literatura obcojęzyczna
You no longer need a traditional employer plan to get good, affordable health insurance. The New Health Insurance Solution can help you cut your health insurance costs in half if: * You're self-employed, an independent contractor, or your employer doesn't provide health insurance (you can probably get coverage on your own for about $94/month-a fraction of what an employer would have to pay for the same coverage)* You are employed and pay extra to cover your spouse or children under your employer-sponsored plan-you may save 50% by taking them off your employer plan* You own a small business and are getting killed by double-digit premium increases-you can now give employees tax-free money to buy their own plans and get your company out of the health insurance business The book also explains in detail the best solutions for you if:* You can't find affordable health insurance because you or a child have an expensive preexisting medical problem (your state has a program to provide you with guaranteed coverage )* You're currently putting money into an IRA or a 401(k)-because you don't realize that an HSA is always a better option* You're unsure how you or your parents will be able to afford health insurance during retirement, or how to maximize benefits from Medicare-including the new Part D prescription drug plan The New Health Insurance Solution is the definitive guide to the new ways every American can now get affordable health care-without an employer. PAUL ZANE PILZER is a world-renowned economist, a former advisor in two White House administrations, an entrepreneur/employer, an award-winning adjunct professor at NYU, and a New York Times bestselling author.
Sklep: Libristo.pl 74,26 zł
Książki / Literatura obcojęzyczna
Women's lives often "spin out of control" in midlife due to divorce, career transitions, grief, relationship changes, overeating, empty nest, job loss, retirement, relocation, caregiving, menopause, and other health challenges. Take Back Your Life: A No Nonsense Approach to Health, Fitness & Looking Good Naked! offers women, aged 40-55, who want to look and feel better about their bodies, a 90-day guide to regaining control of their bodies and their outlook. Wendy Ida guides women from hopelessness to getting the body they want with her 3-pronged approach to fitness, nutrition, and outlook.
Sklep: Libristo.pl 48,04 zł
Książki / Literatura obcojęzyczna
Mr. Siluk has retired with some forty-four years of experience in the field of Chemical Dependency, half being in usage. He was a licensed Counselor in good standing with the State of Minnesota up to October 31, 2003, upon his retirement. He has also held international certifications, working in hospitals and clinics in dual disorders. In his three books, the author has used his experience and degrees in the behavioral science field, along with his counseling skills in producing all common sense books on understanding alcoholism and addiction. The 1st book, "A Path to Sobriety," is an ultimate guide to substance abuse. His 2nd book, "A Path to Relapse Prevention," is a powerhouse for preventing relapse and curing the disease. Now with his 3rd and final book, "Aftercare: Chemical Dependency Recovery: " says the author: "Aftercare," is an element of primary prevention and relapse prevention, which deals with a triangle of the continuing care cycle, often times neglected."
Sklep: Libristo.pl
Sklepy zlokalizowane w miastach: Warszawa, Kraków, Łódź, Wrocław, Poznań, Gdańsk, Szczecin, Bydgoszcz, Lublin, Katowice
Szukaj w sklepach lub całym serwisie
2. Szukaj na wszystkich stronach serwisu
t1=0.038, t2=0, t3=0, t4=0.018, t=0.038