krainaksiazek greek papyri an introduction 20106724
- znaleziono 9 produktów w 2 sklepach 140,78 zł
Greek Papyri Princeton University Press
Książki / Literatura obcojęzyczna
The description for this book, Greek Papyri: An Introduction, will be forthcoming.
Sklep: Libristo.pl 271,18 zł
Książki / Literatura obcojęzyczna
An ideal reader for courses in Greek history, Greek civilization, and Western civilization, this comprehensive collection of more than 180 historical source documents covers major aspects of Greek civilization from the Archaic Age through the end of the Hellenistic Period. Featuring a diverse and extensive array of selections from the works of major authors, Readings in Greek History: Sources and Interpretations, Second Edition, offers balanced coverage of political, social, cultural, intellectual, economic, and technological developments in Greek life. It provides selections drawn from historical, philosophical, and oratorical Greek literary texts and from documentary sources, including inscriptions and papyri. The book is organized chronologically but also addresses various themes throughout, including religion, war, and gender relations. It is enhanced by substantial introductions to each chapter and selection and more than thirty photographs, images, and maps. NEW TO THIS EDITION: * New readings on the Bronze Age, religion in the Archaic and Classical periods, Athenian democracy, and Roman relations with the Greeks * An improved design featuring expanded headnotes and source documentation * A revised illustration program and new maps * A new Introduction and a new Timeline
Sklep: Libristo.pl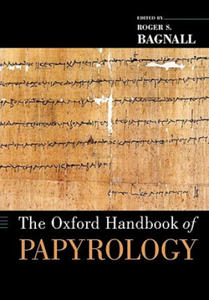 238,05 zł
Książki / Literatura obcojęzyczna
Thousands of texts, written over a period of three thousand years on papyri and potsherds, in Egyptian, Greek, Latin, Aramaic, Hebrew, Persian, and other languages, have transformed our knowledge of many aspects of life in the ancient Mediterranean and Near Eastern worlds. The Oxford Handbook of Papyrology provides an introduction to the world of these ancient documents and literary texts, ranging from the raw materials of writing to the languages used, from the history of papyrology to its future, and from practical help in reading papyri to frank opinions about the nature of the work of papyrologists. This volume, the first major reference work on papyrology written in English, takes account of the important changes experienced by the discipline within especially the last thirty years. Including new work by twenty-seven international experts and more than one hundred illustrations, The Oxford Handbook of Papyrology will serve as an invaluable guide to the subject.
Sklep: Libristo.pl 141,11 zł
Książki / Literatura obcojęzyczna
A History of Greece: 1300 - 30 BC , offers a comprehensive introduction to the foundational political history of Greece, from the late Mycenaean Age through to the death of Cleopatra VII, the last Hellenistic monarch of Egypt. Introduces textual and archaeological evidence used by historians to reconstruct historical events during Greece's Bronze, Archaic, Classical, and Hellenistic periods Reveals the political and social structure of the Greek world in the late Mycenaean period (thirteenth century BC) through analysis of the Linear B tablets, the oldest surviving records in Greek Features numerous references to original source materials, including various fragmentary papyri, inscriptions, coins, and other literary sources Provides extensive coverage of the Hellenistic period, and covers areas excluded from most Greek history texts, including the Greek West Features judicious use of illustrations throughout, and considers instructors' teaching needs by structuring the later sections to facilitate teaching a parallel course in Roman History Balances scholarship with a reader-friendly approach to create an accessible introduction to the political history of one of most remarkable ancient civilizations and sophisticated periods of world history
Sklep: Libristo.pl 194,99 zł
Książki Obcojęzyczne>Angielskie>Humanities>Archaeology>Period / region>Egyptian archaeology / Egyptology
This Volume Publishes 27 Greek Papyri Concerned With The Transport Of Grain From Oxyrhynchus To Alexandria And Pelusium. Each Text Is Presented With Introduction, Greek Text, English Translation And Explanatory Notes. In The General Introduction, The Authors Discuss The Process Of Grain Transport In Fourth Century C. E.
Sklep: Gigant.pl 156,78 zł
Książki / Literatura obcojęzyczna
This volume publishes 27 Greek papyri concerned with the transport of grain from Oxyrhynchus to Alexandria and Pelusium. Each text is presented with introduction, Greek text, English translation and explanatory notes. In the general introduction, the authors discuss the process of grain transport in fourth century C.E. Egypt as illustrated by the texts published here and by others, previously published, from Oxyrhynchus.
Sklep: Libristo.pl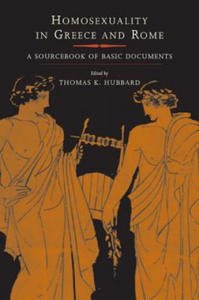 187,93 zł
Książki / Literatura obcojęzyczna
The most important primary texts on homosexuality in ancient Greece and Rome are translated into modern, explicit English and collected together for the first time in this comprehensive sourcebook. Covering an extensive period - from the earliest Greek texts in the late seventh century b.c.e. to Greco-Roman texts of the third and fourth centuries c.e. - the volume includes well-known writings by Plato, Sappho, Aeschines, Catullus, and Juvenal, as well as less well known but highly relevant and intriguing texts such as graffiti, comic fragments, magical papyri, medical treatises, and selected artistic evidence. These fluently translated texts, together with Thomas K. Hubbard's valuable introductions, clearly show that there was in fact no more consensus about homosexuality in ancient Greece and Rome than there is today. The material is organized by period and by genre, allowing readers to consider chronological developments in both Greece and Rome. Individual texts each are presented with a short introduction contextualizing them by date and, where necessary, discussing their place within a larger work. Chapter introductions discuss questions of genre and the ideological significance of the texts, while Hubbard's general introduction to the volume addresses issues such as sexual orientation in antiquity, moral judgments, class and ideology, and lesbianism. With its broad, unexpurgated, and thoroughly informed presentation, this unique anthology gives an essential perspective on homosexuality in classical antiquity.
Sklep: Libristo.pl 832,84 zł
Książki / Literatura obcojęzyczna
The study of ancient law has blossomed in recent years. In English alone there have been dozens of studies devoted to classical Greek and Roman law, to the Roman legal codes, and to the legal traditions of the ancient Near East among many other topics. Legal documents written on papyrus began to be published in some abundance by the end of the nineteenth century; but even after substantial publication history, legal papyri have not received due attention from legal historians. This book blends the two usually distinct juristic scholarly traditions, classical and Egyptological, into a coherent presentation of the legal documents from Egypt from the Ptolemaic to the late Byzantine periods, all translated and accompanied by expert commentary. The volume will serve as an introduction to the rich legal sources from Egypt in the later phases of its ancient history as well as a tool to compare legal documents from other cultures.
Sklep: Libristo.pl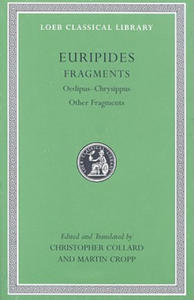 88,53 zł
Euripides HARVARD UNIVERSITY PRESS
Książki / Literatura obcojęzyczna
Eighteen of the ninety or so plays composed by Euripides between 455 and 406 BCE survive in a complete form and are included in the first six volumes of the "Loeb Euripides". A further fifty-two tragedies and eleven satyr plays, including a few of disputed authorship, are known from ancient quotations and references and from numerous papyri discovered since 1880. No more than one-fifth of any play is represented, but many can be reconstructed with some accuracy in outline, and many of the fragments are striking in themselves. The extant plays and the fragments together make Euripides by far the best known of the classic Greek tragedians.This edition of the fragments, concluded in this second volume, offers the first complete English translation together with a selection of testimonia bearing on the content of the plays. The texts are based on the recent comprehensive edition of R. Kannicht. A general introduction discusses the evidence for the lost plays. Each play is prefaced by a select bibliography and an introductory discussion of its mythical background, plot, and location of the fragments, general character, chronology, and impact on subsequent literary and artistic traditions.
Sklep: Libristo.pl
Sklepy zlokalizowane w miastach: Warszawa, Kraków, Łódź, Wrocław, Poznań, Gdańsk, Szczecin, Bydgoszcz, Lublin, Katowice
Szukaj w sklepach lub całym serwisie
2. Szukaj na wszystkich stronach serwisu
t1=0.051, t2=0, t3=0, t4=0, t=0.051