krainaksiazek guided by your light 20122205
- znaleziono 14 produktów w 3 sklepach 75,24 zł
Książki
Sklep: KrainaKsiazek.pl 48,10 zł
Książki / Literatura obcojęzyczna
Lets you experience deep inner peace and calm. This meditation CD and MP3 download guides you into a relaxed state of mind and body using visual imagery and sound effects, and includes a 'healing white light' visualisation which is suitable for self-healing and raising your energy.
Sklep: Libristo.pl 49,32 zł
Książki / Literatura obcojęzyczna
An introduction to the art and practice of meditation, this guide lays down the foundation for ongoing spiritual development. A series of ten lessons provide specific insight into Raja Yoga, with practical exercises to complement and to help your understanding of the method and underlying teachings. The lessons cover: an introduction to the practice of meditation; rediscovering the true identity and the nature of self; making meditation practical; the shaping of personality; understanding and exploring different the levels of consciousness; restoring our relationship with God; understanding the natural law that governs the universe; a spiritual understanding of how the dance of life on earth has evolved; understanding the history and geography of time; and how to support meditation and spiritual development with the right lifestyle. The guide shows how meditation is more an experience than something you do, more a process than an achievement, more an ongoing inner journey than a destination. Take your time, be patient with yourself and always be ready to go back to basics, to lesson one, the true identity of the self, which is the foundation of everything. The CD accompanying the book has an audio introduction to meditation and many of the meditations within the book are presented as guided commentaries. Recorded by the author, the commentaries provide the reader with a powerful aid to their meditational practice. Readers can also access assistance and have their questions answered by email.
Sklep: Libristo.pl 84,99 zł
Książki Obcojęzyczne>Angielskie>Health & personal development>Mind, Body, Spirit>Thought & practice
This Relaxation CD Offers Two Guided Mediations. Stay In The White Light Is A Progressive Relaxation Through Your Body While Dream Aims To Guide You To An Experience Of Being A Single Point Of Consciousness.
Sklep: Gigant.pl 65,25 zł
Książki / Literatura obcojęzyczna
This relaxation CD offers two guided mediations. "Stay in the White Light" is a progressive relaxation through your body while "Dream" aims to guide you to an experience of being a single point of consciousness.
Sklep: Libristo.pl 53,26 zł
Książki / Literatura obcojęzyczna
Why are prominent doctors, quantum physicists and researchers all over the world interested in the seemingly chance encounter that Dr Eric Pearl had with one of his patients? What was it about that encounter that would not only radically accelerate the trajectory of his life, but ultimately affect the lives of millions...and will most likely profoundly affect your life as well? What is this phenomenon? In his international bestseller, The Reconnection: Heal Others, Heal Yourself, Dr Pearl taught readers how to access and tap into a comprehensive spectrum of energy, light and information previously inaccessible to anyone, anywhere. In doing so, he allowed us to entirely transcend complex healing 'techniques' and bring about dramatic, often instantaneous, lifelong healings and life transformations! You might have to reconsider everything you've read up until now about healing, consciousness and our four-dimensional existence here on Earth. As guided by the spirit of Solomon, a multidimensional intelligence that speaks through Frederick Ponzlov, experience first hand the insights imparted during the evolution of this unique transmodality known today as Reconnective Healing. Now you can discover these insights and apply them to your life - insights that have revolutionised the healing world and given us the key to access the immense power that we each have within our lives. Solomon speaks...
Sklep: Libristo.pl 973,19 zł
Książki / Literatura obcojęzyczna
Expand your understanding of the physics and practical clinical applications of advanced radiation therapy technologies with Khan's The Physics of Radiation Therapy, 5th edition, the book that set the standard in the field. This classic full-color text helps the entire radiation therapy team-radiation oncologists, medical physicists, dosimetrists, and radiation therapists-develop a thorough understanding of 3D conformal radiotherapy (3D-CRT), stereotactic radiosurgery (SRS), high dose-rate remote afterloaders (HDR), intensity modulated radiation therapy (IMRT), image-guided radiation therapy (IGRT), Volumetric Modulated Arc Therapy (VMAT), and proton beam therapy, as well as the physical concepts underlying treatment planning, treatment delivery, and dosimetry. In preparing this new Fifth Edition, Dr. Kahn and new co-author Dr. John Gibbons made chapter-by-chapter revisions in the light of the latest developments in the field, adding new discussions, a new chapter, and new color illustrations throughout. Now even more precise and relevant, this edition is ideal as a reference book for practitioners, a textbook for students, and a constant companion for those preparing for their board exams. Features: stay on top of the latest advances in the field with new sections and/or discussions of Image Guided Radiation Therapy (IGRT), Volumetric Modulated Arc Therapy (VMAT), and the Failure Mode Event Analysis (FMEA) approach to quality assurance; deepen your knowledge of Stereotactic Body Radiotherapy (SBRT) through a completely new chapter that covers SBRT in greater detail; expand your visual understanding with new full color illustrations that reflect current practice and depict new procedures; and access the authoritative information you need fast through the new companion website which features fully searchable text and an image bank for greater convenience in studying and teaching.
Sklep: Libristo.pl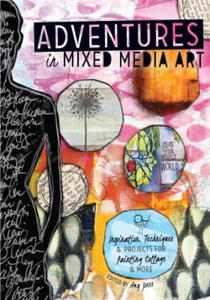 69,35 zł
Książki / Literatura obcojęzyczna
Your artful adventure begins here! Are you inspired by mixed-media art but don't know how to begin to create your own? Adventures in Mixed Media Art is the ultimate guidebook for beginning your mixed-media adventure! Starting with a few motivational readings, not only will you harness the creative energy you already have, you'll also learn how to keep that energy flowing for years to come as you figure out what sparks your fire. Then it's time to jump right in by creating an art journal using guided mixed-media techniques. This journal will be the ideal place to practice your hand lettering, and basic painting and collage techniques. When you're ready, you'll move outside the journal to create canvas paintings, collages and assemblage pieces. Along the way you'll discover techniques for repurposing the pieces that don't turn out exactly as planned. After you create and refine your signature style, you'll find collaborative projects that will help you encourage others to Create Mixed Media! 20 mixed-media projects from your favorite books by artists such as Dina Wakley, Mary Beth Shaw, The Journal Fodder Junkies and more Learn techniques such as hand lettering, embossing, mark making, mixed-media portrait painting and more Upcycle your less-than-stellar pieces into pieces you'll be proud to display!
Sklep: Libristo.pl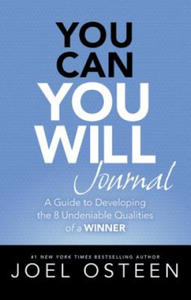 82,16 zł
Książki / Literatura obcojęzyczna
In YOU CAN, YOU WILL JOURNAL, Joel Osteen goes beyond the eight irrefutable traits and attributes of highly successful people by offering practical tools and guided help for readers. These personal qualities are tested through the ages and all types of circumstances. These practical principles guide the lives of champions: Create bold visions - Dare to dream big dreams.Run your own race - Focus on your unique course and goals.Think positively - Control your thoughts and attitudes.Expect Good things to happen-Anticipate great opportunities.Stay Passionate - Light the fire within and approach life with enthusiasm.Commit to excellence - Do your best and maintain high standards.Keep growing - Deal with your weaknesses and continually improve.Serve Others - Invest yourself in others. In using this journal, you will find yourself challenged daily by insightful reflection questions, motivated by a specific call to action, and inspired by a relevant Scripture verse-all of this with space in which to record thoughts and revelations.
Sklep: Libristo.pl 78,76 zł
Książki / Literatura obcojęzyczna
Transform your sketchbook to art! The artist's journal is a great place to start a library of personal marks, doodles and ideas. The reader is introduced to basics such as choosing a journal and then immediately guided into techniques such as color mixing, drawing and a variety of surface designs. The reader is encouraged to experiment and play in the journal to try out new directions for creating works of art. The art journal becomes the starting point for bigger projects. In addition to step-by-step techniques for working in a variety of media, each chapter features one or more jumping-off points to show the reader how to move out of the journal and onto an actual project. In the final chapter, Melanie steps out three journal spreads to show how many techniques learned previously are layered and worked together. By using the art journal in this way, the reader learns confidence in developing their ideas into tangible works of art.
Sklep: Libristo.pl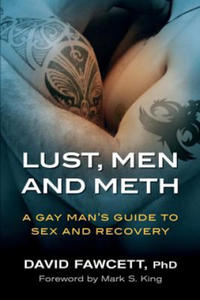 101,71 zł
Lust, Men, and Meth S FL Center for Counseling and Therapy, Inc.
Książki / Literatura obcojęzyczna
Lust, Men, and Meth: A Gay Man's Guide to Sex and Recovery provides insight for gay men struggling with the issues of sex and recovery, and for the professionals who work with them. The reader is equipped not only with essential information on the problems of drugs and sexuality, but also with solutions in the form of tools and resources that will support him along his path. The book is unique in its blend of therapeutic perspectives of addiction and sex therapy, from which Dr. Fawcett has integrated the most useful concepts and tools. Additionally, detailed case studies will assist clinicians who, in Dr. Fawcett's many trainings for professionals, have asked for material on substance use, identity, and sexuality in gay-identified men. These insights and tools will be helpful not only in the early stages of sobriety, but for an individual's continuing personal evolution of recovery as well. The book is divided into three parts to help guide the reader through this multifaceted topic. The first part, "The Perfect Storm," examines how, through the release of dopamine and other neurotransmitters, methamphetamine has phenomenal power to change one's mood and entice the user to ingest ever-increasing amounts of the drug. The role of excitement, risk, and even boredom are explored, along with the vulnerabilities of some gay men who find themselves feeling unattractive, left out, or disconnected and utilize meth to soothe these feelings. Finally, this part of the book explores the unfortunate intersection of meth, the gay community, and the rise of dangerous health concerns such as HIV/AIDS. The second part, "Exploring the Sexual Universe," provides a sex therapist's perspective on sexual desire and how eroticism develops in the brain, an elaborate world of sexual templates, scripts, and themes that methamphetamine penetrates and distorts. This section also highlights exciting discoveries of neurobiology and the direct impact of the brain's plasticity on the profound problem of the fusion of meth and sex. Dopamine is the central player in the drama of both the feelings produced by drug use and the consequent hijacking of sexual desire. New discoveries about the brain's ability to change and adapt in response to compulsive behaviors shed light both on the harmful consequences of drug use and clues about recovery. The final part, "Restoring Your Life," explores the process of recovery from this drug in detail, with chapters on specific skills derived from thousands of hours working with clients, managing of feelings, and rethinking perspectives on sex. The reader will find that, with increased distance from the drug, such powerful emotions as vulnerability, anxiety, or shame, which once were buried by meth use, now provide direction to promote emotional transformations that ultimately enrich both the sexual and emotional life. Finally, the reader is guided in rebuilding relationships with himself, his loved ones, and the community as he continues in recovery. Gay men and their helping professionals will find the information in these pages illuminating and motivating as they create lives of recovery from addiction as well as fulfilling and joyous sexual expression.
Sklep: Libristo.pl 90,58 zł
Książki / Literatura obcojęzyczna
This new title in best-selling "Songwriting" series offers a wealth of fresh ideas on all aspects of lyric writing, and includes a Handy Rhyming Dictionary. It is suitable for novices as well as professionals The lyric of a song is the dimension where the emotion of the music finds a specific focus and expression. Lyrics inscribe the meanings of a song. The best lyrics find an echo in the lives of millions. Some have even defined a generation, its rites of passage, and its perspective on the world. Yet of all the songwriting arts the lyricist's is probably the least-appreciated and the least-discussed. The latest in Backbeat's best-selling songwriting series, "Lyrics" will shed light on all aspects of lyric writing. If you write songs but never like your lyrics, if you find it hard to write lyrics, or if you would like to write lyrics so you can offer them to someone else to set to music in a partnership, this book will tell you all you need to know. Section by section you are taken on a guided tour of the art of lyric-writing, taking in all aspects of putting together words, from themes to point-of-view, from rhymes to hooks and titles. There are literally hundreds of references to famous songs from the 1950s onwards and up to the present day and discussions of a small number of classic lyrics, as well as a handy rhyming dictionary. "Lyrics" is a book which will make the reader feel more confident and more creative in the matter of writing song lyrics. Topics covered in "Lyrics" include: how to explore imagery and metaphor and avoid cliches; how and where to get ideas and overcome writer's block; and, how to set words to music. This is the latest title in Rikky Rooksby's series of books for songwriters, following on from the best-selling "How To Write Songs On Guitar", "Riffs", "The Songwriting Sourcebook", "Chord Master", and "How to Write Melody".
Sklep: Libristo.pl 147,92 zł
Książki / Literatura obcojęzyczna
Great Lakes Conflagration' is the second in two volumes covering military operations in the Democratic Republic of Congo (DRC) at the turn from the 21st century. This volume explores developments in the DRC that led to the outbreak of violence in August 1998, and systematically details the continued build-up and status of the Congolese, Rwandan and Ugandan armies, as well as the forces of Angola, Namibia, Zimbabwe and other African countries that were sucked into the conflict. Recounted is the Rwandan attempt to topple the government of Laurent Kabila through an operation that saw a redeployment of some of best Rwandan units from Kigali and Goma to the western DRC, resulting in a series of fierce air-land clashes with Zimbabwean and Angolan forces and culminating in the Battle of Kinshasa. Also described is the fighting along what became the 'Eastern Front' in the DRC, as Zimbabwean and allied troops attempted to stop Rwandan, Ugandan and rebel advances out of Kivu Province in the direction of the Congo River through 1998 and 1999. These early phases of the war, or 'The First African War' as it has come to be known, were characterized by surprising outflanking and infiltration maneuvers; foreign mercenaries; Zimbabwean Hawk and Lynx light strikers flying intensive combat operations from N'Djili airport, half of which was occupied by Rwandans, Ugandans and Congolese rebels; interdiction strikes guided by special forces deployed deep behind enemy lines; operations of helicopter gunships and transport aircraft under intense ground attack in support of troops cut off by advancing opponents; use of transport aircraft as makeshift bombers in bad weather and by night and clashes of armored forces and many other elements of 'high-technology' warfare. All the protagonists deployed their best military units, their best equipment and some of their best military commanders, yet despite their best efforts, and hampered by in-fighting, the conflict ultimately resulted in a stalemate which dragged on for a further three years while negotiations bogged down. This book is illustrated with an extensive selection of exclusive photography, color profiles and markings, making it of special interest to enthusiasts and professionals alike. REVIEWS Cooper capably tells the tragic tale. Photos, maps, tables and annotations augment text. The author's excellent color plates of participating aircraft and vehicles will really rouse your modeling muse. And a concise "conclusion," acronym glossary and selected bibliography complete contents. Few have so illumined Third World conflicts as Tom Cooper. His incandescent insights perfectly complement Helion's splendid "Africa@War" series. And I thoroughly enjoyed this absorbing account. Read it with Cooper's companion title, Great Lakes Holocaust: First Congo War, 1996 1997 the 13th "Africa@War" installment.Cybermodeler"This is a must for historians and for model builders who seek alternative subjects for future projects." Model Art Australia"
Sklep: Libristo.pl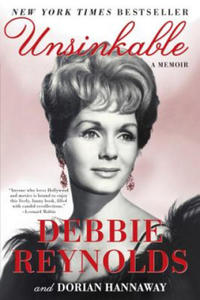 45,07 zł
Książki / Literatura obcojęzyczna
In the closing pages of her 1988 autobiography Debbie: My Life, Debbie Reynolds wrote about finding her brave, loyal, and loving new husband. After two broken marriages, this third, she believed, was her lucky charm. But within a few years, Debbie discovered that he had betrayed her emotionally and financially, nearly destroying her life. Today, she says, When I read the optimistic ending of my last memoir now, I can't believe how naive I was when I wrote it. In Unsinkable, I look back at the many years since then, and share my memories of a film career that took me from the Miss Burbank Contest of 1948 to the work I did in 2012...To paraphrase Bette Davis: Fasten your seatbelts, I've had a bumpy ride. Unsinkable shines a spotlight on the resilient woman whose talent and passion for her work have endured for more than six decades. In her engaging, down-to-earth voice, Debbie shares private details about her man and money troubles, including building and losing both her Las Vegas dream hotel and her treasured Hollywood memorabilia collection. Yet no matter how difficult the problems, the show always goes on. Debbie also invites us into the close circle of her family life, speaking with deep affection and honesty about her relationships with her children, Carrie and Todd Fisher. She looks back at her life as an actress during Hollywood's Golden Age- the most magical time you could imagine, including her lifelong friendship with (and years-long estrangement from) the legendary Elizabeth Taylor. Here, too, are stories that never reached the tabloids about numerous celebrities such as Ava Gardner, Clark Gable, Frank Sinatra, Mick Jagger, Gene Kelly, and many more. She takes us on a guided tour through her movies with delightful, often hilarious behind-the-scenes anecdotes about every film in which she was involved, from 1948 to the present. Frank and forthright, and featuring dozens of previously unseen photos from her personal collection, Unsinkable is a poignant reminder that there is light in the darkest times. It is a revealing portrait of a woman whose determination is an inspiration.
Sklep: Libristo.pl
Sklepy zlokalizowane w miastach: Warszawa, Kraków, Łódź, Wrocław, Poznań, Gdańsk, Szczecin, Bydgoszcz, Lublin, Katowice
Szukaj w sklepach lub całym serwisie
2. Szukaj na wszystkich stronach serwisu
t1=0.051, t2=0, t3=0, t4=0.012, t=0.051