krainaksiazek handbook of research on entrepreneurship what we know and what we need to know 20127296
- znaleziono 3 produkty w 2 sklepach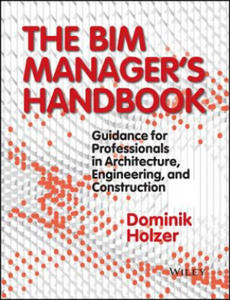 148,95 zł
Książki / Literatura obcojęzyczna
ePart 1 Best Practice BIM: Seeking to get BIM right? This ePart provides a touchstone for good practice by introducing a number of Key Performance Indicators (KPIs), which represent benchmarks for successful BIM implementation. It explains what good BIM looks like and the pitfalls to avoid with bad BIM and pseudo BIM . It highlights the part that the BIM Manager can play in achieving excellence by outlining the various responsibilities the BIM Manager s role encompasses, while also emphasising how these responsibilities have changed over time and how they are set to evolve. By drawing on interviews with the top BIM Managers worldwide, it delivers up-to-date expert insights from the field. Obook ISBN: 9781118987780; ePub ISBN: 9781118987858; ePDF ISBN: 9781118985618; publishing April 2015 ePart 2 Change Management: A BIM Manager might be hired for their technical skills, but their success relies heavily on their ability to be an agent of change within their organisation, facilitating transition to BIM processes and mentoring staff through the cultural and procedural shifts. This ePart outlines strategies to manage an organisation s transition to BIM successfully and to master supporting its continuous evolution. Based on accounts from top practitioners, it highlights how the BIM manager might approach interfacing with their organisation s leadership by successfully lobbying and leading on BIM from the inside, while overcoming change-resistance and managing teams expectations. It concludes with a Tips and Tricks section that provides in-depth advice for running BIM audits and for setting up in-house BIM workshops, which are instrumental for any BIM Manager seeking a better understanding of their organisational context and to raise the level of awareness of the BIM knowledge of key decision-makers. Obook ISBN: 9781119092308; ePub ISBN: 9781118987797; ePDF ISBN: 9781119092292; publishing April 2015 ePart 3: Focus on Technology: How do you ensure your organisation gets the most out of the BIM technology available? Dedicated to the main technology-related aspects of a BIM Manager s role, this ePart explains how to establish and manage an organisation s BIM-related tool-ecology and how to use BIM in order to link from design to fabrication. What do BIM Managers need to do in order ensure their teams use the right tools for the various tasks in design, construction and beyond? How do they connect them and how do they keep up with updates in this rapidly changing environment. This ePart highlights the challenges BIM Managers need to overcome in software, hardware and network selection. It also brings into focus the opportunities BIM Managers face in the changing context of BIM in the Cloud. Extending beyond technical know-how, it also offers advice on how to create a successful interface between the BIM Manager and the IT specialist(s). Obook ISBN: 9781118987803; ePub ISBN: 9781118987773; ePDF ISBN:9781118987766; publishing August 2015 ePart 4: Building up a BIM Support Infrastructure: Addressing the back of house aspect of BIM Management, this ePart outlines how to go about developing a range of in-house BIM standards and guidelines. It highlights how BIM Managers go about establishing a training programme for staff and the setting up and management of an organisation s BIM content library. It covers the support needed to move BIM information into the field and further into facilities and asset management. It emphasises the importance of internal messaging, and articulating how to nurture a culture of peer-to peer support and advancement of skills by individual staff members. Looking beyond a single firm s or organisation s requirements, the ePart positions BIM support infrastructure in the wider context of key global BIM policies and guidelines. Obook ISBN: 9781118987896; ePub ISBN: 9781118987919; ePDF ISBN:9781118987834; publishing August 2015 ePart 5: Day-to-Day BIM Management: How do you go about mastering hands-on support BIM for your team? ePart 5 introduces the operational tasks a BIM Manager is expected to accomplish. Depending on an organisation s size BIM Managers either supervise the rollout of BIM on various projects, or they actively get involved in mentoring those authoring or coordinating information in BIM. By providing a strong project focus, this ePart, firstly, addresses requirements for in-house BIM project support; secondly, it explains how to support the integration and coordination of BIM data across a multi-disciplinary project team. Leading BIM experts from the US, UK and Australia divulge their recipes for successful operational management. Obook ISBN: 9781118987902; ePub ISBN:9781118987919; ePDF ISBN: 9781118987926; publishing November 2015 ePart 6: Excelling your BIM Efforts: In this final ePart, BIM is taken to the next level by outlining what is required to truly excel as a BIM Manager. It highlights how BIM Managers acquire the necessary communication skills to maximise an efficient information flow between the BIM Manager and others. It illustrates how BIM Managers tie their activities to cutting-edge BIM research and development globally. Lastly, the ePart will lay out how to promote BIM excellence both within an organisation and beyond. Obook ISBN: 9781118987971; ePub ISBN: 9781118987988; ePDF ISBN: 9781118987964; publishing November 2015
Sklep: Libristo.pl 375,50 zł
Zdrowie, medycyna
What outcomes are important to patients and clinicians? How is a specific instrument scored? Has it undergone reliability testing? In what population was it validated, and how did it perform? This pocket-sized handbook, covering all the major musculoskeletal outcomes instruments in use today answers these questions and more. Key concepts like reliability, validity, and responsiveness form the framework of the book, which features: 155 commonly used outcomes instruments for the shoulder, elbow, hand and wrist, hip, knee, ankle, and calcaneus Each instrument numerically rated based on clinical relevance and ease-of-use Research results summarized in table form to eliminate the need for looking up original studies Organized and color-coded by anatomic region to save you time in locating desired content Glossary acquaints readers with need-to-know terminology Essential for orthopedic surgeons, rheumatologists, physical and occupational therapists, and others who manage musculoskeletal problems, this compact handbook is critical for deciding on an appropriate course of treatment based on validated outcomes.
Sklep: Albertus.pl 124,34 zł
Good Lawyer Oxford University Press
Książki / Literatura obcojęzyczna
Every lawyer wants to be a good lawyer. They want to do right by their clients, contribute to the professional community, become good colleagues, interact effectively with people of all persuasions, and choose the right cases. All of these skills and behaviors are important, but they spring from hard-to-identify foundational qualities necessary for good lawyering. After focusing for three years on getting high grades and sharpening analytical skills, far too many lawyers leave law school without a real sense of what it takes to be a good lawyer. In The Good Lawyer, a follow up to their book The Happy Lawyer, law professors Douglas O. Linder and Nancy Levit combine evidence from the latest social science research with numerous engaging accounts of able attorneys at work to explain just what makes a good lawyer. They organize the book around the qualities they see as crucial: courage, empathy, integrity, realism, a strong sense of justice, clarity of purpose, and an ability to transcend emotionalism. But as the authors point out, each one must be apportioned in the right measure, and achieving the right balance is difficult. Lawyers need to know when to empathize and also when to detach; courage without an appreciation of consequences becomes recklessness. And what do you do in tricky situations, where the urge to deceive is high? How can you maintain focus through a mind-taxing (or mind-numbing) project? Every lawyer faces these problems at some point - they're inherent in the nature of the work-but if properly recognized and approached, they can be overcome. It's not easy being good - quality is less something one grasps and hangs onto than a goal that requires constant striving and attention - but this engaging guide will serve as a handbook for any lawyer trying not only to figure out how to respond to difficult situations, but how to become a better - meaning both more competent and more virtuous - lawyer.
Sklep: Libristo.pl
Sklepy zlokalizowane w miastach: Warszawa, Kraków, Łódź, Wrocław, Poznań, Gdańsk, Szczecin, Bydgoszcz, Lublin, Katowice
Szukaj w sklepach lub całym serwisie
2. Szukaj na wszystkich stronach serwisu
t1=0.028, t2=0, t3=0, t4=0, t=0.029