krainaksiazek handbook of socialization second edition theory and research 20088745
- znaleziono 7 produktów w 2 sklepach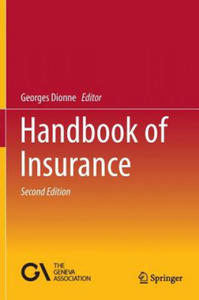 2025,57 zł
Książki / Literatura obcojęzyczna
This new edition of the Handbook of Insurance reviews the last forty years of research developments in insurance and its related fields. A single reference source for professors, researchers, graduate students, regulators, consultants, and practitioners, the book starts with the history and foundations of risk and insurance theory, followed by a review of prevention and precaution, asymmetric information, risk management, insurance pricing, new financial innovations, reinsurance, corporate governance, capital allocation, securitization, systemic risk, insurance regulation, the industrial organization of insurance markets, and other insurance market applications. It ends with health insurance, longevity risk, long-term care insurance, life insurance financial products, and social insurance.§This second version of the Handbook contains 15 new chapters. Each of the 37 chapters has been written by leading authorities in risk and insurance research, all contributions have been peer reviewed, and each chapter can be read independently of the others.
Sklep: Libristo.pl 526,95 zł
Książki / Literatura obcojęzyczna
Now in this updated second edition, the comprehensive handbook of mental health sociology features theory-driven reviews of recent research with an inclusive approach to investigating the myriad ways in which society shapes the mental health of its members.§
Sklep: Libristo.pl 179,99 zł
Książki Obcojęzyczne>Angielskie>Society & social sciences>Psychology>Social, group or collective psychologyKsiążki Obcojęzyczne>Angiels...
The Second Edition Of The Wiley-Blackwell Handbook Of Childhood Social Development Continues Its Presentation Of The Most Thorough, Authoritative, And Up-to-date Overview Of Research And Theory Concerning Children's Social Development From Pre-school Age To The Onset Of Adolescence.
Sklep: Gigant.pl 359,99 zł
Książki Obcojęzyczne>Angielskie>Society & social sciences>Psychology>Cognition & cognitive psychology>Learning
The Updated Second Edition Of The Only Handbook To Offer A Comprehensive Analysis Of Research And Theory In The Field Of Multimedia Learning.
Sklep: Gigant.pl 144,93 zł
SEXING HARDY Crescent Moon Publishing
Książki / Literatura obcojęzyczna
SEXING HARDY: THOMAS HARDY AND FEMINISM By Margaret Levy There are surprisingly few feminist analyses of the work of British novelist Thomas Hardy, and most do not get beyond vague notions of gender bias and sexism, in the Kate Millett and second wave feminist manner. Margaret Elvy's book, however, uses up-to-date research in the fields of cultural studies, feminist poetics, gay, lesbian and queer theory. This new, postmodern and incisive exploration of Thomas Hardy offers an exciting and radical reappraisal of the discourses of gender, desire, class, economy, socialization, identity and patriarchy in his fiction and poetry. This third edition of Sexing Hardy has been completely updated, and includes a new introduction and a new bibliography. EXTRACT FROM CHAPTER ONE: "THOMAS HARDY AND FEMINISM" Is Thomas Hardy a feminist? Are Thomas Hardy's works feminist? How much do his works reflect and bolster the patriarchal attitudes and behaviour of his era, and how much do they question them? What is the relation between Hardy and the feminists of his time? And what is the link between Hardy's works and the feminism of the early 21st century? This book approaches Thomas Hardy's fiction from a feminist perspective, in particular in the light of 'second wave' feminism and 'third wave'/ postmodern feminism. Thomas Hardy's theme is what you might call 'Wessexuality', 'Wes-sex-mania', Wessexual politics. Hardy's works can be regarded as chauvinist, patriarchal and masculinist, and yet they question notions of sexism, gender, identity, patriarchy and masculinism. A text such as Tess of the d'Urbervilles is 'traditional', and follows patriarchal codes and morals. Yet it also questions them, and offers a number of feminist critiques of late 19th century society. In his letters, Thomas Hardy proposed feminist views; he wrote to feminists such as the suffragette leader Millicent Fawcett that a child was the mother's own business, not the father's. One can see these feminist sentiments in, for example, Hardy's treatment of Tess in her motherhood: she works in the fields just a few weeks after the birth, even though she is melancholy (she might be suffering a mild form of post-natal depression). Tess further subverts patriarchy by taking her child's baptism into her own hands. She goes against her father, the vicar, and the whole church with her self-made baptism. [...] Thomas Hardy's novels were not always received favourably by women critics and readers. Hardy's own views, expressed outside of the novels, did not always square with those of feminists of the 1880s and 1890s. The ideological gap between Hardy and the women critics and feminists of the late 19th century is illustrated by Hardy's remark to Edmund Yates (in 1891): 'many of my novels have suffered so much from misrepresentation as being attacks on womankind'. Hardy hoped that works such as Tess of the d'Urbervilles would redress the balance. Illustrated (including biographical images, and images from film and TV adaptations of Hardy's fiction). Bibliography and notes. 236 pages. Also available in paperback. www.crmoon.com
Sklep: Libristo.pl 86,96 zł
SEXING HARDY Crescent Moon Publishing
Książki / Literatura obcojęzyczna
SEXING HARDY: THOMAS HARDY AND FEMINISM By Margaret Levy There are surprisingly few feminist analyses of the work of British novelist Thomas Hardy, and most do not get beyond vague notions of gender bias and sexism, in the Kate Millett and second wave feminist manner. Margaret Elvy's book, however, uses up-to-date research in the fields of cultural studies, feminist poetics, gay, lesbian and queer theory. This new, postmodern and incisive exploration of Thomas Hardy offers an exciting and radical reappraisal of the discourses of gender, desire, class, economy, socialization, identity and patriarchy in his fiction and poetry. This third edition of Sexing Hardy has been completely updated, and includes a new introduction and a new bibliography. EXTRACT FROM CHAPTER ONE: "THOMAS HARDY AND FEMINISM" Is Thomas Hardy a feminist? Are Thomas Hardy's works feminist? How much do his works reflect and bolster the patriarchal attitudes and behaviour of his era, and how much do they question them? What is the relation between Hardy and the feminists of his time? And what is the link between Hardy's works and the feminism of the early 21st century? This book approaches Thomas Hardy's fiction from a feminist perspective, in particular in the light of 'second wave' feminism and 'third wave'/ postmodern feminism. Thomas Hardy's theme is what you might call 'Wessexuality', 'Wes-sex-mania', Wessexual politics. Hardy's works can be regarded as chauvinist, patriarchal and masculinist, and yet they question notions of sexism, gender, identity, patriarchy and masculinism. A text such as Tess of the d'Urbervilles is 'traditional', and follows patriarchal codes and morals. Yet it also questions them, and offers a number of feminist critiques of late 19th century society. In his letters, Thomas Hardy proposed feminist views; he wrote to feminists such as the suffragette leader Millicent Fawcett that a child was the mother's own business, not the father's. One can see these feminist sentiments in, for example, Hardy's treatment of Tess in her motherhood: she works in the fields just a few weeks after the birth, even though she is melancholy (she might be suffering a mild form of post-natal depression). Tess further subverts patriarchy by taking her child's baptism into her own hands. She goes against her father, the vicar, and the whole church with her self-made baptism. [...] Thomas Hardy's novels were not always received favourably by women critics and readers. Hardy's own views, expressed outside of the novels, did not always square with those of feminists of the 1880s and 1890s. The ideological gap between Hardy and the women critics and feminists of the late 19th century is illustrated by Hardy's remark to Edmund Yates (in 1891): 'many of my novels have suffered so much from misrepresentation as being attacks on womankind'. Hardy hoped that works such as Tess of the d'Urbervilles would redress the balance. Illustrated (including biographical images, and images from film and TV adaptations of Hardy's fiction). Bibliography and notes. pages. www.crmoon.com
Sklep: Libristo.pl 448,62 zł
Książki / Literatura obcojęzyczna
Published in partnership with the American Holistic Nurses Association (AHNA), Core Curriculum for Holistic Nursing, Second Edition is an excellent resource for nurses preparing to become certified in holistic nursing. The first study guide of its kind, it features more than 380 questions and a Foreword written by Barbara Montgomery Dossey. In addition, it covers all major holistic nursing areas with the most current AHNA/ANA Holistic Nursing Scope & Standards of Practice. Topics include principles of holistic nursing leadership, educational strategies for teaching students about the relationship between quality improvement and patient-centered care, holistic research, evidence-based holistic nursing practice, appropriate theory to guide holistic nursing practice, and information about common herbs and supplements. With both basic and advanced questions and answers in each chapter, Core Curriculum for Holistic Nursing, Second Edition gives nurses the opportunity to test their knowledge while gaining valuable test taking experience. New chapters include: * Nursing: Integral, Integrative and Holistic: Local to Global * Holistic Nursing: Scope and Standards of Practice * Holistic Leadership * Nurse Coaching * Facilitating Change: Motivational Interviewing and Appreciative Inquiry * Evidence-Based Practice * Teaching Future Holistic Nurses: Integration of Holistic and Quality Safety Education (QSEN) Concepts For nurses who want a detailed study guide to holistic nursing, it is a natural companion to Holistic Nursing: A Handbook for Practice, Sixth Edition by Barbara Montgomery Dossey and Lynn Keegan. Included with each new print book is an online Access Code for Navigate TestPrep, a dynamic online assessment tool designed to help nurses prepare for certification examinations. * Randomized questions from the book create new exams on each attempt * Monitors results on practice examinations with score and time tracking * Reporting tools evaluate progress and results
Sklep: Libristo.pl
Sklepy zlokalizowane w miastach: Warszawa, Kraków, Łódź, Wrocław, Poznań, Gdańsk, Szczecin, Bydgoszcz, Lublin, Katowice
Szukaj w sklepach lub całym serwisie
2. Szukaj na wszystkich stronach serwisu
t1=0.037, t2=0, t3=0, t4=0, t=0.037