krainaksiazek handbook of socialization second edition theory and research 20088745
- znaleziono 10 produkty w 2 sklepach 853,60 zł
Książki / Literatura obcojęzyczna
In this second edition, twenty--nine classic chapters have been revised and updated and twenty new chapters have been added to reflect how the field has evolved since the first edition of the Handbook was published in 1995. This landmark volume describes and analyzes changes such as increased immigration to the United States and new developments in theory and research related to race, culture, ethnicity, and language. It addresses new issues such as findings on the increase in the number of interracial children and the characteristics of children of immigrant families. The educational implications of new research and trends are also discussed. The Handbook's forty--nine chapters are divided into twelve parts that clarify the meaning and boundaries of multicultural education. Topics covered include trends and developments, ethnic groups in historical and social science research, language issues, academic achievement, higher education, and international perspectives on multicultural education. The volume also offers comprehensive and balanced analyses of key controversies and debates in the field.
Sklep: Libristo.pl 1655,04 zł
Książki / Literatura obcojęzyczna
For adolescents who experience behavioral disorders, mental health clinicians concern lies with restoring each individual to as optimal a state of health as possible, through treatment, rehabilitation, and recovery maintenance. The Handbook of Adolescent Behavioral Problems, Second Edition substantiates and translates into practice the current evidence-based research in the field to enable mental health clinicians to choose an treatment approach that offers the most promising outcome for each teenager. Using a standardized format, the best practices for the prevention and treatment of many adolescent behavioral disorders are identified in this Handbook based on the latest available research, sound theory, and behavioral trial studies.§§This updated and expanded Second Edition embraces a comprehensive, integrative biopsychosocial approach to prevention and treatment and explores the critical roles that family members and the community play in the development and treatment of dysfunctional behavior. It offers current interdisciplinary perspectives and provides coverage that is clear, accessible, and practical. A wide variety of new topics are included in the new edition, including coverage of the DSM-V; biological/genetic influences on adolescent development; intellectual challenges; communication and learning challenges; media/technology addiction; bullying; dating violence; physical and emotional abuse and neglect; self-inflicted harm; and young adult services. In addition, all chapters from the original edition are updated, examining new and promising prevention strategies and interventions as well as psychopharmacological developments.§§The Handbook of Adolescent Behavior Problems, Second Edition provides an expanded, strong foundation for understanding the adolescent experience and the influence of the family and community as well as much-needed information on how to develop and implement evidence-based practices. It is designed to be a one-stop reference for all mental health clinicians and related health and education professionals working with adolescent, including child, school, and developmental psychologists; social workers; public health workers; family and mental health therapists; and child and adolescent psychiatrists.§
Sklep: Libristo.pl 701,92 zł
Książki / Literatura obcojęzyczna
Focusing on an effectiveness-driven approach to management in the human services, Rino J. PattiAes The Handbook of Human Services Management, Second Edition explores the latest information on practice innovations, theoretical perspectives, and empirical research to provide an essential perspective on what managers do to create and sustain organizations that deliver high quality, effective services to consumers. Offering the most comprehensive coverage of human services management available today, this second edition includes 24 chapters authored by distinguished practitioners and scholars in human services management: 10 that are entirely new and 14 that have been extensively revised. The Handbook explores the challenges of managing in a human services context; managing for performance through positive work cultures, leadership, and information; developing and empowering diverse staff to deliver high quality, culturally relevant services; building agency governance, planning, and financial infrastructures that support effective services; and engaging key constituencies to shape policies and interagency collaborations. A final section looks at future challenges for managers and the role of education in preparing practitioners for careers in this field. The Handbook is accompanied by an InstructorAes Manual. Featuresaa Focuses on how policy, organization, and ideology in the human services shape the practice of management Explores the particular knowledge and skills needed to be successful as managers in human services Considers ways in which human services workers, including women and persons of color, are developed and empowered to perform at a high level in delivering services to clients Covers timely topics within social welfare, including diversity, social justice, evidence-based practice, and ethics Offers increased attention to managing in the external environment, including planning, governance, and financial issues Includes cases, exercises, summary tables, and Internet resources, as well as Part Introductions, written by the editor, that provide an overview of the chapters and show how they relate to one another.aaThe Handbook of Human Services Management is ideal for use by graduate students in Social Work Administration/Non-Profit Management in introductory courses in human services management, introductory courses in organizational theory, and specialized courses in supervision, personnel management, and financial management. At the doctoral level, the book can be used for courses in organizational theory or macro practice theory.
Sklep: Libristo.pl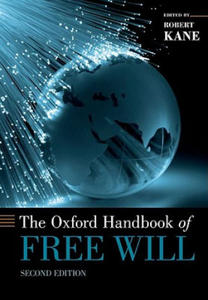 260,96 zł
Książki / Literatura obcojęzyczna
This second edition of the Oxford Handbook of Free Will is intended to be a sourcebook and guide to current work on free will and related subjects. Its focus is on writings of the past forty years, in which there has been a resurgence of interest in traditional issues about the freedom of the will in the light of new developments in the sciences, philosophy and humanistic studies. Special attention is given to research on free will of the first decade of the twenty-first century since the publication of the first edition of the Handbook. All the essays have been newly written or rewritten for this volume. In addition, there are new essayists and essays surveying topics that have become prominent in debates about free will in the past decade, including new work on the relation of free will to physics, the neurosciences, cognitive science, psychology and empirical philosophy, new versions of traditional views (compatibilist, incompatibilist, libertarian, etc.) and new views (e.g., revisionism) that have emerged. The twenty-eight essays by prominent international scholars and younger scholars cover a host of free will related issues, such as moral agency and responsibility, accountability and blameworthiness in ethics, autonomy, coercion and control in social theory, criminal liability, responsibility and punishment in legal theory, issues about the relation of mind to body, consciousness and the nature of action in philosophy of mind and the cognitive and neurosciences, questions about divine foreknowledge, providence and human freedom in philosophy of religion, and general metaphysical questions about necessity and possibility, determinism, time and chance, quantum reality, causation and explanation.
Sklep: Libristo.pl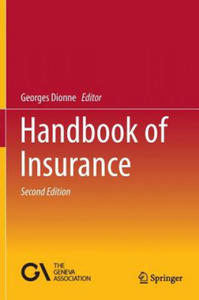 1478,56 zł
Książki / Literatura obcojęzyczna
This new edition of the Handbook of Insurance reviews the last forty years of research developments in insurance and its related fields. A single reference source for professors, researchers, graduate students, regulators, consultants, and practitioners, the book starts with the history and foundations of risk and insurance theory, followed by a review of prevention and precaution, asymmetric information, risk management, insurance pricing, new financial innovations, reinsurance, corporate governance, capital allocation, securitization, systemic risk, insurance regulation, the industrial organization of insurance markets, and other insurance market applications. It ends with health insurance, longevity risk, long-term care insurance, life insurance financial products, and social insurance.§This second version of the Handbook contains 15 new chapters. Each of the 37 chapters has been written by leading authorities in risk and insurance research, all contributions have been peer reviewed, and each chapter can be read independently of the others.
Sklep: Libristo.pl 516,80 zł
Książki / Literatura obcojęzyczna
Now in this updated second edition, the comprehensive handbook of mental health sociology features theory-driven reviews of recent research with an inclusive approach to investigating the myriad ways in which society shapes the mental health of its members.§
Sklep: Libristo.pl 359,99 zł
Książki Obcojęzyczne>Angielskie>Society & social sciences>Psychology>Cognition & cognitive psychology>Learning
The Updated Second Edition Of The Only Handbook To Offer A Comprehensive Analysis Of Research And Theory In The Field Of Multimedia Learning.
Sklep: Gigant.pl 184,99 zł
Książki Obcojęzyczne>Angielskie>Society & social sciences>Psychology>Social, group or collective psychologyKsiążki Obcojęzyczne>Angiels...
The Second Edition Of The Wiley-Blackwell Handbook Of Childhood Social Development Continues Its Presentation Of The Most Thorough, Authoritative, And Up-to-date Overview Of Research And Theory Concerning Children's Social Development From Pre-school Age To The Onset Of Adolescence.
Sklep: Gigant.pl 55,52 zł
Książki / Literatura obcojęzyczna
Holistic Nursing: A Handbook for Practice, Seventh Edition continues as the definitive resource for holistic nursing for both students and professionals. Completely updated and revised, it includes seven new chapters on creative expressions in healing, herbs and dietary supplements, holistic leadership, holistic nursing education, self-care and self-development, advanced holistic nursing practice, and advanced integrative health and well-being practice demonstrated through case study exemplars. With an ideal blend of theoretical and practical content, the Seventh Edition features Dr. Dossey's Theory of Integral Nursing, including an update on global nursing and the UN Millennium goals. There is increased emphasis on teaching holistic nursing in undergraduate and graduate programs, including the use of simulation as an effective teaching pedagogy, an enhanced focus on ways to enrich holistic care to improve patient outcomes through evidence-based practice and research, and new integrative health and wellness assessments. Essential chapters on Nurse Coaching and Dying in Peace, along with all other past chapters, are updated. Each chapter begins with Nurse Healer Objectives to guide learning within the theoretical, clinical, and personal domains and concludes with Nurse Healer Reflections to encourage readers to reflect on what they have learned. Also featured are helpful Directions for Future Research, definitions of key terms, and case studies that illustrate how to use and integrate the interventions into clinical practice. Organized by the five Core Values contained within the American Holistic Nurses Association (AHNA) and the American Nurses Association (ANA) Holistic Nursing: Scope and Standards of Practice, Second Edition: * Core Value 1: Holistic Philosophy, Theories, and Ethics * Core Value 2: Holistic Caring Process * Core Value 3: Holistic Communication, Therapeutic Environment, and Cultural Diversity * Core Value 4: Holistic Education and Research * Core Value 5: Holistic Nurse Self-Reflection and Self-Care Holistic Nursing: A Handbook for Practice, Seventh Edition has been awarded the American Holistic Nurses Association (AHNA) Seal of Distinction. This newly developed Seal of Distinction indicates that the book is aligned with AHNA's mission, vision, and the Scope and Standards of Holistic Nursing Practice (2013); is of interest to holistic nurses and of significant value to the nursing profession; provides knowledge that advances holistic nursing; is timely and relevant; is consistent with relevant historical publications; is scientifically and technically accurate; and is authored by individuals with demonstrated expertise in the field of the work submitted. Each new print copy includes Navigate 2 Advantage Access that unlocks a comprehensive and interactive eBook, student practice activities and assessments, a full suite of instructor resources, and learning analytics reporting tools.
Sklep: Libristo.pl 276,00 zł
Książki / Literatura obcojęzyczna
Published in partnership with the American Holistic Nurses Association (AHNA), Core Curriculum for Holistic Nursing, Second Edition is an excellent resource for nurses preparing to become certified in holistic nursing. The first study guide of its kind, it features more than 380 questions and a Foreword written by Barbara Montgomery Dossey. In addition, it covers all major holistic nursing areas with the most current AHNA/ANA Holistic Nursing Scope & Standards of Practice. Topics include principles of holistic nursing leadership, educational strategies for teaching students about the relationship between quality improvement and patient-centered care, holistic research, evidence-based holistic nursing practice, appropriate theory to guide holistic nursing practice, and information about common herbs and supplements. With both basic and advanced questions and answers in each chapter, Core Curriculum for Holistic Nursing, Second Edition gives nurses the opportunity to test their knowledge while gaining valuable test taking experience. New chapters include: * Nursing: Integral, Integrative and Holistic: Local to Global * Holistic Nursing: Scope and Standards of Practice * Holistic Leadership * Nurse Coaching * Facilitating Change: Motivational Interviewing and Appreciative Inquiry * Evidence-Based Practice * Teaching Future Holistic Nurses: Integration of Holistic and Quality Safety Education (QSEN) Concepts For nurses who want a detailed study guide to holistic nursing, it is a natural companion to Holistic Nursing: A Handbook for Practice, Sixth Edition by Barbara Montgomery Dossey and Lynn Keegan. Included with each new print book is an online Access Code for Navigate TestPrep, a dynamic online assessment tool designed to help nurses prepare for certification examinations. * Randomized questions from the book create new exams on each attempt * Monitors results on practice examinations with score and time tracking * Reporting tools evaluate progress and results
Sklep: Libristo.pl
Sklepy zlokalizowane w miastach: Warszawa, Kraków, Łódź, Wrocław, Poznań, Gdańsk, Szczecin, Bydgoszcz, Lublin, Katowice
Szukaj w sklepach lub całym serwisie
2. Szukaj na wszystkich stronach serwisu
t1=0.09, t2=0, t3=0, t4=0, t=0.091