krainaksiazek handbook of socialization second edition theory and research 20088745
- znaleziono 12 produktów w 1 sklepie 627,10 zł
Książki / Literatura obcojęzyczna
The second edition of the "Handbook of Feminist Research: Theory and Praxis", presents both a theoretical and practical approach to conducting social science research on, for, and about women. The Handbook enables readers to develop an understanding of feminist research by introducing a range of feminist epistemologies, methodologies, and methods that have had a significant impact on feminist research practice and women's studies scholarship. The Handbook continues to provide a set of clearly defined research concepts that are devoid of as much technical language as possible. It continues to engage readers with cutting edge debates in the field as well as the practical applications and issues for those whose research affects social policy and social change. It also expands on the wealth of interdisciplinary understanding of feminist research praxis that is grounded in a tight link between epistemology, methodology and method. The second edition of this Handbook will provide researchers with the tools for excavating subjugated knowledge on women's lives and the lives of other marginalized groups with the goals of empowerment and social change.
Sklep: Libristo.pl 266,57 zł
Książki / Literatura obcojęzyczna
In recent years, multimedia learning, or learning from words and images, has developed into a coherent discipline with a significant research base. The Cambridge Handbook of Multimedia Learning is unique in offering a comprehensive, up-to-date analysis of research and theory in the field, with a focus on computer-based learning. Since the first edition appeared in 2005, it has shaped the field and become the primary reference work for multimedia learning. Multimedia environments, including online presentations, e-courses, interactive lessons, simulation games, slideshows, and even textbooks, play a crucial role in education. This revised second edition incorporates the latest developments in multimedia learning and contains new chapters on topics such as drawing, video, feedback, working memory, learner control, and intelligent tutoring systems. It examines research-based principles to determine the most effective methods of multimedia instruction and considers research findings in the context of cognitive theory to explain how these methods work.
Sklep: Libristo.pl 229,97 zł
Książki / Literatura obcojęzyczna
Multimodality is an innovative approach to representation, communication and interaction which looks beyond language to investigate the multitude of ways we communicate: through images, sound and music to gestures, body posture and the use of space. The Routledge Handbook of Multimodal Analysis, Second Edition provides a comprehensive żresearch tool kit' for multimodal analysis, with thirty-four chapters written by leading figures in the field on a wide range of theoretical and methodological issues. This new edition includes twelve new chapters on theoretical and mathodological developments, and multimodal research on digitally mediated texts and interaction. The Handbook includes chapters on key themes within multimodality such as technology, culture, notions of identity, social justice and power, and macro issues such as literacy policy. Taking a broad look at multimodality, the contributors engage with how a variety of other theoretical approaches have looked at multimodal communication and representation, including visual studies, anthropology, conversation analysis, socio-cultural theory, sociolinguistics, new literacy studies, multimodal corpora studies, critical discourse, semiotics and eye-tracking.Detailed multimodal analysis case studies are also included, along with an extensive updated glossary of key terms, to support those new to multimodality and to allow those already engaged in multimodal research to explore the fundamentals further.The Routledge Handbook of Multimodal Analysis is essential reading for undergraduate and postgraduate students as well as researchers involved in the study of multimodal communication.
Sklep: Libristo.pl 452,03 zł
Książki / Literatura obcojęzyczna
The Second Edition of "The Handbook of Community Practice" is expanded and updated with a major global focus and serves as a comprehensive guidebook of community practice grounded in social justice and human rights. It utilizes community and practice theories and encompasses community development, organizing, planning, social change, policy practice, program development, service coordination, organizational cultural competency, and community-based research in relation to global poverty and community empowerment. This is also the first community practice text to provide combined and in-depth treatment of globalization and international development practice issues - including impacts on communities in the United States and on international development work. The Handbook is grounded in participatory and empowerment practices, including social change, social and economic development, feminist practice, community-collaborative, and engagement in diverse communities. It utilizes the social development perspective and employs analyses of persistent poverty, asset development, policy practice, and community research approaches as well as providing strategies for advocacy and social and legislative action. The handbook consists of forty chapters which challenge readers to examine and assess practice, theory, and research methods. As it expands on models and approaches, delineates emerging issues, and connects policy and practice, the book provides vision and strategies for local to global community practice in the coming decades. The handbook will continue to stand as the central text and reference for comprehensive community practice, and will be useful for years to come as it emphasizes direction for positive change, new developments in community approaches, and focuses attention on globalization, human rights, and social justice. It will continue to be used as a core text for multiple courses within programs, will have long term application for students of community practice, and will provide practitioners with new grounding for development, planning, organizing, and empowerment and social change work.
Sklep: Libristo.pl 475,77 zł
Książki / Literatura obcojęzyczna
The Handbook of Multicultural Mental Health, Second Edition, discusses the impact of cultural, ethnic, and racial variables for the assessment, diagnosis, treatment, service delivery, and development of skills for working with culturally diverse populations. Intended for the mental health practitioner, the book translates research findings into information to be applied in practice. The new edition contains more than 50% new material and includes contributions from established leaders in the field as well as voices from rising stars in the area. It recognizes diversity as extending beyond race and ethnicity to reflect characteristics or experiences related to gender, age, religion, disability, and socioeconomic status. Individuals are viewed as complex and shaped by different intersections and saliencies of multiple elements of diversity. Chapters have been wholly revised and updated, and new coverage includes indigenous approaches to assessment, diagnosis, and treatment of mental and physical disorders; spirituality; the therapeutic needs of culturally diverse clients with intellectual, developmental, and physical disabilities; suicide among racial and ethnic groups; multicultural considerations for treatment of military personnel and multicultural curriculum and training. * Foundations-Overview of Theory and Models * Specialized Assessment in a Multicultural Context * Assessing and Treating Four Major Culturally Diverse Groups in Clinical Settings * Assessing and Treating Other Culturally Diverse Groups in Clinical Settings * Specific Conditions/Presenting Problems in a Cultural Context* Multicultural Competence in Clinical Settings
Sklep: Libristo.pl 141,11 zł
Książki / Literatura obcojęzyczna
The Wiley-Blackwell Handbook of Childhood Social Development , Second Edition presents an authoritative and up-to-date overview of research and theory concerning a child's social development from pre-school age to the onset of adolescence. Presents the most up-to-date research and theories on childhood social development Features chapters by an international cast of leaders in their fields Includes comprehensive coverage of a range of disciplinary perspectives Offers all new chapters on children and the environment, cultural influences, history of childhood, interventions, and neuro-psychological perspectives Represents an essential resource for students and researchers of childhood social development
Sklep: Libristo.pl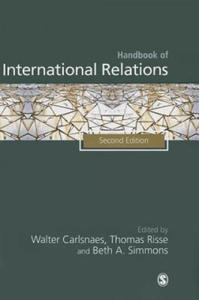 627,10 zł
Książki / Literatura obcojęzyczna
The original Handbook of International Relations was the first authoritative and comprehensive survey of the field of international relations. In this eagerly-awaited new edition, the Editors have once again drawn together a team of the world's leading scholars of international relations to provide a state-of-the-art review and indispensable guide to the field, ensuring its position as the pre-eminent volume of its kind. The second edition has been expanded to 33 chapters and fully revised, with new chapters on the following contemporary topics: - Normative Theory in IR - Critical Theories and Poststructuralism - Efforts at Theoretical Synthesis in IR: Possibilities and Limits - International Law and International Relations - Transnational Diffusion: Norms, Ideas and Policies - Comparative Regionalism - Nationalism and Ethnicity - Geopolitics in the 21st Century - Terrorism and International Relations - Religion and International Politics - International Migration A genuinely international undertaking, the handbook reviews the many historical, philosophical, analytical and normative roots to the discipline and the key contemporary topics of research and debate today. The Handbook of International Relations remains an essential benchmark publication for all advanced undergraduates, graduate students and academics in politics and international relations.
Sklep: Libristo.pl 627,10 zł
Książki / Literatura obcojęzyczna
This fully updated Second Edition of The SAGE Handbook of Educational Leadership: Advances in Theory, Research, and Practice offers an unflinching and comprehensive overview of the full range of both practical and theoretical issues facing educational leadership today. Editor Fenwick W. English and 30 renowned authors boldly address the most fundamental and contested issues in the field, including culturally relevant and distributed leadership; critical policy and practice issues predicting the new century's conflict; the paradox of changes; and the promises, paradoxes, and pitfalls of standards for educational leaders.
Sklep: Libristo.pl 68,41 zł
Książki / Literatura obcojęzyczna
Holistic Nursing: A Handbook for Practice, Seventh Edition continues as the definitive resource for holistic nursing for both students and professionals. Completely updated and revised, it includes seven new chapters on creative expressions in healing, herbs and dietary supplements, holistic leadership, holistic nursing education, self-care and self-development, advanced holistic nursing practice, and advanced integrative health and well-being practice demonstrated through case study exemplars. With an ideal blend of theoretical and practical content, the Seventh Edition features Dr. Dossey's Theory of Integral Nursing, including an update on global nursing and the UN Millennium goals. There is increased emphasis on teaching holistic nursing in undergraduate and graduate programs, including the use of simulation as an effective teaching pedagogy, an enhanced focus on ways to enrich holistic care to improve patient outcomes through evidence-based practice and research, and new integrative health and wellness assessments. Essential chapters on Nurse Coaching and Dying in Peace, along with all other past chapters, are updated. Each chapter begins with Nurse Healer Objectives to guide learning within the theoretical, clinical, and personal domains and concludes with Nurse Healer Reflections to encourage readers to reflect on what they have learned. Also featured are helpful Directions for Future Research, definitions of key terms, and case studies that illustrate how to use and integrate the interventions into clinical practice. Organized by the five Core Values contained within the American Holistic Nurses Association (AHNA) and the American Nurses Association (ANA) Holistic Nursing: Scope and Standards of Practice, Second Edition: * Core Value 1: Holistic Philosophy, Theories, and Ethics * Core Value 2: Holistic Caring Process * Core Value 3: Holistic Communication, Therapeutic Environment, and Cultural Diversity * Core Value 4: Holistic Education and Research * Core Value 5: Holistic Nurse Self-Reflection and Self-Care Holistic Nursing: A Handbook for Practice, Seventh Edition has been awarded the American Holistic Nurses Association (AHNA) Seal of Distinction. This newly developed Seal of Distinction indicates that the book is aligned with AHNA's mission, vision, and the Scope and Standards of Holistic Nursing Practice (2013); is of interest to holistic nurses and of significant value to the nursing profession; provides knowledge that advances holistic nursing; is timely and relevant; is consistent with relevant historical publications; is scientifically and technically accurate; and is authored by individuals with demonstrated expertise in the field of the work submitted. Each new print copy includes Navigate 2 Advantage Access that unlocks a comprehensive and interactive eBook, student practice activities and assessments, a full suite of instructor resources, and learning analytics reporting tools.
Sklep: Libristo.pl 360,37 zł
Książki / Literatura obcojęzyczna
This textbook, now in its second edition, provides a broad introduction to both continuous and discrete dynamical systems, the theory of which is motivated by examples from a wide range of disciplines. It emphasizes applications and simulation utilizing MATLAB
Sklep: Libristo.pl 209,03 zł
Książki / Literatura obcojęzyczna
In response to the needs of lecturers, the acclaimed Handbook of Organization Studies has been made available as two major paperback textbooks. In this, the first of a two-volume paperback edition of the landmark Handbook of Organization Studies, editors Stewart Clegg and Cynthia Hardy survey the field of organization studies. Studying Organization is an ideal textbook around which to build courses on organization theory and research methodology. Central to the enterprise has been a concern to reflect and honour the manifest diversity of the field, including recognition of the extent to which the very notion of a single field of organization studies is debated. Part One locates the study of organization by reviewing some of the most significant theoretical paradigms to have shaped our understanding. The second part reflects on the relationships between theory and research in organization studies.
Sklep: Libristo.pl 386,75 zł
Książki / Literatura obcojęzyczna
Published in partnership with the American Holistic Nurses Association (AHNA), Core Curriculum for Holistic Nursing, Second Edition is an excellent resource for nurses preparing to become certified in holistic nursing. The first study guide of its kind, it features more than 380 questions and a Foreword written by Barbara Montgomery Dossey. In addition, it covers all major holistic nursing areas with the most current AHNA/ANA Holistic Nursing Scope & Standards of Practice. Topics include principles of holistic nursing leadership, educational strategies for teaching students about the relationship between quality improvement and patient-centered care, holistic research, evidence-based holistic nursing practice, appropriate theory to guide holistic nursing practice, and information about common herbs and supplements. With both basic and advanced questions and answers in each chapter, Core Curriculum for Holistic Nursing, Second Edition gives nurses the opportunity to test their knowledge while gaining valuable test taking experience. New chapters include: * Nursing: Integral, Integrative and Holistic: Local to Global * Holistic Nursing: Scope and Standards of Practice * Holistic Leadership * Nurse Coaching * Facilitating Change: Motivational Interviewing and Appreciative Inquiry * Evidence-Based Practice * Teaching Future Holistic Nurses: Integration of Holistic and Quality Safety Education (QSEN) Concepts For nurses who want a detailed study guide to holistic nursing, it is a natural companion to Holistic Nursing: A Handbook for Practice, Sixth Edition by Barbara Montgomery Dossey and Lynn Keegan. Included with each new print book is an online Access Code for Navigate TestPrep, a dynamic online assessment tool designed to help nurses prepare for certification examinations. * Randomized questions from the book create new exams on each attempt * Monitors results on practice examinations with score and time tracking * Reporting tools evaluate progress and results
Sklep: Libristo.pl
Sklepy zlokalizowane w miastach: Warszawa, Kraków, Łódź, Wrocław, Poznań, Gdańsk, Szczecin, Bydgoszcz, Lublin, Katowice
Szukaj w sklepach lub całym serwisie
2. Szukaj na wszystkich stronach serwisu
t1=0.09, t2=0, t3=0, t4=0, t=0.091