krainaksiazek hate free society 20088307
- znaleziono 9 produktów w 2 sklepach 92,64 zł
Książki / Literatura obcojęzyczna
Sklep: Libristo.pl 95,05 zł
Książki / Literatura obcojęzyczna
Does hate speech undermine democracy, by attacking its most vulnerable members? Does it threaten the equal dignity of all citizens? Or are democracy and equality degraded not by hateful expression, but by censorship? Do hate speech bans give governments too much control over thought and ideas, or do bans secure the conditions for ideas to be meaningfully debated? Should each society choose its own rules? Or are some principles of free expression universal? Whom should hate speech bans protect: racial and ethnic groups, religious communities, women, sexual minorities, the disabled? Should we ban hateful words and images in public spaces but not on the internet? Heinze and Phillipson draw on law, politics, philosophy and ethics to debate these questions. For Phillipson, narrowly drawn hate speech bans are essential to the social contract-a prerequisite for democratic deliberation, and a symbolic protection of every citizen's basic dignity. Heinze replies that punitive rules imposed to silence hateful views damage democracy, and governments have more legitimate and effective means of combating harmful speech. Drawing upon European, American and Commonwealth perspectives, this book will be of interest not only to lawyers, but also to readers in philosophy, politics and journalism.
Sklep: Libristo.pl 225,20 zł
Książki / Literatura obcojęzyczna
What happens when two deeply held American values, freedom of expression and freedom from discrimination, clash? In any well-established democratic society, people have the right to free speech as well as the right to equal treatment and protection under the law. But when one person's speech harms another person on the basis of race, ethnicity, religion, gender, or sexual orientation, it may qualify as hate speech and be subject to restriction. Cortese argues that restricting hate speech does not violate the guiding principle behind the First Amendment, but he is not eager to see more lawsuits. Effective restriction, he asserts, should not focus on litigation but on speech codes and moral education. Is there a limit to freedom of expression in a democracy, and if so, where should the line be drawn? In attempting to answer that question, Cortese makes a solid case for paying attention to context and common sense. Some hate speech is more reprehensible than others; not all discriminatory statements are equally serious. There is a discernible difference between an offensive remark and an incitement to commit murder. There is also a fundamental distinction between intentional and unintentional discrimination. In this book, Cortese rethinks some of the issues that have been silenced in ways harmful to many-especially those that have been brutalized, oppressed, manipulated, dominated, segregated, and disadvantaged. We should recognize the grave injuries inflicted by hate speech and the potential tensions between legal solutions to those injuries and the First Amendment. We must push for moral education, educational speech codes, and when necessary, a formal, legal-structural response to hate speech in order to reinforce our commitment to tolerance as a value.
Sklep: Libristo.pl 77,10 zł
Książki / Literatura obcojęzyczna
Ireland today stands at a defining moment. The prosperity of the Celtic Tiger years has given way to the sudden crash, the turbulence of the euro crisis, and the loss of our sovereignty to the faceless technocrats of Europe and the IMF. Our leaders seem impotent and rage, bewilderment and despair have swept through Irish society. "Was It For This...?" delves into the Irish psyche to answer the questions: What happened to our hopes and dreams? What is at the heart of the sense of betrayal that we feel? In the rush to modernity, did we throw away everything of true value? Have we lost the ideals of nationhood and patriotism set out by those who dreamt of the Irish Republic? John Waters' remarkable new book sweeps through the pages of our recent history to get to the heart our political, social and existential identity crisis. Ranging across a vast canvas, "Was It For This...?" argues that the Celtic Tiger was built on a collective delusion, and that the seeds of its destruction were sown many years before it even began, when we exchanged our colonial shackles for a no-less destructive dependency for short-term gain. Ireland's sovereignty was given up long before the IMF came to town. Along the way, Waters ponders our love/hate relationship with Fianna Fail; the undercurrents that ran through the 2011 presidential election; why our political leaders and commentators have clung onto the remnants of 1960s revolutionary fervour long after the revolution was won; how our denial of an authoritative father figure has led to a leaderless 'sibling society'; the emptiness of our 'youth culture' and the suppression of real thought and discussion through cynicism and irony; and, why we have lost the very language that once enabled us to speak of 'Ireland' with pride.
Sklep: Libristo.pl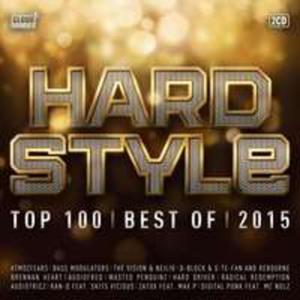 84,99 zł
Muzyka>Electronica>Dance
1. Atmozfears - Gold Skies (No.db15 Official Weekend 2. Code Black / Wasted Penguinz / Insali - End Like T 3. Frontliner & Harris, John - Loud 4. Mr. Polska & Boaz Van De Beatz - Hausa Wausa (Dr. 5. Wild, Devin - Everlasting 6. Da Tweekaz - Get Down 7. Josh & Wesz - World At Peace 8. Sequelized - Creation Of Dreams 9. Noisecontrollers - Infinity 10. Rebourne - Airwave 11. Adrenalize & Festuca - Check This Out 12. Bass Modulators - Let Me See Ya (Noisecontrollers 13. Lowriderz - Get Low 14. Psycho Punkz - Hit The Bong 15. Dr. Rude & Coone / K19 - For The World 16. Technoboy Tuneboy & Dj Isaac - Ctrl 17. Neilio & The Vision - Alive (Official Sunrise Fest 18. D-block & S-te-fan / Rebourne - Louder 19. Frontliner - Tell Me 20. Heart, Brennan - Illumination (Reverze Anthem 2015 21. Audiofreq - Lock & Load (Q-base 2015 Open Air Anth 22. Omegatypez & Phrantic - Party Like A Rockstar 23. Tuneboy - Out Of Space 24. Wasted Penguinz - No.grabmeabeer 25. Zatox & Audiofreq - Back To The Underground 26. Wasted Penguinz & Rebourne - Fuck Yeah! 27. Zany & Ruthless - Free For All 28. Prophet, The - Till I Die 29. Digital Punk & Hard Driver / Mc Dl - Crash 'N Burn 30. B-freqz - Divine 31. Ran-d & Digital Punk - Survivors (E-force Remix) 32. Artifact - World Is Mine 33. Hardcraft - Children's Hour 34. Hard Driver - Front Row (Knock-out 2015 Ost) 35. Act Of Rage - Brain Confusion 36. Digital Mindz - Resonant (Part 2) 37. Digital Punk & B-front - Spectral (Alpha2 Remix) 38. Prefix & Density - S.t.f.u. 39. Radical Redemption - The Funfair Of Madness (The O 40. Frequencerz & Titan - Getting Off 41. Adaro & E-force / Mc Nolz - Open The Gates 42. Bass Chaserz - Reach Up In Ya Mouth 43. Endymion & High Voltage - About To Get Raw 44. Dj Thera & Payne, Jason - Hate Society 45. Warface & The Geminizers - Path To Extinction 46. Atmozfears & Sub Zero Project - This Is Madness 47. Delete & Deetox - Fatal 48. Freak At Night - Freakz (Hard Bass 2015 Team Red O 49. Kronos & Outbreak - Wake Up 50. Requiem - Collateral Damage 101. Atmozfears / Spekter, David - Release 102. Bass Modulators - Our Dreams (Drem Village 2015 O. 103. Da Tweekaz - Wodka 104. Audiotricz - United As One (Wish Outdoor Anthem 20 105. Cyber - Everything Is Good 106. Frontliner & Wasted Penguinz - T.m.m.o. 107. Enforcer, Max - Rise Up 108. Dirtcaps / Jebroer - Miljoenen (Beatcrooks Remix) 109. Pherato - Believe 110. Phantom - Collide 111. Rebourne - Fields Of Dreams (Dreamfields 2015 Anth 112. Energyzed - Timeless Worlds 113. Pulsatorz - Chords 114. Kanon, Demi - Supersonic 115. Wasted Penguinz - Free Fall 116. Atmozfears - Nature's Gasp 117. Noisechocl - U Got Me 118. Bass Modulators - Oxygen 119. Code Black / Madin, Chris - New World 120. Noisecontrollers & Bass Modulators - Solar 121. Stephanie - Shift 122. Ran-d / Skits Vicious - No Guts No Glory (Defqon. 123. Zatox / Max P - Our Last Resort (The Qontinent 201 124. Audiofreq - Audiophetamine 125. Psyko Punkz / Murda - Doutzen 126. Tnt - Antares 127. Dr. Rude - Bullet Hole 128. Frontliner - 1, 2, 3 Jump! 129. Prophet, The - Kikkdrum 130. Wild Motherfuckers - Knock You Down 131. Hard Driver - Pow! 132. Artifact / Donkers, Elke - I See Lights 133. B-front & Degos / Re-done - Endless Path 134. Phuture Noize & Omegatypez - Don't Give Up 135. Digital Punk / Mc Nolz - Supreme (Official Suprema 136. Jack Of Sound - 911 137. Outbreak / Dv8 Rocks! - Get The Mean 138. Prefix & Density - W.u.f.u. 139. Alpha2 - Let It Go (Digital Punk Remix) 140. Activator - Sparta (Endymion Remix) 141. X-pander & Sub Zero Project - Hell On Earth 142. E-force - Blood Written (Qapital Anthem 201) 143. Bass Chaserz & Hard Society - Time 2 Die 144. Warface & N-vitral - Fuck The Drum Machine 145. Radical Redemption & Deepack - Triple Six 146. Luna - Hardcraft Tickin' 147. E-force & Digital Punk - My God 148. Warface & Titan - Sentinel 149. Hard Attakk - Kountdown 150. Adaro & Gee, Rob - Dark Universe
Sklep: Gigant.pl 132,23 zł
Książki / Literatura obcojęzyczna
In Must We Defend Nazis?, Richard Delgado and Jean Stefancic set out to liberate speech from its current straight-jacket. Over the past hundred years, almost all of American law has matured from the mechanical jurisprudence approach - which held that cases could be solved on the basis of legal rules and logic alone - to that of legal realism - which maintains that legal reasoning must also take into account social policy, common sense, and experience. But in the area of free speech, the authors argue, such archaic formulas as the prohibition against content regulation, the maxim that the cure for bad speech is more speech, and the speech/act distinction continue to reign, creating a system which fails to take account of the harms speech can cause to disempowered, marginalized people. Focusing on the issues of hate-speech and pornography, this volume examines the efforts of reformers to oblige society and law to take account of such harms. It contends that the values of free expression and equal dignity stand in reciprocal relation. Speech in any sort of meaningful sense requires equal dignity, equal access, and equal respect on the parts of all of the speakers in a dialogue; free speech, in other words, presupposes equality. The authors argue for a system of free speech which takes into account nuance, context-sensitivity, and competing values such as human dignity and equal protection of the law.
Sklep: Libristo.pl 119,99 zł
Muzyka>Electronica>House
1. Spencer, Andrew - Stop Loving You 2. Bates, Bastian / Nicco - Can't Slow Down 3. Nero, Mike / Interactive - Living Without Your Lov 4. Bangbros - Highflyer 5. Dj Gollum - Passenger 6. Blue Nature / Dk - Play With Me 7. De-grees / Ivory - Battlefield 8. Ph Electro - San Francisco 9. Big Room Society - Close Your Eyes 10. Weststylerz - Miss You Everyday 11. Jens O. / Ti-mo - I Want You 12. Uk Maniax - I'm A Raver 13. Pandora Bx - Already Gone 14. Wayne, Jan - Hello 15. Overdrive Division - Road To Success 16. Silvershine - Sommarplaga 17. Emporio / Penelope - September Rain 18. Dennis, Martina - I Do Not Hook Up 19. Krieger & Feuersaenger - Hardbeat 20. Bassken, Marco Van - Save My Life 21. Dedicate - The Same 22. A2b / Lara - Tell Me Where You Are 23. Jumpboyz - Check This 24. Calderone Inc. - This Is My Time 25. Dj Fait - Because Of You 26. Shaheera, Kate - Until The Morning Comes 27. Ebj - No Matter What 28. Apollo / Lake, Crystal - Free 29. Genno Fabulous / Young Sixx - I'm Famous 30. Rivendell / Cruncher - Sexy Bitch 31. E-mine / Disco Phunks - To France 32. Sapphire - She Wolf 33. Starbreeze 94 / Mira - Reviens Moi 34. Dj Base Line - Tracks Of Angels 35. Miss Destiny - Do You Believe? 36. Kendy - Save Me 37. 89ers - It's Okay & Alright 38. Fantasy Project - Runaway 39. Dj Lee - Fugly 40. Jap-riders / Zeta, Luca - My Energy 41. One Night Stand - Photographic 42. Core Raiders, The - Voices 43. Yazzmin - Disco Fantasy 44. Addicted Craze / Tierra - Don't Stop The Beat 45. Tracegate - Tears Again 46. Belmond / Parker - Do Your Thing 101. Tale, Rick - Leave A Light On For Me 102. Maldox / C.y.t. - Wherever You Go 103. Empyre One - Moonlight Shadow 104. Commercial Bitches - Round & Round 105. Baker, Shaun / Maloy - Give! 106. Megara / Dj Lee - I Want You 107. Megasonic - Emotion 2009 108. Del Monte / Topless - Not Fair 109. Emvace / Tierra - The Last Days & Summer 110. Addicted Craze / Tierra - Please Don't Go 111. Dj Man V - Partytime 112. Skyla - Ayo Technology 113. Varela, Manuel - Where Are You Now 114. Savon - Behind The Sun 2010 115. Inverno - Seconds To Paradise 116. Restricted Area - Alive 117. Dancetronic - I Feel You 118. Cansis - Turning Point 119. Palm Springs - Dj Play This Song 120. Sunray / Valle - Collapse 121. Orangez - I Got A Feeling 122. Hubscheck & Dubschek - Fuck With The Dj 123. Bassken, Marco Van - Wire To Wire 124. Pulsedriver - Superstar 125. Topmodelz - Two Princes 126. Dj Aligator - Shine 127. Decay, Chris - No More Hate 128. Jaybee - Maybe Tomorrow 129. K La Guard - Do It 130. Scotty - God Is A Dj 2010 131. Inner Sign / Ridley, Sven - Insane 132. Sunrider - Sax It Up 133. Cope - You Love Is Too Much 134. Lundberg, Arvid - It's Alright 135. Sky, Toby - Disco Disco 136. Limelight - To Blind To See It 137. Klaas - Our Own Way 138. Crew 7 - Give Into The Bass 139. Dj Anady - No Time To Bleed 140. Beachclub 69 / Dawuda / Inusa - Matador 141. Murano, Steve - Owner Of A Lonely Heart 142. Dj Fait - No More Hate 143. A.h.-effekt - Du Und Ich 144. Houten, Daan Van - The Spring 145. Roth, Sascha - Again & Again 146. Disco Cell - Same Mind
Sklep: Gigant.pl 65,99 zł
Muzyka>Rock>Alternatywna>Punk / New Wave
1. Body & Soul 2. Out Of Time (Live) 3. Red Tape 4. 34 Sins 5. I'm Sorry 6. Fast Enough 7. Stud 8. Plain To See 9. Rich Daddy 10. Suburban Jail 11. The Yellow Corn Boy 12. Compro Necros - Help! (Live) 13. Poison City 14. Pressure / Fair Warning 15. No Idols 16. Right Is Right 17. Death Wish (Live) 18. The Saint 19. Suburban Cowboy 20. Cry Wolf (Demo) 21. Housewives On Valium 22. Another Day 23. Small Talk 24. Jimmy Closet 25. American Society 101. Radio Free Misanthropia 102. Guns Of September 103. New Year's Revolution 104. When I Was Down 105. Straight Down 106. Oh Crud 107. English Mist 108. Lil' Latin Lupe Lu 109. Pretty Please Me (Live) 110. 8 Foot Tall Man Walking Out Of The Forest 111. Number 10 112. Sonny Boy 113. Chow 114. Tales Of Terror 115. Ballad Of Extreme Hate 116. Slave (Demo) 117. Grimly Forming 118. Five People In Bedroom 119. Razorburn Stigmata 120. Sweet Honey Pie (Live)
Sklep: Gigant.pl 87,49 zł
Muzyka>Electronica>Dance
1. Enzo 2. Dantze Boy 3. I'm Free (Carl Craig Remix) 4. Big Jet Plane (Nicone Remix) 5. Let It Ride 6. Like A Bird (Lexy Remix) 7. Dantzeschoen 8. Boys & Diamonds (Hardmix Mix) 9. That Girl (End Of Tape Remix) 10. Sunday 11. Not The End 12. Mosambiquetravellplan 101. January 102. The Beginning Of The End 103. Stop Your Hate 104. Medicine Man 105. Golden Lies (K-paul Remix) 106. Automatic (Fuchs & Horn Remix) 107. Bastard (Boiler Remix) 108. Banana (K-paul Remix) 109. Balkonia 110. El Bombay 111. Out Of Control 112. Space Bass (Dub Mix) 113. The Angy Box 114. Der Spanier 115. Tennis II Society (Komisch Elektronisch Electroswi 116. Fritz 117. Berlin
Sklep: Gigant.pl
Sklepy zlokalizowane w miastach: Warszawa, Kraków, Łódź, Wrocław, Poznań, Gdańsk, Szczecin, Bydgoszcz, Lublin, Katowice
Szukaj w sklepach lub całym serwisie
2. Szukaj na wszystkich stronach serwisu
t1=0.032, t2=0, t3=0, t4=0, t=0.032