krainaksiazek hepatitis b virus in human diseases 20045123
- znaleziono 9 produktów w 3 sklepach 913,69 zł
Książki / Literatura obcojęzyczna
Epstein-Barr virus (EBV) is one of the most widespread human viruses, with over 80% of the general population exposed by young adulthood, as determined by antibody studies. Initial infection usu ally occurs during childhood or the teenage years. It is clear that, de pending on the age of the recipient, clinical manifestations of the primary infection can vary. It has been known for 20 years that EBV is the etiologic agent of acute infectious mononucleosis (IM) and is also closely associated with African Burkitt's lymphoma (BL) and naso it is a pharyngeal carcinoma (NPC). There is increasing evidence that factor in the etiology of B-celllymphomas, which arise at a high fre quency in immunodeficient populations. EBV may also contribute to the development of autoimmune disease. Thus, this virus continues to attract world-wide attention. The major target cell for EBV infection has now been conclusively identified as the complement receptor-type 2 (CR2), the Cd/Cdg 3 3 receptor on B lymphocyte. It is apparent, however, that other cells also can become infected by EBV, such as epithelial cells in the parotid gland and other epithelial cells in the upper respiratory tract. This might help account for the EBV-assodated carcinomas of the upper respiratory tract. The first in a series of international symposia on EBV -associated diseases focused primarily on Burkitt's-type lymphomas or on NPC (Kyoto 1977; Dusseldorf 1980; Kuala Lumpur 1982) and emphasized mainly the clinical elements of these diseases. Subsequent symposia (Loutraki, 1984; St.
Sklep: Libristo.pl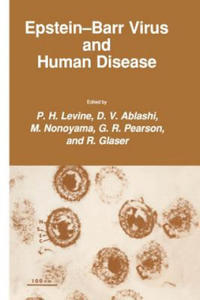 865,33 zł
Książki / Literatura obcojęzyczna
Since its discovery as the cause of infectious mononucleosis in 1964, the Epstein-Barr virus (EBV) has been etiologically implicated in an increasing number of human diseases. Generally considered the first human oncogenic virus because of a number of studies linking it with Burkitt's lymphoma and nasopharyngeal carcinoma (NPC), as well as its documented oncogenicity in nonhuman primates, EBVhas served as a model for identifying subsequent candidate oncogenic viruses and the stimulus for Evans' revision of the Henle-Koch postulates to accommodate the problems in proving viral oncogenicity in humans. Research on the role of EBV in human cancer was particularly en hanced (a) by the pioneering work of Werner and Gertrude Henle, and (b) by the coordinated efforts of the Special Virus Leukemia Program and its successors, the Special Virus Cancer Program and the Virus Cancer Program of the National Cancer Institute (NCI). Initiated by Dr. Frank J. Rauscher, who subsequently became director of the Ncr and is now Vice-President of the American Cancer Society, and expanded by Dr. John B. Moloney, whose contributions to cancer research were honored at this Second International Symposium on EBV and Associated Malignant Diseases, these NCI contract-sup ported programs brought together investigators from all over the world to participate in a joint effort to unravel the mystery of EBV behavior and pathogenicity. It was these programs that gave us the opportunity to work with such outstanding people as Professor Yohei Ito, to whom this book is dedicated.
Sklep: Libristo.pl 371,50 zł
Zdrowie, medycyna
In the opening chapter of Infections and Human Cancer, Parkin and colleagues estimate that in 1990 there were 1.2 million new cases of cancer worldwide that were due to infectious agents. This figure accounts for about 15 percent of all cancers. These cases plus the sum of all neoplasms caused by tobacco account for the largest number of preventable cancers in the world. Infectious agents cause almost one fourth of all cancers in developing countries, a reflection of the high carrier rates in these regions for the four agents that cause 90 percent of cancers due to persistent infection: the hepatitis B and C viruses, the human papilloma viruses, and Helicobacter pylori. Microbial carcinogenesis is, for these reasons, a major public health problem. Its solution will require a huge investment of resources, almost all of it by industrialized countries. Moreover, neoplastic diseases evoked by persistent infection are no longer unusual in developed nations, as evidenced by the rising incidence of hepatocellular carcinoma in the United States, the high prevalence of papillomavirus infection among women, and the frequent occurrence of virus-induced cancers, such as Kaposi's sarcoma and B-cell lymphomas, in patients with AIDS. These facts make a compelling argument that physicians everywhere must understand the clinical implications of persistent infection with potentially oncogenic microbes, the advantages and limitations of screening for such infections and the cancers they cause, and the measures that are at hand or will be available to prevent the spread of these organisms. The two books reviewed here survey the epidemiologic evidence linking a variety of microbes to the causation of cancer, analyze the molecular mechanisms of microbial carcinogenesis, and discuss measures to thwart infection-associated cancer. The organisms under scrutiny include the human papillomaviruses, Epstein-Barr virus, human herpesvirus 8 (HHV-8, or Kaposi's sarcoma-associated herpesvirus), hepatitis B and C viruses, human T-cell leukemia virus, schistosoma, liver flukes, H. pylori, and intestinal bacteria. Each book features concise, timely expositions of various aspects of microbial oncogenesis, from descriptions of the culpable organisms to prevention by vaccination. Despite their similarities, these books differ in outlook and tone. For readers seeking a comprehensive review of the problems of infection-related cancer, both are worth examining. Infections and Human Cancer offers 15 surveys of the epidemiology, risk factors, and molecular mechanisms of carcinogenic microorganisms. The review of cancer in patients infected with the human immunodeficiency virus is excellent. A chapter on screening points out that the administration of hepatitis B immunoglobulin to newborns of infected mothers immediately after birth can reduce the carrier rate in children by as much as 90 percent. Presumably, the institution of national or worldwide programs of such prophylactic passive immunization against the hepatitis B virus will ultimately reduce the prevalence of hepatocellular carcinoma. In long-term carriers of the virus, screening with a combination of alpha-fetoprotein measurement and hepatic ultrasonography shows promise in detecting early, surgically resectable tumors. For hepatitis C, unfortunately, there is no effective means of prophylaxis, rendering moot the issue of screening until prevention is practical. Infections and Human Cancer concludes with a chapter on prophylactic and therapeutic vaccination against hepatitis B, human papillomaviruses, and H. pylori. Some of these vaccines are still in developmental stages; if they prove to be safe, effective, and economically feasible, they promise enormous benefits. Parsonnet leads off Microbes and Malignancy with a brief account of the history of the relation between infectious diseases and cancer. She places Leeuwenhoeck, who was born in 1632, in the 19th century and fails to mention Gross's seminal discovery of the mouse leukemia virus. However, she effectively relates how the history of cancer research was marred by false starts (notably Fibiger's mistaken claim that a nematode can cause stomach cancer, for which he was awarded the Nobel prize) and doubts that any organism could cause cancer (Rous had to wait more than 50 years before he was awarded the Nobel prize for his discovery of the chicken sarcoma virus). The first four chapters of Microbes and Malignancy deal with mechanisms of infection-induced cancer. Relman's review of chronic host-parasite interactions has a broad sweep, whereas the chapter on chronic inflammation and cancer focuses narrowly on the role of oxidative damage. Cohen reviews the evidence implicating cell proliferation in the pathogenesis of cancer but says little about DNA repair (defective DNA repair in ataxia-telangiectasia is well covered later by Karp and Blattner) or the chromosomal aberrations that are at least as essential to cell transformation as proliferation. In his excellent chapter on viral oncogenesis, Zur Hausen traces the evolution of cancer from infection with a carcinogenic human papillomavirus, through the loss of the cellular genes required to counteract the growth-promoting effects of papillomavirus oncoproteins, to the escape of the transformed cell from attack by the immune system. Microbes and Malignancy offers thorough reviews of the diseases caused by the Epstein-Barr virus, HHV-8, the hepatitis B and C viruses, H. pylori, and other relevant microbes. For readers interested in other microbial causes of cancer, there are informative reviews of the T-cell leukemia virus, schistosomes, and liver flukes. Robinson points out that, worldwide, only the number of lung cancers due to cigarette smoking exceeds the incidence of hepatocellular carcinoma due to hepatitis B virus. According to Parsonnet, about half the world's population harbors H. pylori, yet in only 1 percent does gastric cancer develop. Gastric lymphoma is even rarer, and it occasionally occurs simultaneously with gastric cancer. Infections and Human Cancer and Microbes and Malignancy are fascinating books, and like all good surveys of scientific matters, they raise profound questions for which there are no immediate answers. A thread running through both books is that despite its immense power to give us a close-up view of how cancer develops, molecular biology cannot show us the big picture. Until we find new ways of looking at the connections between microbes and cancer, we will remain, as Milton said in Comus, 'in the blind mazes of this tangled wood.'
Sklep: Albertus.pl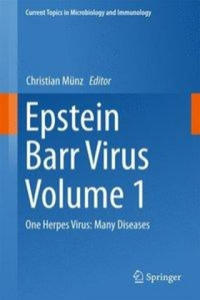 718,29 zł
Książki / Literatura obcojęzyczna
Epstein Barr virus (EBV) was discovered as the first human tumor virus around 50 years ago. Since its discovery in Burkitt's lymphoma it has been associated with various other malignancies, infectious mononucleosis and even autoimmune diseases. The two book volumes on EBV summarize the first 50 years of research on this tumor virus, starting with historical perspectives on discovery, oncogenicity and immune control, reviewing the role that the virus plays in the various associated diseases and concluding with a discussion on how the immune system keeps persistent EBV infection under control in healthy EBV carriers and can be used to treat EBV associated diseases. The respective 32 chapters are written by international experts from three continents for health care providers, biomedical researchers and patients that are affected by EBV. The assembled knowledge should help to understand EBV associated diseases better and to develop EBV specific vaccination in the near future.
Sklep: Libristo.pl 237,58 zł
Książki / Literatura obcojęzyczna
Antiviral drug development has led to significant advances in the control of globally prevalent viral infections by the hepatitis C (HCV) and the human immunodeficiency viruses. Nonetheless, there are current gaps in the armamentarium against global viral infections due to some herpes viruses, the hepatitis B virus, and the deadly filovirus Ebola and arenavirus Tacaribe responsible of outbreaks of hemorrhagic fever in emerging countries. Arbidol (ARB) is a cost-effective antiviral with broad-spectrum activity, administered for decades in Russia and China against flu. We showed that ARB inhibits HCV infection, and has potent antiviral activity against the Ebola, Tacaribe, hepatitis B and human herpes-8 viruses. Since these viruses have divergent life cycles, we posit that ARB may exhibit varied modes of action against different viruses. Careful dissection of molecular mechanisms of action of ARB against HCV and the Ebola virus revealed that ARB blocked viral entry. ARB might, therefore, constitute a pharmacological approach against globally prevalent viruses, and an affordable molecule for emerging countries in urgent need for effective antiviral therapies.
Sklep: Libristo.pl 1277,48 zł
Książki / Literatura obcojęzyczna
Tropical Diseases: From Molecule to Bedside covers a wide range of topics that reflect perspectives of northern and southern hemispheres. Fittingly, it defines tropical diseases in a broader-than-usual manner. The book discusses traditional tropical medicine topics of infectious diseases and nutritional deficiencies. These diseases are common in the tropics, although some are associated more with poverty than with tropical living conditions. It also deals with genetic diseases and genomic issues that are truly associated with living in the tropics, e.g. the thalassemias. The book begins with several papers describing the vast human genetic diversity of Southeast Asia and its relationship to several genetic disorders. These papers illustrate the future direction of genomic activities in relation to disease susceptibility and resistance. The next sections deal with malaria and four specific viral and bacterial diseases of the tropics: hepatitis B and C, tuberculosis, and leprosy, followed by a section on general bacterial infection. Two papers on nutrition complete the volume.
Sklep: Libristo.pl 515,23 zł
Książki / Literatura obcojęzyczna
Now in its third edition, this comprehensive volume is recognized as the most authoritative review of the epidemiology of infectious disease. Divided into five sections that cover methods in infectious disease epidemiology, airborne transmission, diarrheal diseases, blood and body fluid as a reservoir of infectious diseases, vectorborne and parasite disease, the book includes 'state-of-the-art' chapters on methodological issues, pathogenesis, and comprehensive reviews of virtually all known infectious diseases. New to the Third Edition: 1. All chapters updated with significant new information 2. HIV chapter completely updated including results of trials of Male Circumcision, HIV-vaccines, female condoms, Microbicides and new drugs 3. New chapter on Infectious Disease Eradication (e.g. Smallpox, Polio, Measles) 4. New chapter on Pneumococcal Disease (with material on S. pneumonia moved from the ARI and Vaccine chapters) 5. Influenza chapter updated with new material on H1/N1 and control/prevention of Influenza during a pandemic 6. Consolidation of material from the chapters on Outbreaks and Surveillance. 7. Nosocomial Infection chapter is shortened and updated with a new section on nosocomial/community MRSA 8. Malaria chapter updated with new information on bed nets, prophylactic therapy of pregnant women and other high risk populations as well as new detailed examination of the organization, implementation, and accomplishments of the WHO-Roll-Back Malaria program; and a new description of the 5th Human Malaria parasite-P.knowlesi and its Epidemiology. 9. STD chapter is updated with new information on the rapid diagnosis of STDs using urine PCR-methods as well as new information on partner prophylacitic treatment of STDs 10. New information in Chickengunya virus, Enterovirus 71, Nipah and Hendra virus infections to the Emerging infections chapter. 11. Hepatitis chapter is revised with new information on HEV virus 12. New brief chapter discussing the various models of behavioral change that are useful in Infectious Diseases research-e.g. Health Belief model etc.
Sklep: Libristo.pl 288,30 zł
Medycyna > English Division
The unfortunate appearance of AIDS, the manifold problems with herpesviruses and other viruses attacking humans have led to an enormous dynamism of worldwide research and to an immense increase in the corresponding literature. With this first Special Topic of the monograph series Progress in Drug Research, the editor and the publishers undertake an effort to supply concise reviews on virus research, especially on the development of new and future antiviral agents in some important and widespread viral diseases. Latest Progress in Drug Research articles dealing with new chemotherapeutics for the treatment of the most threatening viral diseases are presented. These very well received articles were upgraded and supplemented with new chapters to form this actual overview of the achievements in the respective fields of virus research. This special volume contains six review articles covering the latest studies on the HIV and hepatitis C and B viruses...
Sklep: Ksiazki-medyczne.eu 189,55 zł
Książki / Literatura obcojęzyczna
Cancer is low or absent on the health agendas of low- and middle-income countries (LMCs) despite the fact that more people die from cancer in these countries than from AIDS and malaria combined. International health organizations, bilateral aid agencies, and major foundations - which are instrumental in setting health priorities - also have largely ignored cancer in these countries.This book identifies feasible, affordable steps for LMCs and their international partners to begin to reduce the cancer burden for current and future generations. Stemming the growth of cigarette smoking tops the list to prevent cancer and all the other major chronic diseases. Other priorities include infant vaccination against the hepatitis B virus to prevent liver cancers and vaccination to prevent cervical cancer. Developing and increasing capacity for cancer screening and treatment of highly curable cancers (including most childhood malignancies) can be accomplished using "resource-level appropriateness" as a guide. And there are ways to make inexpensive oral morphine available to ease the pain of the many who will still die from cancer.
Sklep: Libristo.pl
Sklepy zlokalizowane w miastach: Warszawa, Kraków, Łódź, Wrocław, Poznań, Gdańsk, Szczecin, Bydgoszcz, Lublin, Katowice
Szukaj w sklepach lub całym serwisie
2. Szukaj na wszystkich stronach serwisu
t1=0.048, t2=0, t3=0, t4=0, t=0.048