krainaksiazek history of the sierra nevada mountain range 20088265
- znaleziono 8 produktów w 2 sklepach 65,99 zł
Książki Obcojęzyczne>Angielskie>Lifestyle, sport & leisure>Travel & holiday>Travel & holiday guidesKsiążki Obcojęzyczne>Angielskie>L...
This Handy Guidebook Contains Route Descriptions For 45 Day Walks And Multi-day Treks In The Sierra Nevada Range In Southern Spain. The Area Provides Great Scope For The Adventurous Mountain Traveller Covering The Alta Montana, The Baja Montana, The Alpaj
Sklep: Gigant.pl 68,12 zł
Książki / Literatura obcojęzyczna
This handy guidebook contains route descriptions for 45 day walks and multi-day treks in the Sierra Nevada range in southern Spain. The area provides great scope for the adventurous mountain traveller covering the Alta Montana, the Baja Montana, the Alpajurras valley and the Marquesado Forest. The routes vary in length from 3km to several days.
Sklep: Libristo.pl 289,99 zł
Książki Obcojęzyczne>Angielskie>Earth sciences, geography, environment, planning>The environment>Conservation of the environmentKsiążki Ob...
The Sierra Nevada - A Single Unbroken Mountain Range Stretching North To South Over Four Hundred Miles Of California And Nevada - Has Been The Site Of Human Activity For Millennia. This Work Offers An Account Of The History, Environmental Challenges, And Political Controversies That Lie Behind The Scenery Of The Sierra.
Sklep: Gigant.pl 133,03 zł
Książki / Literatura obcojęzyczna
The Sierra Madre - no other mountain range in the world possesses such a ring of intrigue. "In the Sierra Madre" is a groundbreaking and extraordinary memoir that chronicles the astonishing history of the one of the most famous, yet unknown regions in the world. Based on his one-year sojourn among the Raramuri/Tarahumara, award-winning journalist Jeff Biggers offers a rare look into the ways of the most resilient indigenous culture in the Americas, the exploits of Mexican mountaineers, and the fascinating parade of argonauts and accidental travellers that has journeyed into the Sierra Madre over centuries. From African explorers, Bohemian friars, Confederate and Irish war deserters, French poets, Boer and Russian commandos, Apache and Mennonite communities, bewildered archaeologists, addled writers, and legendary characters including Antonin Artaud, B. Traven, Sergei Eisenstein, George Patton, Geronimo and Pancho Villa, Biggers uncovers the remarkable treasures of the Sierra Madre.
Sklep: Libristo.pl 77,58 zł
Książki / Literatura obcojęzyczna
Source: Wikipedia. Pages: 29. Chapters: South Lake Tahoe, California, Incline Village-Crystal Bay, Nevada, Dollar Point, California, Tahoe Vista, California, Stateline, Nevada, Kings Beach, California, Sunnyside-Tahoe City, California, Tahoe Regional Planning Agency, Truckee River, Dardanelles and Freel Roadless Areas, Tahoe-Sierra Preservation Council, Inc. v. Tahoe Regional Planning Agency, Rubicon Trail, Tahoe National Forest, Angora Fire, Angora Lakes, Lake Tahoe Railway and Transportation Company, Lake Tahoe Shakespeare Festival, High Mountain Rangers, SS Tahoe, Lake Tahoe Nevada State Park, California State Route 28, Lake Tahoe Basin Management Unit, Emerald Bay State Park, Tahoe Rim Trail, Cave Rock Tunnel, Loon Lake, Vikingsholm, Rubicon Point Light, Sierra Nevada College, Thunderbird Lodge (Lake Tahoe, Nevada), Lake Tahoe Community College, Tells Peak, Lake Aloha, Marlette Lake Water System, Fannette Island, List of Lake Tahoe peaks, Lake of the Woods, Wrights Lake, Gilmore Lake, Eagle Lake, Sugar Pine Point Light, Francis Lake, Ward Creek, D. L. Bliss State Park, Horsetail Falls, Glen Alpine Springs Trailhead, Eagle Falls Trailhead, Twin Bridges Trailhead, Twin Lakes Trailhead, Beyers lakes, Burton Creek State Park, Lyons Trailhead. Excerpt: The Tahoe Regional Planning Agency (or TRPA) was formed in 1969 through a bi-state compact between California and Nevada which was ratified by the U.S. Congress. The agency is mandated to protect the environment of the Lake Tahoe Basin through land-use regulations and is one of only a few watershed-based regulatory agencies in the United States. TRPA and its mission are one-of-a-kind and represent an unprecedented attempt to address environmental, economic and cultural values at both regional and local levels. The Agency is the lead organization responsible for creating and implementing region-wide solutions to protection. The Agency is a symbol of environmental responsibility and stewardship and provides a legal means to govern the region. TRPA is recognized throughout the world for what it contributes to the science of resource protection. Much of the effort put forth is ground breaking and the problems addressed have no textbook remedies. This is in part what makes the Agency a lightning rod attracting a wide range of opinions and emotions. The TRPA has adopted a three-pronged strategy to restore the environment of Lake Tahoe: The regulatory program has been in place for more than 35 years and is re-evaluated every 5 years. While regulation is one of the pillars of the TRPA s plan, the agency also emphasizes the capital investment and scientific research components of its strategy which are embodied in the Environmental Improvement Program (EIP). TRPA is primarily an environmental agency, but recognizes the interdependency of environmental, economic and social well being in the Tahoe Region. Environmental groups, property rights advocates, business interests and numerous government agencies agree that tourism and successful, locally-owned businesses are the key to economic vitality at Lake Tahoe and are dependent upon the attractiveness of the region s environment. The TRPA Regional Plan allows for a measured rate of residential, commercial and recreational growt
Sklep: Libristo.pl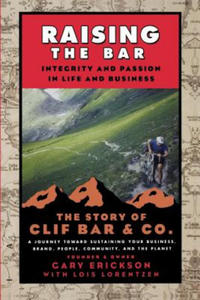 146,98 zł
Książki / Literatura obcojęzyczna
In April of 2000, Gary Erickson turned down a $120 million offer to buy his thriving company. Today, instead of taking it easy for the rest of his life and enjoying a luxurious retirement, he's working harder than ever. Why would any sane person pass up the financial opportunity of a lifetime? Raising the Bar tells the amazing story of Clif Bar's Gary Erickson and shows that some things are more important than money. Gary Erickson and coauthor Lois Lorentzen tell the unusual and inspiring story about following your passion, the freedom to create, sustaining a business over the long haul, and living responsibly in your community and on the earth. Raising the Bar chronicles Clif Bar's ascent from a homemade energy bar to a $100 million phenomenon with an estimated 35 million consumers, and a company hailed by Inc. magazine as one of the fastest-growing private companies in the U.S. four years in a row. The book is filled with compelling personal stories from Erickson's life-trekking in the Himalayan mountains, riding his bicycle over roadless European mountain passes, climbing in the Sierra Nevada range--as inspiration for his philosophy of business. Throughout the book, Erickson--a competitive cyclist, jazz musician, world traveler, mountain climber, wilderness guide, and entrepreneur--convinces us that sustaining one's employees, community, and environment is good business. If you are a manager, executive, business owner, or board member, Raising the Bar is your personal guide to corporate integrity. If you are a sports enthusiast, environmentalist, adventure lover, intrigued by a unique corporate culture, or just interested in a good story, Raising the Bar is for you.
Sklep: Libristo.pl 171,50 zł
Książki / Literatura obcojęzyczna
The definitive and comprehensive guide to fishing small trout streams throughout North America. Tired of the famous and crowded rivers, today's anglers have a greater desire to get close to nature while staying closer to home. The Orvis Guide to Small Stream Fly Fishing provides all the information for finding and fishing unspoiled gems found everywhere from wilderness areas to suburban backyards. These often overlooked streams are abundant throughout the United States, and range from the Appalachians-from Maine to Georgia-to northern Michigan, Wisconsin, and Minnesota, the Black Hills of South Dakota, the entire Rocky Mountain region from Montana to northern Arizona, and the Cascade and Sierra Nevada ranges. As more fishing is done close to home, small trout streams, or third-order streams as described by hydrologists, are thirty times as abundant as the bigger, more famous trout streams and most of them are on public land, making them more accessible. This beautifully illustrated and definitive resource explains the small stream environment, how to find these streams, how small-stream trout behave, how to read the water, special casts, fly selection, and how to present the fly in all types of small streams. With this book, anglers can find and catch wild trout far off the beaten path.
Sklep: Libristo.pl 153,55 zł
Kniha Peru Field Museum of Natural History,U.S.
Książki / Literatura obcojęzyczna
In August of 2005, scientists conducted a rapid inventory in Sierra del Divisor, a mountain range that rises dramatically from the lowlands of central Amazonian Peru. This assessment, presented here in English and Spanish, collects their research on the plants and animals of the region as well as the social and cultural assets of local villages and their use and management of natural resources. The report includes recommendations for conservation and management, including steps to safeguard the voluntarily isolated indigenous people living in the region.
Sklep: Libristo.pl
Sklepy zlokalizowane w miastach: Warszawa, Kraków, Łódź, Wrocław, Poznań, Gdańsk, Szczecin, Bydgoszcz, Lublin, Katowice
Szukaj w sklepach lub całym serwisie
2. Szukaj na wszystkich stronach serwisu
t1=0.032, t2=0, t3=0, t4=0, t=0.033