krainaksiazek how to live an optimal life 20042397
- znaleziono 8 produktów w 1 sklepie 26,05 zł
Książki / Literatura obcojęzyczna
Summary of Algorithms to Live By by Brian Christian and Tom Griffiths | Includes Analysis Preview: Algorithms to Live By by Brian Christian and Tom Griffiths is an immersive look at the history and development of several algorithms used to solve computer science problems. It also considers potential applications of algorithms in human life including memory storage and network communication. One such computer science problem is the optimal stopping problem, the mathematical puzzle for determining how long to review options and gather data before settling on the best choice available. The algorithm, based on statistical analysis, shows that there is an optimal place or time to stop researching options or solutions to a problem and instead commit to the next option that's just as good as those already considered. Similarly, the mathematical way to decide whether to try something new or stick with the familiar choice is expressed by the Gittins Index score of any given alternative. It values a complete unknown more highly than a
Sklep: Libristo.pl 125,71 zł
Książki / Literatura obcojęzyczna
The men Dr. Life treats desperately want to achieve leaner, sexier bodies. Yet many are not ready to keep up with the exercise routines found in Dr. Life's earlier books. Now, Dr. Life has created the ideal first step: a diet program to kick-start weight loss to help men live better each day and look great for years to come. Encapsulating all aspects of Dr. Life's medical program, The Life Plan Diet offers four different approaches to dieting: a jumpstart diet that keeps men motivated by getting real results fast, a basic health diet that optimizes blood sugar levels, a heart-healthy diet for maintenance, and a fat-burning diet that supports any exercise program, no matter how strenuous. This program doesn't require expensive equipment or difficult recipes with hard-to-find ingredients. Nor do you need significant medication, though Dr. Life addresses the hormonal component that keeps him in tip-top shape. Instead, it focuses primarily on how men over fifty can reverse disease and increase their metabolism with easy, everyday menus and rules for eating out; a revolutionary approach to losing belly fat; tips for enhanced muscle mass and bone strength; foods that naturally increase testosterone levels and growth hormones; and good habits for optimal brain function. From the popular face of anti-aging, here is a proven and wildly successful diet plan to help men over fifty lose weight and remain vital well into old age.
Sklep: Libristo.pl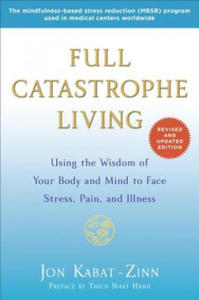 102,26 zł
Książki / Literatura obcojęzyczna
The landmark work on mindfulness, meditation, and healing, now revised and updated after twenty-five years§§Stress. It can sap our energy, undermine our health if we let it, even shorten our lives. It makes us more vulnerable to anxiety and depression, disconnection and disease. Based on Jon Kabat-Zinn's renowned mindfulness-based stress reduction program, this classic, groundbreaking work - which gave rise to a whole new field in medicine and psychology - shows you how to use medically proven mind-body approaches derived from meditation and yoga to counteract stress, establish greater balance of body and mind, and stimulate well-being and healing. By engaging in these mindfulness practices and integrating them into your life from moment to moment and from day to day, you can learn to manage chronic pain, promote optimal healing, reduce anxiety and feelings of panic, and improve the overall quality of your life, relationships, and social networks. This second edition features results from recent studies on the science of mindfulness, a new Introduction, up-to-date statistics, and an extensive updated reading list. Full Catastrophe Living is a book for the young and the old, the well and the ill, and anyone trying to live a healthier and saner life in our fast-paced world.§§Praise for Full Catastrophe Living § §"To say that this wise, deep book is helpful to those who face the challenges of human crisis would be a vast understatement. It is essential, unique, and, above all, fundamentally healing." - Donald M. Berwick, M.D., president emeritus and senior fellow, Institute for Healthcare Improvement§§"One of the great classics of mind/body medicine." - Rachel Naomi Remen, M.D., author of Kitchen Table Wisdom §§"A book for everyone . . . Jon Kabat-Zinn has done more than any other person on the planet to spread the power of mindfulness to the lives of ordinary people and major societal institutions." - Richard J. Davidson, founder and chair, Center for Investigating Healthy Minds, University of Wisconsin
Sklep: Libristo.pl 95,75 zł
Książki / Literatura obcojęzyczna
EVEN THOUGH WE'RE ALL INTERNATIONALISTS, FOR NOW THE BOOK WILL ONLY BE AVAILABLE IN GERMAN. With contributions from Damir Arsenijevic, Alain Badiou, Étienne Balibar, Gracie Mae Bradley, Cédric Durand, the European Space Agency (sort of), Sara Farris, Alexandre Kojčve, Maurizio Lazzarato, Sandro Mezzadra, Toni Negri, Thomas Piketty, Beatriz Preciado, Bernard Stiegler, Martin Wolf, Slavoj Zizek. And to top it all off, check out our exclusive "Europe from Detroit" mix that comes courtesy of acid legend Carlos Souffront. No, not another debate on Europe, not just the usual policy proposals, no moralising appeals. We simply want to take stock of our ignorance in order to turn it into something more productive. Call it recycling if you will. The contributions in the volume do not reflect anything like a unity of vision. Often, they agree on very little. But that doesn't mean the texts assembled here do not resonate with one another. Philosophers, economists, journalists and activists comment on past and present manifestations of Europe. Taken together, these essays are exercises in defamiliarisation. Sure, we don't fully understand what is going on. Then again, experts didn't fare too well either, as a quick glance at the pre-2008 forecasts of economists, the analyses of geopolitical pundits or the trajectories of the expert-led transitional governments in Europe's South reveals. That's why we have no desire to wallow in passivity and fatalism. On the contrary, creating a sense of distance between Europe and ourselves will perhaps enable us to relate to it in new ways. Ever since the postwar reconstruction, Europe vacillated between grand political designs and economic expediency. The introduction of the Euro in 2002 and the ongoing crisis of 2008 have accelerated a shift in the balance of power. Nation-states lost some of their prerogatives and now have to accommodate the demands of unelected supranational entities in charge of implementing the precepts of economic rationality. A sense of powerlessness has become widespread. It has given a new lease of life to nationalism and xenophobia across Europe. Young people in particular wonder what could possibly be the point of having democracy conform to markets if capitalism cannot even make good on its one spellbinding historical promise: to enable wealth creation for the masses through individual effort and hard work? As is stands in 2014, giving up democratic principles in order to purify the operations of the markets seems like the surest way to the worst of both worlds: a technocratic caesarism. Economists tentatively hail Greece's return to the capital markets, they rejoice at the first signs of positive growth rates and welcome, give or take some accounting tricks, the sound budgets in member-states that are testament to the efficacy of the austerity measures. Meanwhile, unemployment in many parts of the EU remains stubbornly high. And let's not even talk about wage levels. Far from marking the end of history and the triumph of liberal market societies, 1989 could have turned out to be a Pyrrhic victory for capitalism, a possibility for which even François Furet allowed in his very last essays. Before its long overdue collapse, 'real existing socialism' - imperialist, authoritarian, unjust, inefficient, and downright depressing as it was - nonetheless inspired a fear among the governments of the so-called Western world that tamed capitalism in ways not seen before or after. Did bureaucratic state capitalism in the East protect the liberal capitalism of the West from what it wanted? Even when the latter seemed to be on excellent form after 1989, it often turned out to be pumped up on a diet of monetary steroids: soaring private and company debt sustained the boom times. Capitalism's hold over the planet is neither uniform nor exclusively imposed by force. It emerged out of a contingent history of the "universalisation of a tendency", as Deleuze and Guattari put it. However, a European left that has yet to come to terms with the full extent of its political insignificance seeks solace in the idea of an economic matrix that structures every fold of the social fabric: it is plausible, inescapable and terrifyingly good at harnessing even the forces of resistance to its own purposes. While the therapeutic aspect of this sort of thinking cannot be dismissed, its analytical virtues are more questionable. Still, as we survey the political landscape in 2014, no serious - and politically desirable - alternative exists. And yet liberal market societies struggle with ever more intense degrees of disaffection among their supposedly blessed populations. We observe the striking comeback of inequalities of wealth reminiscent of the Belle Époque. If current trends continue we could soon live in societies so unequal one would have to go back to the pre-industrial age to find anything comparable. This is certainly not a process of differentiation that is synonymous with modernity, as some commentators, grotesquely misinterpreting Luhmann, would have us believe. To reduce the potential of social differentiation to the acceptance of economic disparities betrays a poverty of thought that speaks volumes about the state of mind of a "brute bourgeoisie", itself a symptom of a deeply dysfunctional society. In Merkel-land, it found a new party-political home in the "Alternative for Germany". But opposition to the Euro also gains currency on the left. This is unsurprising given the intransigence of monetary hawks in the central banks and the institutional set-up of the Eurozone. Another Euro was possible, one that would have attempted to pave the way for an optimal currency area, rather than simply presupposing its existence.This would have required large-scale investments and significant redistributive efforts to harmonise - and raise - living standards in all of Europe. We need to unearth these counter-histories of the single European currency. As long as genuine political and social union is but a distant possibility, the imperative of price stability and the impossibility for individual Euro states to devalue their currency reduces the available range of political responses to economic distress to just one: the downward adjustment not just of economies but of entire welfare systems in order to restore competitiveness. However, there is no economic automatism here. These are deeply political decisions. As so often, economic liberalism knows very well when to portray itself as the arch-foe of oppressive states and undemocratic post-national institutions - and when to enlist their help in order to get its doctrinal way. Some conclude from this state of affairs that, provided it can be made politically productive, a break with the Euro regime should no longer be considered a taboo. Others are wary of reductive explanations that, for the sake of conceptual and political convenience, denounce the Eurozone as a monolithic neoliberal bloc. We stand to benefit a great deal from learning how to spot and exploit political divisions. Even inside the European Commission, there is room for forms of militant bureaucracy that deftly maneuver the legal labyrinthe (ranging from the 1953 European Convention on Social and Medical Assistance to the measures towards greater coordination of social security systems passed in 2004). Recent attempts to bully Merkel's government into potentially widening access to welfare payments for European citizens living in Germany lent credence to this claim. One day, these regulatory squabbles might bring us a minuscule step closer to a Europe-wide unconditional basic income. Let the robots do the crap jobs. Given the jingoistic mood of most electorates, even many leftist parties are taking leave from demands for postnational social rights that are legally enforceable. They fear such a move would be tantamount to political suicide. Nonetheless, the track record of European institutions and the general tendency of intergovernmental decisions taken during the last two decades or so suggest that it would be insane to rely on emancipatory political action from above. Yet the question of exactly how to reclaim Europe as a battleground from below is close to intractable. What effective form could a dialectic between "institutional and insurrectional" politics take? New forms of entryism might play a role, as those who support Alexis Tsipras' candidacy for the presidency of the European Commission argue. Mass pressure from the street would open a second flank. But even though they have been theorised for many years, European social movements worthy of their name continue to be conspicuous by their absence. Or should we push for individual states to give up their sovereignty and merge with their neighbour, thus creating political forms that mark an intermediate stage between the nation-state and and a European polity? It all sounds rather far-fetched. Interestingly, the recent protests in Bosnia oppose not just corrupt local elites, but also the institutions of the international community that purports to have pacified the remnants of former Yugoslavia. The revolution in the Ukraine that has courageously overthrown a deeply corrupt regime, on the other hand, did appeal to a EU that embodied hopes for a better political and economic life even as parts of the crowd openly displayed their neo-Nazi sympathies. We need to address the underlying identity issues haunting this continent as a whole and the individuals that inhabit it. It is impossible to overlook the signs of libidinal exhaustion. Europe has a problem with desire. The economic, political and social systems no longer produce pleasure. We're all tired but we haven't done nearly enough to explore and invent new lives. The family rushes in to fill this void. We grew accustomed too quickly to the omnipresence of "family-friendly" policies, by now a staple of European political language. We could have known better. In Anti-Oedipus, Deleuze and Guattari had warned us. As capitalism marches onward, all existing social relations will cede to its pull. But that's not the same as simple disappearance. Quite the opposite. The family was first emptied of all historical functions, only to be reinvented as a bulwark against some of the more troubling and pathological aspects of contemporary capitalism. It offers respite from the constant flexibility that is expected of us, it helps pool resources as welfare states are being dismantled, it pays lip service to feminist struggles by singing the praise of the care work done by stay-at-home mums. In France, reactionaries are marching through the streets in their thousands. Their opposition to same-sex marriage forms part of a wider struggle to combat the rampant "family-phobia" in today's societies. We want none of it. The hypocrisy is plain for everyone to see. There is significant overlap between the defenders of good old family values and the milieus in which shameless hostility to migrants has once again become acceptable. But some migrants are better than others. The latest version of the mother-father-family relies on cheap non-unionised female labour, the army of nannies recruited from abroad. These are some of the migrants that made it to Europe. Many others don't even get that far. The activities of Frontex seem blissfully oblivious to the very colonial past they incessantly conjure up. The same fervour that was at work in the historical project of European expansionism is now observable in the systematic efforts to stop migrants - to ensure successful "border management", as official parlance has it. Europeans used to invade foreign lands to enrich themselves, now they keep others out to protect their privileges. Images of drowned, starved or deported refugees don't prevent European politicians for a second from invoking 'our' grand cultural tradition, preferably while lecturing other parts of the world on the West's civilisational achievements: philosophy, human rights, dignity, you name it. Perhaps the treatment to which migrants are subjected has something to do with Europe's historical self-understanding after all. These corpses float in the same Mediterranean sailed by cunning Ulysses. They're dying to reach the shore they might have otherwise called home. This much is clear to us: as long as other people are treated like garbage in our name, we betray the potential of EURO TRASH. The costly insistence on rigid borders is not just a European problem. It's a cosmic one. Space is a place where quaint attempts to divide it up according to the time-worn logic of sovereignty must fail. As Donald Kessler has pointed out as early as 1978, the debris piling up in the orbit, if unchecked, will reach a point where space travel becomes too dangerous. And little does it matter whether the out-there is littered by NASA or ESA. We might be stuck on this planet at the precise moment when we'd be well advised to leave it behind. Borders have a funny way of shutting in the people they claim to protect. There were concerns about a possible lack of German voices in this collection but acid legend Carlos Souffront came to our rescue and his exclusive "Europe from Detroit" mix dispels them in the most unexpected, poignant and concise way possible. Kraftwerk's 1977 "Trans-Europe-Express" imagined the continent as a haven of post-historical nostalgia. We asked Carlos to reimagine Europe as a province of Detroit in order to invert the usual perspective. Often, the Motor City is an object of European musical desire, filled to the brim with projections even, and especially if there is post-industrial desolation to be admired. Let's try it the other way around. The mix expertly strides between delicacy and a sense of impending dread that culminates in a brief sequence where German history unmistakably rears its ugly head. But there is life beyond that, there has to be. This is not a mind trip, this is a body journey. WE'RE THE EDITORS, WE'RE SVENJA BROMBERG, BIRTHE MÜHLHOFF, AND DANILO SCHOLZ.
Sklep: Libristo.pl 99,98 zł
Książki / Literatura obcojęzyczna
The capitalist era is passing - not quickly, but inevitably. Rising in its wake is a new global collaborative Commons that will fundamentally transform our way of life. Ironically, capitalism's demise is not coming at the hands of hostile external forces. Rather, The Zero Marginal Cost Society argues, capitalism is a victim of its own success. Intense competition across sectors of the economy is forcing the introduction of ever newer technologies. Bestselling author Jeremy Rifkin explains that this competition is boosting productivity to its optimal point where the marginal cost of producing additional units is nearly zero, which makes the product essentially free. In turn, profits are drying up, property ownership is becoming meaningless, and an economy based on scarcity is giving way to an economy of abundance, changing the very nature of society. Rifkin describes how hundreds of millions of people are already transferring parts of their economic lives from capitalist markets to global networked Commons. "Prosumers" are producing their own information, entertainment, green energy, and 3-D printed products at nearly zero marginal cost, and sharing them via social media sites, rentals, redistribution clubs, bartering networks, and cooperatives. Meanwhile, students are enrolling in massive open online courses (MOOCs) that also operate at near-zero marginal cost. And young social entrepreneurs are establishing ecologically sensitive businesses, crowdsourcing capital, and even creating alternative currencies in the new sharable economy. As a result, "exchange value" in the marketplace - long the bedrock of our economy - is increasingly being replaced by "use value" on the collaborative Commons. In this new era, identity is less bound to what one owns and more to what one shares. Cooperation replaces self-interest, access trumps ownership, and networking drubs autonomy. Rifkin concludes that while capitalism will be with us for at least the next half century, albeit in an increasingly diminished role, it will no longer be the dominant paradigm. We are, Rifkin says, entering a world beyond markets where we are learning how to live together collaboratively and sustainably in an increasingly interdependent global Commons.
Sklep: Libristo.pl 210,71 zł
Książki / Literatura obcojęzyczna
Are you aware of your inner power system? An immense power is shaping your inner world your experience and conception of life. You are altering your brain chemistry, manipulating your neurochemical profile and affecting your body s physiology every day by what you do and don t eat, what you think, and how and where you spend your time. Through your daily behavior and the environments in which you live, you create and shape your biochemical profile. This in turn is reflected in your emotions, energy, thoughts, actions, and psychological condition that either bring out your peak performance or that block your optimal functioning or even can cause sickness. The unbalanced homeostasis of serotonin in the body is often attributed to anxiety, depression, panic attacks, insomnia, obesity, fibromyalgia, eating disorders, chronic pain, migraines, and alcohol abuse. In my work SNP`s and epigenetic markers - in the control of appetite and satiety describe not only a very complex serotonic system in itself but also how it affects and interacts with a huge number of inner systems and pathways.
Sklep: Libristo.pl 110,08 zł
Książki / Literatura obcojęzyczna
The Science of Fitness: Power, Performance, and Endurance provides a source of information that goes from mitochondrial function as the center of disease and aging, and provides a scientific explanation as to why and how exercise and nutrition can help people live a longer and sustain a higher quality of life. This approach will help bridge the gap between cellular biology and exercise fitness. The Science of Fitness will give competitive and elite athletes an edge in achieving natural, optimal performance, and also help recreational athletes who want to improve fitness. It will be of great benefit to all wanting to improve overall health and vitality. By learning the science of fitness, you will understand why training makes your body more energized and powerful. * Covers the human cell and explains in detail how fitness is a biologic process* Examines how mitochondria generate human energy, increasing with exercise, and diminishing with inactivity* Identifiies effective tools and metrics to prove frequent and strenuous exercise positively maintains health* A case study of Greg LeMond, his racing career, and mitochondrial myopathy
Sklep: Libristo.pl 69,21 zł
Książki / Literatura obcojęzyczna
With this enchanting 44-card deck, your higher self will deliver you soulful wisdom and guidance so that you'll know the right choices to make in your life and how to live as a spiritual being in this physical world. By performing a 'soul spread', you will receive celestial direction, and with every turn of the cards, a soul lesson you are currently being taught will be revealed. James Van Praagh has drawn upon his 30 years of experience in spirit communication and counseling in order to bring you this healing tool to facilitate a clear understanding of your spiritual growth. Each page of the accompanying guidebook highlights a soul lesson such as forgiveness, understanding or compassion, and the various ways in which you may utilize it for the optimal growth and evolvement of your soul.
Sklep: Libristo.pl
Sklepy zlokalizowane w miastach: Warszawa, Kraków, Łódź, Wrocław, Poznań, Gdańsk, Szczecin, Bydgoszcz, Lublin, Katowice
Szukaj w sklepach lub całym serwisie
2. Szukaj na wszystkich stronach serwisu
t1=0.035, t2=0, t3=0, t4=0, t=0.035