krainaksiazek how to rob a bank 20041878
- znaleziono 6 produktów w 4 sklepach 20,99 zł
Filmy -> Komedie
Znakomita komedia sensacyjna o tym do czego jesteśmy zdolni, gdy los niespodziewanie postawi nas w ekstremalnej sytuacji.Jinx jest dość samolubnym i leniwym młodym człowiekiem, któremu wydaje się, że życie to wieczna balanga. Jessica to poważna, dobrze zorganizowana pracownica banku, której jednak zaczyna się nudzić w monotonnej pracy.Gdy w jej banku dochodzi do napadu, Jinx właśnie stoi przy jej okienku. Na skutek zbiegu okoliczności Jessica i Jinx chowają się w bankowym skarbcu. Tak zaczyna się zabawna gra między uwięzionymi, gangsterami i policją. Jessica i Jinx stają się mimowolnymi negocjatorami pośrednicząc między bandytami, a stróżami prawa.
Sklep: DHAA.pl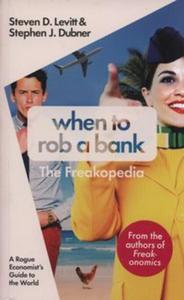 66,60 zł
Książki
Why don't flight attendants get tipped? If you were a terrorist, how would you attack? And why does KFC always run out of fried chicken?Over the past decade, Steven D. Levitt and Stephen J. Dubner have published more than 8,000 blog posts on Freakonomics.com. Now the very best of this writing has been carefully curated into one volume, the perfect solution for the millions of readers who love all things Freakonomics.Discover why taller people tend to make more money; why it's so hard to predict the Kentucky Derby winner; and why it might be time for a sex tax (if not a fat tax). You'll also learn a great deal about Levitt and Dubner's own quirks and passions. Surprising and erudite, eloquent and witty, Freaks and Friends demonstrates the brilliance that has made their books an international sensation.
Sklep: Booknet.net.pl 73,11 zł
Książki / Literatura obcojęzyczna
Gaian Economics is the second volume in the Four Keys to Sustainable Communities series and sets out to explore how we can develop healthy and abundant societies in harmony with our finite planetary resources. Using contributions from a wealth of authors (including Small Is Beautiful's E. F. Schumacher, eco-philosopher Joanna Macy, and Rob Hopkins of the Transition movement), the editors address ways of reducing our consumption to levels that enable natural systems to self-regenerate and to do so in ways that permit a high quality of life--that we live within our means and that we live well. Since the advent of the Scientific Revolution in the sixteenth century, humans have stood apart from the rest of nature, seeking to manipulate it for their benefit. Thus, we have learned to refer to the natural world as "the environment" and to see it, in economic terms, as little more than a bank of resources to be transformed into products for human use and pleasure. This has brought us to the brink of collapse, with natural systems straining under the weight of the population and the levels at which we are consuming. We are, however, on the threshold of a shift into a new way of seeing and understanding the world and our place within it--called, by some, the "Ecological Age." It will be characterized by a new understanding of our place as a thread in the web of life, of our interconnectedness with all other living things. Gaian Economics offers ways forward toward this Ecological Age, giving suggestions for how it may take shape, and how it would work. The Four Keys represent the four dimensions of sustainable design--the Worldview, the Social, the Ecological, and the Economic. This series is endorsed by UNESCO and is an official contribution to the UN Decade of Education for Sustainable Development. The other books of the series are Beyond You and Me, Designing Ecological Habitats, and The Song of the Earth. The Four Keys to Sustainable Communities series was completed in 2012 and is now available in the U.S. for the first time.
Sklep: Libristo.pl 56,02 zł
Książki / Literatura obcojęzyczna
Paul Theroux, one of the world's most popular authors, both for his travel books and his fiction, has produced an off-beat story of 1960s weirdos unlike anything he has ever written. During the time of Lyndon Johnson's presidency, Herbie Gneiss is forced to leave college to get a job, which happens to be at the Kant-Brake toy factory, which manufactures military toys for children. His income keeps his chocolate-loving mother, who tips the scales at a smidgeon over 200 pounds, from starvation. Mr. Gibbon, a patriotic veteran of three wars, also works at Kant-Brake. When Herbie is drafted, Mr. Gibbon falls in love with Herbie's mother and they move in together at Miss Ball's rooming house. Since Herbie is fighting for his country, Mr. Gibbon feels that he, too, should do something for his country and convinces Miss Ball and Mrs. Gneiss to join him in the venture. They decide to rob the Mount Holly Trust Company because it is managed by a small dark man who is probably a communist. There are some complications, including Herbie's death in action, Miss Ball's jealous Puerto Rican lover, and a few unavoidable murders--not to mention three people over sixty pulling off a bank robbery in broad daylight. Combine Donald E. Westlake with Abby Hoffman, add a bit of Gore Vidal at his most vitriolic, and you will have Murder in Mount Holly. Praise for "Murder in Mount Holly" "The geezer psychopath finally gets his due... The fun here is in how hateful the characters are." -"The New York Times Book Review" "Murder in Mount Holly parodies the American political fringe at a time when flags burned, hippies protested and commies lurked everywhere...you'll have little difficulty inserting today's fringe characters into Theroux's lampoon." --"Minneapolis Star-Tribune" "Christopher Moore andTony Robbins come to mind. It's kind of like watching "All in the Family" when all of a sudden Edith comes home with a suitcase full of body parts... Fans are sure to enjoy both the read and the stretch." -"Bookreporter" "The situations and dialogue are often hilarious, invoking reactions that range from a simple smile to belly laughs. It is a parable that applies today...Murder in Mount Holly is a most entertaining read." --About.com ..".a Vonnegut tinged absurdist satire...(a) tightly paced, expertly drawn comic romp." --Lit Reactor Praise for "Paul Theroux" "Theroux has established himself in the tradition of Conrad, or perhaps Somerset Maugham." --The New York Times Book Review "What makes Paul Theroux so good is what always separates the fine writers from the pack: his ability to look at the familiar in a fresh, original way--and make us richer for it." --The Philadelphia Inquirer "Reading Theroux becomes a journey of the unexpected, the comedic, the bureaucratically tangled and the marvelous. It is like all good journeys should be." --The Plain Dealer "Theroux is an irresistible storyteller, able to hook you with his first few lines. He dazzles not just with the number of places he writes about but the number he can evoke as if they were home." --Chicago Tribune
Sklep: Libristo.pl 104,99 zł
Muzyka>Rock
1. We Are All Prostitutes(live Milan 1980) 2. Justice(live Cologne 1980) 3. How Much Longer(live Cologne 1980) 4. Blind Faith(live Sheffield 1979) 5. Forces Of Oppression(live Cologne 1980) 6. There Are No Spectators(live Cologne 1980) 7. Feed The Hungry(live Cologne 1980) 8. Rob A Bank(live Milan 1980) 9. Shake The Foundations(live Cologne 1980) 10. 73 Shadow Street(live Helsinki 1980)
Sklep: Gigant.pl 43,99 zł
Muzyka>Hip-hop / Rap
1. In Da Club 2. 21 Questions 3. P.i.m.p. 4. Disco Inferno 5. Candy Shop 6. Just A Lil Bit 7. Outta Control (Remix) 8. Hustler's Ambition 9. Best Friend (Remix) 10. Window Shopper 11. Ayo Technology 12. I Get Money 13. Straight To The Bank 14. I'll Still Kill 15. Get Up 16. I Get It In 17. Baby By Me 18. How To Rob
Sklep: Gigant.pl
Sklepy zlokalizowane w miastach: Warszawa, Kraków, Łódź, Wrocław, Poznań, Gdańsk, Szczecin, Bydgoszcz, Lublin, Katowice
Szukaj w sklepach lub całym serwisie
2. Szukaj na wszystkich stronach serwisu
t1=0.028, t2=0, t3=0, t4=0.027, t=0.028