krainaksiazek how to win at poker 20095540
- znaleziono 14 produktów w 1 sklepie 62,03 zł
Książki / Literatura obcojęzyczna
This book is written for those who are just learning to play poker, those who are making the transition from land-based cardrooms to online games, and those who already have skills and just want to improve them.§Online poker has a greater choice of games and betting limits that in land-based casinos - from no-limit hold'em, Omaha, and stud, to new games such as Badugi - and they run 24/7 at virtually every online poker site. You can also find tournaments of all kinds, from heads-up sit-and-goes to mega tournaments with tens of thousands of participants. There are also games in which players with hundreds of thousands of dollars at stake to those played for pennies. And all online poker sites offer games for play money, in which you can learn how to play without having to risk real money. World Champion Barry Shulman shows how to make profitable game selections, adjust for the more aggressive and loose online games prevalent online, use Internet tools to learn about opponents' playing styles, and use specific strategies that lead to profits. He includes strategy secrets used by online players, tells, multitabling, cash and tournament strategies, how to avoid going broke, maximizing wins, plus sit-and go, turbo, and super turbo strategies. Also includes a special chapter on software tools and online training.
Sklep: Libristo.pl 65,52 zł
Książki / Literatura obcojęzyczna
Shane Smith, best-selling author, co-author and ghost writer of more than ten poker books, now turns her attention to the latest rage in poker, Omaha high-low poker. In a clear, concise and easy-to-understand style, Smith shows beginning and intermediate Omaha players how to win from the first time they play. Ten quick-reading chapters covers the rules, betting and blind structure, why to play Omaha, the advantages of Omaha over Texas hold'em, starting hands, playing the flop, turn, and river, strategic concepts, tournament tips, and how to avoid bad habits.
Sklep: Libristo.pl 123,27 zł
Książki / Literatura obcojęzyczna
Are you tired of being a loser but don't know how to win? The Loser's Guide to Winning: Poker Strategy Guide will show you how to win at poker. From Morton's theorem to hand probabilities, this book will give you all the insider's tips to start you down the road to Winnersville!Project Webster represents a new publishing paradigm, allowing disparate content sources to be curated into cohesive, relevant, and informative books. To date, this content has been curated from Wikipedia articles and images under Creative Commons licensing, although as Project Webster continues to increase in scope and dimension, more licensed and public domain content is being added. We believe books such as this represent a new and exciting lexicon in the sharing of human knowledge.
Sklep: Libristo.pl 93,45 zł
Książki / Literatura obcojęzyczna
The most complete book ever written on beating the casino and winning money at gambling his now expanded with the latest games and strategies. This new edition contains expanded sections on poker, particularly no-limit hold'em and tournament play, plus the latest rules and options on all the major gambling games, Detailed easy-to-read explanations show beginning and experienced players the rules, the bets, the odds, and how the games are played in US and worldwide casinos. Cardoza shows the absolute best way, with the odds, to beat poker (ten variations), blackjack, craps, slots, video poker, horseracing, bingo, baccarat, sports betting (football, baseball, basketball, boxing), roulette (American, European), Caribbean stud poker, let it ride, keno, more. Expanded visuals include over 150 illustrations, charts, and examples.
Sklep: Libristo.pl 47,60 zł
Książki / Literatura obcojęzyczna
The world is playing poker online - learn how to play with the best and win a fortune! Every year, over GBP 20 billion is up for grabs in online poker rooms, and the number of people playing on the internet is growing at an incredible rate. But for many it is a struggle to keep up with more experienced players, and all too often the money ends up going the wrong way! This incredible book holds the key to financial success at the hugely enjoyable - and very profitable! - game everyone's talking about. Whether you are a complete novice or an old hand, you'll be covered. From getting going with an account and understanding poker terminology, probability, odds, raising, and bluffing, to developing amazing strategic skills, the author guides you through every stage of the game, equipping you with the know-how to confidently 'boss' a table anywhere. So if you'd like to raise your game, then up the ante with this invaluable tool for making a million at the internet's coolest game.
Sklep: Libristo.pl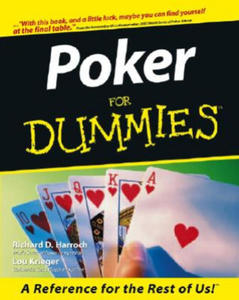 78,85 zł
Książki / Literatura obcojęzyczna
Poker is America's national card game, and its popularity continues to grow. Nationwide, you can find a game in progress everywhere. If you want to play, you can find poker games on replicas of 19th century riverboats or on Native American tribal lands. You can play poker at home with the family or online with opponents from around the world. Like bowling and billiards before it, poker has moved out from under the seedier side of its roots and is flowering in the sunshine. Maybe you've never played poker before and you don't even know what a full house is. Poker For Dummies covers the basics. Or perhaps you've played for years, but you just don't know how to win. This handy guide will help you walk away from the poker table with winnings, not lint, in your pockets. If you're a poker expert, you still can benefit - some of the suggestions may surprise you, and you can certainly learn from the anecdotes from professional players like T.J. Cloutier and Stu Unger. Know what it takes to start winning hand after hand by exploring strategy; getting to know antes and betting structure; knowing your opponents, and understanding the odds. Poker For Dummies also covers the following topics and more:* Poker games such as Seven-Card Stud, Omaha, and Texas Hold'em* Setting up a game at home* Playing in a casino: Do's and don'ts* Improving your play with Internet and video poker* Deciphering poker sayings and slang* Ten ways to read your opponent's body language* Playing in poker tournaments* Money management and recordkeeping* Knowing when and how to bluff Poker looks like such a simple game. Anyone, it seems, can play it well - but that's far from the truth. Learning the rules can be quick work, but becoming a winning player takes considerably longer. Still, anyone willing to make the effort can become a good player. You can succeed in poker the way you succeed in life: by facing it squarely, getting up earlier than the next person, and working harder and smarter than the competition. Foreword by Chris Moneymaker, 2003 World Series of Poker Champion.
Sklep: Libristo.pl 58,54 zł
Książki / Literatura obcojęzyczna
In Play Poker Like the Pros, poker master Phil Hellmuth, Jr., demonstrates exactly how to play and win -- even if you have never picked up a deck of cards -- the modern games of poker, including: Texas Hold'em, Omaha, Seven-Card Stud, and Razz.Phil Hellmuth, Jr., a seven-time World Champion of Poker, presents his tournament-tested strategies to beat any type of player, including: The Jackal (crazy and unpredictable)The Elephant (plays too many hands) The Mouse (plays very conservatively)The Lion (skilled and tough to beat)Play Poker Like the Pros begins by laying out the rules and set-up of each game and then moves on to easy-to-follow basic and advanced strategies. Hellmuth teaches exactly which hands to play, when to bluff, when to raise, and when to fold. In addition Hellmuth provides techniques for reading other players and staying cool under pressure. There are also special chapters on how to beat online poker games and an inside look at tournament play.
Sklep: Libristo.pl 71,55 zł
Książki / Literatura obcojęzyczna
Easy step by step instructions on when to bet, raise, hold or fold. Shows which cards to fold and which cards to bet on, and how much. No guess work, only easy to follow plan to win consistantly and make big money.
Sklep: Libristo.pl 37,28 zł
Książki / Literatura obcojęzyczna
Most people playing online poker think they are winning players when they're actually losing month after month. But, if you have basic knowledge of the game and follow Paul Mendelson's techniques, you can ensure that you win regularly and consistently. Find out how to: select the best poker sites for your standard. Analyze your opponents and their games. Adapt your game to combat the styles of play you meet. Counter the costly dangers of 'tilt' and temperament. Manage your bankroll and build it into serious money. Play to benefit from being alert while others - in another time zone - are exhausted. Make the right decisions - and avoid costly mistakes. Read your opponents correctly - and keep them guessing about you!
Sklep: Libristo.pl 354,12 zł
Książki / Literatura obcojęzyczna
Great poker players are master tacticians. Not only do they calculate odds with lightning speed and astonishing precision, but they also cunningly anticipate and manipulate the actions of their adversaries. In short, they boast skills that every lawyer can envy. This highly entertaining work might best be summed up as "better lawyering through poker." Steven Lubet shows exactly how the tactics of the poker table can be adapted to litigation, negotiation, and virtually every aspect of law practice. In a series of engaging and informative lessons, Lubet describes concepts like "betting for value," "slow playing," and "reverse bluffing," and explains how they can be used by lawyers to win their cases. The best card players, like the best lawyers, have a knack for getting their adversaries to react exactly as they want, and that talent separates the winners from the losers. Lawyers' Poker is an irresistible guide to successful lawyering and an enjoyable read for anyone with an interest in law. No poker knowledge required.
Sklep: Libristo.pl 70,60 zł
Play Poker Connections Book Publishing Ltd
Książki / Literatura obcojęzyczna
Fancy yourself as a poker player, but not quite sure of the rules? Enjoy playing cards, but bored of playing the same old games? Then Play Poker is the answer. Now you can play poker with dice, or cards, and learn how to win every time! Pla Poker contains everything you need to master the ultimate gambling game.
Sklep: Libristo.pl 68,70 zł
Książki / Literatura obcojęzyczna
Poker tournaments have taken television by storm. So what's next? Blackjack. Ken Einiger is a champion, having won the 2005 World Series of Blackjack on television. Here, Ken introduces you to blackjack tournaments, explains how to find them, evaluate profit potential, navigate the registration process, and improve your chances of getting on TV.
Sklep: Libristo.pl 78,53 zł
Książki / Literatura obcojęzyczna
For more than two decades, in such landmark studies as The Second Self and Life on the Screen, Sherry Turkle has challenged our collective imagination with her insights about how technology enters our private worlds. In The Inner History of Devices, she describes her process, an approach that reveals how what we make is woven into our ways of seeing ourselves. She brings together three traditions of listening--that of the memoirist, the clinician, and the ethnographer. Each informs the others to compose an inner history of devices. We read about objects ranging from cell phones and video poker to prosthetic eyes, from Web sites and television to dialysis machines. In an introductory essay, Turkle makes the case for an "intimate ethnography" that challenges conventional wisdom. One personal computer owner tells Turkle: "This computer means everything to me. It's where I put my hope." Turkle explains that she began that conversation thinking she would learn how people put computers to work. By its end, her question has changed: "What was there about personal computers that offered such deep connection? What did a computer have that offered hope?" The Inner History of Devices teaches us to listen for the answer. In the memoirs, ethnographies, and clinical cases collected in this volume, we read about an American student who comes to terms with her conflicting identities as she contemplates a cell phone she used in Japan ("Tokyo sat trapped inside it"); a troubled patient who uses email both to criticize her therapist and to be reassured by her; a compulsive gambler who does not want to win steadily at video poker because a pattern of losing and winning keeps her more connected to the body of the machine. In these writings, we hear untold stories. We learn that received wisdom never goes far enough.
Sklep: Libristo.pl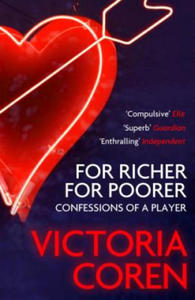 47,28 zł
Książki / Literatura obcojęzyczna
Miserable at an elegant day school for girls, Victoria Coren finds an escape in the mysterious world of poker. Twenty years later, she has won a million dollars and forgotten to have children. What price adventure? This is a true story of happiness and heartbreak, smoke and mirrors, bright lights and shady characters. It is a memoir of friendship and belonging, love and loss. It might also teach you how to win a million ...
Sklep: Libristo.pl
Sklepy zlokalizowane w miastach: Warszawa, Kraków, Łódź, Wrocław, Poznań, Gdańsk, Szczecin, Bydgoszcz, Lublin, Katowice
Szukaj w sklepach lub całym serwisie
2. Szukaj na wszystkich stronach serwisu
t1=0.083, t2=0, t3=0, t4=0, t=0.084