krainaksiazek how to write a nonfiction book that sells 20041438
- znaleziono 10 produkty w 2 sklepach 34,43 zł
Książki
Sklep: KrainaKsiazek.pl 30,41 zł 49,31 zł
Książki / Literatura obcojęzyczna
Writing fiction is different to editing fiction. Each activity requires a separate frame of mind. Writing is creative thinking, editing is critical thinking. When writing, all you worry about is the narrative flow, not the consistency of point of view or the number of adverbs in your manuscript. Self-editing Fiction That Sells will teach you the necessary frame of mind to sit yourself in 'opposition' to your manuscript, as an editor would do, and improve it through structured editing and rewriting. KEY POINTS This book includes intuitive exercises that will help the reader to locate the bad writing in their script, from unnecessary verbs to ineffective plots, from 'telling, not showing' to dealing with an under-developed villain, and more. It will increase the reader's market-awareness as a writer looking to get published, in the traditional way or through self-publishing. It will help writers not only to write better fiction, but also to market themselves more effectively to agents, publishers and - ultimately - their readers.
Sklep: Libristo.pl 103,23 zł
Książki / Literatura obcojęzyczna
Ever wanted to share your passion, tell your story or pass on a skill? Here is your chance. Memoir, travelogue, history, how-to, self-help or textbook; you can write your own book with this fully comprehensive guide, which includes all the techniques and tips you need to plan, research, write, edit, choose publishing options and market your book. Becoming an author enables you to boost your career or business success, share your expertise and experience, inform readers on important issues, put the record straight, or leave a heritage for family and friends. Written in a reader-friendly style and focusing on your individual needs, Writing Your Nonfiction Book also contains a list of websites and a handy glossary of publishing and writing terms. Though suitable for beginners, there is much in this book for experienced writers of non-fiction, and even fiction. Whoever you are, your voice can be heard, your story told, because Writing Your Nonfiction Book leads you one step at a time through the whole process. Key selling books of the point are: This is the only truly complete guide, with equal emphasis on planning, research, writing, editing, publishing and marketing. It teaches the creative/narrative style of non-fiction, with specific advice for writing memoir, travel, history, textbooks, biography, how-to and self-help books. The book recognises the information needed by international writers, and lists support services and resources for various countries. Writing Your Nonfiction Book has been selected as a required text for international writing courses.
Sklep: Libristo.pl 93,83 zł
Książki / Literatura obcojęzyczna
"In The Author's Training Manual, Amir offers aspiring authors a sure-fire way to evaluate themselves and their book ideas to increase their odds of producing books that attract both publishers and readers. She offers them a process by which they can tell if they have an idea that will stand up against the thousands of other books published every year--and if they, as authors, can stand up against the other authors willing to do whatever it takes to get their books out in front of readers in their market. In the competitive publishing world, aspiring authors need an edge. This book and the process it offers, provide just that." - Dan Poynter, author of The Self-Publishing Manual and 132 other books "If you're aspiring to success in writing and publishing, Nina's guide should help hugely in developing an approach that's both realistic and professional." - Aaron Shepard, author of The Business of Writing for Children and From Word to Kindle The Author Training Manual lifts the fog of confusion around getting published and illuminates every nonfiction and fiction writer's need to create a plan, keep on track, navigate all publishing options, tackle promotion, open possibilities for sales and, plain and simple, succeed as an author. This is the book I've been waiting for to recommend to all editing clients and writers." - Elizabeth Lyon, author of Nonfiction Book Proposals Anybody Can Write and Crafting Titles "An extraordinarily helpful guide for writers who want to take control of their own career and destiny. This book is full of simple tips everyone writing a book can use." - Chuck Sambuchino, author, and editor of Guide To Literary Agents Becoming a successfully published author requires a lot more than simply writing a book. The Author Training Manual provides the specific steps necessary for both fiction and non-fiction writers alike in an upbeat and empowering style." - Martha Alderson, author of The Plot Whisperer: Secrets of Story Structure Any Writer Can Master "If you are serious about getting published, you will stand out from your competition by using all of the resources at your disposal to set yourself apart in the most positive way. Nina Amir's approach taps into your natural creativity and applies it to the important business considerations that will help get your book in the marketplace." - Sheree Bykofsky, Literary Agent and co-author of The Complete Idiot's Guide to Getting Published, 5th Edition "Finally a book that offers indie publishers a tool for becoming savvy business people. Fiction and nonfiction authors alike will benefit from The Author Training Manual, which shows them how to create a business plan for a book that can succeed in the marketplace. A good idea is great; a marketable one is better." - Jim Kukral, author of Attention! This Book Will Make You Money and founder of The Author Marketing Club "One of the most important things an author can do for themselves is to prepare to become published and to succeed in this role, which takes more than just writing a good book. It takes a solid plan. If you want the tools to succeed no matter what or how you plan to publish, this is the book you want to read." - Penny C Sansevieri, CEO of Author Marketing Experts, Inc., adjunct professor NYU and author of Red Hot Internet Publicity
Sklep: Libristo.pl 70,25 zł
Książki / Literatura obcojęzyczna
Webster T Bear was a toy bear who lived in a bookstore with lots of other stuffed animals. He watched as grownups and children came and went each day, and he watched as his animal friends went home with them. He wondered if he would ever have a boy or girl to love, and to love him return. He wondered how it would feel to leave the place he had always known. He wondered how it would feel to belong to somebody. It could be fun, and it could be scary. One day, he had his chance to learn how it felt...to love and be loved in return. Author Yvonne Morris was born in Dublin, Ireland. She has loved reading and storytelling as long as she can remember. Yvonne was inspired to write this bedtime story while visiting a good friend in Florence Oregon. In Old Town Florence there is a sweet little bookstore that also sells teddy bears and other toys. THE BEAR IN THE BOOKSTORE - WEBSTER FINDS A FRIEND is her first collaboration with Jesse De La Cour, an Irish artist now living in Germany. Yvonne lives in the central California town of Fresno. She can be contacted at WebsterBearStories@gmail.com. This is a Learn-to-Grow Book (TM) with discussion aids and glossary, so children can interact with the story. Also included are suggestions for sharing stories with your child.
Sklep: Libristo.pl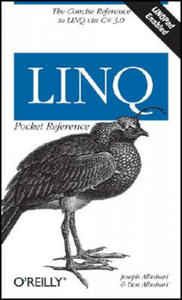 67,45 zł
Książki / Literatura obcojęzyczna
Ready to take advantage of LINQ with C# 3.0? This guide has the detail you need to grasp Microsoft's new querying technology, and concise explanations to help you learn it quickly. And once you begin to apply LINQ, the book serves as an on-the-job reference when you need immediate reminders. All the examples in the "LINQ Pocket Reference" are preloaded into LINQPad, the highly praised utility that lets you work with LINQ interactively. Created by the authors and free to download, LINQPad will not only help you learn LINQ, it will have you thinking in LINQ.This reference explains: LINQ's key concepts, such as deferred execution, iterator chaining, and type inference in lambda expressions; the differences between local and interpreted queries; C# 3.0 's query syntax in detail-including multiple generators, joining, grouping, query continuations, and more; Query syntax versus lambda syntax, and mixed syntax queries; composition and projection strategies for complex queries; all of LINQ's 40-plus query operators; how to write efficient LINQ to SQL queries; how to build expression trees from scratch; and, all of LINQ to XML's types and their advanced use LINQ promises to be the locus of a thriving ecosystem for many years to come. This small book gives you a huge head start.'The authors built a tool (LINQPad) that lets you experiment with LINQ interactively in a way that the designers of LINQ themselves don't support, and the tool has all kinds of wonderful features that LINQ, SQL and Regular Expression programmers alike will want to use regularly long after they've read the book' - Chris Sells, Connected Systems Program Manager, Microsoft.
Sklep: Libristo.pl 82,12 zł
Książki / Literatura obcojęzyczna
More Matter is a collection of John Updike's best-loved critical essays and reflections. From the journals of John Cheever to the Queen of England, More Matter is a lively discussion on contemporary art, issues and people, told from the inimitable perspective of Pulitzer prizewinner John Updike. Wide ranging, incisive, witty and always superbly written, it has something to say about almost everyone - from Graham Greene to Bill Gates to Mickey Mouse - and everything - from sexual politics to spiritual matters to unopenable packages. It provides any number of intimate glimpses into how this remarkable mind works. Praise for More Matter: "Unlike most journalism, Updike's occasional writing is so exquisite as to repay multiple readings". (Publishers Weekly). "More Matter attests to Mr. Updike's remarkable versatility and to his ardent drive to turn all his observations into glittering, gossamer prose...In his strongest pieces, Mr. Updike's awesome pictorial powers of description combine with a rigorous, searching intelligence to produce essays of enormous tactile power and conviction". (New York Times). "More Matter will leave even his closest followers amazed...Updike can write about anything, in any form and at any length, and do it with intelligence and knowledge and grace and agility and wit - and oh, the prose". (Pittsburgh Tribune Review). John Updike was born in 1932 in Shillington, Pennsylvania. He graduated from Harvard College in 1954, and spent a year in Oxford, at the Ruskin School of Drawing and Fine Art. His novels, stories, and nonfiction collections have won numerous awards, including the Pulitzer Prize, the National Book Award, the National Book Critics Circle Award, the PEN/Faulkner Award and the Howells Medal of the American Academy of Arts and Letters. He died in January 2009.
Sklep: Libristo.pl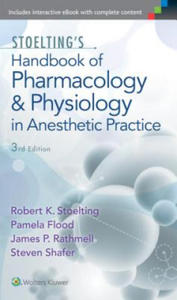 235,16 zł
Książki / Literatura obcojęzyczna
Understanding pharmacology as it applies to the function of anesthesthetic drugs is crucial to learning how to be an anesthesiologist; understanding how physiology interacts with the drugs you are administering is just as important. This handbook follows the chapter headings of its parent textbook. Figures and tables are used extensively to summarize key points and dosages, making the book easy to use in the or. A separate drug index makes looking up individual drugs fast and easy. The handbook sells heavily to anesthesia residents and nurse anesthetists. Bob Stoelting, a legend in anesthesia, will write the handbook and his name will appear in the title. Key features: new chapter on drug delivery systems; new chapter on pharmacogenomics; new coverage of drugs with anesthetic interactions; new coverage of the physiology of resuscitation; comprehensive but succinct coverage of all major topics; and easy to access; many tables and lists to emphasize key points. It is written by Bob Stoelting.
Sklep: Libristo.pl
Sklepy zlokalizowane w miastach: Warszawa, Kraków, Łódź, Wrocław, Poznań, Gdańsk, Szczecin, Bydgoszcz, Lublin, Katowice
Szukaj w sklepach lub całym serwisie
2. Szukaj na wszystkich stronach serwisu
t1=0.036, t2=0, t3=0, t4=0.024, t=0.036