krainaksiazek how to write a sponsorship proposal 20042615
- znaleziono 12 produktów w 2 sklepach 166,72 zł
Książki / Literatura obcojęzyczna
Writing and submitting an acceptance research proposal is not a simple task and can be exasperating experience even for the most accomplished and experienced researchers. For most graduate students pursuing masters and PhD,the time for producing a research proposal and final dissertation is considered as a period of agony and utmost suffering.In most cases out rightly detest the whole idea of writing and submitting a proposal because the whole business seems to be too complex to accomplish.Arguably,in most Universities in Africa the time for producing a dissertation/thesis proposal and its final report is probably the most frustrating moment.However,despite all these challenges associated in writing a dissertation/thesis,there are still some students who write and submit acceptable dissertation proposals within the shortest time possible or within recommended time period.Students even produce their own proposals and final dissertations well before the officially stipulated time.The purpose of this book is to guide how students can successfully write their proposals.
Sklep: Libristo.pl 85,76 zł
Książki / Literatura obcojęzyczna
4th edition. Updated and expanded with instructions on submission guidelines and techniques.
Sklep: Libristo.pl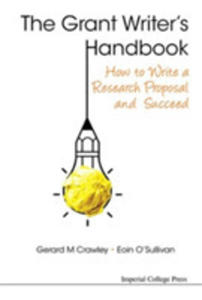 149,99 zł
Książki Obcojęzyczne>Angielskie>Language>Reference & general>Writing & editing guidesKsiążki Obcojęzyczne>Angielskie>Mathematics & s...
How To Write A Research Grant Proposal - And Succeed Provides Useful And Practical Advice On All Aspects Of Proposal Writing, Including Developing Proposal Ideas, Drafting The Proposal, Dealing With Referees, And Budgeting.
Sklep: Gigant.pl 426,88 zł
Książki / Literatura obcojęzyczna
Over the last fifty years behavioral and medical research has been generously supported by the federal government, private foundations, and other philanthropic organizations contributing to the development of a vibrant public health system both in the United States and worldwide. However, these funds are dwindling and to stay competitive, investigators must understand the funding environment and know how to translate their hypotheses into research grant applications that reviewers evaluate as having scientific merit.§The Second Edition of How to Write a Successful Research Grant Application is the only book of its kind written by federal research investigators which provides technical assistance for researchers applying for biobehavioral and psychosocial research funding and can give them an edge in this competitive environment. The book provides invaluable tips on all aspects of the art of grantsmanship, including: how to determine research opportunities and priorities, how to develop the different elements of an application, how to negotiate the electronic submission and review processes, and how to disseminate the findings. Charts, visual aids, Web links, an extensive real-world example of a research proposal with budget, and a "So You Were Awarded Your Grant Now What?" chapter show prospective applicants how to:§- Formulate a testworthy and interesting hypothesis.§- Select the appropriate research mechanism.§- Avoid common pitfalls in proposal writing.§- Develop an adequate control group.§- Conduct a rigorous qualitative inquiry.§- Develop a budget justification of costs. §- Develop a human subjects of animal welfare plan.§- Write a data analytic plan.§- Design a quality control/assurance program. §- Read between the lines of a summary of the review of your application.§Although its focus is on Public Health Service funding, How to Write a Successful Research Grant is equally useful for all research proposals, including graduate students preparing a thesis or dissertation proposal. Service providers in community-based organizations and public health agencies will also find this a useful resource in preparing a proposal to compete for grant funds from state and community resources, non-government organizations, and foundations.
Sklep: Libristo.pl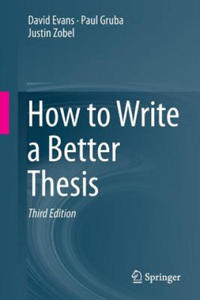 132,64 zł
Książki / Literatura obcojęzyczna
How to Write a Better Thesis presents a cohesive approach to research that will help you on the road to success. §Take an integrated, down-to-earth approach. From proposal to examination, producing a dissertation or thesis is a challenge. Grounded in decades of experience with research training and supervision, this fully updated and revised edition draws on case studies and examples to guide you step-by-step towards productive success.§Early chapters frame the tasks ahead and show you how to get started. From there, practical advice and illustrations take you through the elements of formulating research questions, working with software, and purposeful writing of each of the different kinds of chapters, and finishes with a focus on revision, dissemination and deadlines. How to Write a Better Thesis presents a cohesive approach to research that will help you succeed. §
Sklep: Libristo.pl 265,28 zł
Książki / Literatura obcojęzyczna
This new edition of Nick Moore's highly successful "How to do Research" offers an accessible guide to the complete research process. It focuses on the day-to-day requirements of project, managing a piece of research right through from the formulation of the initial idea, to the development of a research proposal and then to the writing up and disseminating of results. Updated throughout, it also contains new and expanded sections on in-house research; the use of sub-contractors and market-research companies; the use of the internet as a research tool; and ethical issues. The book provides practical help and guidance to anyone undertaking academic or social research, whether through work or study. Part One of the book follows a step-by-step guide to the research process itself: develop the research objectives; design and plan the study; write the proposal; obtain financial support for the research; manage the research; draw conclusions and make recommendations; write the report; and; disseminate the results. Part Two offers an introduction to some of the more common research methods, and takes the reader through the processes of collecting and analysing data, including sampling, surveys, interviewing, focus groups and capturing data. This book offers a wealth of invaluable guidance to both new and experienced researchers, presented in a clear, simple style. It is ideal for professionals undertaking research and the evaluation of services; for undergraduate and postgraduate students undertaking dissertations and other research projects; and as an introductory text on research methods courses in any social science discipline.
Sklep: Libristo.pl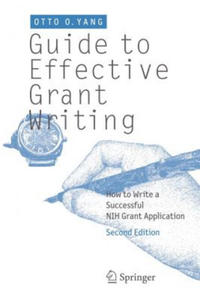 143,36 zł
Książki / Literatura obcojęzyczna
Getting funding from the NIH for research is one of the most important skills required of all academic researchers, and here, Otto O. Yang offers a fully updated second edition to his straightforward, common-sense Guide to Effective Grant Writing. Yang shares his perspectives from both ends: as a pioneering researcher applying for funding as well as an NIH scientific consultant reviewing grants. He provides the reader with a step-by-step account on how to write a successful grant application, while highlighting common errors. This definitive guide to the NIH review process is a must for any pioneering researcher.§From the foreword:§The bane of academic existence is grant writing, now more than ever given new economic realities that change an already challenging landscape. Yet without grants most of us would not be able to continue to ply our trade. With this enormous importance of grants, it is surprising that we are so well trained to do research, with so little attention given to grant writing, which is the lifeblood of academic research.§Help became available with the first publication of this inspired book from Otto Yang MD, and now in its second edition it becomes even more invaluable. The book will be of great help to anyone writing a grant, even those of us who are more seasoned grant writers. The new edition is organized in similar fashion to the newly modified official NIH grant, readily helping the reader to navigate an entirely new terrain. Moreover, it outlines in very readable fashion specific suggestions for convincing study sections that the ideas being presented are worthy of funding, turning the reviewer into an advocate for the project being proposed. It also points out common errors that make reviewers lose enthusiasm even when the experiments are highly worthy of funding. Frequent use of examples makes the points very clear, and the clear style makes the book an enjoyable read.§- Bruce D. Walker, Professor of Medicine and Director of the Partner s AIDS Research Center at Harvard Medical School; Boston Massachusetts§Former Chairman of an NIAID/NIH study section Guide to Effective Grant Writing: How to Write a Successful NIH Grant, 2nd edition is a fully updated follow-up to the popular original. It is written to help the 100,000+ post-graduate students and professionals who need to write effective proposals for grants. There is little or no formal teaching about the process of writing grants for NIH, and many grant applications are rejected due to poor writing and weak formulation of ideas. Procuring grant funding is the central key to survival for any academic researcher in the biological sciences; thus, being able to write a proposal that effectively illustrates one's ideas is essential. Covering all aspects of the proposal process, from the most basic questions about form and style to the task of seeking funding, this volume offers clear advice backed up with excellent examples. Included are a number of specimen proposals to help shed light on the important issues surrounding the writing of proposals. The Guide is a clear, straight-forward, and reader-friendly tool. Guide to Effective Grant Writing: How to Write a Successful NIH Grant Writing is based on Dr. Yang's extensive experience serving on NIH grant review panels; it covers the common mistakes and problems he routinely witnesses while reviewing grants.
Sklep: Libristo.pl 208,48 zł
Książki / Literatura obcojęzyczna
Receiving EU grants is not easy - and everything starts with a proposal to one of the many programmes. The challenge is to write a better proposal than most of the other companies within the member states of the EU. Funding quotes are low. Only 10 to 20 percent of all proposals are funded. And you only know it at the end - about 3 months after a nail-biting fight with the deadline and some missing information from one of your project partners somewhere in Europe. Is it really possible for an SME to start from the scratch and to receive funding with the first try? Is there enough help from national advisors? How small may an SME be to be still successful? Read the true story of a real proposal with all information including large parts of the proposal itself.
Sklep: Libristo.pl 80,00 zł
Książki / Literatura obcojęzyczna
The process of doing an academic work, whether a mini-project, diploma thesis, master s thesis or PhD thesis, requires systematic knowledge and skills in order to answer the following questions: How do I find a topic? , How do I obtain funding money? , How do I write a project proposal? , How is the organisatoric workflow? , How do I search Literature systematically? , Why should I read patents? , How can I organize my references? , Why English as a working language? , What is the formal structure of a thesis like? , What is the classical hypothetic-deductive research process? , Which research methods could I use? , How will my posters, my presentations and my written work be graded? , How do I contribute to a conference? , How do I contribute to an archival Journal? . These questions are discussed on the basis of the subjects Engineering (Computer Science/Informatics) and Natural Sciences (Psychology) and Business (Software Engineering/Business), which can be bridged by the subject Human-Computer Interaction and Usability Engineering (HCI&UE). Since science is trans-cultural, inter-subjective and reproductive; these fundamentals can be further applied to almost any subject.Die Durchführung einer akademischen Arbeit, ob Mini-Projekt, Diplomarbeit, Masterarbeit oder Doktorarbeit erfordert systematische Kenntnisse und Fertigkeiten um folgende Fragen zu beantworten: Wie finde ich ein Thema? , Wie komme ich zu Förderungen? , Wie verfasse ich einen Projektantrag? , Wie läuft eine Arbeit organisatorisch ab? , Wie führe ich eine systematische Literatursuche durch? , Warum sollte ich Patente lesen? , Wie kann ich meine Literatur verwalten? , Warum Englisch als Arbeitssprache? , Wie ist der formale Aufbau einer Arbeit? , Wie läuft der klassische Forschungsprozess ab? , Welche Forschungsmethoden gibt es? , Wie werden meine Poster, Vorträge und schriftlichen Arbeiten beurteilt? , Wie verfasse ich einen Konferenzbeitrag? , Wie verfasse ich einen Beitrag zu einer wissenschaftlichen Zeitschrift? . Diese Fragen werden exemplarisch an Hand von Ingenieurswissenschaften (Informatik) und Naturwissenschaften (Psychologie) und Wirtschaft (Software Engineering/Business) besprochen, deren Brücke das Fach Human-Computer Interaction und Usability Engineering darstellt. Da Wissenschaft transkulturell, intersubjektiv und reproduzierbar sein soll, lassen sich die Prinzipien aber auch auf andere Gebiete übertragen.
Sklep: Libristo.pl 227,52 zł
Książki / Literatura obcojęzyczna
This book shows how to write an expression of interest (EOI) in response to a proposal. It can be an advertisement in the newspaper or television. This book shows how to write an EOI by working on an example having topic EIA of Shopping plaza. The advertisement says that proposals are invited from renowned national firms for providing consulting services to Punjab developers for the development of a Mega Shopping Plaza (10 floors) in Lahore. The interested consultancy firms are required to submit their applications for preparing the design of the shopping plaza and infrastructural development work.
Sklep: Libristo.pl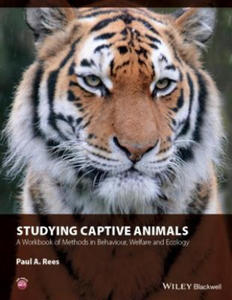 238,88 zł
Książki / Literatura obcojęzyczna
Studying Captive Animals outlines the methods that may beused to study the behaviour, welfare and ecology of animals livingunder the control of humans, including companion animals, feralpopulations, and those living on farms and in zoos. This book is a step-by-step guide to the whole process ofconducting a scientific study: from designing the original project,formulating testable hypotheses, and collecting and analysing thedata, to drawing conclusions from the work and writing it up as ascientific report or paper. It also illustrates how to write aformal research proposal - a crucial and often difficult element ofthe student project - and how to deal with the ethical reviewprocess. Sample data collection sheets are provided and the analysis andpresentation of data are worked through in diagrammatic form. Inaddition, exercises are included that enable the reader to practice analysing different types of data and advice isprovided on the selection of appropriate statistical tests. Thetext describes the different types of student projects that may beundertaken in the field, and explains where secondary data may befound for zoos. This is an insightful resource, particularly for those studyingand working with zoo and farm animals. It is essential reading forstudents studying zoo biology and animal management; it is alsosuitable for students on courses in animal behaviour, animalwelfare, zoology, biology, psychology, animal science, animalproduction, animal ecology, conservation biology, and veterinaryscience. This book is primarily intended for undergraduates butwill also be of value to postgraduate students who have notpreviously engaged in field studies. Professionals working ininstitutions that are members of the World Association of Zoos andAquariums, the European Association of Zoos and Aquaria and otherregional and national zoo organisations will benefit from access tothis practical guide.
Sklep: Libristo.pl 75,68 zł
Książki / Literatura obcojęzyczna
Purchase one of 1st World Library's Classic Books and help support our free internet library of downloadable eBooks. 1st World Library-Literary Society is a non-profit educational organization. Visit us online at www.1stWorldLibrary.ORG - THE discourse on "Evolution and Ethics," reprinted in the first half of the present volume, was delivered before the University of Oxford, as the second of the annual lectures founded by Mr. Romanes: whose name I may not write without deploring the untimely death, in the flower of his age, of a friend endeared to me, as to so many others, by his kindly nature; and justly valued by all his colleagues for his powers of investigation and his zeal for the advancement of knowledge. I well remember, when Mr. Romanes' early work came into my hands, as one of the secretaries of the Royal Society, how much I rejoiced in the accession to the ranks of the little army of workers in science of a recruit so well qualified to take a high place among us. It was at my friend's urgent request that I agreed to undertake the lecture, should I be honoured with an official proposal to give it, though I confess not without misgivings, if only on account of the serious fatigue and hoarseness which public speaking has for some years caused me; while I knew that it would be my fate to follow the most accomplished and facile orator of our time, whose indomitable youth is in no matter more manifest than in his penetrating and musical voice. A certain saying about comparisons intruded itself somewhat importunately.
Sklep: Libristo.pl
Sklepy zlokalizowane w miastach: Warszawa, Kraków, Łódź, Wrocław, Poznań, Gdańsk, Szczecin, Bydgoszcz, Lublin, Katowice
Szukaj w sklepach lub całym serwisie
2. Szukaj na wszystkich stronach serwisu
t1=0.044, t2=0, t3=0, t4=0, t=0.044