krainaksiazek in a predicament all my life a collection of poems 20098404
- znaleziono 10 produkty w 2 sklepach 51,27 zł
Książki & Multimedia > Książki
Opis - Książka, posiadająca istotne walory praktyczne, jest pierwszą pozycją polskiej autorki w tak kompleksowy sposób analizującą nie tylko istotę funkcjonowania kredytowych instrumentów pochodnych, ale również modele ich wyceny, doskonalenie których autorka słusznie uznaje za kluczowe dla rozwoju tego rynku. Niewątpliwą zaletą opracowania jest mnogość przykładów, przeprowadzających Czytelnika przez kolejne etapy szacowania wartości omawianych struktur i tworzących idealną bazę dla zrozumienia konstrukcji tych złożonych produktów. Prof. zw. dr hab. Janusz Soboń Publikacja stanowi cenne kompendium wiedzy zarówno dla praktyków rynku finansowego, jak i studentów oraz słuchaczy studiów podyplomowych i doktoranckich, jak również dla pracowników nauki zainteresowanych wdrażaniem metod kwantyfikacji ryzyka kredytowego w praktykę. Prof. nadzw. SGH dr hab. Paweł Niedziółka Nazwa - Pochodne instrumenty kredytowe Autor - Izabela Pruchnicka-Grabias Oprawa - Miękka Wydawca - CeDeWu Kod ISBN - 9788375563733 Kod EAN - 9788375563733 Wydanie - 1 Rok wydania - 2011 Język - polski Format - 16.5x23.0cm Ilość stron - 280 Podatek VAT - 5%
Sklep: InBook.pl 50,13 zł
Książki / Literatura obcojęzyczna
A revised edition of Tony Harrison's award-winning Selected Poems This indispensable new selection of Tony Harrison's poems includes over sixty poems from his famous sonnet sequence The School of Eloquence and the remarkable long poem 'v.', a meditation in a vandalized Leeds graveyard which caused enormous controversy when it was broadcast on Channel 4 in 1987 and is now regarded as one of the key poems of the late twentieth century. This substantially revised and updated edition now also features a generous selection of Harrison's most recent work, including the acclaimed poems he wrote for the Guardian on the Gulf War and then from the front line in the Bosnian War which won him the Wilfred Owen Award for Poetry in 2007. Selected Poems is a collection to be savoured by fans of Carol Ann Duffy, Seamus Heaney, Simon Armitage and Sophie Hannah. 'A voracious appetite for language. Brilliant, passionate, outrageous, abrasive, but also, as in the family sonnets, immeasurably tender' Harold Pinter 'In the front rank of contemporary British poets. Harrison's range is exhilarating, his clarity and technical mastery a sharp pleasure' Melvyn Bragg 'The poem "v." is the most outstanding social poem of the last twenty-five years. Seldom has a British poem of such personal intensity had such universal range' Martin Booth 'Poems written in a style which I feel I have all my life been waiting for' Stephen Spender 'A poet of great technical accomplishment whose work insists that it is speech rather than page-bound silence' Sean O'Brien, The Oxford Companion to Twentieth-Century Poetry Tony Harrison's Collected Poems was published by Viking in 2007. Harrison is also a translator, playwright and film-maker. His highly acclaimed adaption of the Mysteries debuted at the National Theatre in 1985. In 2006 he won the Wilfred Owen Poetry Award for his recent war poetry, and in 2009 he was the inaugural winner of the PEN/Pinter Prize.
Sklep: Libristo.pl 30,31 zł
Książki / Literatura obcojęzyczna
"Your lips upon my lips, and your eyes upon my eyes."-Victor Hugo Pocket Posh(r) Classic Love Poems will absolutely warm your heart. This pocket-sized collection is a beautiful keepsake for yourself or for giving to that special person in your life. Shakespeare's sonnets, the elegant words of Robert Browning, the poignant sonnets of Elizabeth Barrett Browning, the stirring poetry of Christina Rossetti all are collected here in this celebration of romantic passion and deep abiding love. Emily Dickinson, Ralph Waldo Emerson, William Butler Yeats, Lord Byron, Keats, Wordsworth, Shelley, and other treasured poets will help you say I love you in a meaningful way. "If ever two were one then surely we."-Anne Bradstreet
Sklep: Libristo.pl 51,44 zł
Książki / Literatura obcojęzyczna
I want to write a book of experiences and dreams, I don't just want to leave sheets of paper that will never be seen. I would like the book to be like a mind alive on a shelf, From which my voice could go out and, hopefully, help others to find themselves. Once I was lost, now I am free - this is the overriding theme of this collection of poetry. Charting the many times that things have been difficult in her life, Margaret Steggles explains how she found her own way, the people that helped and all the things she saw along the way. Whether you have suffered loss, indecisiveness, low self-esteem or simply felt like you were in the wrong place in your life, one of these poems is sure to speak to something in you and help you find your own way. Author biog. Born in Essex in 1943, I grew up always wanting to be a nurse. I qualified in London in 1964 and worked within the profession until retiring in 2003. I started writing after moving to Devon in 2006 as a way of laying to rest ghosts from my past.
Sklep: Libristo.pl 56,36 zł
Książki / Literatura obcojęzyczna
Hold My Hand Lord is a collection of sermonettes poems and prayers, written to bring comfort, peace and encouragement in those moments we all have at times, when we struggle with life and its problems.
Sklep: Libristo.pl 10,11 zł
Książki & Multimedia > Książki
Opis - Wspólne głośne czytanie buduje szczególną więź emocjonalną między rodzicami a dziećmi oraz rozbudza w najmłodszych ciekawość świata. Nazwa - Biblioteczka przedszkolaka. Wiersze dla chłopców Autor - Praca zbiorowa Oprawa - Twarda Wydawca - Olesiejuk Kod ISBN - 9788327429148 Kod EAN - 9788327429148 Rok wydania - 2015 Język - polski Seria wydawnicza - Biblioteczka przedszkolaka Format - 19.0x23.0cm Ilość stron - 24 Podatek VAT - 5% Premiera - 2015-04-24
Sklep: InBook.pl 79,95 zł
Książki / Literatura obcojęzyczna
A splash of sea foam. A sly sparrow. A man dodging the rain. From such mundane, unexpected moments, Spanish poet Claudio Rodriguez crafted his 1965 Alliance and Condemnation, a collection of poems that temper the joy of existence - the "bounty that turns my flawed breath into prayer" - with a questioning of empirical reality. In these pages are poems of love and hate, contrition and forgiveness, and the joys of sorrow and existence. Many of the poems are essentially parables that seem to address the immediacy of the world yet point beyond it toward philosophical and eternal values. The result is a conjoining of the real and the ideal, a frequent theme in Spanish literature. Many of these poems bridge the distance between the Spanish mystics, among them Saint John of the Cross and Saint Teresa, and the nature poetry of romanticism. Of all his creations, the radiant poems in "Alliance and Condemnation" offer the best imaginable introduction to his extraordinary life and work.
Sklep: Libristo.pl 51,44 zł
Książki / Literatura obcojęzyczna
To read the poems in this collection is to become acquainted with the poet himself. Just follow the threads of his personal journey through childhood memories, from the heartrending parting from his mother during the Second World War, to the troubled life of his father. Here he mixes memories of their lives with those of other family members and friends, old and young. Some poems are there to simply entertain with the everyday themes of work, sport and relationships. And who can resist the delightful, humorous poems? But above all, the poet shares with us the inspiration he draws from the natural world. God reaches out to him through the sea, the birds and the sky. The renewal of life in nature brings a message of hope: 'Green buds appear saying, he is risen.' The 'changing face' is nothing to fear. These poems, collected over fifty years, trace an erratic spiritual journey through various jobs, interests and experiences; from wartime evacuation, to settling in West London in the Seventies as a teacher and becoming a Christian. Thanks to God, my wife, Val, and my family and friends.
Sklep: Libristo.pl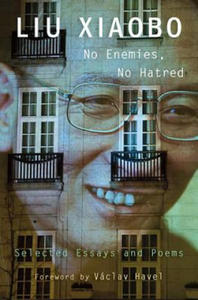 87,98 zł
Książki / Literatura obcojęzyczna
When the Nobel Peace Prize was awarded on December 10, 2010, its recipient, Liu Xiaobo, was in Jinzhou Prison, serving an eleven-year sentence for what Beijing called "incitement to subvert state power." In Oslo, actress Liv Ullmann read a long statement the activist had prepared for his 2009 trial. It read in part: "I stand by the convictions I expressed in my 'June Second Hunger Strike Declaration' twenty years ago--I have no enemies and no hatred. None of the police who monitored, arrested, and interrogated me, none of the prosecutors who indicted me, and none of the judges who judged me are my enemies." That statement is one of the pieces in this book, which includes writings spanning two decades, providing insight into all aspects of Chinese life. These works not only chronicle a leading dissident's struggle against tyranny but enrich the record of universal longing for freedom and dignity. Liu speaks pragmatically, yet with deep-seated passion, about peasant land disputes, the Han Chinese in Tibet, child slavery, the CCP's Olympic strategy, the Internet in China, the contemporary craze for Confucius, and the Tiananmen massacre. Also presented are poems written for his wife, Liu Xia, public documents, and a foreword by Vaclav Havel. This collection is an aid to reflection for Western readers who might take for granted the values Liu has dedicated his life to achieving for his homeland.
Sklep: Libristo.pl 51,44 zł
Książki / Literatura obcojęzyczna
'I am as old as my tongue, and a little older than my teeth. All I have to rely on is my memory as I am dragged through this life.' Addressing universal themes of love and emptiness in age, youth and time, as well as paying homage to poets both living and dead, in Breath, Brood, Breed we find twenty years of Howard G R Holland's poetic writings collected in one book. Sometimes darkly mysterious, but always facing the world head-on, this collection of poems will appeal to many, especially those interested in the evolution of poetry in the modern world.
Sklep: Libristo.pl
Sklepy zlokalizowane w miastach: Warszawa, Kraków, Łódź, Wrocław, Poznań, Gdańsk, Szczecin, Bydgoszcz, Lublin, Katowice
Szukaj w sklepach lub całym serwisie
2. Szukaj na wszystkich stronach serwisu
t1=0.068, t2=0, t3=0, t4=0, t=0.069