krainaksiazek in search of magnificence a collection of poems 20167798
- znaleziono 12 produktów w 3 sklepach 81,26 zł
Książki / Literatura obcojęzyczna
What Would Life be Like if You Knew You Were an Immortal Spiritual Being? "It is my viewpoint that each man has his own unique magnificence regardless of race, religion, nation, tribe, station in life, customs and beliefs...," so writes poet, Louis Alan Swartz. Constructed of Magic and Other Poems on the Immortality of the Human Spirit is a refreshing collection of poems that explore the beauty of who we are as spiritual beings. Our ability to love, dream, create futures, even die with dignity are all part of who we are and why we are here. These poems don't pretend to give final answers to any of the big questions about life, but they do help us to look and come to our own understanding. "This book is a testament to the poet's vision-an understanding and appreciation for the spiritual and aesthetic nature of mankind....There is a peaceful calmness that cascades over me when I read the joy that Louis Swartz communicates in these poems. I invite you to share that experience with me." Bernard Percy Educator, Speaker, Author We invite you to discover the magic in these poems that are infused throughout with a terrific appreciation of humankind. As Swartz concludes in his introduction, "If by reading them, one individual is able to get an inkling of the actual length and breadth of his ability to do good, my purpose in writing them will be achieved." Louis Alan Swartz has dedicated his life to helping others find their ability as immortal spiritual beings. He has traveled extensively in Africa, India, Europe, and the Middle East. He lives in Los Angeles with Connie, his wife of twenty-eight years.
Sklep: Libristo.pl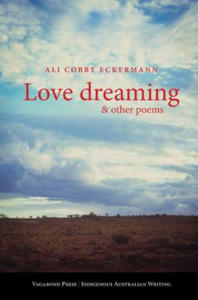 105,28 zł
Książki / Literatura obcojęzyczna
In "Love dreaming & other poems" Cobby Eckermann bears witness to a deep commitment to her traditional kin, culture and language as she tells the story of her search for her family on the traditional Yankunytjatjara and Kokatha lands in the north west of South Australia. At the same time, she lays bare the ongoing effects of governmental policy and paternalism on Australia's indigenous peoples. Engaging with events around Alice Springs, these poems give firsthand witness to the 2007 Northern Territory Emergency Response by the Federal Government, commonly known as The Intervention, and its ongoing effects on regional and remote Indigenous communities. These poems lay open the complexity of the internal conflict felt among Aboriginal people today, as they constantly need to adjust to contemporary Australia. Cobby Eckermann notes, 'My times in the desert are my happiest, and the soft blanket felt when my traditional language is spoken around me, is a feeling of pure love.' This is a collection by one of Indigenous Australian poetry's most vital new voices, sung with two eyes wide open to the present reality without fear or prejudice, with an overflowing love and care for the future. "These are the offerings of a writer who has journeyed with great determination through apparently irretrievable loss, through chaos, disintegration and desolation, who has harvested the gifts of insight and emotional and spiritual intelligence and compassion, and who now reveals these insights to the eyes and ears of others through lucid images and punchy language." Terry Whitebeach Ali Cobby Eckermann has enjoyed huge success with her first collection of poetry little bit long time (Australian Poetry Centre, 2010) and Kami (Vagabond Press, 2010). Her poetry reflects her journey to reconnect with her Yankunytjatjara / Kokatha family. Her first verse novel His Father's Eyes was published by Oxford University Press in 2011. Her second verse novel Ruby Moonlight won the inaugural kuril dhagun National Manuscript Editing Award and will be published by Magabala Books in 2012. She established an Aboriginal Writers Retreat at her home in Koolunga, and advocates strongly for grassroots Aboriginal voices to be heard through literature. She has lived most of her adult life in Australia's Northern Territory.
Sklep: Libristo.pl 10,11 zł
Książki & Multimedia > Książki
Opis - Wspólne głośne czytanie buduje szczególną więź emocjonalną między rodzicami a dziećmi oraz rozbudza w najmłodszych ciekawość świata. Nazwa - Biblioteczka przedszkolaka. Wiersze dla chłopców Autor - Praca zbiorowa Oprawa - Twarda Wydawca - Olesiejuk Kod ISBN - 9788327429148 Kod EAN - 9788327429148 Rok wydania - 2015 Język - polski Seria wydawnicza - Biblioteczka przedszkolaka Format - 19.0x23.0cm Ilość stron - 24 Podatek VAT - 5% Premiera - 2015-04-24
Sklep: InBook.pl 62,51 zł
Książki / Literatura obcojęzyczna
The author's recent books include Give Me a Voice, a collection of stories, poems and historical reflections written over a fifty year period, and From Mourning to Morning, a search for life after loss. She retired from the University of Albuquerque as Professor Emeritus. A native New Yorker, she and her husband raised their children in New Mexico where she currently lives.
Sklep: Libristo.pl 72,05 zł
Książki / Literatura obcojęzyczna
This book is a collection of poems drawn from Yana's life of experiences, battles, thoughts and dreams for the future. These collection of poems are special as they encompass many different areas of our lives. From first love to the never ending search for a true love. From tough times to desperately hanging on to dear life times. From dealing with severe physical pain to managing all pain and overcoming any obstacles. Surviving and finding the beauty in all life has to offer because our time here is limited, is key to finding happiness and dealing with life's troubles. Yana's experiences made Yana what she is today and made possible this collection of poems, to inspire you, give you hope and hopefully give you strength.
Sklep: Libristo.pl 152,99 zł
Książki / Literatura obcojęzyczna
The River Dream is a collection of original proverbs that looks to continue that classic form in its search for wisdom and spirituality. Each proverb has a corresponding photo that adds meaning and substance in the same way music adds to a lyric to create a song. Breaking through the confinements of religion, these songs express a unique spiritual outlook in a simple poetic form. Many themes such as love, faith, vision, and death are explored, with imagery that was inspired by the natural beauty of the southern Pennsylvania countryside where this book was written. ""Proverbs are the DNA of poetry: condensed, figurative, morally aware, sharp with wit and the truth that surprises and persuades. At their best, as in The River Dream, by Laurence David, they seem like insights we have always possessed but somehow mislaid. They are complemented here by artful photographs that enlarge and enrich the reader's experience. The fortunate traveler who takes this river cruise will pass through a varied landscape over waters both deep and clear."" --Michael D. Riley, Author, Ordinary Time: Poems for the Liturgical Year Laurence David lives in Lancaster County, Pennsylvania, with his wife Cathy, who assisted with this book by providing most of the photos. They live next to a nature preserve of the Lancaster County Conservancy, where most of the images in the book are located. Laurence is the author of The Window Song (2000) and The River Prayer (2006), and is currently working on a new collection of proverbs that is a companion piece to The River Dream.
Sklep: Libristo.pl 67,12 zł
Książki / Literatura obcojęzyczna
The Hymns to the Beloved is a collection of poems about the yearning for mystical love - the lover's search for the most intimate expression of love. Often love is not what we expect it to be, and the road to discovering real love can be arduous. Many seek it, look for it and desire it, yet who is prepared to pay the price of such love? Few have the stamina of soul to withstand the bonfire of love. Yet no matter who we are, we all must embark on the journey love takes us on. It is impossible to escape because love's call is one of the most powerful drawing forces in the universe. This book is about believing in love again. It is about knowing that a love so sacred does in fact exist and it can propel us into becoming who we are and to brave our humanity. The poems can serve as a reminder that there is no greater purpose in life than love and there is no greater blessing in life than to be loved. In this giving and receiving we enter the realm of the divine.
Sklep: Libristo.pl 30,99 zł
Książki Obcojęzyczne>Angielskie>Literature & literary studies>Poetry>Individual poets
Edward Thomas Wrote Most Of His Poems During Active Service In World War I, Poems Which Search For The True Self. This Is A Collection Of His Work.
Sklep: Gigant.pl 86,20 zł
Książki / Literatura obcojęzyczna
Twenty-Four Hours of Darkness, Twenty-Four Hours of Light moves in and out of contact with the wanderings of a man who is loved by a woman he does not love back. His love for her only surfaces when she leaves him. He is an intellectual saturated with reason, but unable to apply his intellect to life, wherein the process he loses his grasp on sanity. She is more than a woman haunting us because of our regret of pushing her away, she is a lesson that we can never learn from. Inspired by Julio Cortazar's 1963 antinovel Hopscotch, this collection of poems threads unrealized love with the dichotomies of darkness and light, the male and female, creativity and the intellect, fragmentation and the chronological, passive and active reader, as well as reason and intuition, agitates the theme of a futile search. Twenty-Four Hours of Darkness, Twenty-Four Hours of Light is a testament to this poet's reach for spirit in a wide range of subject matters.
Sklep: Libristo.pl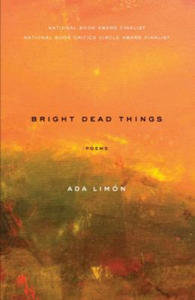 82,91 zł
Książki / Literatura obcojęzyczna
Bright Dead Things examines the chaos that is life, the dangerous thrill of living in a world you know you have to leave one day, and the search to find something that is ultimately "disorderly, and marvelous, and ours." A book of bravado and introspection, of 21st century feminist swagger and harrowing terror and loss, this fourth collection considers how we build our identities out of place and human contact--tracing in intimate detail the various ways the speaker's sense of self both shifts and perseveres as she moves from New York City to rural Kentucky, loses a dear parent, ages past the capriciousness of youth, and falls in love. Limon has often been a poet who wears her heart on her sleeve, but in these extraordinary poems that heart becomes a "huge beating genius machine" striving to embrace and understand the fullness of the present moment. "I am beautiful. I am full of love. I am dying," the poet writes. Building on the legacies of forebears such as Frank O'Hara, Sharon Olds, and Mark Doty, Limon's work is consistently generous and accessible--though every observed moment feels complexly thought, felt, and lived.
Sklep: Libristo.pl 86,36 zł
Książki / Literatura obcojęzyczna
This is a collection in search of origins, a kind of 'delving', 'trying to get to the bottom of it'. In a series of unsettling prose poems Black offers pieces of a fractured past.
Sklep: Libristo.pl 81,26 zł
Książki / Literatura obcojęzyczna
Three writers offer words in search of wonders. The author Cole Moreton, the poet Mark Halliday and the journalist Martin Wroe collaborate on a collection of poems that are full of honesty, doubt and beauty.
Sklep: Libristo.pl
Sklepy zlokalizowane w miastach: Warszawa, Kraków, Łódź, Wrocław, Poznań, Gdańsk, Szczecin, Bydgoszcz, Lublin, Katowice
Szukaj w sklepach lub całym serwisie
2. Szukaj na wszystkich stronach serwisu
t1=0.062, t2=0, t3=0, t4=0.023, t=0.062