krainaksiazek indian nationalism and hindu social reform 20106914
- znaleziono 7 produktów w 2 sklepach 195,44 zł
Gandhi's Body University of Pennsylvania Press
Książki / Literatura obcojęzyczna
No single person is more directly associated with India and India's struggle for independence than Mahatma Gandhi. His name has equally become synonymous with the highest principles of global equality, human dignity, and freedom. Joseph Alter argues, however, that Gandhi has not been completely understood by biographers and political scholars, and in Gandhi's Body he undertakes a reevaluation of the Mahatma's life and thought. In his revisionist and iconoclastic approach, Alter moves away from the usual focus on nonviolence, peace, and social reform and takes seriously what most scholars who have studied Gandhi tend to ignore: Gandhi's preoccupation with sex, his obsession with diet reform, and his vehement advocacy for naturopathy. Alter concludes that a distinction cannot be made between Gandhi's concern with health, faith in nonviolence, and his sociopolitical agenda. In this original and provocative study, Joseph Alter demonstrates that these seemingly idiosyncratic aspects of Gandhi's personal life are of central importance to understanding his politics-and not only Gandhi's politics but Indian nationalism in general. Using the Mahatma's own writings, Alter places Gandhi's bodily practices in the context of his philosophy; for example, he explores the relationship between Gandhi's fasting and his ideas about the metaphysics of emptiness and that between his celibacy and his beliefs about nonviolence. Alter also places Gandhi's ideas and practices in their national and transnational contexts. He discusses how and why nature cure became extremely popular in India during the early part of the twentieth century, tracing the influence of two German naturopaths on Gandhi's thinking and on the practice of yoga in India. More important, he argues that the reconstruction of yoga in terms of European naturopathy was brought about deliberately by a number of activists in India-of whom Gandhi was only the most visible-interested in creating a "scientific" health regimen, distinct from Western precedents, that would make the Indian people fit for self-rule. Gandhi's Body counters established arguments that Indian nationalism was either a completely indigenous Hindu-based movement or simply a derivative of Western ideals.
Sklep: Libristo.pl 108,21 zł
Książki / Literatura obcojęzyczna
Every year, there are several hundred attacks on India's Christians. These attacks are carried out by violent anti-minority activists, many of them provoked by what they perceive to be Christians' propensity for aggressive proselytization, and/or by rumored or real conversions to the faith. In this violence, Pentecostal Christians are disproportionately targeted. Bauman finds that the violence against Pentecostals and Pentecostalized Evangelicals in India is not just a matter of current social, cultural, political, and interreligious dynamics internal to India, but is rather related to identifiable historical trends, as well as to historical and contemporary transnational flows of people, power, and ideas. Based on extensive interviews and ethnographic work, and drawing upon the vast scholarly literature on interreligious violence, Hindu nationalism, and Christianity in India, this volume accounts for this disproportionate targeting through a detailed analysis of Indian Christian history, contemporary Indian politics, Indian social and cultural characteristics, and Pentecostal belief and practice. While some of the factors in the targeting of Pentecostals are obvious and expected (e.g., their relatively greater evangelical assertiveness), other significant factors are less acknowledged and more surprising, among them the marginalization of Pentecostals by "mainstream" Christians, the social location of Pentecostal Christians, and transnational flows of missionary personnel, theories, and funds.
Sklep: Libristo.pl 158,22 zł
Książki / Literatura obcojęzyczna
The market women of India are poor, female, and untouchable (Dalit), all highly stigmatized statuses. They eek out a living for themselves and their children by doing "penny capitalism." Traditionally, the Hindu cosmology of hierarchy and stasis has circumscribed women's and Dalits' lives with notions of purity and pollution. But, since the advent of nineteenth century Protestant missions, a social reform movement has challenged traditional forms of debasement and exploitation. Still, Dalit communities are responding to unprecedented political opportunities by taking a socially conservative path. They are attempting to demonstrate their value by emulating higher caste practices. One of these practices is the giving of dowry. So, market women are painfully saving large amounts of money to marry off their daughters with dowries, thereby reinforcing Hindu values. Christianity advocates an ethic based on Jesus' two commandments, love God and love your neighbor as yourself. That ethic has influenced market women's lives more than they know through the construction of the Indian political arena. However, counter-forces are also evident in the public culture. Fundamentalist Hinduism, responding in part to the threat of global capitalism, is actively resisting these reforms and calling all Indians to a national identity that amalgamates race, language, and territory with Hinduism. In such a context, market women's conservative response to stigmatization is counterproductive to their own interests. A more revolutionary response, one based on the Christian ethic of love, would offer them unprecedented freedom and dignity. This work explores changes in the treatment of the marginalized in Indian society and relates them to contemporary global issues.
Sklep: Libristo.pl 284,47 zł
Książki / Literatura obcojęzyczna
Once known as "Pariahs," Dalits are primarily descendants of unfree agrarian laborers. They belong to India's lowest castes, face overwhelming poverty and discrimination, and continue to be a source of public anxiety. Drawing on a wealth of previously untapped sources, this book follows the conception and evolution of the "Pariah problem" in public consciousness in the 1890s. It shows how high-caste landlords, state officials, and well-intentioned missionaries conceived of Dalit oppression and prevented substantive solutions to the "Pariah Problem" -- with consequences that continue to be felt today. The book begins with a description of the everyday lives of Dalit laborers in the 1890s and highlights the systematic efforts made by the state and Indian elites to protect Indian slavery from public scrutiny. Protestant missionaries were the first non-Dalits to draw attention to their plight. However, their vision of the Pariahs' suffering as a result of Hindu religious prejudice obscured the fact that the entire agrarian political-economic system depended on Pariah labor. The Indian public as well as colonial officials came to share a view compatible with missionary explanations, which meant all subsequent welfare efforts directed at Dalits focused on religious and social transformation rather than on structural reform. Methodologically, theoretically, and empirically, this book breaks new ground to demonstrate how events in the early decades of state-sponsored welfare directed at Dalits laid the groundwork for the present day, where the postcolonial state and well-meaning social and religious reformers continue to downplay Dalits' landlessness, violent suppression, and political subordination.
Sklep: Libristo.pl 79,99 zł
Książki Obcojęzyczne>Angielskie>Humanities>Religion & beliefs>HinduismKsiążki Obcojęzyczne>Angielskie>Reference, information & inter...
This Volume Looks At The Phenomenon Of Religious Reform Movements In Terms Of The Larger Paradigm Of Modernisation, And In Collusion With The Ideas Of Nationalism And Hindutva And Attempts To Investigate Why There Might Be A Need For A New Kind Of Social Integration Within The Hindu Community In India.
Sklep: Gigant.pl 102,97 zł
Książki / Literatura obcojęzyczna
Precocious, a poet, a philosopher's daughter, Maitreyi Devi was sixteen years old in 1930 when Mircea Eliade came to Calcutta to study with her father. More than forty years passed before Devi read "Bengal Nights," the novel Eliade had fashioned out of their encounter, only to find small details and phrases, even her given name, bringing back episodes and feelings she had spent decades trying to forget. "It Does Not Die" is Devi's response. In part a counter to Eliade's fantasies, the book is also a moving account of a first love fraught with cultural tensions, of false starts and lasting regrets.Proud of her intelligence, Maitreyi Devi's father had provided her with a fine and, for that time, remarkably liberal education -- and encouraged his brilliant foreign student, Eliade, to study with her. "We were two good exhibits in his museum, " Devi writes. They were also, as it turned out, deeply taken with each other. When their secret romance was discovered, Devi's father banished the young Eliade from their home. Against a rich backdrop of life in an upper-caste Hindu household, Devi powerfully recreates the confusion of an over-educated child simultaneously confronting sex and the differences, not only between European and Indian cultures, but also between her mother's and father's view of what was right. Amid a tangle of misunderstandings, between a European man and an Indian girl, between student and teacher, husband and wife, father and daughter, she describes a romance unfolding in the face of cultural differences but finally succumbing to cultural constraints. On its own, "It Does Not Die" is a fascinating story of cultural conflict and thwarted love. Read together withEliade's "Bengal Nights," Devi's "romance" is a powerful study of what happens when the oppositions between innocence and experience, enchantment and disillusion, and cultural difference and colonial arrogance collide. Maitreyi Devi (1914-1990) was a poet and lecturer, founder of the Council for the Promotion of Communal Harmony in 1964 and vice-president of the All-India Women's Coordinating Council. Her first book of verse appeared when she was sixteen, with a preface by Rabindranath Tagore. Her publications include four volumes of poetry, eight works on Tagore, and numerous books on travel, philosophy, and social reform.
Sklep: Libristo.pl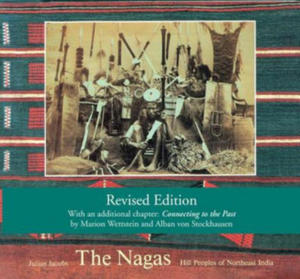 112,97 zł
Książki / Literatura obcojęzyczna
In the years before Indian Independence in 1947, the Nagas of Northeast India came to exemplify an exotic society. Peoples of the Hills, radically different in culture and beliefs from the better-known Hindu peoples of the plains, they were renowned for their fierce resistance to British rule and for their former practice of head-taking. Although sharing many social and cultural traits, such as feast-giving as a means of acquiring status, the thousands of small Naga villages, perched on isolated hill spurs, seemed often to be very different from each other. They adopted different political systems, ranging from the egalitarian to the autocratic, and spoke more than a dozen mutually unintelligible languages. Appearing to be both one people and many tribes, the Nagas displayed both unity and diversity in their dress and ornament. Their vibrant material culture is generously illustrated in this book in colour photographs that display their textiles, basketry, jewelry, weapons, metalwork and carvings. The artefacts are examined in their full historical and anthropological context. Drawing on a diverse range of historical materials, an examination of how the notion of tribes came to be applied to the "Nagas" is linked to its subsequent importance in the development of contemporary Naga nationalism. A wealth of documentary field photographs complements this fascinating look at the Naga Peoples of Northeast India.
Sklep: Libristo.pl
Sklepy zlokalizowane w miastach: Warszawa, Kraków, Łódź, Wrocław, Poznań, Gdańsk, Szczecin, Bydgoszcz, Lublin, Katowice
Szukaj w sklepach lub całym serwisie
2. Szukaj na wszystkich stronach serwisu
t1=0.041, t2=0, t3=0, t4=0, t=0.041