krainaksiazek inner peace coloring book coloring books for adults relaxation relaxation stress reduction patterns 20094015
- znaleziono 8 produktów w 2 sklepach 31,43 zł 55,86 zł
Książki / Literatura obcojęzyczna
*** 30 UNIQUE ILLUSTRATIONS DESIGNED BY 9 TALENTED ARTISTS *** Preview of what's inside => http://bit.ly/1LaOC88 FREE GIFTS INSIDE Additional 20+ Unique Illustrations ($27 Value) Report Revealing Top 10 Tools Every Coloring Enthusiast Should Have Exclusive Discounts for New Book Releases and More Free Designs Relax and step away from everyday life stress! Coloring books aren't just for kids anymore. Nowadays our lives become busier and more complicated. Technology escalation moves us through waves of emails and social networks' notifications. This constant stimulation of expectations, obligations and stress has left us burnt out and distanced from the joys of the present. Finding a moment of calm can be a challenge. Recently, coloring has been discovered a wonderful activity for anyone who wants to relax, de-stress and release mind from overwhelming thoughts. The growing popularity of adult coloring books proves its positive simplicity and being a trendy way to find yourself focused and unwind from the hectic pace of modern life! Channel stress and anxiety into artistic fulfillment. Escape to the world of inspiration suitable for both, beginners and advanced colorists, anyone who loves coloring joy. There are no instructions, no rights or wrongs, and there is no need for expensive art supplies. Color in any way you wish to create unique and exquisite pieces. Coloring can benefit those who find it difficult to discover their inner artist when faced with a blank page. Switch off and lose yourself in the flow of coloring. The book features features detailed flowers, amazing birds, idyllic landscapes and deep sea life. Features: 30 beautiful, stress-relieving patterns, designed to engage and spark imagination to unleash your inner creativity. Different levels of detail, from easy to difficult (for different eyes). Pick a picture depending on your mood and start your de-stressing journey. Print it on large 8.5x11 high quality paper and you'll have plenty of space to be creative and work on the details. When you are done, you will have unique piece of art, worth framing and displaying. Perfect for decorating with colored pencils, gel pens, markers, porous point pens or crayons. Share your coloring passion. Give your friend a gift of relaxation or sit and enjoy it together. You don't need creative experience. If you find it difficult to discover your inner artist - you will still benefit. Coloring alone is calming, just add color! Check out what others are saying
Sklep: Libristo.pl 44,94 zł
Książki / Literatura obcojęzyczna
Stress can affect your health. Mandalas are universally known for promoting healing and for many other positive states of being. From this comes infinite possibilities and unlimited potential. When you use these mandala coloring pages, you will be expressing your desires for contentment and wellness. Perhaps you want to experience more inner joy and peace. Or maybe you just want to express your creative side. For whatever purpose or reason you choose to work with this book, know that you can attain your goals through relaxation and mandala coloring. This book includes 50 Mandala designs with inspiring quotes on overcoming stress. And the quotes themselves can also be colored in. Imagine yourself with these coloring pages in front of you. All you have to do is read the quotes, set your intention, and then awaken your thoughts by infusing them with color. In fact, by using this book, and channeling your artistic side through coloring, you can: Feel more relaxed and positive Utilize self-expression Balance your body, mind, and spirit Expand the mind's creativity Increase your awareness levels And much more! Just have fun, alone, or with a friend or loved one. Please feel free to go to my website www.inspirational-quotes-and-thoughts.com and before you buy you can view all the images. As a special bonus you can also download many of my free ebooks such as Napoleon Hill's bestselling classic, Think and Grow Rich. Enjoy. Love and Laughter Moya
Sklep: Libristo.pl 42,41 zł
Książki / Literatura obcojęzyczna
Winter, The Holidays and Snowflakes! What a perfect combination for an end of year coloring book! Adult coloring books have been a huge craze in 2015 and one of the most popular themes of this coloring books for grown-ups market has been the amazing range of Mandala images available to color.In 'Snowflake Designs Workbook (Mandala Coloring Books For Adults)' the popular Zen Journal Team have produced yet another high quality coloring book that encourages interaction with its specially designed themed images. In this latest offering, the Zen team have sourced a great selection of unique Snowflake Mandala designs that have a definite wintery feel! Many hours were spent developing these icy mandala patterns that are presented to you now for your enjoyment. Designed especially for the adult market, Snowflake Designs Workbook takes the original idea of sacred mandala art and modernizes it into designs and images that will please even the most discerning coloring in fan. The book features mandalas that will take time and care to color in, and has been put together with the aim of helping bring time for calm and relaxation into the busy daily lives we all seem to live today. 'Snowflake Designs Workbook (Mandala Coloring Books For Adults)' is the fifth volume in the twenty book series "Magical Artwork Designs" published by the artists at Zen. The Zen Team promotes the concept of "Color Therapy" to help bring about a sense of meditative relaxation in the home artists who use their books. What's wonderful is that Color Therapy to help adults relax is a simple activity that any busy adult can fit into a busy day! What is color therapy? It's the simple act of using colors to express your thoughts and feelings, and the easiest way to achieve this is through adult coloring books! Color therapy has been shown to assist feelings of well-being and the Zen Team hopes that by coloring in these beautiful snowflake images the reader will begin to feel a real sense of peace.
Sklep: Libristo.pl 62,83 zł
Książki / Literatura obcojęzyczna
Over 45 Unique Hand curated Designs on Black Paper To Color ! Introducing Our Bestselling swear word coloring book printed on black paper. You've never experienced anything like this before. This bestselling adult coloring books features Over 45 classic swear words. Using this beautiful Black edition will make your designs vibrant with color. Never again worry about coloring inside the lines... let the black paper take care of it! Unwind and relax with this beautiful coloring book... let your steam loose!
Sklep: Libristo.pl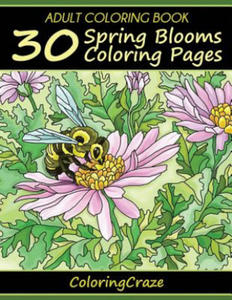 55,86 zł
Książki / Literatura obcojęzyczna
*** 30 UNIQUE ILLUSTRATIONS DESIGNED BY 9 TALENTED ARTISTS *** Preview of what's inside => http://bit.ly/1VKtCg3 FREE GIFTS INSIDE Additional 20+ Unique Illustrations ($27 Value) Report Revealing Top 10 Tools Every Coloring Enthusiast Should Have Exclusive Discounts for New Book Releases and More Free Designs Relax and step away from everyday life stress! Coloring books aren't just for kids anymore. Nowadays our lives become busier and more complicated. Technology escalation moves us through waves of emails and social networks' notifications. This constant stimulation of expectations, obligations and stress has left us burnt out and distanced from the joys of the present. Finding a moment of calm can be a challenge. Recently, coloring has been discovered a wonderful activity for anyone who wants to relax, de-stress and release mind from overwhelming thoughts. The growing popularity of adult coloring books proves its positive simplicity and being a trendy way to find yourself focused and unwind from the hectic pace of modern life! Channel stress and anxiety into artistic fulfillment. Escape to the world of inspiration suitable for both, beginners and advanced colorists, anyone who loves coloring joy. There are no instructions, no rights or wrongs, and there is no need for expensive art supplies. Color in any way you wish to create unique and exquisite pieces. Coloring can benefit those who find it difficult to discover their inner artist when faced with a blank page. Switch off and lose yourself in the flow of coloring. The book features SpringTime themed illustrations, full of blooming flowers, bees, birds and other animals. Features: 30 beautiful, stress-relieving patterns, designed to engage and spark imagination to unleash your inner creativity. Different levels of detail, from easy to difficult (for different eyes). Pick a picture depending on your mood and start your de-stressing journey. Print it on large 8.5x11 high quality paper and you'll have plenty of space to be creative and work on the details. When you are done, you will have unique piece of art, worth framing and displaying. Perfect for decorating with colored pencils, gel pens, markers, porous point pens or crayons. Share your coloring passion. Give your friend a gift of relaxation or sit and enjoy it together. You don't need creative experience. If you find it difficult to discover your inner artist - you will still benefit. Coloring alone is calming, just add color! Check out what others are saying
Sklep: Libristo.pl 35,45 zł
Książki / Literatura obcojęzyczna
This coloring book for adults contains 36 beautiful patterns of various flowers.§Experience hours full of stress relief, mindful calm, creative expression and fun.§Use crayons, felt-tip pens and colored pencils to give the patterns a personal touch.§Millions of people worldwide have rediscovered the simple relaxation and joy of coloring!§Join this community and find yourself enchanted by the magical passion of inspiring coloring.
Sklep: Libristo.pl 42,89 zł
Książki / Literatura obcojęzyczna
Adorable Animals Coloring Book for Everyone Magical Animals Coloring Book shares 50 fun and unique doodle designs printed on one side of the page for all ages to color. These animals are displayed alphabetically from A to Z so that you can create your own beatuiful picures that are sure to inspire your inner child. 50 fun and unique animal doodle designs to inspire the spirit and relax the mind. Magical animals are displayed alphabetically from A to Z and include an alligator, bird, cat, dog, elephant, giraffe, panda, turtle, unicorn, zebra, and more. Choose your color combinations and see what patterns they create. Let the magical designs take shape before your eyes. Experience greater focus, dedication, and patience that coloring can bring. Slow down and enjoy the colors and patterns coming to life in front of you. Designs are printed on one side of the page for all ages to color. Each doodle art image has been carefully selected to provide plenty of enjoyment, inspiration, and relaxation. Doodle Art Alley Coloring Books are so much fun and are perfect for adults and older teens along with younger kids. Coloring isn't just for the kids anymore! There is something for everyone, so take a minute and explore the magic of it all!
Sklep: Libristo.pl
Sklepy zlokalizowane w miastach: Warszawa, Kraków, Łódź, Wrocław, Poznań, Gdańsk, Szczecin, Bydgoszcz, Lublin, Katowice
Szukaj w sklepach lub całym serwisie
2. Szukaj na wszystkich stronach serwisu
t1=0.056, t2=0, t3=0, t4=0.028, t=0.056