krainaksiazek inspiration happy world 20102169
- znaleziono 13 produktów w 3 sklepach 57,66 zł
Książki / Literatura obcojęzyczna
Assemblies can be times of excitement and inspiration for the whole school. This practical and accessible book shows you how to ensure that this vision of assemblies is a reality for your school. Drawing on their 27 years of teaching experience, the authors have included 24 innovative and enjoyable assemblies to help children to look at the world and think, 'What do we want the world to look like?' Margaret Goldthorpe has 24 years of teaching experience in special and mainstream education and also works as a Consultant and Dennis Goldthorpe is a head teacher of a special school. They also run an INSET training company called Stay Cool in School.
Sklep: Libristo.pl 32,78 zł
Książki / Literatura obcojęzyczna
As one of Britain's leading psychic mediums, Colin Fry has helped countless people find peace and inspiration during the darkest and most challenging times of their lives. But he too has faced enormous personal obstacles, from serious illness to deep financial troubles, from emotional heartbreak to professional turmoil. He explains how his great-grandmother and his grandmother also had the gift of communicating with the Other Side, but paid a tragic price for their abilities ...how he himself suffered a stroke in his late 20s ...how he nursed his adopted brother through terminal illness ...how he struggled to 'come out', and suffered in a 22-year relationship ...how financial problems could have ended his career, but taught him priceless lessons instead. In this remarkable autobiography, Colin explains how he has overcome the greatest tests of his life - and the part the spirit world has played in helping him. In typically honest and entertaining style, he also shows how he has used the lessons he has learned to shine a positive light on other people's lives. Full of honesty, revelation, wisdom and humour, it's a book that will engage, entertain and move all who read it. It's the story Colin has waited his whole life to tell. It's the true story of the Happy Medium...
Sklep: Libristo.pl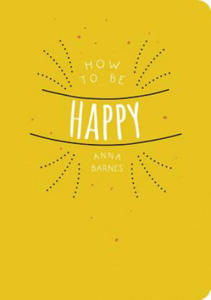 41,42 zł
Książki / Literatura obcojęzyczna
When you're happy, it radiates from within and rubs off on the world. But how do you get there? With a little bit of help and inspiration, it's both possible and pleasurable to turn up the joy. Bursting with simple tips, uplifting statements and fun activities, How to Be Happy will give you the boost you need to make life shine brighter.
Sklep: Libristo.pl 36,60 zł
Powieści i opowiadania
'When people ask me what I do for a crust and I tell them that I'm a novelist, they immediately assume that my life is a non-stop carousel of limos, television appearances, hair-dos, devoted fans, stalkers and all the glitzy paraphernalia of being a public figure. It's time to set the record straight. I write alone, in a darkened bedroom, wearing my PJs, eating bananas, my laptop on a pillow in front of me ...' Her novels are adored by millions around the world
Sklep: Albertus.pl 41,58 zł
Książki / Literatura obcojęzyczna
This will be the first in a reformatted new 'Life Lessons' series of Gift/Inspiration books, with wibalin hardcover jackets in bold colours Anthony's previous titles, including Raising Confident Happy Children (5,100 sold) and Walk Tall (6,400 copies sold) have been translated into many languages and are best sellers around the world. A beautifully packaged, well-priced gift book filled with inspiration and no-nonsense suggestions to help you triumph over life's daily challenges. As a registered psychologist specialising in treating anxiety and phobias, Anthony uses the life lessons we know as children to help readers step out of their comfort zones and live happier, more successful lives.
Sklep: Libristo.pl 148,09 zł
Książki / Literatura obcojęzyczna
From performers who bask in the spotlight to those who find inspiration in the midnight glow of a computer monitor, the world has no shortage of creative people. While the day-to-day realities of a ballerina may be quite different from that of a novelist, actor, graphic artist, musician, or software developer, they share many things in common. Chief among these is the desire to make a living with their art.§§Maybe you're working to build a sustainable, full-time creative career. Or perhaps you're happy in the corporate world but would like to turn your love for music, dance, painting, or programming into a steady stream of extra income. Either way, if you're like most creative souls, you tend to focus on your passion to the exclusion of all else and you may scorn the details of business and promotion. Yet as Have Fun, Get Paid: How to Make a Living with Your Creativity shows, developing business skills couldn't be more important for those who want to achieve success and generate steady income from their work.§§With decades of professional experience in creative fields such as music, software, writing and speaking, bestselling author Christopher Duncan demystifies the path to getting paid for your artistic talents. With lighthearted stories and down-to-earth advice, he starts with the basics and shows you how to build a solid, dependable career. All that's required is consistent effort and a bit of commonsense. In Have Fun, Get Paid you will learn how to:§§Find paying work and get the gigs §Market your talent without selling your soul §Build an image as a highly sought after professional §Manage the business details of your creative career §Harness the power of relationships for long term success With advances in technology and the global reach of the Internet, creative people are empowered today as never before. Have Fun, Get Paid will show you how to take control of your dreams and bring them to life.
Sklep: Libristo.pl 169,00 zł
WYDAWNICTWA ALBUMOWE > Reklama > Ogólne
100 Visual Ideas, 1000 Great Ads ISBN: 9783899554625 Autor: Pommpe Joe La Rok wydania: 2012-11-25 Ilość stron: 224 Oprawa: twarda Format: 240 x 310 mm The fine art of advertising is moving billions in currency and turns the masses into happy consumers. The not-so secret visual language behind successful ad-campaigns is now revealed by French blogger and undercover advertising expert Joe La Pompe. He selected 100 popular visual ideas and recurring subjects in the world of commercials-from symbols, great names from history or fiction, to themes in a variety of ways. This international survey offers insight as well as inspiration and allows the reader to better understand the power of visual seduction.
Sklep: Multistore24.pl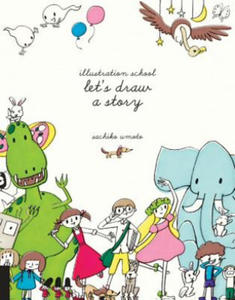 45,07 zł
Książki / Literatura obcojęzyczna
Created by one of Japan's most popular artists, this book offers a story in a sketchbook. Take off into the world of fantasy with Sachiko Umoto's unique, fun character drawings and help them finish their story with your own drawings and sketches. Practice your own with illustratioin techniques and follow the fun, appealing characters and elements that celebrate life and adventure. The author's special and distinct style is simple, appealing, happy, and cute and offers artists, crafters, and art enthusiasts - with and without experience - the instruction and inspiration to draw people, characters, animals, flowers, plants and more! The fifth installment in the "Illustration School" series is for artists of all skill levels that want to bring the story to life visually. It offers both entertaining and fun drawing instruction and techniques along with inspiring and sweet unique-style characters and elements.
Sklep: Libristo.pl 41,12 zł
Książki / Literatura obcojęzyczna
On Friday 25th May, 1934, a forty-one-year-old woman walked into the lobby of Claridge's Hotel to meet the nineteen-year-old son whose face she did not know. Fifteen years earlier, as the First World War ended, Idina Sackville shocked high society by leaving his multimillionaire father to run off to Africa with a near penniless man. An inspiration for Nancy Mitford's character The Bolter, painted by William Orpen, and photographed by Cecil Beaton, Sackville went on to divorce a total of five times, yet died with a picture of her first love by her bed. Her struggle to reinvent her life with each new marriage left one husband murdered and branded her the 'high priestess' of White Mischief's bed-hopping Happy Valley in Kenya. Sackville's life was so scandalous that it was kept a secret from her great-granddaughter Frances Osborne. Now, Osborne tells the moving tale of betrayal and heartbreak behind Sackville's road to scandal and return, painting a dazzling portrait of high society in the early twentieth century.
Sklep: Libristo.pl 33,53 zł
Książki / Literatura obcojęzyczna
Each of us is, to some extent or other, a reflection of the experiences of our lives. However, whether and how we succeed is determined at least in part by how we cope with those experiences and what we learn from them. This is the story of a man who, despite a difficult family life and professional setbacks, developed the determination, drive and skills to create a successful business and happy life. Geoff's skills and self-motivation gave him the drive, determination and tenacity to continue a journey through hardship to reach self-fulfillment and, ultimately, success. His book describes the life journey of a young man's heart and his desire to turn his dreams and vision into a business success. Freedom After The Sharks shows how, even in a declining economy, a business can survive and even succeed. It covers some real-life experiences and offers some suggestions for dealing with problems and issues. It provides a guide to finding your way in the business world. The book is suitable for entrepreneurs who might not be sure of the path to take or who want to benefit from other people's mistakes and failures. Other audiences include middle management or junior executives who are looking for a fascinating life story of courage, drive and inspiration, as well as graduates and college students, who will find information that will help prepare them for their careers.
Sklep: Libristo.pl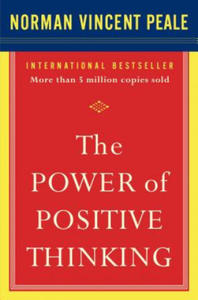 83,49 zł
Książki / Literatura obcojęzyczna
An international bestseller with over five million copies in print, "The Power of Positive Thinking" has helped men and women around the world to achieve fulfillment in their lives through Dr. Norman Vincent Peale's powerful message of faith and inspiration. In this phenomenal bestseller, "written with the sole objective of helping the reader achieve a happy, satisfying, and worthwhile life," Dr. Peale demonstrates the power of faith in action. With the practical techniques outlined in this book, you can energize your life--and give yourself the initiative needed to carry out your ambitions and hopes. You'll learn how to: - Believe in yourself and in everything you do - Build new power and determination - Develop the power to reach your goals - Break the worry habit and achieve a relaxed life - Improve your personal and professional relationships - Assume control over your circumstances - Be kind to yourself
Sklep: Libristo.pl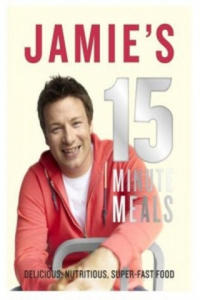 107,89 zł
Książki / Literatura obcojęzyczna
Quick, tasty, nutritious food that you can eat everyday of the week. Following the record-breaking success of 30-Minute Meals, Britain's most-popular cookbook of all time, Jamie Oliver brings us the even-better 15-Minute Meals. In creating these recipes Jamie's made sure they're methodical, clever, sociable, fun, with beautiful food full of big flavours. It's a classic book that will arm you with the skills to create wonderful meals, shockingly fast. He's taken inspiration from all over the world, embracing the tastes that we all love, playing on classic chicken, steak and pasta dishes, looking at Asian-inspired street food and brilliant Moroccan flavours, putting together great salads and so much more. And these are some of the quickest and easiest meals Jamie's ever done. "Simply brilliant cooking, and Jamie's recipes are a joy". (Nigel Slater). These recipes have been tested and tested to ensure that this book is a reliable companion for you and your family. Jamie Oliver's 15-Minute Meals is far and away the most balanced and exciting everyday cookbook out there - and if you liked 30-Minute Meals, this will knock your socks off. "Jamie should be given the Victoria Cross". (The Times). Jamie Oliver's previous books include The Naked Chef, The Return of the Naked Chef, Happy Days with the Naked Chef, Jamie's Kitchen, Jamie's Dinners, Jamie's Italy, Cook with Jamie, Jamie at Home, Jamie's Ministry of Food, Jamie Does, 30-Minute Meals and Jamie's Great Britain.
Sklep: Libristo.pl 56,32 zł
Książki / Literatura obcojęzyczna
Excerpt from Address and Poem Delivered Before the Society of Alumni of Williams College: August 14, 1855 We have assembled again on this spot, consecrated by the associations of our earlier and better years. For a brief space we have left the cares and clamors of the Work day world behind us, that we may renew those pleasant associations, and revive the memories of those happy years. And it is good for us to be here good to lay our offerings anew upon these altars; to open our ear again to the calm teachings of a pure science and a true philosophy - teachings so often drowned by the hoarse voices of the world; and feel our pulses quicken with a fresh inspiration, and a return ing strength for the toilsome day before us. It is good to stand again in the midst of these handiworks of Nature; to gaze upon these valleys, glorious with their summer green, and these enclosing hills, and shout to them, as with youthful voices, our glad All Hail! About the Publisher Forgotten Books publishes hundreds of thousands of rare and classic books. Find more at www.forgottenbooks.com This book is a reproduction of an important historical work. Forgotten Books uses state-of-the-art technology to digitally reconstruct the work, preserving the original format whilst repairing imperfections present in the aged copy. In rare cases, an imperfection in the original, such as a blemish or missing page, may be replicated in our edition. We do, however, repair the vast majority of imperfections successfully; any imperfections that remain are intentionally left to preserve the state of such historical works.
Sklep: Libristo.pl
Sklepy zlokalizowane w miastach: Warszawa, Kraków, Łódź, Wrocław, Poznań, Gdańsk, Szczecin, Bydgoszcz, Lublin, Katowice
Szukaj w sklepach lub całym serwisie
2. Szukaj na wszystkich stronach serwisu
t1=0.059, t2=0, t3=0, t4=0.015, t=0.06