krainaksiazek introduction to the basic concepts of modern physics special relativity quantum and statistical physics 20045112
- znaleziono 11 produktów w 1 sklepie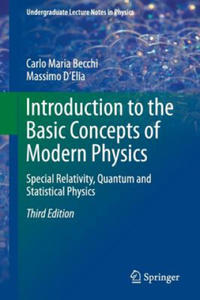 105,67 zł
Książki / Literatura obcojęzyczna
This is the third edition of a well-received textbook on modern physics theory. This book provides an elementary but rigorous and self-contained presentation of the simplest theoretical framework that will meet the needs of undergraduate students. In addition, a number of examples of relevant applications and an appropriate list of solved problems are provided.Apart from a substantial extension of the proposed problems, the new edition provides more detailed discussion on Lorentz transformations and their group properties, a deeper treatment of quantum mechanics in a central potential, and a closer comparison of statistical mechanics in classical and in quantum physics.§§The first part of the book is devoted to special relativity, with a particular focus on space-time relativity and relativistic kinematics. The second part deals with Schrödinger's formulation of quantum mechanics. The presentation concerns mainly one-dimensional problems, but some three-dimensional examples are discussed in detail. The third part addresses the application of Gibbs' statistical methods to quantum systems and in particular to Bose and Fermi gases.
Sklep: Libristo.pl 232,47 zł
Książki / Literatura obcojęzyczna
From Cosmos to Quarks is a novel combination of historical, conceptual and formal introduction to the main ideas in physics. Its first five chapters are devoted to classical physics, keeping in mind its relevance to modern physics. Topics such as planetary motion, statistical mechanics, information and entropy, ferromagnetism, superconductivity, electromagnetic waves and special relativity, are discussed here. The next seven chapters describe the basics of quantum mechanics and its paradoxes, quantum electrodynamics, Casimir and Aharonov-Bohm effects, CPT invariance, general relativity and cosmology, the death of stars, CP violation, spontaneous symmetry breaking and the Standard Model, inflation and more besides. The final part is a short excursion into some topics pertaining to physics and life, for example homochirality. Readers of this book will not only learn much about physics, they will also learn to enjoy it.
Sklep: Libristo.pl 282,27 zł
Książki / Literatura obcojęzyczna
This book, provides a general introduction to the ideas and methods of statistical mechanics with the principal aim of meeting the needs of Master's students in chemical, mechanical, and materials science engineering. Extensive introductory information is presented on many general physics topics in which students in engineering are inadequately trained, ranging from the Hamiltonian formulation of classical mechanics to basic quantum mechanics, electromagnetic fields in matter, intermolecular forces, and transport phenomena. Since engineers should be able to apply physical concepts, the book also focuses on the practical applications of statistical physics to material science and to cutting-edge technologies, with brief but informative sections on, for example, interfacial properties, disperse systems, nucleation, magnetic materials, superfluidity, and ultralow temperature technologies. The book adopts a graded approach to learning, the opening four basic-level chapters being followed by advanced "starred" sections in which special topics are discussed. Its relatively informal style, including the use of musical metaphors to guide the reader through the text, will aid self-learning.§§
Sklep: Libristo.pl 335,52 zł
Książki / Literatura obcojęzyczna
Modern Introductory Physics, 2nd Edition, by Charles H. Holbrow, James N. Lloyd, Joseph C. Amato, Enrique Galvez, and Beth Parks, is a successful innovative text for teaching introductory college and university physics. It is thematically organized to emphasize the physics that answers the fundamental question: Why do we believe in atoms and their properties? The book provides a sound introduction to basic physical concepts with particular attention to the nineteenth- and twentieth-century physics underlying our modern ideas of atoms and their structure. §After a review of basic Newtonian mechanics, the book discusses early physical evidence that matter is made of atoms. With a simple model of the atom Newtonian mechanics can explain the ideal gas laws, temperature, and viscosity. Basic concepts of electricity and magnetism are introduced along with a more complicated model of the atom to account for the observed electrical properties of atoms. The physics of waves---particularly light and x-rays---and basic features of relativity are explored and used to reveal further details of atomic structure. Following the discovery of radioactivity, transmutation, and the atomic nucleus, Bohr s model of the hydrogen atom sets the stage for a view of the atom that becomes fully modern with the introduction of the ideas of quantum mechanics. This book presents these ideas in terms of the Heisenberg uncertainty principle and Feynman s rules of quantum mechanics and also discusses the intriguing topics of entanglement, non-locality, and Bell s inequalities. Here, as everywhere in this book, there is strong emphasis on experiments and observable phenomena that have shaped and confirmed the concepts of physics.§To help students make a good transition from high-school physics to university physics, this book fosters quantitative skills: There is much use of order-of-magnitude calculations, scaling arguments, proportionalities, approximations, and other basic tools of quantitative reasoning, progressing from simple and direct applications in the early parts of the book to more elaborate ones later. The book shows how new physics and new ideas are inferred from experimental data and quantitative reasoning. A large number of exercises and problems help students clarify their understanding. §Modern Introductory Physics, 2nd Edition, is an extensive revision of the original influential and innovative introductory text. This new edition includes:§- improved exposition of some difficult topics§- two new chapters that explore important and intriguing ideas of quantum mechanics in the context of real experiments§- many updated problems for students§- new questions added to many chapters
Sklep: Libristo.pl
594,36 zł
Książki / Literatura obcojęzyczna
This first-year, graduate-level text and reference book covers the fundamental concepts and twenty-first-century applications of six major areas of classical physics that every masters- or PhD-level physicist should be exposed to, but often isn't: statistical physics, optics (waves of all sorts), elastodynamics, fluid mechanics, plasma physics, and special and general relativity and cosmology. Growing out of a full-year course that the eminent researchers Kip Thorne and Roger Blandford taught at Caltech for almost three decades, this book is designed to broaden the training of physicists. Its six main topical sections are also designed so they can be used in separate courses, and the book provides an invaluable reference for researchers. It presents all the major fields of classical physics except three prerequisites: classical mechanics, electromagnetism, and elementary thermodynamics. It elucidates the interconnections between diverse fields, and explains their shared concepts and tools. It focuses on fundamental concepts and modern, real-world applications. It takes applications from fundamental, experimental, and applied physics; astrophysics and cosmology; geophysics, oceanography, and meteorology; biophysics and chemical physics; engineering and optical science and technology; and information science and technology. It emphasizes the quantum roots of classical physics, and how to use quantum techniques to elucidate classical concepts or simplify classical calculations Features hundreds of color figures, some five hundred exercises, extensive cross-references, and a detailed index. It is an online illustration package that is available to professors.
Sklep: Libristo.pl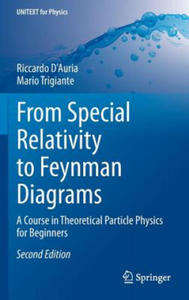 335,52 zł
Książki / Literatura obcojęzyczna
This book, now in its second edition, provides an introductory course on theoretical particle physics with the aim of filling the gap that exists between basic courses of classical and quantum mechanics and advanced courses of (relativistic) quantum mechanics and field theory. After a concise but comprehensive introduction to special relativity, key aspects of relativistic dynamics are covered and some elementary concepts of general relativity introduced. Basics of the theory of groups and Lie algebras are explained, with discussion of the group of rotations and the Lorentz and Poincaré groups. In addition, a concise account of representation theory and of tensor calculus is provided. Quantization of the electromagnetic field in the radiation range is fully discussed. The essentials of the Lagrangian and Hamiltonian formalisms are reviewed, proceeding from systems with a finite number of degrees of freedom and extending the discussion to fields. The final four chapters are devoted to development of the quantum field theory, ultimately introducing the graphical description of interaction processes by means of Feynman diagrams. The book will be of value for students seeking to understand the main concepts that form the basis of contemporary theoretical particle physics and also for engineers and lecturers. An Appendix on some special relativity effects is added.
Sklep: Libristo.pl 463,47 zł
Książki / Literatura obcojęzyczna
This book introduces the modern field of 3+1 numerical relativity. The book has been written in a way as to be as self-contained as possible, and only assumes a basic knowledge of special relativity. Starting from a brief introduction to general relativity, it discusses the different concepts and tools necessary for the fully consistent numerical simulation of relativistic astrophysical systems, with strong and dynamical gravitational fields. Among the topics discussed in detail are the following: the initial data problem, hyperbolic reductions of the field equations, gauge conditions, the evolution of black hole space-times, relativistic hydrodynamics, gravitational wave extraction and numerical methods. There is also a final chapter with examples of some simple numerical space-times. The book is aimed at both graduate students and researchers in physics and astrophysics, and at those interested in relativistic astrophysics.
Sklep: Libristo.pl 396,95 zł
Książki / Literatura obcojęzyczna
This textbook is aimed at second-year graduate students in Physics, Electrical Engineering or Materials Science. It presents a rigorous introduction to electronic transport in solids, especially at the nanometer scale.§Understanding electronic transport in solids requires some basic knowledge of Hamiltonian Classical Mechanics, Quantum Mechanics, Condensed Matter Theory, and Statistical Mechanics. Hence this book discusses those sub-topics of these four disciplines which are required to deal with electronic transport in a single, self-contained course. This will be useful for students who intend to work in academia or the nano/micro-electronics industry.§Further topics covered include: the theory of energy bands in crystals, of second quantization and elementary excitations in solids, of the dielectric properties of semiconductors with an emphasis on dielectric screening and coupled interfacial modes, on electron scattering with phonons, plasmons, electrons and photons, on the derivation of transport equations in semiconductors and semiconductor nanostructures also at the quantum level. but mainly at the semi-classical level. The text presents examples relevant to current research, thus not only about Si, but also III-V compound semiconductors, nanowires, graphene and graphene nanoribbons. In particular, the text gives major emphasis to plane-wave methods regarding the electronic structure of solids, both DFT and empirical pseudopotentials, always paying attention to their effects on electronic transport and its numerical treatment. The core of the text is electronic transport, with ample discussions on the transport equations derived both in the quantum picture (the Liouville-von Neumann equation) and semi-classically (the Boltzmann transport equation, BTE). Several methods for solving the BTE are also reviewed, including the method of moments, iterative methods, direct matrix inversion, Cellular Automata and Monte Carlo. The first appendix, on the principles of special relativity, is required to understand the minimal electromagnetic coupling between electrons and photons and also to introduce the relativistic wave equation for massless spin-1/2 particles. This is of current interest since it is used to describe approximately the electron dispersion in graphene. The second appendix, on alternative interpretations of quantum mechanics, is strictly related to the tricky transition from the time-reversible Liouville-von Neumann equation to the time-irreversible Green s functions, to the density-matrix formalism and, classically, to the Boltzmann transport equation.
Sklep: Libristo.pl 94,20 zł
Książki / Literatura obcojęzyczna
Does the future exist already? What is space? Are time machines physically possible? What is quantum mechanical reality like? Are there many universes? Is there a 'true' geometry of the universe? Why does there appear to be an arrow of time? Do humans play a special role in the world?§§In this unique introductory book, Dean Rickles guides the reader through these and other core questions that keep philosophers of physics up at night. He discusses the three pillars of modern physics (quantum mechanics, statistical mechanics, and the theories of relativity), in addition to more cutting-edge themes such as econophysics, quantum gravity, quantum computers, and gauge theories. The book's approach is based on the idea that philosophy of physics is a kind of 'interpretation game' in which we try to map physical theories onto our world. But the rules of this game often lead to a multiplicity of possible victors: rarely do we encounter a simple answer.§§The Philosophy of Physics offers a highly accessible introduction to the latest developments in this exciting field. Written in a lively style, with many visual examples, it will appeal to beginner-level students in both physics and philosophy.
Sklep: Libristo.pl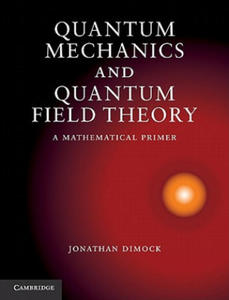 384,99 zł
Książki / Literatura obcojęzyczna
Explaining the concepts of quantum mechanics and quantum field theory in a precise mathematical language, this textbook is an ideal introduction for graduate students in mathematics, helping to prepare them for further studies in quantum physics. The textbook covers topics that are central to quantum physics: non-relativistic quantum mechanics, quantum statistical mechanics, relativistic quantum mechanics and quantum field theory. There is also background material on analysis, classical mechanics, relativity and probability. Each topic is explored through a statement of basic principles followed by simple examples. Around 100 problems throughout the textbook help readers develop their understanding.
Sklep: Libristo.pl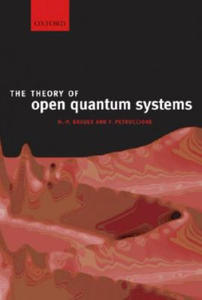 304,39 zł
Książki / Literatura obcojęzyczna
This book treats the central physical concepts and mathematical techniques used to investigate the dynamics of open quantum systems. To provide a self-contained presentation the text begins with a survey of classical probability theory and with an introduction into the foundations of quantum mechanics with particular emphasis on its statistical interpretation. The fundamentals of density matrix theory, quantum Markov processes and dynamical semigroups are developed. The most important master equations used in quantum optics and in the theory of quantum Brownian motion are applied to the study of many examples. Special attention is paid to the theory of environment induced decoherence, its role in the dynamical description of the measurement process and to the experimental observation of decohering Schrodinger cat states. The book includes the modern formulation of open quantum systems in terms of stochastic processes in Hilbert space. Stochastic wave function methods and Monte Carlo algorithms are designed and applied to important examples from quantum optics and atomic physics, such as Levy statistics in the laser cooling of atoms, and the damped Jaynes-Cummings model.The basic features of the non-Markovian quantum behaviour of open systems are examined on the basis of projection operator techniques. In addition, the book expounds the relativistic theory of quantum measurements and discusses several examples from a unified perspective, e.g. non-local measurements and quantum teleportation. Influence functional and super-operator techniques are employed to study the density matrix theory in quantum electrodynamics and applications to the destruction of quantum coherence are presented. The text addresses graduate students and lecturers in physics and applied mathematics, as well as researchers with interests in fundamental questions in quantum mechanics and its applications. Many analytical methods and computer simulation techniques are developed and illustrated with the help of numerous specific examples. Only a basic understanding of quantum mechanics and of elementary concepts of probability theory is assumed.
Sklep: Libristo.pl
Sklepy zlokalizowane w miastach: Warszawa, Kraków, Łódź, Wrocław, Poznań, Gdańsk, Szczecin, Bydgoszcz, Lublin, Katowice
Szukaj w sklepach lub całym serwisie
2. Szukaj na wszystkich stronach serwisu
t1=0.057, t2=0, t3=0, t4=0, t=0.058