krainaksiazek iranian foreign policy 20043840
- znaleziono 13 produktów w 3 sklepach 799,99 zł
Książki Obcojęzyczne>Angielskie>Society & social sciences>Politics & government>International relations
Sklep: Gigant.pl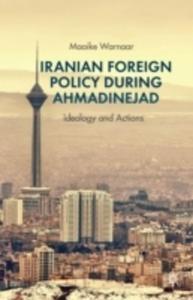 479,99 zł
Książki Obcojęzyczne>Angielskie>Society & social sciences>Politics & government>International relations
Written For Scholars And Practitioners Puzzled By Iran's Foreign Policy Choices, This Book Argues That Iran's Foreign Policy Behavior Is Best Understood In The Context Of The Regime's Foreign Policy Ideology, Which Is Rooted In A Conception Of Iran As A Nation Changed By The 1979 Revolution And An Example To Other Nations In A Changing World.
Sklep: Gigant.pl 419,99 zł
Książki Obcojęzyczne>Angielskie>Society & social sciences>Politics & government>International relationsKsiążki Obcojęzyczne>Angielskie&...
This Book Provides A Fresh Perspective On The Origins Of The Confrontation Between The US And Iran. It Demonstrates That, Contrary To The Claims Of Iran's Leaders, There Was No Instinctive American Hostility Towards The Revolution, And Explains Why Many Assumptions Guiding US Policy Were Inappropriate For Dealing With The New Reality In Iran.
Sklep: Gigant.pl 479,99 zł
Książki Obcojęzyczne>Angielskie>Society & social sciences>Politics & government>Political science & theoryKsiążki Obcojęzyczne>Angielsk...
Written For Scholars And Practitioners Puzzled By Iran's Foreign Policy Choices, This Book Argues That Iran's Foreign Policy Behavior Is Best Understood In The Context Of The Regime's Foreign Policy Ideology, Which Is Rooted In A Conception Of Iran As A Nation Changed By The 1979 Revolution And An Example To Other Nations In A Changing World.
Sklep: Gigant.pl 244,34 zł
Książki / Literatura obcojęzyczna
Iran's Foreign Policy in the Post-Soviet Era: Resisting the New International Order provides the first truly comprehensive, in-depth survey of Iranian foreign policy, issue by issue and country by country, since the Islamic Revolution. To help readers understand both the what and the why of Iran's role in the world and formulate useful responses to that role, the author provides a detailed analysis of Iranian foreign policy in all its dimensions. The first part of the book places Iranian actions, particularly its relations with the United States and other key players, within the context of the emerging international system, while also showing how domestic developments impact foreign policy. The second part surveys Iranian relations with specific actors, notably the United States and Russia, and with key regions, including Europe, Central Asia, the Arab world, Latin America, and Africa. Providing an antidote to existing preconceptions, this incisive analysis lays an analytically sound basis for shaping policies toward Iran-policies with potentially high payoff in terms of regional security and stability.
Sklep: Libristo.pl 228,99 zł
Książki / Literatura obcojęzyczna
Why did a handful of Iranian students seize the American embassy in Tehran in November 1979? Why did most members of the US government initially believe that the incident would be over quickly? Why did the Carter administration then decide to launch a rescue mission, and why did it fail so spectacularly? US Foreign Policy and the Iran Hostage Crisis examines these puzzles and others, using an analogical reasoning approach to decision-making, a theoretical perspective which highlights the role played by historical analogies in the genesis of foreign policy decisions. Using interviews with key decision-makers on both sides, Houghton provides an analysis of one of the United States' greatest foreign policy disasters, the events of which continue to poison relations between the two states. The book will be of interest to students and scholars of foreign policy analysis and international relations.
Sklep: Libristo.pl 287,39 zł
Książki / Literatura obcojęzyczna
In the wake of the 2003 Iraq war, the Iranian nuclear crisis evolved as the most pressing security challenge for the United States and its European allies. While the first Bush administration seemed to embark on a collision course with Europe, the second Bush cabinet started to support the EU-led multilateral negotiation effort with Iran. This support--tacit at first--climaxed in May 2006, when Condoleezza Rice declared Washington's readiness to join multilateral negotiations with Iran. This book shows that the Bush administration was unable to formulate an autonomous--i.e. unilateral--Iran policy according to its original policy preferences of containment and isolation. The shifts in U.S. foreign policy can be best explained by a combination of three factors: First, America's freedom of action was limited following the Iraq War which put a drag on U.S. military, economic and political power. Second, a streamlining process within President Bush's foreign policy staff following the elections of 2004 set the stage for gradual adjustments. Third, the growing influence of Germany (as part of the EU-led diplomatic effort) supported the "multilateralization" of Washington's Iran policy.
Sklep: Libristo.pl 74,85 zł
Realpolitik Oxford University Press
Książki / Literatura obcojęzyczna
Realpolitik is approaching its 160th birthday, though it has existed as a form of statecraft for centuries and is arguably as old as the conduct of foreign affairs itself. Associated with great thinkers from Machiavelli to Kissinger, it is deeply rooted in the history of diplomacy yet also remains strikingly relevant to debates on contemporary foreign policy in the Obama administration today. Despite the fact that Realpolitik has had something of a renaissance in recent years, however, it remains a surprisingly elusive notion, defying easy categorization. In this concise book, John Bew aims to address this gap, offering a history of the concept of Realpolitik in the English-speaking world: its origins as an idea; its practical application to statecraft in the recent past; and its relevance to the foreign policy challenges facing the United States and its allies in the future. Now most often associated with the conduct of foreign policy, Realpolitik has traditionally had pejorative connotations in the English-speaking world and sits uneasily alongside notions of "enlightenment," "morality" and "virtue." But it has also had its defenders, admirers and exponents, who regard it as the best tool for the successful wielding of political power and the preservation of global order. As such, Realpolitik has both successes and failures to its name, as Bew's comprehensive and even-handed overview displays. Bew begins by charting the evolution of the idea through the work of important thinkers or statesmen from Machiavelli, Cardinal de Richelieu, and Thomas Hobbes up through Carl Schmitt, Kissinger, and Dennis Ross. He then examines how Realpolitik has been evoked and operationalized in US and UK foreign policy during specific episodes in the twentieth century, looking at such cases as the overthrow of Iranian Prime Minister Mohammad Mosaddegh in 1953, and President Nixon's visit to the People's Republic of China in 1972 - often taken as the archetypal instance of Realpolitik in action. Bew then uses this historical platform to look forward to emerging foreign policy challenges in a changing, multi-polar, geo-political scene - in which Realpolitik and agile statecraft seems as important as ever. Suggesting that there is a uniquely Anglo-American version of Realpolitik, which reflects an attempt (not always a successful one) to reconcile Western ideological and moral norms with purely utilitarian conceptions of the national interest, Bew argues that a more accurate and sustainable version of Anglo-American Realpolitik is one that recognizes the draw Enlightenment values and ideas. Directed at a broader audience of current policy-makers, legislators and commentators with an interest in foreign affairs, this is a brilliant introduction to an important topic from one of the field's rising stars.
Sklep: Libristo.pl 90,52 zł
Książki / Literatura obcojęzyczna
Source: Wikipedia. Pages: 69. Chapters: British intelligence operatives, United Kingdom intelligence agencies, United Kingdom intelligence operations, Government Communications Headquarters, Joint Intelligence Committee, MI5, Zinoviev letter, Secret Intelligence Service, 1953 Iranian coup d'état, Operation Mincemeat, William Stephenson, Association of Chief Police Officers, Richard Kemp, Bad Nenndorf interrogation centre, Alfons Rebane, London Cage, SOE F Section timeline, William Denis Kendall, Frank Foley, Operation Rockingham, A. N. Sherwin-White, Operation Gold, Far East Combined Bureau, Naval Intelligence Handbooks, Defence Intelligence, Operation Foxley, A. J. Alan, William H. Mounsey, Ronnie Reed, Alfreds RiekstinS, Casimir Pilenas, Operation Jungle, Operation Cascade, Defence Intelligence and Security Centre, Joint Terrorism Analysis Centre, Joint Forward Intelligence Team, British Military Intelligence Systems in Northern Ireland, Operation RAFTER, Operation Hardboiled, Counter Terrorism Command, Clockwork Orange, Her Majesty's Government Communications Centre, Helenus Milmo, Diplomatic Wireless Service, Shapoor Reporter, Bernard Sheldon, Nicholas Gosselin, Director General of MI5, Operation Mass Appeal, Project Big Ben, Combined Services Detailed Interrogation Centre, Chief of the Secret Intelligence Service, Camp 020, JARIC, Operation Silver, UK security services. Excerpt: The 1953 Iranian coup d'état, on August 19, 1953 (known as the 28 Mordad coup in Iran), was the overthrow of the democratically elected government of Iranian Prime Minister Mohammad Mosaddegh orchestrated by the intelligence agencies of the United Kingdom and the United States as Operation Ajax. The coup saw the transition of Mohammad-Reza Shah Pahlavi from a constitutional monarch to an authoritarian one who relied heavily on U.S. support to hold on to power until his own overthrow in February 1979. In 1951 Iran's oil industry was nationalized with near-unanimous support of Iran's parliament in a bill introduced by Mossadegh who led the nationalist parliamentarian faction. Iran's oil had been controlled by the British-owned Anglo-Iranian Oil Company (AIOC). Popular discontent with the AIOC began in the late 1940s, a large segment of Iran's public and a number of politicians saw the company as exploitative and a vestige of British imperialism. Despite Mosaddegh's popular support, Britain was unwilling to negotiate its single most valuable foreign asset, and instigated a worldwide boycott of Iranian oil to pressure Iran economically. Initially, Britain mobilized its military to seize control of the Abadan oil refinery, the world's largest, but Prime Minister Clement Attlee opted instead to tighten the economic boycott while using Iranian agents to undermine Mosaddegh's government. With a change to more conservative governments in both Britain and the United States, Churchill and the U.S. Eisenhower administration decided to overthrow Iran's government though the predecessor U.S. Truman administration had opposed a coup. Britain and the U.S. selected Fazlollah Zahedi to be the prime minister of a military government that was to replace Mosaddegh's government. Subsequently, a royal decree dismissing Mosaddegh and appointing Zahedi was drawn up by the coup plotters and signed by the Shah. The Central Intelligence Agency had successfully pressured the weak monarch to par
Sklep: Libristo.pl 87,83 zł
Książki / Literatura obcojęzyczna
Among the many political systems in the Middle East, the regime in the Islamic Republic of Iran stands out as one of the most peculiar. There, the formal government--president, parliament, and other official governing components-- is paralleled by more powerful revolutionary institutions that help shape regime policy. But a third influential stand in Irans volatile political dynamic is more unfamiliar to many, namely, the vigilante groups used by hard-liners to intimidate reformers with raw violence. In this Washington Institute Policy Paper, historian Michael Rubin presents an incisive and comprehensive survey of Iran's vigilantes, or " pressure groups, " along with an exploration of the deep roots these groups have in modern Iranian history. Drawing on both a wide array of Persian language sources and his own research conducted in Iran, Dr. Rubin concludes that--despite the inevitability of political change suggested by demographic and economic realities in the Khatami era--the prospects for real reform in Iran within the existing system of rule are weakened by vigilante activism. The strategic use of vigilantes to frustrate reform also raises important policy issues for the U.S. government. The United States, Dr. Rubin argues should not tolerate a shell game in which vigilantes--sponsored by those in power--carry out hostile actions for which the regime then conveniently denies responsibility. If the Iranian president cannot effectively suppress the vigilante groups, then he may be too weak a figure to implement meaningful changes in foreign or domestic policy. Understanding the threat these vigilante groups pose can only improve America's ability to formulate effectivepolicy toward Iran. This valuable Policy Paper, incredibly rich in detail, brings vital scholarship to bear on that understanding.
Sklep: Libristo.pl 103,00 zł
Inne 1
For Boyle (international law, U. of Illinois-Champaign), the "War on Terror" is little more than a pretext for the expanded imperialist foreign policy of the United States, a policy characterized by a marked flouting of international law and a possibly inevitable slide into a Third World War. Beginning his narrative with a discussion of the U.S.- engineered coup d'ĂŠtat against the democratically elected Iranian leader Mohammed Mossadegh in 1959, he examines U.S. foreign policy towards the Middle East, largely through a legalistic lens honed over years of crafting legal petitions seeking to hold U.S. leaders accountable for their international crimes. He spends most of the work looking at the U.S. wars against Iraq, including the U.S-crafted sanctions blamed for over half a million Iraqi children dead over ten years, and concludes with a "guide to impeaching George W. Bush
Sklep: Albertus.pl 148,44 zł
Książki / Literatura obcojęzyczna
On November 4, 1979, when students occupied the American Embassy in Tehran and subsequently demanded that the United States return the Shah in exchange for hostages, the deposed Iranian ruler's regime became the focus of worldwide scrutiny and controversy. But, as Amin Saikal shows, this was far from the beginning of Iran's troubles. Saikal examines the rule of Mohammad Reza Shah Pahlavi, especially from 1953 to 1979, in the context of his regime's dependence on the United States and his dreams of transforming Iran into a world power. Saikal argues that, despite the Shah's early achievements, his goals and policies were full of inherent contradictions and weaknesses and ultimately failed to achieve their objectives. Based on government documents, published and unpublished literature, and interviews with officials in Iran, Britain, and the United States, "The Rise and Fall of the Shah" critically reviews the domestic and foreign policy objectives - as well as the behavior - of the Shah to explain not only what happened, but how and why. In a new introduction, Saikal reflects on what has happened in Iran since the fall of the Shah and relates Iran's past to its political present and future.
Sklep: Libristo.pl 357,34 zł
Książki / Literatura obcojęzyczna
A comprehensive study of Oman presenting a portrait of a nation through its diplomacy. For Oman, the idea of diplomacy refers not only to the country's interactions in the global community, but also to the way in which Omani life itself is shaped by principles and practices of social and political engagement that are essentially diplomatic. Such principles are grounded in ideals of tact and tolerance that have developed over a long historical period. This is therefore a cultural history: an historical account of the formation of a distinctive Omani culture. It argues that this culture is where Oman's contemporary foreign policy has been nurtured, and that it is in this culture that a specific conception and practice of diplomacy has been developed. Key Features *the most comprehensive history in English of Oman's international relations *draws upon key research into Omani religious and social traditions, and ethnographic studies of language and social customs. *provides a perspective which places Oman at its centre, rather than as a background actor in broader colonial narratives, Cold War calculations or global concerns over the relationship between Islam and the West *presents an account of Oman's contemporary behind-the-scenes role in relation to Iranian US relations, and the Middle East peace process *the first book to connect Oman's international relations with considerations of Omani history, culture and social organisation
Sklep: Libristo.pl
Sklepy zlokalizowane w miastach: Warszawa, Kraków, Łódź, Wrocław, Poznań, Gdańsk, Szczecin, Bydgoszcz, Lublin, Katowice
Szukaj w sklepach lub całym serwisie
2. Szukaj na wszystkich stronach serwisu
t1=0.084, t2=0, t3=0, t4=0.03, t=0.084