krainaksiazek it was a privilege to care for her 20167425
- znaleziono 6 produktów w 1 sklepie 42,02 zł
Książki / Literatura obcojęzyczna
George Bernard Shaw was born in Dublin in 1856. Before becoming a playwright he wrote music and literary criticism. Shaw used his writing to attack social problems such as education, marriage, religion, government, health care, and class privilege. Shaw was particularly conscious of the exploitation of the working class.
Sklep: Libristo.pl 39,96 zł
Książki / Literatura obcojęzyczna
Straw into Gold Illness, Loss, and Hardship as a Path to Inner Peace Diane LaRae Bodach This book is a journey about being human, about opening to life in whatever form it takes and extending loving kindness to oneself and others no matter what. It tells the story of many who have endured great physical and emotional losses in the form of chronic illness, pain and disability as well as through relationships and identities that, once held dear, are stripped away. Diane LaRae Bodach is brutally honest, yet wholly compassionate, in her self-examination, and in the telling of her spiritual and physical journey through life, including chronic illness, cancer, and impending death. Her experiences and wisdom, her willingness to be with life and self exactly as they are, and to open to all that comes her way -- no matter how difficult -- can benefit us all. Although this book journeys through intense pain and loss, the ultimate teaching is that whoever you are, and no matter what life presents, love, compassion and joy are always possible; suffering is optional. ISBN: 978-1-57733-223-7 Endorsements "A beautifully written, searingly honest, and profoundly moving account of one woman's journey through chronic illness and suffering, and the life lessons she learned." Jim Dreaver, author of End Your Story, Begin Your Life "I had the unique privilege of working closely with Diane during the last year of her life as part of her integrative health care team. Diane was a gifted writer and poet, an out-of-the-box spirit who would come in for her vitamin infusion dressed in a long blue wig with wild sunglasses. She never lost her sense of humor throughout the ravages of dealing with chronic illness and then cancer. In her last month of life, she presided over her 'living' wake, a wild and wonderful dress-up party outdoors, with Diane in her bed on the throne under the spreading oak tree. Her unique talents make her story not only touching, but exquisitely and subtly expressed. During her last days, we took turns reading to her aloud to put the final touches on her editing, with many tears of sadness and joy being shed. This book is a treasure." Elaine Weil, Nurse Practitioner, Amitabha Medical Clinic and Healing Center, Sebastopol, CA "Many years of illness and pain prepared Diane for her last adventure with friends to the Sonoma Coast. Propped up on many pillows and blankets she ate dark chocolate and ripe raspberries while singing 'Give yourself to Love' and experienced the total joy we shared with her so often throughout her dying process." Tom Meyskens, lover of spoken poetry, fellow Love Choir member and friend "Diane fully engaged in her life and her death. She didn't want to miss anything. Though debilitated, weak, and living with chronic pain, she traveled with us to Mexico and went on by herself to another retreat, sending us home with a suitcase of homeopathic drugs and other heavy items. She camped, canoed, and attended musical festivals during her last throws with cancer with a 'little' help from her friends. At her request, we have spread her ashes in beautiful places where the people she loves go and can be with her. She was a great teacher. She shared her joy and her tears, her life and her death with grace, honesty, and openness. Straw into Gold shares Diane's amazing journey and imparts the wisdom of a woman who inspired many with the way she moved beyond illness, hardship, and dying to embrace love and life." Linda Mollenhauer-Meyskens, Life coach and close friend
Sklep: Libristo.pl 126,71 zł
Książki / Literatura obcojęzyczna
Synopsis: How can we work toward mutual understanding in our increasingly diverse and interconnected world? Pastoral theologian Melinda McGarrah Sharp approaches this multifaceted, interdisciplinary question by beginning with moments of intercultural misunderstanding. Using misunderstanding stories from her experience working with the Peace Corps in Suriname, Dr. McGarrah Sharp argues that we must recognize the limits of our own cultural perspectives in order to have meaningful intercultural encounters that are more mutually empowering and hopeful. Bringing together resources from pastoral theology, ethnography, and postcolonial studies, she provides a valuable resource for investigating the complexity of providing care and fostering communities of belonging across cultural differences. McGarrah Sharp illustrates a process of moving from disconnection to regard for diverse others as neighbors who share a common yearning for hopeful and meaningful connection. Leaders in faith communities, practitioners of care, and scholars will all be able to use this resource to better understand the conflicts, tensions, and uncertainties of our postcolonial twenty-first-century world. An included discussion guide facilitates classroom study, small group discussion, and personal reflection. Endorsements: "At the heart of Misunderstanding Stories are moving and exquisitely analyzed narratives of intercultural (mis-)understanding, set in the context of a Maroon village in my native Suriname. Working towards augmenting the toolbox of pastoral theology with postcolonial studies, this is a book driven by a deep hunger for humanization and justice, and informed by an embodied sense of differential privilege." --Gloria Wekker, Professor Emeritus of Gender Studies, Utrecht University, the Netherlands "Melinda McGarrah Sharp does what few interculturalists seem able to bear--she makes our intercultural conflicts the focus of her work and our learning. The result is a book that helps us explore profound challenges: the inevitability of harming one another, deep relational breaches amid misunderstood cultural differences, self-reflexivity and complicity after colonialism, linguistic chasms, and unresolvable tensions. Adequate postcolonial interculturality is not avoiding these conflicts, but navigating them constructively. McGarrah Sharp illuminates that path." --Kathleen J. Greider, Professor of Practical Theology, Spiritual Care, and Counseling, Claremont School of Theology "McGarrah Sharp insists that to understand we must grapple with our misunderstanding, a misunderstanding heightened by complicity within Western colonialism. The book is unique in its creative use of postcolonial theory to correct basic assumptions about identity development and empathy and its new model of care with a step-by-step analysis of relational breach, crisis, redress, and reconciliation." --Bonnie J. Miller-McLemore, Professor of Religion, Psychology, and Culture, Vanderbilt University "Encounters across cultures are inevitably fraught with dangers of conflict and misunderstanding. Misunderstanding Stories offers a resourceful, nuanced, sensitive, and useful engagement with intercultural misunderstanding. This book makes a much-needed, substantial appeal to pastoral theologians to attend seriously to postcolonial perspectives for a more adequate response to the complexities of culture. Melinda McGarrah Sharp is to be commended." --Emmanuel Y. Lartey, Professor of Pastoral Theology, Care, and Counseling, Candler School of Theology Author Biography: Melinda A. McGarrah Sharp is Assistant Professor of Pastoral Theology and Ethics at Phillips Theological Seminary in Tulsa, Oklahoma. She is also a trained clinical ethicist, United Methodist layperson, and returned Peace
Sklep: Libristo.pl 34,70 zł
Książki / Literatura obcojęzyczna
Woods had his perfect life mapped out for him. Rise up the ranks of the family business. Marry the rich girl of his parents' dreams. Pretend that wealth and privilege was all he'd ever wanted. Then a girl named Della breezed into town, a beautifully imperfect stranger who captured his heart and opened his eyes to a new kind of future. Woods is ready and willing to sacrifice everything for her when the sudden death of his father leaves him with his mother to care for and a business to manage. Della is determined to be strong for Woods, even as she's quietly falling to pieces. No matter how far from home she's run, the ghosts of her past have never stopped haunting her. Struggling to hide her true feelings from Woods, Della fears she can't be his rock without dragging him down into the darkness with her. But is she strong enough to let go of the last thing holding her together?
Sklep: Libristo.pl 43,14 zł
Książki / Literatura obcojęzyczna
This beautiful and inspiring book provides priceless and never-before-published photographs of the most revered and loved woman of our times, along with quotations from her favorite saints and scriptural passages. Born in Albania in 1910, Mother Teresa joined the Missionary Sisters of Loreto and was sent to India to teach in a high school. In Calcutta she saw the staggering poverty, disease and misery of the poor often left to die in the streets. Mother Teresa felt called by God to live among these outcasts to nurse and care for them and enable them to die in dignity. Before entering the Society of Jesus, Hiroshi Katayanagi, the editor and photographer of this special book, spent a year in Calcutta as a volunteer with Mother Teresa. During that time he had the privilege of taking many wonderful candid photographs of this modern saint. In this inspiring sequel to his widely popular "My Dear Children", Katayanagi presents these photographs with accompanying words and prayers of saints dear to Mother Teresa and quotations from scripture that are both moving and relevant. Together, these words and images form a testament to the holiness and wisdom that Mother Teresa shares with the communion of saints who were her companions and inspiration along her journey. This small, exquisite book forms a tender tribute and a loving gift to all who read it.
Sklep: Libristo.pl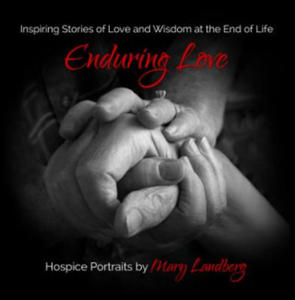 81,82 zł
Książki / Literatura obcojęzyczna
As a hospice nurse and photographer, Mary Landberg has the honor to witness and capture in photographs the unwavering expression of love that endures between people living with terminal illness and their loved ones. She has had the privilege of bringing her camera into a most sacred and vulnerable time in peoples lives. The great similarity in the dying process regardless of economic status, age, or any cause or place of death is the way people lovingly touch each other. Love is what survives beyond the last breath; love is all that is left in the end. This is what Landberg strives to photograph. What sets Enduring Love apart from other hospice photography books is that the primary focus is not on the faces of hospice patients, but on their hands. The mystery of who belongs to the hands allows the hands to belong to anyone in the reader's life, perhaps offering a sense of comfort or completion. Each photograph is accompanied by a story, grand wisdom hospice patients and families offer us the readers. The reader will also find honest glimpses into hospice care, common family struggles, light-hearted moments in the face of death and opportunities for healing on many levels.
Sklep: Libristo.pl
Sklepy zlokalizowane w miastach: Warszawa, Kraków, Łódź, Wrocław, Poznań, Gdańsk, Szczecin, Bydgoszcz, Lublin, Katowice
Szukaj w sklepach lub całym serwisie
2. Szukaj na wszystkich stronach serwisu
t1=0.031, t2=0, t3=0, t4=0, t=0.031