krainaksiazek jesus christ lives today 20088152
- znaleziono 8 produktów w 2 sklepach 18,99 zł
Książki Obcojęzyczne>Nieprzypisane
0x00b0527000000000
Sklep: Gigant.pl 166,78 zł
Książki / Literatura obcojęzyczna
What does it mean to believe Jesus? Not just believe in Jesus, but actually believe what He said and shape our lives around that truth? How would that affect the choices we make? The way we see the world? The way we conduct ourselves with other Christians? In Believing Jesus, Lisa Harper answers these questions by looking at the lives of the believers in Acts and how Jesus command to spread the gospel forever shaped their lives. You will hear how Peter turned tables on his Benedict-Arnold behavior and became a church-building saint when the power of the Holy Spirit came over him. How the first believers were so gifted at giving they made Santa look bush league. How it cost Stephen and other early believers their very lives to follow Christ. And how Paul s case proves God s grace can change the worst of sinners, making us willing to have our lives interrupted by God and boldly share the gospel to the world. Today, we are faced with the same decisions the early church faced. Will we, like them, truly believe the words of Jesus and allow them to transform every part of our lives? This pack contains one study guide and one DVD. Sessions include: The Declarations that Define Us Earth, Wind, and Celestial Fire Checkered Pasts Can Make Incredible Preachers What s Mine Is Yours Loving More People, More The Need to Be ReGospeled Turning Your World Upside Down Bearing the Chain Because "
Sklep: Libristo.pl 51,44 zł
Książki / Literatura obcojęzyczna
As the author says of A Walk with Jesus... it is really a love story, despite the harsh subject matter; and if used for meditation, hopefully it will transform our lives. When people observe the 'stations of the cross' - paintings or relief sculptures of Christ's passion and his death on Calvary - it's not a question of worshipping images, more a series of pauses for thought and prayer. Here, the author puts the reader in the crowd. We sense the heat, the noise and the mood of people intent on one thing - suffering and execution of a blameless young man. With each word picture, there are reflections and short prayers relevant to our lives today. Could anything be more harrowing than the slow, sad steps Jesus took to Calvary, burdened by his cross? Could anything be more uplifting than these heartfelt reminders of his supreme act of selflessness - dying so that we could live?
Sklep: Libristo.pl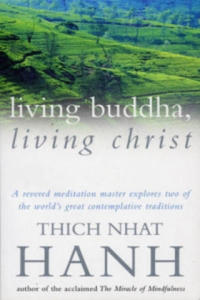 65,69 zł
Książki / Literatura obcojęzyczna
Budda and Jesus Christ, perhaps the two most pivotal figures in the history of humankind, each left behind a legacy of teachings and practices that have shaped the lives of billions of people over the course of two millennia. If they were to meet on the road today, what would each think of the other's spiritual views and practices? Thich Nhat Hanh has been part of a decades-long dialogue between the two greatest living contemplative traditions, and brings to Christianity an appreciation of its beauty that could be conveyed only by an outsider. In a lucid, meditative prose, he explores the crossroads of compassion and holiness at which Buddhism and Christianity meet, and reawakens our understanding of both.
Sklep: Libristo.pl
72,25 zł
Książki / Literatura obcojęzyczna
When Brian McLaren began offering an alternative vision of Christian faith and life in books such as A New Kind of Christian and A Generous Orthodoxy, he ignited a firestorm of praise and condemnation that continues to spread across the religious landscape. To some religious conservatives, McLaren is a dangerous rebel without a doctrinally-correct cause. Some fundamentalist websites have even claimed he's in league with the devil and have consigned him to flames. To others though, Brian is a fresh voice, a welcome antidote to the staleness, superficiality, and negativity of the religious status quo. A wide array of people from Evangelical, Catholic, and Mainline Protestant backgrounds claim that through his books they have begun to rediscover the faith they'd lost or rejected. And around the world, many readers say that he has helped them find-for the first time in their lives-a faith that makes sense and rings true. For many, he articulates the promise of what is being called "emerging Christianity." In The Secret Message of Jesus you'll find what's at the center of Brian's critique of conventional Christianity, and what's at the heart of his expanding vision. In the process, you'll meet a Jesus who may be altogether new to you, a Jesus who is...* Not the crusading conqueror of religious broadcasting; * Not the religious mascot of partisan religion; * Not heaven's ticket-checker, whose words have been commandeered by the church to include and exclude, judge and stigmatize, pacify and domesticate. McLaren invites you to discover afresh the transforming message of Jesus-an open invitation to radical change, an enlightening revelation that exposes sham and ignites hope, an epic story that is good news for everyone, whatever their gender, race, class, politics, or religion. "Pastor and best-selling author McLaren revisits the gospel material from a fresh-and at times radical-perspective ...He does an excellent job of capturing Jesus' quiet, revolutionary style." --Publishers Weekly (starred review) "Here McLaren shares his own ferocious journey in pondering the teachings and actions of Jesus. It is McLaren's lack of salesmanship or agenda that creates a refreshing picture of the man from Galilee who changed history." --Donald Miller, Author of Blue Like Jazz "In this critical book, Brian challenges us to ask what it would mean to truly live the message of Jesus today, and thus to risk turning everything upside down." --Jim Wallis, Author of God's Politics and editor of Sojourners "Compelling, crucial and liberating: a book for those who seek to experience the blessed heat of Christianity at its source." --Anne Rice, Author of Christ the Lord: Out of Egypt
Sklep: Libristo.pl 98,46 zł
Książki / Literatura obcojęzyczna
Have you ever found yourself wondering why the New Testament is full of miracles, yet they seem absent from today's world? If the power of Jesus' name could cause the lame to walk and the blind to see in the age of the Apostles, why should it not do so now? In this challenging, enlightening and inspiring book, Peter E Barfoot shows us that the Spirit is just as present in our modern world as it was in the time of Our Lord. What's more, it is every bit as powerful, and can heal not just individual sickness but the ills of the world. The key to its strength is our faith. He looks at the barriers and misconceptions that hold us back from the full experience of faith, using examples from the lives of the disciples as well as from our own time. And, drawing on his own experience, he shows how Christ, today, is achieving great and wonderful things through God's gift to us - faith. After thirty years' experience as the senior minister of a church and nearly fifty overseas missions in Europe and Asia, Peter E Barfoot is well qualified to write on the subject of faith. In Faith: God's Gift to the Human Heart, Peter explores the many and diverse aspects of faith and shares how it has brought him through some difficult and even dangerous situations. Peter's years as a newspaper editor, magazine publisher and author combine with his decades of experience in ministry to produce a book which is both inspiring and informative. Accompanied by his wife Lorraine, Peter continues to teach, write and minister healing to the sick worldwide - to the glory of God and the praise of Jesus Christ.
Sklep: Libristo.pl 55,54 zł
Książki / Literatura obcojęzyczna
Storm: What Jesus Is Saying to His Church is a book for every Christian who is concerned about the challenges that face believers today. Using powerful stories of people who have been transformed by Christ, it will strike a note of encouragement and hope, helping Christians to remember that a life surrendered to Christ in the midst of a church transformed by his presence cannot be defeated. No amount of spiritual darkness or cultural pressure can drown out the life-giving power of the gospel. Jim Cymbala believes that the church in America is in the middle of a powerful storm, the intensity of which is likely to increase in coming months and years. Many Christians are bewildered, disheartened, and concerned by what they see-a culture that's become increasingly hostile to biblical Christianity and a church whose vital signs are quickly waning. Like the storm surge that overtook lower Manhattan during Hurricane Sandy, powerful forces have come together to create a surge that's threatening the health of the church. Storm will talk about the tendency on the right and on the left to conflate the kingdom of God with a particular political party. Many conservative Christians have made the mistake of substituting America for the Israel of the Old Testament, failing to realize the danger of adopting Old Testament principles that were never affirmed in the New Testament. Their message has sometimes been harsh and legalistic, making it difficult for them to proclaim a gospel of grace. Even though there is a great deal of emphasis on the Bible in such churches, it can often be the wrong emphasis. Jim Cymbala will explore the importance of preaching a gospel of grace rather than a gospel of mixed messages, so common in the church today. He will speak of our need to understand spiritual battles and for total dependence on the Holy Spirit, and he will discuss the importance of prayer. He will also explore the motivational atmosphere of the early church which flourished despite far worse conditions than those we face today. We don't need more church growth programs to turn the church around. What's needed is a transformation at the heart of the church so that the gospel is preached, the Holy Spirit is allowed to lead, and lives are transformed.
Sklep: Libristo.pl 55,54 zł
Książki / Literatura obcojęzyczna
Could you retain your faith even if it meant losing your life? Your family's lives?To many Christians in the Middle East today, a "momentary, light affliction" means enduring only torture instead of martyrdom. The depth of oppression Jesus followers suffer is unimaginable to most Western Christians. Yet, it is an everyday reality for those who choose faith over survival in Syria, Iran, Egypt, Lebanon, and other countries hostile to the Gospel of Christ. In"Killing Christians, "Tom Doyle takes readers to the secret meetings, the torture rooms, the grim prisons, and even the executions that are the "calling" of countless Muslims-turned-Christians.Each survivor longs to share with brothers and sisters "on the outside" what Christ has taught them. "Killing Christians "is their message to readers who still enjoy freedom to practice their faith. None would wish their pain and suffering on those who do not have to brave such misery, but the richness gained through their remarkable trials are delivered--often in their own words--through this book. The stories are breathtaking, the lessons soul-stirring and renewing. "Killing Christians "presents the dead serious work of expanding and maintaining the Faith.
Sklep: Libristo.pl
Sklepy zlokalizowane w miastach: Warszawa, Kraków, Łódź, Wrocław, Poznań, Gdańsk, Szczecin, Bydgoszcz, Lublin, Katowice
Szukaj w sklepach lub całym serwisie
2. Szukaj na wszystkich stronach serwisu
t1=0.041, t2=0, t3=0, t4=0, t=0.041