krainaksiazek jesus path to earth 20091272
- znaleziono 4 produkty w 2 sklepach 899,99 zł
Muzyka>Country
1. Old Ebenezer Scrooge (Instr.) 2. Go Hither To Go Yonder (Instr.) 3. Right, Right On (Instr.) 4. Lochwood (Instr.) 5. Old Danger Field (Instr.) 6. Fair Play (Instr.) 7. Melissas's Waltz For J.b. (Instr.) 8. Lady Of The Blue Ridge (Instr.) 9. My Last Days On Earth (Instr. With Vocal Backing) 10. Evening Prayer Blues (Instr.) 11. Precious Memories 12. Little Shepherd (Instr.) 13. The Old Crossroads 14. Wayfaring Stranger 15. In The Gloryland Ways 16. What A Friend We Have In Jesus 17. Shouting On The Hills Of Glory 18. Baptize Me In The Cumberland River 19. Wicked Path Of Sin 20. I'll Fly Away 101. My Louisiana Love (& Mel Tillis) 102. Is The Blue Moon Still Shining (& The Gatlin Bros 103. My Sweet Blue-eyed Darlin' (& Ricky Skaggs) 104. Old Riverman (& John Hartford) 105. With Body & Soul (& Waylon Jennings) 106. I Still Miss Someone (& Johnny Cash) 107. Blue Moon Of Kentucky (The Oak Ridge Boys) 108. The Sunset Trail (& Willie Nelson) 109. Kentucky Waltz (& Emmylou Harris) 110. My Rose Of Old Kentucky (& Barbara Mandrell) 111. I Hear A Sweet Voice Calling (& The Osborne Bros 112. True Life Blues (& Carl Story) 113. Lord, Protect My Soul (& Country Gentlemen) 114. Travelin' This Lonesome Road (& Mac Wiseman) 115. I'm On My Way Back To The Old Home (& Jim & Jesse 116. Mighty Dark To Travel (& Jim & Jesse) 117. Remember The Cross (& The Seldom Scene) 118. Let The Gates Swing Wide (& Tater Tate) 119. Can't You Hear Me Callin' (& Ralph Stanley) 120. The Golden West (Inst.)(& Bobby Hicks) 121. Old Brown County Barn (Instr.)(& Bobby Hicks) 122. I'm Going Back To Old Kentucky (& Del Mccoury) 123. Bluest Man In Town (& Del Mccoury) 201. Dancin' In Brancin' (Instr.) 202. Jekyll Island (Instr.) 203. Stay Away From Me 204. Music Valley Waltz 205. Angels Rock Me To Sleep 206. The Long Bow (Instr.) 207. God Holds The Future In His Hands 208. The Old Crossroads 209. Southern Flavour (Instr.) 210. Stone Coal (Instr.) 211. Texas Lone Star (Instr.) 212. Sugar Loaf Mountain (Instr.) 213. The Days Gone By 214. Whtie Rose 215. Life's Highway 216. Give Me Wings 217. What A Wonderful Life 218. Take Courage Un' Tomorrow 301. Molly & Tenbrooks 302. Footprints In The Snow 303. Sittin' Alone In The Moonlight 304. Precious Memories 305. Rawhide 306. My Sweet Darlin' 307. In The Pines 308. Love, Please Come Home 309. Pike County Breakdown (Instr.) 310. I'm Working On A Building 311. Watermelon Hanging On The Vine (Instr.) 312. Just A Little Talk With Jesus 313. Harbor Of Love 314. Are You Lost In Sin? 315. He'll Take You In 316. Just Over In The Glory Land 317. Baptize Me In The Cumberland River 318. You're Drifting Away 319. This World Is Not My Home 320. Cryin' Holy Unto The Lord 321. Shine Hallelujah Shine 322. Boston Boy (Instr.) 323. Southern Flavor (Instr.) 324. Never Leave The E-string (Instr.) 325. Tennessee Blues (Instr.) 326. I'd Love To Be Over Yonder (Instr.) 327. Rawhide (Instr.) 328. Sally Goodin (Instr.)
Sklep: Gigant.pl 100,90 zł
Książki / Literatura obcojęzyczna
In About You , Dick Staub addresses irreligious, religious, spiritual seekers and all kinds of Christians and shows us that Jesus came to satisfy our universal longing for a fully human life, not to establish a narrow us versus them religion. In short, Jesus didn't come to make us Christian; Jesus came to make us fully human. In a fresh exploration of the ancient Biblical stories of creation, fall and redemption, Staub explains that salvation is not about going to heaven when we die; it is about a full and abundant life now. In practical, down-to-earth, language, About You deals with this concept on three levels: anthropologically (our common story and universal human needs), theologically (God's awareness and response to our needs), and practically (how we can attain and maintain a more complete and satisfying life). Staub's previous book ( The Culturally Savvy Christian ) was selected by Kirkus Reviews for their 2007 Religion and Spirituality edition. This new book is designed to help those who are seeking a way to integrate both a fully alive spirituality and a fully alive humanity-a way that is embodied in the often-misunderstood life and teaching of Jesus Christ. This groundbreaking book illuminates the path towards becoming the best version of yourself.
Sklep: Libristo.pl 74,25 zł
Książki / Literatura obcojęzyczna
How do we experience the best life that God intends for us? The answer lies in understanding that the Christian life is an adventure and that we only have to follow the greatest Guide who ever walked the path of life - Jesus. In this straightforward book, Brian Houston shows readers the way to live fully, love completely, and lead boldly - the hallmarks of Jesus' time on earth. Whether you're searching for your calling or wholeheartedly pursuing your life's purpose, LIVE LOVE LEAD will help you navigate a faith path that is all your own, and discover unique gifts tailored perfectly for your journey.
Sklep: Libristo.pl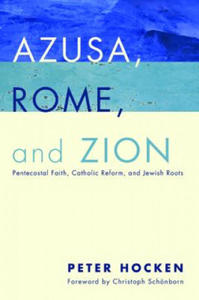 138,82 zł
Książki / Literatura obcojęzyczna
Azusa, Rome, and Zion offers historical, theological, and spiritual reflections on major movements of the Holy Spirit in modern times. The author shows where the lived experience of these movements challenges received theological concepts and categories, and indicates how engagement with these challenges can contribute to Christian reconciliation and Christian unity. Of particular interest are the surprising ways in which what appear at first sight to be new obstacles and points of division can in fact lead into deeper grasp of God's purposes for the body of Christ. Two chapters indicate the immense potential being opened up by the ministry of Pope Francis. The title captures not just the place of Pentecostals, Catholics, and Jews, but a historical dynamic that reverses the original going out from Jerusalem to the ends of the earth. ""This collection of essays typifies everything we have come to appreciate in Hocken: broad ecumenical vision combined with clear confessional boundaries, openness to what the Spirit is saying afresh to the church without sacrificing critical engagement. Hocken's discussion on Pope Francis' 'new paradigm' of relating to Pentecostals brings the ecumenical conversation up to date. For those unfamiliar with Hocken's works, the book serves as an excellent introduction."" --Simon Chan, Trinity Theological College, Singapore ""Hocken is opening a prophetic, challenging, and ecumenical door in this book. He explores the deep connections of ecumenism between Catholics and Pentecostals, the importance of the charismatic movement for all Christians, and the rebirth of Jewish expressions of following Christ. Put these together and out jumps a form of Catholic 'restoration' theology. Hocken is either reading the signs of the time or he is eccentric. I think he is the former."" --Gavin D'Costa, Professor of Religion and Theology, University of Bristol ""Hocken demonstrates in these insightful essays his skill as both a theoretician and practitioner of prophetic ecumenism. The book powerfully expresses his vision of the Church as catholic, evangelical, and Pentecostal, rooted in Jewish soil, and longing for the consolation of Israel. Hocken is a discerning reader of the 'signs of the times,' and this volume provides us with an accessible introduction to all he sees unfolding dramatically in our days."" --Mark S. Kinzer, President Emeritus, Messianic Jewish Theological Institute ""Numerous scholars have written on Protestant Pentecostalism, Catholic Charismatic Renewal, and Messianic Judaism. Yet Peter Hocken--and seemingly only Hocken--has meditated deeply on the historical and theological connections 'From Azusa via Rome to Zion.' Hocken's uncompartmentalized and unconventional thinking is a challenge to the entire global Christian community to rethink its Jewish roots and heritage in relation to Jesus' prayer 'that they may all be one.'"" --Michael McClymond, Professor of Modern Christianity, Saint Louis University (USA); Former Senior Lecturer in Evangelical and Charismatic Studies, University of Birmingham (UK) ""When everything seemed to indicate that the path of ecumenism had reached its limits the Pope Francisco appeared, giving a new vigor to the search for unity of the Church. Hocken puts in historical perspective the movement of the spirit towards unity, and pays attention to this new breath of the Spirit named Francisco. In Azusa, Rome, and Zion we are facing a must-read work to discern the signs of these times."" --J. Norberto Saracco, Principal, International Faculty of Theological Studies, Pastor, Good News Church, Buenos Aires Peter Hocken is a Catholic priest long active in the charismatic movement. He is the author of Pentecost and Parousia (2013).
Sklep: Libristo.pl
Sklepy zlokalizowane w miastach: Warszawa, Kraków, Łódź, Wrocław, Poznań, Gdańsk, Szczecin, Bydgoszcz, Lublin, Katowice
Szukaj w sklepach lub całym serwisie
2. Szukaj na wszystkich stronach serwisu
t1=0.019, t2=0, t3=0, t4=0.018, t=0.019