krainaksiazek king john annotated 20121091
- znaleziono 4 produkty w 1 sklepie 117,72 zł
Książki / Literatura obcojęzyczna
A much needed, fully annotated and modernized text of a long neglected play used by Shakespeare as the principal basis of King John. Published anonymously in 1591, it can now be attributed definitively to Peele and ranks as the most important Elizabethan history play after Shakespeare and Marlowe's Edward II.
Sklep: Libristo.pl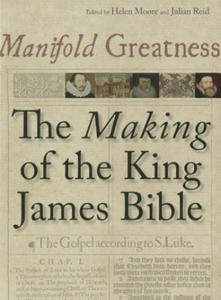 121,50 zł
Książki / Literatura obcojęzyczna
Manifold Greatness: the Making of the King James Bible tells the story of the creation and immediate afterlife of the King James translation of the bible, first published in 1611. The King James Bible is the most printed book in existence, with one billion copies in print. Its effect on the English language is incalculable, both in common parlance and in literature. Richly illustrated with manuscripts, artefacts, and archival material concerning the Oxford Translators such as the annotated Bodleian Bishops' Bible of 1602, pages from the Wycliffite and Tyndale bibles and an edition of the Bishop's Bible owned by Elizabeth I, this book also contains material on the later reception of the King James Bible in America, including a chapter on the King James Bible and the Folger Shakespeare Library. Eight chapters contributed by leading academics in the field discuss the history of biblical translation, the political background to the project, the Oxford Translators (including Henry Savile, John Rainolds, and John Harmar) and their working milieu, the book and its cultural politics, and the reception and influence of the King James Bible up until 1769 (the publication date of the 'Oxford Standard' edition, the first revision of the 1611 translation). Published to commemorate the four-hundredth anniversary of the publication of the King James Bible and marking the first collaboration of two of the world's leading libraries, this book brings together key research and documentation to provide a lively and meticulous account of this publishing phenomenon.
Sklep: Libristo.pl 164,95 zł
Książki / Literatura obcojęzyczna
John Milton was not only the greatest English Renaissance poet but also devoted twenty years to prose writing in the advancement of religious, civil and political liberties. The height of his public career was as chief propagandist to the Commonwealth regime which came into being following the execution of King Charles I in 1649. The first of the two complete texts in this volume, The Tenure of Kings and Magistrates, was easily the most radical justification of the regicide at the time. In the second, A Defence of the People of England, Milton undertook to vindicate the Commonwealth's cause to Europe as a whole.This book, first published in 1991, was the first time that fully annotated versions were published together in one volume, and incorporated a new translation of the Defence. The introduction outlines the complexity of the ideological landscape which Milton had to negotiate, and in particular the points at which he departed radically from his sixteenth-century predecessors.
Sklep: Libristo.pl 686,51 zł
Książki / Literatura obcojęzyczna
This is the fourth edition of what is the leading practitioner's text on freedom of information law. Providing in-depth legal analysis and practical guidance, it offers complete, authoritative coverage for anyone either making, handling or adjudicating upon requests for official information. The three years since the previous edition have seen numerous important decisions from the courts and tribunals in the area. These and earlier authorities supply the basis for clear statements of principle, which the work supports by reference to all relevant cases. The book is logically organised so that the practitioner can quickly locate the relevant text. It commences with an historical analysis that sets out the object of the legislation and its relationship with other aspects of public law. Full references to Hansard and other Parliamentary materials are provided. This is followed by a summary of the regime in five other jurisdictions, providing comparative jurisprudence which can assist in resolving undecided points. The potential of the Human Rights Act 1998 to support rights of access is dealt with in some detail, with reference to all ECHR cases. Next follows a series of chapters dealing with rights of access under other legislative regimes, covering information held by EU bodies, requests under the Data Protection Act and the Environmental Information Regulations, public records, as well as type-specific rights of access. These introduce the practitioner to useful rights of access that might otherwise be overlooked. They are arranged thematically to ensure ready identification of potentially relevant ones. The book then considers practical aspects of information requests: the persons who may make them; the bodies to whom they may be made; the time allowed for responding; the modes of response; fees and vexatious requests; the duty to advise and assist; the codes of practice; government guidance and its status; transferring of requests; third party consultation. The next 13 chapters, comprising over half the book, are devoted to exemptions. These start with two important chapters dealing with general exemption principles, including the notions of 'prejudice' and the 'public interest'. The arrangement of these chapters reflects the arrangement of the FOI Act, but the text is careful to include analogous references to the Environmental Information Regulations and the Data Protection Act 1998. With each chapter, the exemption is carefully analysed, starting with its Parliamentary history (giving full references to Hansard and other Parliamentary material) and the treatment given in the comparative jurisdictions. The analysis then turns to consider all court judgments and tribunal decisions dealing with the exemption. The principles are stated in the text, with footnotes giving all available references. Whether to prepare a case or to prepare a response to a request, these chapters allow the practitioner to get on top of the exemption rapidly and authoritatively. The book concludes with three chapters setting out the role of the Information Commissioner and the Tribunal, appeals and enforcement. The chapter on appeals allows the practitioner to be familiar with the processes followed in the tribunal, picking up on the jurisprudence as it has emerged in the last eight or so years. Appendices include: precedent requests for information; a step-by-step guide to responding to a request; comparative tables; and a table of the FOI Act's Parliamentary history. Finally, the book includes an annotated copy of the FOIA Act, the Data Protection Act 1998, the Environmental Information Regulations 2004, all subordinate legislation made under them, EU legislation, Tribunal rules and practice directions, and the Codes of Practice. Contributors Prof John Angel, former President of the Information Tribunal Richard Clayton QC, 4-5 Gray's Inn Square Joanne Clement, 11 KBW Gerry Facena, Monkton Chambers Eleanor Gray QC, 39 Essex Street Henry King, Fountain Court Chambers Gavin Millar QC, Doughty Street Chambers Jennifer Robinson, Bertha Foundation Oliver Sanders, 1 Crown Office Row Nicholas Saunders, Brick Court HHJ Murray Shanks, First-tier Tribunal Bankim Thanki QC, Fountain Court Antony White QC, Matrix James Maurici, Landmark Chambers "It is becoming increasingly important that a guide be provided through the often murky and unexplained world of information law. The new edition ...proves to be that guide. The inclusion of comparative law throughout the book in the text and footnotes will prove a valuable source of thought-provoking material. There is no doubt that Information Rights is a book of extensive use for users of the information legislative regime, not only for professional lawyers but also for ordinary requestors and public authorities. Information Rights is an essential addition to the bookshelves of all those who have to navigate information law. Philip Coppel and his team of authors have produced a scholarly work of intensely practical use. It is and will continue to be an invaluable guide to people who actually have to practice in the area." CJS Knight Judicial Review 2011 "If you're professionally involved in requesting information from officialdom, or handling such requests, this is a must-have reference book to the Freedom of Information Act and other freedom of information legalisation. If you specialize in this area, this book will keep you up to date. Within its almost 1,500 pages, this erudite and logically organized work of reference deals with the full range of issues pertaining to information rights. If you are a practitioner, then you'll infer that this is a practitioner's book and the leading work in this field. Whether you're preparing a case, or tasked with responding to a request, you will find ample research here to help you make sure that no exemption can ever get past you. As this very large volume reveals, it's jolly hard to wrench adequate answers from the grasping tentacles of reluctant officialdom. Good thing this book tells you exactly how to do it." Philip Taylor MBE and Elizabeth Taylor of Richmond Green Chambers August 2010 "This, the third edition of Coppel's magesterial work, deals with the Act comprehensively and incisively...no one who has any serious interest in or involvement with the Act can afford to be without, or without ready access to, this important work of reference." The Commonwealth Lawyer Volume 19, No. 3
Sklep: Libristo.pl
Sklepy zlokalizowane w miastach: Warszawa, Kraków, Łódź, Wrocław, Poznań, Gdańsk, Szczecin, Bydgoszcz, Lublin, Katowice
Szukaj w sklepach lub całym serwisie
2. Szukaj na wszystkich stronach serwisu
t1=0.023, t2=0, t3=0, t4=0, t=0.023