krainaksiazek knowledge management model for product process design and development 20124714
- znaleziono 11 produktów w 2 sklepach 219,99 zł
Książki Obcojęzyczne>Angielskie>Economics, finance, business & management>Business & management>Management & management techniques
0x005821cc00000000
Sklep: Gigant.pl 1303,20 zł
Książki / Literatura obcojęzyczna
This state-of-the-art book explores the concept of knowledge-intensive computer-aided design (CAD) systems. This concept advocates that life-cycle knowledge regarding the product and design process must be incorporated in the center of CAD architecture. It focuses on the systematization and sharing of knowledge of many types in many places. It is concerned with knowledge management over product life-cycle. The topics covered in the book include: Ontology Knowledge-intensive CAD (KIC) Knowledge-intensive design (KID) Knowledge representation for KIC. This valuable new book contains the proceedings of the Third Workshop on Knowledge Intensive CAD, sponsored by Working Group 5.2 of the International Federation for Information Processing (IFIP) and held on December 1-4, 1998 in Tokyo, Japan. Knowledge-Intensive Computer Aided Design will be essential reading for researchers, engineers and technical managers involved in the development of advanced applications for knowledge management, engineering design, and manufacturing.
Sklep: Libristo.pl 413,37 zł
Książki / Literatura obcojęzyczna
New product development (NPD) and innovation are key factors that affect a company s long-term survival and growth. In a highly competitive and uncertain market, firms must learn how to compete globally by strengthening their NPD and innovation capabilities. Only through the continuous innovation management, can firms maintain their global competitiveness. This work develops management methods for NPD and innovation. The author focuses on the management of the early stages of NPD. Design Structure Matrix (DSM), Concurrent Engineering (CE), Interpretive Structural Modeling (ISM), Fuzzy Set Theory (FST), and Analytic Hierarchy Process (AHP) are integrated and conduct useful tools and methods for managing NPD. The proposed methods include (1) dynamic planning method for NPD; (2) structural matrix-based modeling for managing design variety; and (3) fuzzy logic-based evaluation model for idea screening of product design. The case studies showed that the proposed management methods performed well. The author expects that this book can provide some novel approaches of design management to help firms achieve the goals of innovative product development.
Sklep: Libristo.pl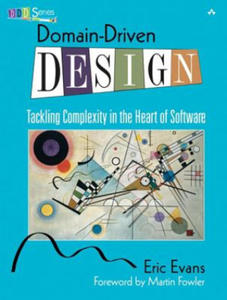 365,97 zł
Książki / Literatura obcojęzyczna
"Eric Evans has written a fantastic book on how you can make the design of your software match your mental model of the problem domain you are addressing. "His book is very compatible with XP. It is not about drawing pictures of a domain; it is about how you think of it, the language you use to talk about it, and how you organize your software to reflect your improving understanding of it. Eric thinks that learning about your problem domain is as likely to happen at the end of your project as at the beginning, and so refactoring is a big part of his technique. "The book is a fun read. Eric has lots of interesting stories, and he has a way with words. I see this book as essential reading for software developers-it is a future classic." -Ralph Johnson, author of Design Patterns "If you don't think you are getting value from your investment in object-oriented programming, this book will tell you what you've forgotten to do. "Eric Evans convincingly argues for the importance of domain modeling as the central focus of development and provides a solid framework and set of techniques for accomplishing it. This is timeless wisdom, and will hold up long after the methodologies du jour have gone out of fashion." -Dave Collins, author of Designing Object-Oriented User Interfaces "Eric weaves real-world experience modeling-and building-business applications into a practical, useful book. Written from the perspective of a trusted practitioner, Eric's descriptions of ubiquitous language, the benefits of sharing models with users, object life-cycle management, logical and physical application structuring, and the process and results of deep refactoring are major contributions to our field." -Luke Hohmann, author of Beyond Software Architecture "This book belongs on the shelf of every thoughtful software developer." -Kent Beck "What Eric has managed to capture is a part of the design process that experienced object designers have always used, but that we have been singularly unsuccessful as a group in conveying to the rest of the industry. We've given away bits and pieces of this knowledge...but we've never organized and systematized the principles of building domain logic. This book is important." -Kyle Brown, author of Enterprise Java(TM) Programming with IBM(R) WebSphere(R) The software development community widely acknowledges that domain modeling is central to software design. Through domain models, software developers are able to express rich functionality and translate it into a software implementation that truly serves the needs of its users. But despite its obvious importance, there are few practical resources that explain how to incorporate effective domain modeling into the software development process. Domain-Driven Design fills that need. This is not a book about specific technologies. It offers readers a systematic approach to domain-driven design, presenting an extensive set of design best practices, experience-based techniques, and fundamental principles that facilitate the development of software projects facing complex domains. Intertwining design and development practice, this book incorporates numerous examples based on actual projects to illustrate the application of domain-driven design to real-world software development. Readers learn how to use a domain model to make a complex development effort more focused and dynamic. A core of best practices and standard patterns provides a common language for the development team. A shift in emphasis-refactoring not just the code but the model underlying the code-in combination with the frequent iterations of Agile development leads to deeper insight into domains and enhanced communication between domain expert and programmer. Domain-Driven Design then builds on this foundation, and addresses modeling and design for complex systems and larger organizations.Specific topics covered include: * Getting all team members to speak the same language * Connecting model and implementation more deeply * Sharpening key distinctions in a model * Managing the lifecycle of a domain object * Writing domain code that is safe to combine in elaborate ways * Making complex code obvious and predictable * Formulating a domain vision statement * Distilling the core of a complex domain * Digging out implicit concepts needed in the model * Applying analysis patterns * Relating design patterns to the model * Maintaining model integrity in a large system * Dealing with coexisting models on the same project * Organizing systems with large-scale structures * Recognizing and responding to modeling breakthroughs With this book in hand, object-oriented developers, system analysts, and designers will have the guidance they need to organize and focus their work, create rich and useful domain models, and leverage those models into quality, long-lasting software implementations.
Sklep: Libristo.pl 739,62 zł
Książki / Literatura obcojęzyczna
3 4 5 6 7 8 9 1011 1 2 31 The continual effort to improve performance in business processes attracts 4 increasing attention in research and industry alike. The impact of design 5 development performance on the overall business positions this area as an 6 important performance improvement opportunity. However, design devel- 7 opment is characterised by novelty, uniqueness and non-repeatability, which 8 provides particular challenges in de?ning, measuring and managing its 9 performance to achieve improvement. 2011 This book explores the support provided by both general research in busi- 1 ness process performance and design research for supporting performance 2 improvement in design development. The nature of design development in industrial practice is further revealed, and requirements for its modelling and 3 analysis to achieve improvement are highlighted. 4 A methodology for the modelling and analysis of performance in design 5 development that encapsulates a formalism of performance and an approach 6 for its analysis is established. The formalism is composed of three models, 7 which capture the nature of design development performance and support its 8 2 measurement and management. The E model formalises and relates the key 9 3011 elements of performance, i. e. , ef?ciency and effectiveness. The Design Activity 1 Management (DAM) model distinguishes design and design management 2 activities in terms of the knowledge processed, while the Performance 3 Measurement and Management (PMM) model describes how these activities 4 relate within a process of measuring and managing performance.
Sklep: Libristo.pl 275,42 zł
Książki / Literatura obcojęzyczna
Master's Thesis from the year 2013 in the subject Business economics - Business Management, Corporate Governance, grade: 1,3, University of Applied Sciences Stuttgart (Fakultät für Wirtschaft), course: General Management/ International Business Management, language: English, comment: This Master's Thesis has been completed as part of a double degree program. The achieved degrees are Master of Science (MSc) in International Business Management from Edinburgh Napier University and Master of Arts (MA) in General Management from University of Applied Sciences Stuttgart. , abstract: Purpose: Knowledge of the factors that influence success in the succession of family businesses is limited. Despite recent studies, theory cannot explain why only 10 % of all family businesses make it to the third generation. The aim of this dissertation is to identify critical success factors for succession in family businesses.§Methodology: A qualitative multiple-case study design with third-generation family businesses, two from Germany and one from the UK was employed. A cross-case analysis was carried out to identify critical success factors and then complemented by a single-case analysis.§Findings: Nine of the ten tested hypotheses were confirmed. These were successor development, professionalization, knowledge transfer, capital structure, corporate governance, family harmony, stepping aside, succession planning and long-term orientation. The hypothesis about dividend policy was not confirmed. No significant differences were found to be based on national influence.§Practical Implications: From the results, a new model for family business succession is developed which leads to four best practice recommendations. These are the implementation of shared leadership, linking ownership to management; ensure communication in the family to create family harmony and the use of outside consultants.§Limitations: Due to the case study design, this research does not provide statistical generalizable findings.§Originality/ Value: This study increases the knowledge about critical success factors of succession in family businesses. The use of cases from two countries and three different industries increases the significance. The newly developed model for family business succession proposes a new view on the succession process that should be tested by future studies.
Sklep: Libristo.pl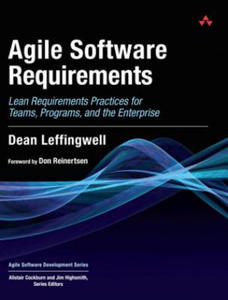 246,49 zł
Książki / Literatura obcojęzyczna
"We need better approaches to understanding and managing software requirements, and Dean provides them in this book. He draws ideas from three very useful intellectual pools: classical management practices, Agile methods, and lean product development. By combining the strengths of these three approaches, he has produced something that works better than any one in isolation." -From the Foreword by Don Reinertsen, President of Reinertsen & Associates; author of Managing the Design Factory; and leading expert on rapid product development Effective requirements discovery and analysis is a critical best practice for serious application development. Until now, however, requirements and Agile methods have rarely coexisted peacefully. For many enterprises considering Agile approaches, the absence of effective and scalable Agile requirements processes has been a showstopper for Agile adoption. In Agile Software Requirements, Dean Leffingwell shows exactly how to create effective requirements in Agile environments. * Part I presents the "big picture" of Agile requirements in the enterprise, and describes an overall process model for Agile requirements at the project team, program, and portfolio levels* Part II describes a simple and lightweight, yet comprehensive model that Agile project teams can use to manage requirements* Part III shows how to develop Agile requirements for complex systems that require the cooperation of multiple teams* Part IV guides enterprises in developing Agile requirements for ever-larger "systems of systems," application suites, and product portfolios This book will help you leverage the benefits of Agile without sacrificing the value of effective requirements discovery and analysis. You'll find proven solutions you can apply right now-whether you're a software developer or tester, executive, project/program manager, architect, or team leader.
Sklep: Libristo.pl 691,57 zł
Książki / Literatura obcojęzyczna
This book is written for financial analysts who have a working knowledge of Excel and VBA and who wish to enhance their marketability by improving their modeling expertise. The goal of the book is to broaden the reader's VBA skills and at the same time to progressively integrate Access, PowerPoint, and Outlook into an existing model. Significant attention is also directed to the design and execution of an Excel/VBA interface employing detailed UserForms. In addition, the construction of various reports, first in Excel, then Access, and finally PowerPoint is undertaken. Regardless of your area of financial expertise, this book serves as an essential guide to mastering leveraging the effects of Microsoft products in whatever applications you choose to build. The focus of the book is a case study containing a structured finance model. The case study model was originally designed for the securitization of a portfolio of commercial small business loans. This model now needs to be expanded to securitize a much larger portfolio of residential mortgages. The Original Structuring model will be bifurcated into a Sources of Funds model, the assets of the collateral pool, and a Uses of Funds model, the liabilities waterfall model. This will give the reader experience working with an existing model as a base departure point of development rather than the less common "start from scratch" approach. Once the Base Asset Model (BAM) and the Base Liabilities Models (BLM) are complete, each model will serve as the platform for future development. From the BAM and BLM a pair of much more robust models, the Collateral Cash Flow Generator (CCFG) and the Liabilities Waterfall Model (LWM), respectively, are created. The CCFG is designed to process a significantly greater quantity, variety, and complexity of collateral types. It also introduces the analyst to Geographic based prepayment methods as well as those using Financial/Demographic factor approaches. The LWM, operating independently of the CCFG, reads the collateral cash flow scenarios and applies them across a two tiered, six tranche bond structure. The liabilities waterfall contains provision for an interest rate swap, performance triggers and a variety of other credit enhancement features. With the CCFG and LWM now complete Access is introduced. Access will replace various Excel/VBA code modules in the CCFG such as the collateral data management, data scrubbing and reporting, data sufficiency testing, and eligibility screening. Access is also employed to export and the various collateral cash flows. In the LWM Access is used to import the cash flows, store the liability structure specifications, and export/save the resultant structure performance. PowerPoint is then introduced in the CCFG to allow for the fully automated production of presentation report packages. Last Outlook is added to the models to inform the analyst of model performance and to automatically distribute the various report packages to pre-designated mailing lists. The book contains over 750 exhibits of reports, menus, calculation, and algorithmic examples and most of all code. The complete Excel, VBA, Access, PowerPoint, and Outlook code for all of the models is included on the Web site. The Web site also includes Web chapters containing detailed instructions on how to create and populate a directory environment to store this code, run the models, and organize the results. Lastly there are other Web chapters containing supplemental information explaining the structure and function of the original model, bond and mortgage math (with calculation examples), representative line generator programs, and a tutorial on the construction and integration of UserForms. This book is the intermediate level companion volume to A Fast-Track to Structured Finance Modeling, Monitoring, and Valuation: Jump Start VBA; Preinitz; Wiley 2009, an introductory work on the subject.
Sklep: Libristo.pl 621,61 zł
Książki / Literatura obcojęzyczna
RandD is the single most important investment for any company or any society. Its ultimate product is an innovation. Innovations are on the other side the major propeller for the respective (socio-) economic development of the very company or society.Management science mainly treat RandD and innovations as costs or budgets to be managed, an approach that is in stark contrast to their overwhelming importance. This and the very fact that RandD and innovation success are a by necessity a-priori unknown and thus uncertain ex-post definition is not at all being respected properly up to now.In The Innovation Game, La Corre and Mishchke consider RandD and innovation as an inherently risky investment which should be profitable, at least on average. Applying a statistical filter model, the authors are able to describe the RandD- and the innovation-process in great detail, almost like a production process. As a metaphor, the book tries to describe it like the control laws of the "distillery for inno-success knowledge".
Sklep: Libristo.pl 2138,77 zł
Książki / Literatura obcojęzyczna
The proceedings includes the set of revised papers from the 23rd International Conference on Flexible Automation and Intelligent Manufacturing (FAIM 2013). This conference aims to provide an international forum for the exchange of leading edge scienti c knowledge and industrial experience regarding the development and integration of the various aspects of Flexible Automation and Intelligent Manufacturing Systems covering the complete life-cycle of a company s Products and Processes. Contents will include topics such as: Product, Process and Factory Integrated Design, Manufacturing Technology and Intelligent Systems, Manufacturing Operations Management and Optimization and Manufacturing Networks and MicroFactories.
Sklep: Libristo.pl 318,57 zł
Książki / Literatura obcojęzyczna
Answers to your most pressing SOA development questions How do we start with service modeling? How do we analyze services for better reusability? Who should be involved? How do we create the best architecture model for our organization? This must-read for all enterprise leaders gives you all the answers and tools needed to develop a sound service-oriented architecture in your organization. Praise for Service-Oriented Modeling Service Analysis, Design, and Architecture "Michael Bell has done it again with a book that will be remembered as a key facilitator of the global shift to Service-Oriented Architecture...With this book, Michael Bell provides that foundation and more-an essential bible for the next generation of enterprise IT." -Eric Pulier, Executive Chairman, SOA Software "Michael Bell's insightful book provides common language and techniques for business and technology organizations to take advantage of the SOA paradigm. By focusing modeling techniques on the business problem, Bell provides a way for professionals to work throughout the life cycle to create reusable and enduring services." -Mike Zbranak, CIO, Chase Card Services "This book will become an imperative business and technology service-oriented modeling recipe for any manager, architect, modeler, analyst, and developer in today's software development industry." -Jeff Schneider, CEO, MomentumSI "'Innovative' and 'groundbreaking' are words that best describe Michael Bell's Service-Oriented Modeling. It depicts a true service modeling approach that elegantly closes a clear and critical service modeling gap in the SOA industry. This holistic book ties these concepts together using real-world examples across a service life cycle that transitions services from ideas and concepts into production assets that deliver business value. A must-read for business and technical SOA practitioners." -Eric A. Marks, CEO, AgilePath Corporation "As hot as SOA is today, many business and technology professionals still find it challenging to mind the gap between their disparate methodologies and objectives. Herein Michael Bell speaks clearly to both camps in straightforward language, outlining disciplines each can use to communicate effectively and advance the realization of corporate aims. This book is a bible for all who seek to drive business/technology into the future." -Mark Edward Goodrich, Director, Investing Product Management, Reuters Media "This book takes senior IT architects and systems designers into the depths of modeling for SOA, with a fresh new perspective on tools, terminology, and how to turn the theory into practice. His full life-cycle approach balances process, control, and accountability to align all the participants in the delivery pipeline-clearing the road for successful SOA business solutions." -Phil Gilligan, Chief Technology Officer, EBS
Sklep: Libristo.pl
Sklepy zlokalizowane w miastach: Warszawa, Kraków, Łódź, Wrocław, Poznań, Gdańsk, Szczecin, Bydgoszcz, Lublin, Katowice
Szukaj w sklepach lub całym serwisie
2. Szukaj na wszystkich stronach serwisu
t1=0.06, t2=0, t3=0, t4=0, t=0.06