krainaksiazek knowledge management model for product process design and development 20124714
- znaleziono 9 produktów w 2 sklepach 219,99 zł
Książki Obcojęzyczne>Angielskie>Economics, finance, business & management>Business & management>Management & management techniques
0x00c828de00000000
Sklep: Gigant.pl 334,49 zł
Książki / Literatura obcojęzyczna
This textbook presents a series of high performance product design (PD) and development best practices that can create or improve a product development organization. In contrast to other books that focus only on Toyota or another individual company applying lean, this book more broadly explains the lean philosophy and includes discussions of systems engineering, design for X (DFX), agile development, integrated product development, and project management. Product design and development can be understood as the product development process (PDP) being carried out in an information-based factory. The goal of the PDP is to create a concept or design for producing a product that reduces risk and uncertainty while gradually developing a new and error-free product, which can then be realized by manufacturing, selling, and delivering it to the customer. PDP is a problem-solving and knowledge-accumulation process, which is based on two pillars: "do the thing right" and "do the right thing". The former guarantees that progress is made and value is added by creating useful information that reduces uncertainty and/or ambiguity. The latter addresses the challenge to produce information at the right time, when it will be most useful. The "Lean Journey" proposed here takes a value-centric approach, where the lean principles are applied to PD allow the choice of tools and methods to emerge from observation of the individual characteristics of each enterprise. Therefore learning Lean Product Development (LPD) is not about learning tools but understanding how to apply the philosophy. The textbook comes with an accompanying manual containing problems and solutions available on Springer Extras.
Sklep: Libristo.pl 271,68 zł
Książki / Literatura obcojęzyczna
Achieving commercial success through innovation is highly desirable, but difficult to achieve in practice. 50% of product development costs are likely to result in a failed product and in some sectors, such as FMCGs, this figure is more like 75%. What is the problem? Typically, out of nine montha s product development cycle, only two weeks are devoted to the generation of ideas and creative design -- the "front end". This is the missing link -- insufficient idea generation and creativity management, or the pre--development phase, can lead to the failure of the product. So, what can you do to avoid product failure? Requirements Capture is the "front end". It is the processs by which the needs, preferences and requirements of individuals and groups significant to product development are researched and identified. Requirements cature defines: aeo Customer, user and market requirements aeo Design requirements aeo Technical requirements The requirements capture model constitutes three phases: aeo Information gathering aeo Information transformation aeo Requirements generation In this book, Margaret Bruce and Rachel Cooper present and explain requirements capture in a step--by--step, practical guide that will enable you to plan and implement the process successfully within your organisation. Whether you produce food products or technically complex products, this book will be an invaluable asset in assisting your product development process.
Sklep: Libristo.pl 288,33 zł
Książki / Literatura obcojęzyczna
"Most progressive organizations strive to increase their overall performance by inserting either advanced technologies or tight processes. What tends to be missed is the enlightened leader who can motivate and build an environment that leverages the technology and processes that have been introduced. Some processes and technologies allow excellent teams to excel, and some processes and technologies prevent the mediocre from failing. It is the enlightened leader who can tell which approach is required and then build an environment that maximizes a team's performance. This book incorporates that ability into the discussion and effectively includes it in the quantitative process of assessing the organization's productivity potential." -Gregory H. Mikkelsen, Integrated Defense Systems, Raytheon Superior software productivity requires a relentless focus on people, motivation, and communication. In Improving Software Development Productivity, world-renowned software engineering expert Dr. Randall W. Jensen introduces a proven, quantitative approach to achieving this focus. Jensen helps you measure your organization's capacity and productivity, and then use that information to build more accurate estimates and schedules and to improve multiple facets of developer and team performance. Focusing on management as the principal cost and schedule driver in software projects, he demonstrates a powerful tool based on his Jensen II (Seer) model: the model that underlies many leading software estimation tools. Through real case studies, you'll learn how to predict the productivity impact of any major management decision, and quantitatively support a transition to "extreme" or "agile" software development environments. For decades, Jensen has been the industry's go-to expert on improving software project productivity. This book distills his insights and also gives you the tools and knowledge to apply them. This book will help you * Formulate more accurate and useful estimates with leading tools such as Sage, REVIC, COCOMO II, and SEER-SEM * Predict the impact of changes in personnel, management style, development environments, product constraints, and technologies * Optimize decision making throughout a project's lifecycle, and avoid counterproductive changes * Recognize the centrality of communication and culture, and translate this awareness into quantitative improvements * Understand modern estimating models and parameters, so you can apply them more effectively * Maintain firmer control over costs and timeframes in agile or extreme project environments
Sklep: Libristo.pl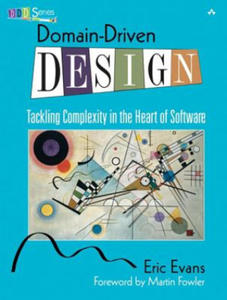 313,55 zł
Książki / Literatura obcojęzyczna
"Eric Evans has written a fantastic book on how you can make the design of your software match your mental model of the problem domain you are addressing. "His book is very compatible with XP. It is not about drawing pictures of a domain; it is about how you think of it, the language you use to talk about it, and how you organize your software to reflect your improving understanding of it. Eric thinks that learning about your problem domain is as likely to happen at the end of your project as at the beginning, and so refactoring is a big part of his technique. "The book is a fun read. Eric has lots of interesting stories, and he has a way with words. I see this book as essential reading for software developers-it is a future classic." -Ralph Johnson, author of Design Patterns "If you don't think you are getting value from your investment in object-oriented programming, this book will tell you what you've forgotten to do. "Eric Evans convincingly argues for the importance of domain modeling as the central focus of development and provides a solid framework and set of techniques for accomplishing it. This is timeless wisdom, and will hold up long after the methodologies du jour have gone out of fashion." -Dave Collins, author of Designing Object-Oriented User Interfaces "Eric weaves real-world experience modeling-and building-business applications into a practical, useful book. Written from the perspective of a trusted practitioner, Eric's descriptions of ubiquitous language, the benefits of sharing models with users, object life-cycle management, logical and physical application structuring, and the process and results of deep refactoring are major contributions to our field." -Luke Hohmann, author of Beyond Software Architecture "This book belongs on the shelf of every thoughtful software developer." -Kent Beck "What Eric has managed to capture is a part of the design process that experienced object designers have always used, but that we have been singularly unsuccessful as a group in conveying to the rest of the industry. We've given away bits and pieces of this knowledge...but we've never organized and systematized the principles of building domain logic. This book is important." -Kyle Brown, author of Enterprise Java(TM) Programming with IBM(R) WebSphere(R) The software development community widely acknowledges that domain modeling is central to software design. Through domain models, software developers are able to express rich functionality and translate it into a software implementation that truly serves the needs of its users. But despite its obvious importance, there are few practical resources that explain how to incorporate effective domain modeling into the software development process. Domain-Driven Design fills that need. This is not a book about specific technologies. It offers readers a systematic approach to domain-driven design, presenting an extensive set of design best practices, experience-based techniques, and fundamental principles that facilitate the development of software projects facing complex domains. Intertwining design and development practice, this book incorporates numerous examples based on actual projects to illustrate the application of domain-driven design to real-world software development. Readers learn how to use a domain model to make a complex development effort more focused and dynamic. A core of best practices and standard patterns provides a common language for the development team. A shift in emphasis-refactoring not just the code but the model underlying the code-in combination with the frequent iterations of Agile development leads to deeper insight into domains and enhanced communication between domain expert and programmer. Domain-Driven Design then builds on this foundation, and addresses modeling and design for complex systems and larger organizations.Specific topics covered include: * Getting all team members to speak the same language * Connecting model and implementation more deeply * Sharpening key distinctions in a model * Managing the lifecycle of a domain object * Writing domain code that is safe to combine in elaborate ways * Making complex code obvious and predictable * Formulating a domain vision statement * Distilling the core of a complex domain * Digging out implicit concepts needed in the model * Applying analysis patterns * Relating design patterns to the model * Maintaining model integrity in a large system * Dealing with coexisting models on the same project * Organizing systems with large-scale structures * Recognizing and responding to modeling breakthroughs With this book in hand, object-oriented developers, system analysts, and designers will have the guidance they need to organize and focus their work, create rich and useful domain models, and leverage those models into quality, long-lasting software implementations.
Sklep: Libristo.pl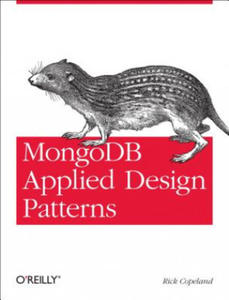 138,97 zł
Książki / Literatura obcojęzyczna
Whether you're building a social media site or an internal-use enterprise application, this hands-on guide shows you the connection between MongoDB and the business problems it's designed to solve. You'll learn how to apply MongoDB design patterns to several challenging domains, such as ecommerce, content management, and online gaming. Using Python and JavaScript code examples, you'll discover how MongoDB lets you scale your data model while simplifying the development process. Many businesses launch NoSQL databases without understanding the techniques for using their features most effectively. This book demonstrates the benefits of document embedding, polymorphic schemas, and other MongoDB patterns for tackling specific big data use cases, including: Operational intelligence: Perform real-time analytics of business data Ecommerce: Use MongoDB as a product catalog master or inventory management system Content management: Learn methods for storing content nodes, binary assets, and discussions Online advertising networks: Apply techniques for frequency capping ad impressions, and keyword targeting and bidding Social networking: Learn how to store a complex social graph, modeled after Google+ Online gaming: Provide concurrent access to character and world data for a multiplayer role-playing game
Sklep: Libristo.pl 774,65 zł
Książki / Literatura obcojęzyczna
A Classic adapted to modern times Rewritten and updated, this new edition of Statistics for Experimenters adopts the same approaches as the landmark First Edition by teaching with examples, readily understood graphics, and the appropriate use of computers. Catalyzing innovation, problem solving, and discovery, the Second Edition provides experimenters with the scientific and statistical tools needed to maximize the knowledge gained from research data, illustrating how these tools may best be utilized during all stages of the investigative process. The authors' practical approach starts with a problem that needs to be solved and then examines the appropriate statistical methods of design and analysis. Providing even greater accessibility for its users, the Second Edition is thoroughly revised and updated to reflect the changes in techniques and technologies since the publication of the classic First Edition. Among the new topics included are: * Graphical Analysis of Variance * Computer Analysis of Complex Designs * Simplification by transformation * Hands-on experimentation using Response Service Methods * Further development of robust product and process design using split plot arrangements and minimization of error transmission * Introduction to Process Control, Forecasting and Time Series * Illustrations demonstrating how multi-response problems can be solved using the concepts of active and inert factor spaces and canonical spaces * Bayesian approaches to model selection and sequential experimentation An appendix featuring Quaquaversal quotes from a variety of sources including noted statisticians and scientists to famous philosophers is provided to illustrate key concepts and enliven the learning process. All the computations in the Second Edition can be done utilizing the statistical language R. Functions for displaying ANOVA and lamba plots, Bayesian screening, and model building are all included and R packages are available online. All theses topics can also be applied utilizing easy-to-use commercial software packages. Complete with applications covering the physical, engineering, biological, and social sciences, Statistics for Experimenters is designed for individuals who must use statistical approaches to conduct an experiment, but do not necessarily have formal training in statistics. Experimenters need only a basic understanding of mathematics to master all the statistical methods presented. This text is an essential reference for all researchers and is a highly recommended course book for undergraduate and graduate students.
Sklep: Libristo.pl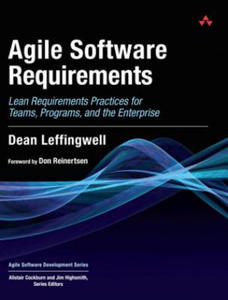 245,63 zł
Książki / Literatura obcojęzyczna
"We need better approaches to understanding and managing software requirements, and Dean provides them in this book. He draws ideas from three very useful intellectual pools: classical management practices, Agile methods, and lean product development. By combining the strengths of these three approaches, he has produced something that works better than any one in isolation." -From the Foreword by Don Reinertsen, President of Reinertsen & Associates; author of Managing the Design Factory; and leading expert on rapid product development Effective requirements discovery and analysis is a critical best practice for serious application development. Until now, however, requirements and Agile methods have rarely coexisted peacefully. For many enterprises considering Agile approaches, the absence of effective and scalable Agile requirements processes has been a showstopper for Agile adoption. In Agile Software Requirements, Dean Leffingwell shows exactly how to create effective requirements in Agile environments. * Part I presents the "big picture" of Agile requirements in the enterprise, and describes an overall process model for Agile requirements at the project team, program, and portfolio levels* Part II describes a simple and lightweight, yet comprehensive model that Agile project teams can use to manage requirements* Part III shows how to develop Agile requirements for complex systems that require the cooperation of multiple teams* Part IV guides enterprises in developing Agile requirements for ever-larger "systems of systems," application suites, and product portfolios This book will help you leverage the benefits of Agile without sacrificing the value of effective requirements discovery and analysis. You'll find proven solutions you can apply right now-whether you're a software developer or tester, executive, project/program manager, architect, or team leader.
Sklep: Libristo.pl 261,79 zł
Książki / Literatura obcojęzyczna
"This book illuminates the connection of the two domains--SOA and REST--in a manner that is concrete and practical, providing concise application to everyday architectural challenges. Fantastic!" --Ryan Frazier, Technology Strategist, Microsoft "...a tour de force that elegantly applies REST principles to the industry-standard SOA framework described in prior titles in this series...This book is a must-read for anyone developing REST services." --Dave Slotnick, Enterprise Architect, Rackspace Hosting "This book undoubtedly will help SOA to reap the benefits from the main value propositions of Web architecture..." --Dr. Erik Wilde, Architect, EMC Corporation "REST is so much more than just another type of interface implementation--SOA with REST shows how the ecosystem of service compositions changes as new opportunities arise for service composition architecture designs. A comprehensive guide and a must-read for any serious IT architect considering REST-style services for application architectures." --Roger Stoffers, Solution Architect, Hewlett Packard "Service-orientation and REST both are architectural styles that are cornerstones of modern applications and cloud computing. Both aim to deliver scalable, interoperable solutions, but their different roots don't always make them a natural fit. SOA with REST explains how the two styles can work together in enterprise environments. It discusses a design process for a services portfolio that meets the goals of SOA and at the same time designs services that comply with the established REST constraints. It also shows pragmatic approaches to meet enterprise-grade requirements with the REST programming style but relaxes constraints where necessary." --Christoph Schittko, Director of Cloud Strategy, Microsoft "An excellent repertoire of service-oriented patterns that will prove handy when solving problems in the real world. The REST perspectives and principles will provide complete coverage of modern-day Web 2.0 style approaches. Highly recommended." --Sid Sanyal, IT Architect, Zurich Financial Services "An inspirational book that provides deep insight into the design and development of next-generation service-oriented systems based on the use of REST. This book clarifies the convergence of SOA and REST with no-nonsense content that addresses common questions and issues head-on. An essential 'instrument of modern service implementation' and a powerful body of knowledge for software designers, architects, and consultants." --Pethuru Raj, Ph.D., Enterprise Architecture (EA) Consultant, Wipro Consulting Services "REST and SOA are two of the most misunderstood terms in the software industry over the past decade. Yet the REST architectural style coupled with modern RESTful framework implementations provides a scalable and reliable approach to SOA. This book covers all you need to know about how to take the principles of REST and apply them in small and large SOA developments. If you are familiar with REST and thinking about SOA, then you need this book. If you have not considered REST in your SOA work, then this book is for you, too. Covering concepts of both REST and SOA, as well as design patterns and when to use them, the book is a wonderful companion and a good tool for architects and engineers." --Dr. Mark Little, CTO JBoss, Red Hat "Unlike many other texts on the subject, SOA with REST is a well-rounded, easy-to-read narrative, including real-world case studies that appeal to both developers and analysts. This makes it an indispensable source for any SOA practitioner or any professional who is planning to initiate an SOA project." --Theodore T. Morrison, Certified SOA Analyst, CSM, Geocent, LLC "SOA and REST are two very important architectural styles for distributed computing. SOA is successfully adopted by most enterprises, and the REST style is getting more attention from both researcher and industry users. The book SOA with REST introduces a new architectural style that is ingeniously combining both SOA and REST styles and clearly reveals how SOA and REST can work together to generate successful enterprise SOA strategies with REST, along with guidance for making architecture design decisions. This book is a bible of best practices for designing and implementing SOA architecture with REST. It is a must-have reference book for both IT practitioners and researchers." --Longji Tang, FedEx IT Senior Technical Advisor, Ph.D. in CSSE The Definitive Guide to Building Web-Centric SOA with REST The World Wide Web is based on the most successful technology architecture in history. It has changed how we view, access, and exchange information and, with the advent of REST, it has also provided us with compelling ways to build and improve automation solutions. REST provides a great deal of guidance to ensure that an architecture and its automation logic are technically sound, though it is still your responsibility to build services that actually add value to your business. SOA with REST is the first comprehensive tutorial and reference for designing and building RESTful services as part of service-oriented solutions and in conjunction with service-oriented architecture (SOA). This book demonstrates that REST is not only a suitable medium for building truly service-oriented solutions, but also that the service-oriented architectural model is a necessary foundation for REST technology architectures to realize their full business potential. The authors provide thorough mapping of REST constraints and architectural goals with service-orientation principles and SOA characteristics. Using real-world examples, they show how to leverage REST's simplicity, flexibility, and low overhead without compromising the power or manageability of service-oriented solutions and architectures. This book will be valuable to IT architects, developers, and any practitioner seeking to use SOA and REST together. Topic Areas * Distributed solution design with HTTP and REST * REST-based service composition architectures * REST service modeling and a service-oriented analysis process for REST service candidates * Technical service contract notation for REST services based on a uniform contract * Designing REST service contracts with service-orientation * Understanding REST constraints in relation to service-orientation principles * Using hypermedia and dynamic binding within SOA and service compositions * Creating complex HTTP-based methods for enterprise solutions * Advanced design techniques, including composition deepening, runtime logic deferral, and dynamic binding with common properties * Cross-service transactions and event-driven messaging with REST * Addressing enterprise solution concerns in relation to REST-based state management * Applying SOA design patterns to REST-based solutions * Distinguishing REST and SOA service concepts and terminology * Designing REST architectures with SOA * Versioning REST services and uniform contracts * Fundamental REST, SOA, and service-orientation concepts and terminology * REST constraints, REST architectural goals, and properties * Seven new REST-inspired design patterns * Defining common goals of REST and SOA
Sklep: Libristo.pl
Sklepy zlokalizowane w miastach: Warszawa, Kraków, Łódź, Wrocław, Poznań, Gdańsk, Szczecin, Bydgoszcz, Lublin, Katowice
Szukaj w sklepach lub całym serwisie
2. Szukaj na wszystkich stronach serwisu
t1=0.102, t2=0, t3=0, t4=0, t=0.102