krainaksiazek la saga de terra 20092401
- znaleziono 5 produktów w 3 sklepach 130,27 zł
Książki / Literatura obcojęzyczna
Sklep: Libristo.pl 43,12 zł
Książki & Multimedia > Książki
Opis - Podręcznik majsterkowicza! Każdy majsterkowicz marzy o zbudowaniu maszyny, która może być wprawiana w ruch. Koła zębate, przekładnie, napędy to kluczowe elementy, obok których żaden pasjonat majsterkowania nie przejdzie obojętnie! Jeżeli chcesz poznać skuteczne techniki ruchomego łączenia części, jeżeli chcesz zbudować maszynę wprawianą w ruch, to trafiłeś na rewelacyjną książkę, która wprowadzi Cię w świat mechanizmów. Sięgnij po nią i poznaj najczęściej stosowane materiały oraz dowiedz się, jak je łączyć i gdzie ich szukać. Na kolejnych stronach znajdziesz cenne informacje na temat mocowania różnych elementów oraz poznasz kluczowe pojęcia: siły, tarcia i momentu obrotowego. Uzbrojony w tę wiedzę, przystąpisz do poznawania źródeł mocy mechanicznej i elektrycznej oraz zbudujesz pojazd zasilany pułapką na myszy! Na sam koniec zobaczysz, jak korzystać z łożysk i sprzęgieł oraz nauczysz się łączyć proste maszyny w złożone układy. W tej unikalnej publikacji pokazano liczne projekty, których realizacja sprawi Ci mnóstwo frajdy. Książka ta musi znaleźć się na półce każdego szanującego się majsterkowicza! Sięgnij po tę książkę i: wybierz właściwe materiały do Twojego projektu poznaj połączenia rozłączne oraz nierozłączne opanuj techniki obliczania siły i momentu obrotowego wykorzystaj łożyska, sprzęgła, sprężyny i śruby zbuduj zaawansowaną maszynę Zbuduj wymarzoną maszynę! Zerknij na przykłady: - kliknij, by powiększyć: Dustyn Roberts - inżynier mechanik, nauczycielka. Założycielka firmy doradczej Dustyn Robots. Posiada szeroką wiedzę, zdobytą w trakcie studiów na uniwersytecie Carnegie Mellon, uniwersytecie Delaware oraz Politechnice Nowojorskiej. Nazwa - Wpraw to w ruch. Proste mechanizmy dla wynalazców, majsterkowiczów i artystów Oryginalny tytuł - Making Things Move DIY Mechanisms for Inventors, Hobbyists, and Artists Autor - Dustyn Roberts Oprawa - Miękka Wydawca - Helion Kod ISBN - 9788324698578 Kod EAN - 9788324698578 Rok wydania - 2015 Język - PL Tłumacz - Krzysztof Sawka Format - 170x230 Ilość stron - 344 Podatek VAT - 5% Premiera - 2015-03-12
Sklep: InBook.pl 20,00 zł
Powieści i opowiadania
Ambre est un royaume mĂŠdiĂŠval ; comme tous les autres il possede une capitale, un palais, une cour, une famille royale et des intrigues. Mais Ambre est aussi bien plus : lieu mythique considĂŠrĂŠ comme le centre de l'univers. Seul lieu rĂŠel, tous les autres n'en sont qu'un reflet, dans l'ombre, comme la Terre. ConsidĂŠrĂŠe comme tres intĂŠressante par la plupart des princes d'Ambre, elle leur sert de rĂŠsidence secondaire, voire de cachette. Car la vie d'un prince ou d'une princesse n'est pas de tout repos. Seuls dĂŠpositaires du pouvoir quasi divin de se dĂŠplacer entre les mondes, ils n'en restent pas moins humains : au mieux rivaux, ils sont le plus souvent ennemis jurĂŠs. En effet, depuis la disparition mystĂŠrieuse d'ObĂŠron, le pere de cette grande famille, le trĂ´ne est vacant et la succession des plus agitĂŠe.InspirĂŠ par les mythologies du monde entier, Zelazny a construit ici un fantastique univers en dix volumes pour raconter cette vaste saga familiale. --Laurent Schneitter
Sklep: Albertus.pl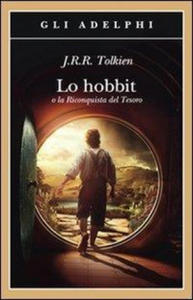 84,19 zł
Lo Hobbit Adelphi Edizioni S.p.A.
Książki / Literatura obcojęzyczna
"Lo hobbit" č il libro con cui Tolkien ha presentato per la prima volta, nel 1937, il foltissimo mondo mitologico del Signore degli Anelli, che ormai milioni di persone di ogni etŕ, sparse ovunque, conoscono in tutti i suoi minuti particolari. Tra i protagonisti di tale mondo sono gli hobbit, minuscoli esseri "dolci come il miele e resistenti come le radici di alberi secolari", timidi, capaci di "sparire veloci e silenziosi al sopraggiungere di persone indesiderate", con un'arte che sembra magica ma č "unicamente dovuta a un'abilitŕ professionale che l'ereditŕ, la pratica e un'amicizia molto intima con la terra hanno reso inimitabile da parte di razze piů grandi e goffe" quali gli uomini. Se non praticano la magia, gli Hobbit finiscono perň sempre in mezzo a feroci vicende magiche, come capita appunto a Bilbo Baggins, eroe quasi a dispetto di questa storia, che il grande "mago bianco" Gandalf coinvolgerŕ in un'impresa apparentemente disperata: la riconquista del tesoro custodito dal drago Smog. Bilbo incontrerŕ cosě ogni sorta di avventure, assieme ai tredici nani suoi compagni e a Gandalf, che appare e scompare, lasciando cadere come per caso le parole degli insegnamenti decisivi. E il ritrovamento, apparentemente casuale, di un anello magico, č il germe della grande saga che Tolkien proseguirŕ nei tre libri del "Signore degli Anelli" illuminando nel suo durissimo senso un tema segreto de "Lo hobbit": cosa fare dell'Anello del Potere?
Sklep: Libristo.pl 198,18 zł
Manga of 2007 Books LLC, Reference Series
Książki / Literatura obcojęzyczna
Source: Wikipedia. Pages: 223. Chapters: Little Busters!, Clannad, K-On!, Mana, Psyren, Shakugan no Shana, Gurren Lagann, Touhou Project, Sora no Otoshimono, Haruhi Suzumiya, Toaru Majutsu no Index, Violence Jack, Umineko no Naku Koro ni, Alice in the Country of Hearts, Rental Magica, Toradora!, Toshokan Senso, School Days, Da Capo II, Spice and Wolf, Fist of the North Star, First Love Limited, Sasameki Koto, The Guin Saga, Broken Blade, Deadman Wonderland, Hyakko, Kongo Bancho, Toward the Terra, HoneyComing, Kanamemo, H2O: Footprints in the Sand, Tomoyo After: It's a Wonderful Life, Gravitation, Fortune Arterial, Iriya no Sora, UFO no Natsu, Black Bird, 20th Century Boys, Blue Drop, Kure-nai, Faster than a Kiss, Seitokai Yakuindomo, Allison, Nanatsuiro Drops, Nyan Koi!, Chu-Bra!!, Code-E, Papillon, Watashi no Messiah-sama, Goshusho-sama Ninomiya-kun, Romeo x Juliet, Giant Killing, Chrome Shelled Regios, Omamori Himari, Hoshi wa Utau, Twinkle Crusaders, Marriage Royale, Kirakira, Good Morning Call, Shiki, Stepping on Roses, Hades Project Zeorymer, Tonari no 801-chan, Ichigeki Sacchu!! HoiHoi-san, Children of the Sea, Our Home's Fox Deity., Mononoke, Shinryaku! Ika Musume, Zettai Heiwa Daisakusen, El Cazador de la Bruja, Clear, March Comes in Like a Lion, Penguin Musume, Hideyuki Kikuchi's Vampire Hunter D, Doubt, Short Program, Mei no Naisho, My-Otome, Chocolate Cosmos, Niju Menso no Musume, Maker Hikoshiki Hatsune Mix, Sora o Tobu, Mittsu no Hoho., Gaba Kawa, Akai Ito, Koko ni iru yo!, Tomehane! Suzuri Koko Shodobu, Ifrit: Danzai no Enjin, Saint Young Men, Hana no Asuka-gumi!, Satanikus ENMA Kerberos, Classical Medley, Even a Monkey Can Draw Manga, Umimachi Diary, Hey, Sensei?, Gekko no Carnevale, Moryo no Hako, Amuri in Star Ocean, Naniwa Kin'yudo, After I Win, GR: Giant Robo, Maid Deka, Hoshiful, Kamisama Game, Alcohol, Shirt and Kiss, Minori Scramble!, Mayonaka ni Kiss, Tales of Princess Mimia, Megane na Kanojo, Marine Hunter, Hitohira no Koi ga Furu, Kunai Den, Boys Love, Made in Heaven, Steel Fist Riku, Kamisama Dolls, Blue Dragon ST, Love For Dessert, Dive!!, Kino Nani Tabeta?. Excerpt: Little Busters! Ritoru Basutazu!) is a Japanese visual novel developed by Key which was originally released, rated for everyone as a limited edition version, on July 27, 2007 playable on the PC as a DVD; a regular edition, also rated for everyone, followed on September 28, 2007. Little Busters! is Key's sixth game, along with other titles such as Kanon, Air, and Clannad. Despite the first two releases of Little Busters! having a rating for everyone, there were still some suggestive computer graphics that provided fan service shots. An adult version of the game entitled Little Busters! Ecstasy was released on July 25, 2008, unlike Kanon and Air, which were first released with adult content and then had later versions with such content removed. The title Little Busters! comes from a group of friends in the story named the Little Busters in which the main protagonist, Riki Naoe, has been a member of since childhood. In June 2010, Key released an adult spin-off of Ecstasy called Kud Wafter, which expanded on the scenario of Kudryavka Noumi, one of the heroines from Little Busters! and Ecstasy. The gameplay in Little Busters! follows a plot line which offers pre-determined scenarios with courses of interaction, and focuses on the appeal of the six female main characters, which increases to nine in Ecstasy. There are additional minigames added into the ...
Sklep: Libristo.pl
Sklepy zlokalizowane w miastach: Warszawa, Kraków, Łódź, Wrocław, Poznań, Gdańsk, Szczecin, Bydgoszcz, Lublin, Katowice
Szukaj w sklepach lub całym serwisie
2. Szukaj na wszystkich stronach serwisu
t1=0.03, t2=0, t3=0, t4=0.012, t=0.031