krainaksiazek law and economics vol 2 20054162
- znaleziono 13 produktów w 5 sklepach 269,53 zł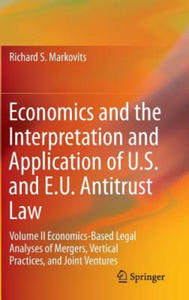 491,88 zł
Książki / Literatura obcojęzyczna
Volume 2 uses the economic and legal concepts/theories of Volume 1 to (1) analyze the U.S. and E.U. antitrust legality of mergers, joint ventures, and the pricing-technique and contractual/sales-policy distributor-control surrogates for vertical integration and (2) assess related positions of scholars and U.S. and E.U. antitrust officials. Its analysis of horizontal mergers (1) delineates non-market-oriented protocols for determining whether they manifest specific anticompetitive intent, would lessen competition, or are rendered lawful by the efficiencies they would generate, (2) criticizes the U.S. courts traditional market-share/market-concentration protocol, the HHI-oriented protocols of the 1992 U.S. DOJ/FTC Guidelines and the European Commission (EC) Guidelines, and the various non-market-oriented protocols the DOJ/FTC have increasingly been using, (3) argues that, although the 2010 U.S. Guidelines and DOJ/FTC officials discuss market definition as if it matters, those Guidelines actually reject market-oriented approaches, and (4) reviews the relevant U.S. and E.U. case-law. Its analysis of conglomerate mergers (1) shows that they can perform the same legitimate and competition-increasing functions as horizontal mergers and can yield illegitimate profits and lessen competition by increasing contrived oligopolistic pricing and retaliation barriers to investment, (2) analyzes the determinants of all these effects, and (3) assesses limit-price theory, the toe-hold-merger doctrine, and U.S. and E.U. case-law. Its analysis of vertical conduct (1) examines the legitimate functions of each type of such conduct, (2) delineates the conditions under which each manifests specific anticompetitive intent and/or lessens competition, and (3) assesses related U.S. and E.U. case-law and DOJ/FTC and EC positions. Its analysis of joint ventures (1) explains that they violate U.S. law only when they manifest specific anticompetitive intent while they violate E.U. law either for this reason or because they lessen competition, (2) discusses the meaning of an ancillary restraint and demonstrates that whether a joint-venture agreement would be illegal if it imposed no restraints and whether any restraints imposed are ancillary can be determined only through case-by-case analysis, (3) explains why scholars and officials overestimate the economic efficiency of R&D joint ventures, and (4) discusses related U.S. and E.U. case-law and DOJ/FTC and EC positions. The study s Conclusion (1) reviews how its analyses justify its innovative conceptual systems and (2) compares U.S. and E.U. antitrust law as written and as applied.
Sklep: Libristo.pl 65,52 zł 65,90 zł 63,72 zł 96,27 zł 70,71 zł 56,76 zł 451,55 zł
Książki / Literatura obcojęzyczna
This volume (1) defines the specific-anticompetitive-intent, lessening-competition, distorting-competition, and exploitative-abuse tests of illegality promulgated by U.S. and/or E.U. antitrust law, (2) compares the efficiency defenses promulgated by U.S. and E.U. antitrust law, (3) compares the conduct-coverage of the various U.S. and E.U. antitrust laws, (4) defines price competition and quality-or-variety-increasing-investment (QV-investment) competition and explains why they should be analyzed separately, (5) defines the components of individualized-pricing and across-the-board-pricing sellers price minus marginal cost gaps and analyses each s determinants, (6) defines the determinants of the intensity of QV-investment competition and explains how they determine that intensity, (7) demonstrates that definitions of both classical and antitrust markets are inevitably arbitrary, not just at their periphery but comprehensively, (8) criticizes the various protocols for market definition recommended/used by scholars, the U.S. antitrust agencies, the European Commission, and U.S. and E.U. courts, (9) explains that a firm s economic (market) power or dominance depends on its power over both price and QV investment and demonstrates that, even if markets could be defined non-arbitrarily, a firm s economic power could not be predicted from its market share, (10) articulates a definition of oligopolistic conduct that some economists have implicitly used conduct whose perpetrator-perceived ex ante profitability depended critically on the perpetrator s belief that its rivals responses would be affected by their belief that it could react to their responses, distinguishes two types of such conduct contrived and natural by whether it entails anticompetitive threats and/or offers, explains why this distinction is critical under U.S. but not E.U. antitrust law, analyzes the profitability of each kind of oligopolistic conduct, examines these analyses implications for each s antitrust legality, and criticizes related U.S. and E.U. case-law and doctrine and scholarly positions (e.g., on the evidence that establishes the illegal oligopolistic character of pricing), and (11) executes parallel analyses of predatory conduct--e.g., criticizes various arguments for the inevitable unprofitability of predatory pricing, the various tests that economists/U.S. courts advocate using/use to determine whether pricing is predatory, and two analyses by economists of the conditions under which QV investment and systems rivalry are predatory and examines the conditions under which production-process research, plant-modernization, and long-term full-requirements contracts are predatory.
Sklep: Libristo.pl 950,65 zł
Książki / Literatura obcojęzyczna
The Law and Economics of Article 102 TFEU is a comprehensive, integrated treatment of the legal and economic principles that underpin the application of Article 102 TFEU to the behaviour of dominant firms. Traditional concerns of monopoly behaviour, such as predatory pricing, refusals to deal, excessive pricing, tying and bundling, discount practices and unlawful discrimination are treated in detail through a review of the applicable economic principles, the case law and decisional practice and more recent economic and legal writings. In addition, the major constituent elements of Article 102 TFEU, such as market definition, dominance, effect on trade and applicable remedies are considered at length. Jointly authored by a lawyer and an economist, The Law and Economics of Article 102 TFEU contains an integrated approach to the legal and economic principles that frame policy in this major area of competition law. Although written primarily with practitioners and in-house lawyers in mind, it is essential reading for anyone with an interest in competition law enforcement against monopoly behaviour. This is a truly outstanding book...With regard to many issues, the authors..achieve an analytical depth which is not even matched by many journal contributions dealing exclusively with those particular subjects. ..a truly seminal book on Article 82 EC that should and will have a major impact on the further development of this area of EC competition law. The book not only deserves to but certainly also will be widely read by academic and practising lawyers and economists concerned with abuse control. Thomas Eilmansberger Common Market Law Review Vol 44. No 4 Being the first book dedicated to this subject, The Law and Economics of Article 82 EC sets the benchmark very high for any followers...a comprehensive study that adopts a fresh method to the consideration of Art.82 EC...One of the strongest features is perhaps the fact that the economics discussion contains hardly any equations and thus is absolutely accessible to non-economists...The Law and Economics of Article 82 EC can be thought of as saving the reader from having recourse to two separate books by combining the law and economics of Art.82 EC in a coherent framework without leaving anything essential out...a seminal guide for all those interested in Art.82 EC. Pinar Akman The Journal of Business Law March 2007 The text is lucid and there is a wealth of references to economic and legal materials and explanations in careful and substantial footnotes. I found answers to many questions I had not even thought of asking. The work is critical as well as practical...A second edition will be demanded soon after the Commission publishes its intentions next year. This scholarly, practical and very substantial work is warmly welcome. Valentine Korah World Competition Law and Economics Review June 2007 ...this book is one of the best I have come across...the first to thoroughly integrate the economic and legal discussions into a single text...an essential book for any practice dealing in competition law. I would also suggest that it should find its way into university and vocational training law libraries where...a better overall understanding of Art.82 will accrue. Philip Allery European Competition Law Review 2007 This book is an admirable achievement, and the authors are to be congratulated on producing a work of high class and great interest. It is handsomely produced, easy to read, and comprehensive in its scope. Its publication now is timely, as we await the next stage of the Commission's review of Article 82...a first-rate piece of work that will be highly influential in the years ahead and that will be gratefully referred to by everyone interested in this fascinating but difficult topic. It is very highly recommended. Richard Whish Competition Policy International Journal Autumn 2006, Vol. 2, No. 2 La structure de l'ouvrage, qui analyse consecutivement les notions de definition de marche, de position dominante, les differents abus et leurs remedes, est classique. Le contenu, en revanche, est engage...O'Donoghue et Padilla font oeuvre de decomposition minutieuse et sans reel precedent du droit des pratiques unilaterales. Translation from the French :The structure of the book is classic. It analyses the concepts of definition of the market, of dominant position, of the various abuses and their remedies. The content, on the other hand, is highly original...O'Donoghue and Padilla engage in a searching analysis, one without any real precedent, of the law of unilateral practices. Simon Gen
Sklep: Libristo.pl 119,99 zł
Książki Obcojęzyczne>Angielskie>Humanities>Religion & beliefs>Religion: general>Comparative religionKsiążki Obcojęzyczne>Angielskie&...
0x009adc6b00000000
Sklep: Gigant.pl 12,47 zł
Książki & Multimedia > Książki
Opis - "Mały Lord" jest powieścią dla dzieci angielskiej pisarki Frances Hodgson Burnett, znanej małym czytelnikom z takich powieści, jak "Mała księżniczka" i "Tajemniczy ogród". Opowiada historię ubogiego amerykańskiego chłopca Cedryka, który niespodziewanie znajduje się w Anglii u nieznanego mu wcześniej bogatego dziadka, hrabiego Dorincourt. Dziadek Cedryka jest zgorzkniałym, wyniosłym arystokratą, który na dodatek ma nienawistny stosunek do chłopca, jego mamy i w ogóle Amerykanów. Mały bohater nie dostrzega tych wad, uważa swojego dziadka za wzór wszelkich cnót, postać wspaniałomyślną i przez wszystkich lubianą. Miłość Cedryka i jego ujmująca postawa przemienią starego arystokratę i nauczą go mądrości. Lektura dla klasy IV Nazwa - Mały Lord Autor - Frances Hodgson Burnett Oprawa - Miękka Wydawca - Siedmioróg Kod ISBN - 9788377916483 Kod EAN - 9788377916483 Rok wydania - 2017 Język - polski Format - 20.3x14.2 Ilość stron - 160 Podatek VAT - 5% Premiera - 2017-02-23
Sklep: InBook.pl 14,42 zł
Książki & Multimedia > Książki
Opis - Stanisław Michalkiewicz Studia nad żydofilią Sprawa zwrotu majątków, oskarżenia o antysemityzm powiązane z prześladowaniem osób i instytucji gospodarczych nieakceptujących tzw. poprawności politycznej. Działania pozaprawne i krucjata przeciwko swobodom gwarantowanym przez Konstytucję Rzeczypospolitej. Wszystkie te działania podyktowane są chęcią ograniczenia wolności słowa, wprowadzenia cenzury i powrotu do ustroju totalitarnego Nazwa - Studia nad żydofilią Autor - Stanisław Michalkiewicz Oprawa - Miękka Wydawca - Von Borowiecky Kod ISBN - 9788360748534 Kod EAN - 9788360748534 Rok wydania - 2014 Język - polski Format - 14.5x20.5cm Ilość stron - 111 Podatek VAT - 5%
Sklep: InBook.pl
Sklepy zlokalizowane w miastach: Warszawa, Kraków, Łódź, Wrocław, Poznań, Gdańsk, Szczecin, Bydgoszcz, Lublin, Katowice
Szukaj w sklepach lub całym serwisie
2. Szukaj na wszystkich stronach serwisu
t1=0.088, t2=0, t3=0, t4=0.022, t=0.089