krainaksiazek leadership dynamics building effective teams 20169534
- znaleziono 5 produktów w 2 sklepach 243,80 zł
Książki / Literatura obcojęzyczna
'[A] tour de force on what makes teams successful. Building on sound theory and relying on extensive research, they offer specific, practical tools that will deliver team value. Team members, business leaders, and organization consultants should not only read, but use this work' - Professor Ulrich, University of Michigan 'This book makes collaboration a vivid and workable concept' - Allan R Cohen, Professor of Global Leadership, Babson College When Teams Work Best helps us understand what makes teams succeed, why teams fail, and what can be done to improve the ability of a team to work together productively. Sometimes teams work effectively, but often they don't. No one knows this better than team members themselves. This book is based on twenty years of research in which the authors asked more than 6,000 team members across a variety of businesses and industries, in both public and private sectors, to assess their teams, their team leaders, and each other. In the safety of confidentiality, team members identified what encourages teams to succeed and what discourages teams into failure.Building on this analysis and the authors own extensive observations of hundreds of teams in scores of organizations the authors offer specific advice for improving team leadership, becoming a more effective team member, developing positive team relationships, creating a more supportive organizational environment, and enhancing team problem solving abilities. The emphasis throughout the book is on practical, portable insight. At the start of each chapter, is a one-page "Snapshot" that provides a concise overview of the chapter contents. Then, each chapter's discussion opens with a real-life scenario that introduces the issues discussed in that chapter in concrete, familiar terms. Throughout the book you hear the voices of actual team members in the form of a number of quotations that speak candidly and in down-to-earth ways about the difficulties and triumphs they experience in working in teams. Finally, to help you put the chapter's lessons into practice, each chapter concludes with a "Putting It to Work" section that includes specific suggestions and helpful instruments that you can use directly or adapt to suit your circumstances.You'll find that you come away from this book with much more than a theoretical idea of what should make teams work best. You'll come away with the collective insights of thousands of team members and leaders on what really does work to bring out the best in teams. And you'll have in hand the tools that can help you put these insights to work. Who Needs This Book? * Executives and managers who are responsible for the overall functioning of teams can use this book to ensure that teams throughout the organization understand what it takes to make collaboration work. They can learn what to look for in exemplary and less-than-exemplary teams, from the qualities of team members, to the processes that successful teams use, to the attributes of effective team leaders (Chapters 1-4). Senior managers may also want to pay particular attention to Chapter 5, which discusses organizational factors that foster or impede the work of collaborative teams. * Team leaders will find specific practical guidance in every chapter that can improve their leadership of teams. The book can be an excellent training vehicle for team leaders, whether they are seasoned veterans or new to the job.In addition to learning valuable strategies and techniques for themselves, they can use much of the material in the book in managing team members to collaborate more effectively. Finally, team leaders can use the ideas in Chapter 5 on the organizational culture to assess organizational obstacles to their work and advocate constructive change. * Team members can use this book to improve their own participation in teams, help their team function more effectively, and prepare to become leaders themselves.
Sklep: Libristo.pl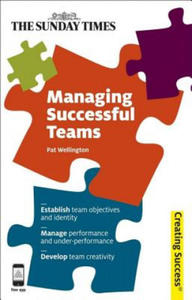 78,64 zł
Książki / Literatura obcojęzyczna
With the shift of emphasis from the West to emerging economies such as China, Brazil and India, organisations need to restructure to adapt to the new global economy. Teams and projects are increasingly being scattered all over the world, and a manager operating in this environment can't connect face to face with people in their team. Not only will managers need to adapt to develop their skills for new environments, they will have to work better, quicker and faster. "Managing Successful Teams" prepares you to meet the challenges of building and leading teams, showing you how to improve performance and achieve the best results. Offering valuable advice and instant strategies, it covers each aspect of managing teams in new cultural shifts, including developing team creativity and innovation, realigning the team's identity with your leadership style and effective team leadership. The only book on the market to incorporate emerging trends and shifts in business practice, "Managing Successful Teams" addresses the practical and realistic issues you face in your everyday working life.
Sklep: Libristo.pl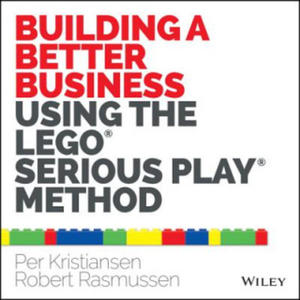 109,67 zł
Książki / Literatura obcojęzyczna
Unleash innovation potential with creative, serious play Building a Better Business Using the LEGO(R) SERIOUS PLAY(R) Method delivers a creative approach to enhancing innovation and improving business performance, with the focus on unleashing play. Written by the two original Master Trainers for LEGO SERIOUS PLAY (LSP), the book outlines how LSP can develop teams, people, relationships and business . Based on the merging of play with organizational development, systems thinking and strategy development, LSP can foster improved meetings, faster innovation processes, team growth, and better communication. The belief that everyone intends to "do good" and has the potential to do it is at the heart of LSP. The method nurtures the idea that everyone in an organization can contribute to discussions and outcomes. Building with LEGO bricks is a type of creative play that triggers a different kind of thought process, unleashing imagination and potential that is frequently untapped by the logical mind. The book explains this hands-on, minds-on approach, and discusses the theory as well as the practical implementation of LSP. Topics include: Observation of internal and external interaction dynamics Fostering a free and honest exchange of opinions Suspending hierarchy for better, more effective communication Facilitating change by encouraging exploration The LEGO SERIOUS PLAY method is employed by start-ups and multinational corporations alike to maximize synergy among teams and throughout organizations. For leaders looking to boost effectiveness and see better results, Building a Better Business Using the LEGO(R) SERIOUS PLAY(R) Method is a comprehensive introduction to this creative management technique.
Sklep: Libristo.pl 186,83 zł
Książki / Literatura obcojęzyczna
"Although nonprofits have adopted a team approach in program delivery and even management, many nonprofits have not used this same successful approach in fundraising. This friendly guide argues for creating a fundraising team that involves board members, executive staff, line staff, and volunteers and gives examples of how such teams can operate effectively. Along the way, the author makes fundraising seem less mysterious and intimidating, and lead the reader to feel confident and enthusiastic about creating a successful fundraising team----no small achievement."----Jan Masaoka, executive director, CompassPoint Services Many nonprofits rely on a lone staff member or volunteer to raise the money they need to sustain or grow their programs. In this insightful resource, leading fundraiser Mim Carlson presents a practical approach to involving the entire organization in fundraising. In doing so, she helps board members, executive directors, and development directors turn their staff and volunteers into a cohesive team with clearly defined goals, specific roles, joint accountability, diverse talents and skills, and strong leadership. In Team--Based Fundraising Step by Step, Carlson draws on popular team--building theory and successful techniques----as well as on her years of fundraising experience----to offer a fresh framework for helping teams become more unified in their fund development activities. She argues that individuals who act alone cannot make the most of fundraising strategies and instead advises readers to include the board of directors, the executive director, staff, and other volunteers in strategic planning and development. This practical, step--by--step guide shows readers how to develop and implement a whole--organization approach. Providing both a rationale for this novel approach and illustrations of how it has produced successful results, Carlson offers important tools for effective collaboration: Detailed implementation strategies Sample forms Checklists Worksheets Summaries of roles and responsibilities At last, nonprofit managers, board members, development professionals, and fundraisers at all levels of experience have a dynamic guide to making the most of fundraising opportunities through effective collaboration.
Sklep: Libristo.pl 109,89 zł
Podręczniki / Nauka języków
Working Virtually deals with the challenges facing those who have to work remotely from their colleagues using a range of technology to keep in touch. It covers all aspects of working in a virtual environment, from communicating effectively through to solving problems and building strong teams at a distance. Eight units focus on: Understanding virtual communication Preparing for successful communication Working in virtual groups Working with technology Effective writing Building relationships Managing diversity Teams and leadership Every unit provides comprehensive training in the skills needed to operate successfully in the world of international business: relevant language skills, communicative ability, people-management skills and intercultural competence. This training is delivered through extensive speaking and listening activities, professional input, skills practice, intercultural awareness-raising and case-study discussions.
Sklep: Literacka.pl
Sklepy zlokalizowane w miastach: Warszawa, Kraków, Łódź, Wrocław, Poznań, Gdańsk, Szczecin, Bydgoszcz, Lublin, Katowice
Szukaj w sklepach lub całym serwisie
2. Szukaj na wszystkich stronach serwisu
t1=0.029, t2=0, t3=0, t4=0, t=0.029