krainaksiazek leadership dynamics building effective teams 20169534
- znaleziono 9 produktów w 2 sklepach 112,96 zł
Książki
Sklep: KrainaKsiazek.pl 119,05 zł
Książki
Sklep: KrainaKsiazek.pl 1072,46 zł
Książki / Literatura obcojęzyczna
Theory and Practice of Multicultural Teams (TPMT) will help students understand the most current theory and practice perspectives relevant to multicultural teams, and apply these theories as team members and/or managers, facilitators and leaders. It is designed for classroom use in management and organizational behavior courses where students at the graduate and certificate level are developing skills to work in teams. It is intended to be a core text but may be used as a supplemental text as well.§TPMT is unique in that it utilizes a tri-lens approach: cultural differences, social identity, and individual personality differences. The initial four chapters written by the co-editors provide a comprehensive and integrative overview of the importance of multicultural teamwork theory and practice; current trends; a conceptual framework for team effectiveness; approaches to understanding the impact of culture, social identity and personality on teamwork; and the developmental stages of teams. The remaining chapters written by others focus on major team processes: group dynamics, leadership, communication, conflict, and problem solving/decision making. The examples and ideas are global, inclusive of all sectors, and relate to virtual and face-to-face teams. Each of the chapters contains relevant competencies, and assessments.
Sklep: Libristo.pl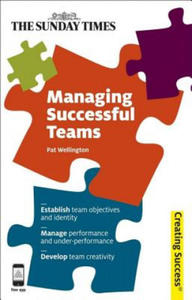 69,37 zł
Książki / Literatura obcojęzyczna
With the shift of emphasis from the West to emerging economies such as China, Brazil and India, organisations need to restructure to adapt to the new global economy. Teams and projects are increasingly being scattered all over the world, and a manager operating in this environment can't connect face to face with people in their team. Not only will managers need to adapt to develop their skills for new environments, they will have to work better, quicker and faster. "Managing Successful Teams" prepares you to meet the challenges of building and leading teams, showing you how to improve performance and achieve the best results. Offering valuable advice and instant strategies, it covers each aspect of managing teams in new cultural shifts, including developing team creativity and innovation, realigning the team's identity with your leadership style and effective team leadership. The only book on the market to incorporate emerging trends and shifts in business practice, "Managing Successful Teams" addresses the practical and realistic issues you face in your everyday working life.
Sklep: Libristo.pl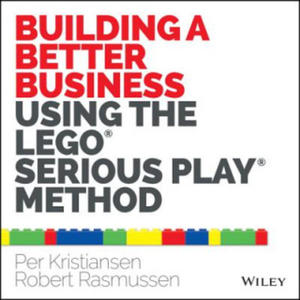 108,61 zł
Książki / Literatura obcojęzyczna
Unleash innovation potential with creative, serious play Building a Better Business Using the LEGO(R) SERIOUS PLAY(R) Method delivers a creative approach to enhancing innovation and improving business performance, with the focus on unleashing play. Written by the two original Master Trainers for LEGO SERIOUS PLAY (LSP), the book outlines how LSP can develop teams, people, relationships and business . Based on the merging of play with organizational development, systems thinking and strategy development, LSP can foster improved meetings, faster innovation processes, team growth, and better communication. The belief that everyone intends to "do good" and has the potential to do it is at the heart of LSP. The method nurtures the idea that everyone in an organization can contribute to discussions and outcomes. Building with LEGO bricks is a type of creative play that triggers a different kind of thought process, unleashing imagination and potential that is frequently untapped by the logical mind. The book explains this hands-on, minds-on approach, and discusses the theory as well as the practical implementation of LSP. Topics include: Observation of internal and external interaction dynamics Fostering a free and honest exchange of opinions Suspending hierarchy for better, more effective communication Facilitating change by encouraging exploration The LEGO SERIOUS PLAY method is employed by start-ups and multinational corporations alike to maximize synergy among teams and throughout organizations. For leaders looking to boost effectiveness and see better results, Building a Better Business Using the LEGO(R) SERIOUS PLAY(R) Method is a comprehensive introduction to this creative management technique.
Sklep: Libristo.pl 115,94 zł
Książki / Literatura obcojęzyczna
Master the 12 disciplines of powerful leadership and lead your organization to greatness§In 12 Disciplines of Leadership Excellence , bestselling author and motivational expert Brian Tracy teams up with global leadership development expert Dr. Peter Chee to reveal simple, straightforward principles you can use to make lasting positive changes in your organization.§Beginning with the assertion that leaders are made, not born, the authors show you how to make the personal changes necessary for getting yourself on track to leadership greatness.§It's about discipline. From creativity, character, and caring to competitiveness, control, and clarity, these 12 disciplines are essential to equipping you and your people to excel and exceed even their own expectations. Tracy and Chee explain how you can master each and every one.§Read 12 Disciplines of Leadership Excellence and learn the simple secrets to becoming an effective leader in a time when high-performing inspirational leaders are needed most.§We've all heard the phrase born leader. Leadership experts Brian Tracy and Dr. Peter Chee are here to debunk the myth that you either have it or you don't. That leadership is a talent bestowed on some and not on others. That in order to lead effectively, you have to have it in your genes.§The authors assert that great leaders are made, not born. Everyone has the ability to shape himself or herself into the kind of person who enables and uplifts others to reach their highest potential--and in 12 Disciplines of Leadership Excellence, they reveal exactly how to achieve it.§It all starts with discipline. In this groundbreaking book, the authors break down great leadership into 12 disciplines, including:§Clarity . . . about who you are, where you are going, and how to get there§Control . . . build and bolster your sense of personal responsibility and self-mastery§Character . . . dedicate yourself to passionately build trust with honesty and integrity§Competence . . . commit to constant never-ending improvement and learning§Caring . . . because when you care, your people care in building great working relationships§Courage . . . moving out of your comfort zone to embrace change and make tough decisions §One at a time. Don't try to take on too much at once. Choose a discipline and live it until it becomes a habit of excellence. Then move to the next one. It will take time--but all life-improving endeavors do.§Read this practical, inspirational guide and every day you will take one more step to becoming a highly effective leader.§
Sklep: Libristo.pl 162,35 zł
Executive 12 MCGRAW-HILL Professional
Książki / Literatura obcojęzyczna
ALL IN, ALL THE TIME§§For Gary Burnison, CEO of the world's largest executive search firm, these five simple words perfectly capture the essence of great leadership. There can be no half measures. Complete commitment, total engagement, and a powerful sense of personal responsibility are the criteria for true leadership excellence. It's more than a job; it's a way of life. But how do you get there? In this groundbreaking book, Burnison provides the answer.§§As the leader of Korn/Ferry International, Burnison is particularly well qualified to write a guide to effective leadership. On a personal level, he experiences every day what it's like to be responsible for the lives of others, the careers of his employees, and the expectations of stakeholders. He also deals one-on-one with some of the world's top leaders.§§In The Twelve Absolutes of Leadership , Burnison distills this vast experience into an actionable plan for building world-class leadership skills. You'll learn how to train your focus on the twelve most critical elements of leadership, so you can§§Establish your vision and develop a strategy for achieving it§Inspire your people to embrace the change you envision§Measure the effectiveness of your leadership§Build powerful teams that are aligned in purpose and strategy§Foresee new opportunities and adjust your course to meet them§Nothing in business or life generates greater personal satisfaction than affecting peoples' lives in a positive way through excellent leadership. Burnison refers to it as the "eighth wonder of the world."§§The prospect might seem daunting, but Burnison makes it more accessible than you thought possible. He presents a framework based on enduring human truths, which is applicable in every leadership role and arena. All you have to do is apply it with dedication and determination.§§You have the ability. Take your first steps to leadership excellence with The Twelve Absolutes of Leadership.§§Praise for The Twelve Absolutes of Leadership :§§"In The Twelve Absolutes of Leadership , Gary Burnison captures the timeless principles that leaders must possess, beyond intelligence, courage and heart. These essential elements speak to the integrity and authenticity that underscore all effective leadership."§-Carlos Slim, entrepreneur, Investor, and the world's richest man§§"Only a few good leaders have paused to reflect seriously on being leaders. Xenophon and Ulysses S. Grant did, and now Gary Burnison can be added to the list. This is not a business book. This is a book about the business of life."§-P.J. O'Rourke, political satirist, journalist, and author§§"Gary Burnison has distilled leadership into its essential elements-the absolute truths about leadership that apply in every arena. For those who want to know what leadership is all about, this book has the answers."§-Lt. Gen. (Ret.) Franklin "Buster" Hagenbeck§§"Leadership is the most important ingredient in any successful organization. Gary Burnison explores the essential elements of leadership through conversations with some of the world's most seasoned and accomplished leaders."§-Eli Broad, founder of The Broad Foundations, KB Home, and SunAmerica§§"Gary Burnison's wisdom and insight cut straight to the heart of the matter-to the essential elements of any leadership framework. His stories, observations, and conversations with leaders artfully illustrate these principles, applicable to everyone."§-Vicente Fox, former President of Mexico§
Sklep: Libristo.pl 273,41 zł
Książki / Literatura obcojęzyczna
Leaders of software-development projects face many challenges. First, you must produce a quality product on schedule and on budget. Second, you must foster and encourage a cohesive, motivated, and smoothly operating team. And third, you must maintain a clear and consistent focus on short- and long-term goals, while exemplifying quality standards and showing confidence and enthusiasm for your team and its efforts. Most importantly, as a leader, you need to feel and act responsible for your team and everything that it does. Accomplishing all these goals in a way that is rewarding for the leader and the team--while producing the results that management wants--is the motivation behind the Team Software Process (TSP). Developed by renowned quality expert Watts S. Humphrey, TSP is a set of new practices and team concepts that helps developers take the CMM and CMMI Capability Maturity Models to the next level. Not only does TSP help make software more secure, it results in an average production gain of 68 percent per project. Because of their quality, timeliness, and security, TSP-produced products can be ten to hundreds of times better than other hardware or software. In this essential guide to TSP, Humphrey uses his vast industry experience to show leaders precisely how to lead teams of software engineers trained in the Personal Software Process (PSP). He explores all aspects of effective leadership and teamwork, including building the right team for the job, the TSP launch process, following the process to produce a quality product, project reviews, and capitalizing on both the leader's and team's capabilities. Humphrey also illuminates the differences between an ineffective leader and a superb one with the objective of helping you understand, anticipate, and correct the most common leadership failings before they undermine the team. An extensive set of appendices provides additional detail on TSP team roles and shows you how to use an organization's communication and command networks to achieve team objectives. Whether you are a new or an experienced team leader, TSPSM: Leading a Development Team provides invaluable examples, guidelines, and suggestions on how to handle the many issues you and your team face together.
Sklep: Libristo.pl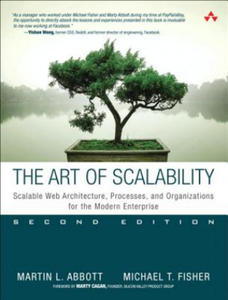 147,21 zł
Książki / Literatura obcojęzyczna
A Comprehensive, Proven Approach to IT Scalability from Two Veteran Software, Technology, and Business Executives In this second edition of The Art of Scalability, AKF Partners cofounders Martin L. Abbott and Michael T. Fisher cover everything product, technology and business leaders must know to build products that can scale smoothly to meet any business requirement. Drawing on their unparalleled experience managing some of the world's highest-transaction-volume Web sites, the authors provide detailed models and best-practice approaches available in no other book. Unlike previous books on scalability, The Art of Scalability doesn't limit its coverage to technology. Writing for both technical and nontechnical decision-makers, this book covers everything that impacts scalability, including architecture, processes, people, and organizations. This second edition has been edited to improve readability and includes new and updated content, a new chapter on Agile architecture, and new case studies. Throughout, the authors address a broad spectrum of real-world challenges, from performance testing to IT governance. Using their tools and guidance, organizations can systematically overcome obstacles to scalability and achieve unprecedented levels of technical and business performance. New and Updated Coverage includes
Sklep: Libristo.pl
Sklepy zlokalizowane w miastach: Warszawa, Kraków, Łódź, Wrocław, Poznań, Gdańsk, Szczecin, Bydgoszcz, Lublin, Katowice
Szukaj w sklepach lub całym serwisie
2. Szukaj na wszystkich stronach serwisu
t1=0.044, t2=0, t3=0, t4=0, t=0.045